James Rowe spoke to former Liverpool defender Jamie Carragher, exclusively for WFi. They discussed life after playing football, being a one-club man, his time with England, Istanbul, and influential managers and coaches. 
---
You retired from professional football in 2013. How are you enjoying life away from the pitch?
"Life is not easy right now and it is the same for everybody since the lockdown. We are trying to be as creative as possible, providing content on Sky Sports and the chat shows that I am involved on two or three times a week.
"In the situation we are in, we are trying to take the positives out of it and spend a lot more time with the family, which is a great thing.
"In terms of the longevity of being out the game, I love my life now. It is a lot less stressful in terms of worrying about results, but I am still extremely busy and that is how I want to be.
"I am still a young man with plenty of life left in me yet, so I want to keep as busy as possible and to travel around the UK and Europe watching football games. Being a massive football fan it is an absolute privilege to do it."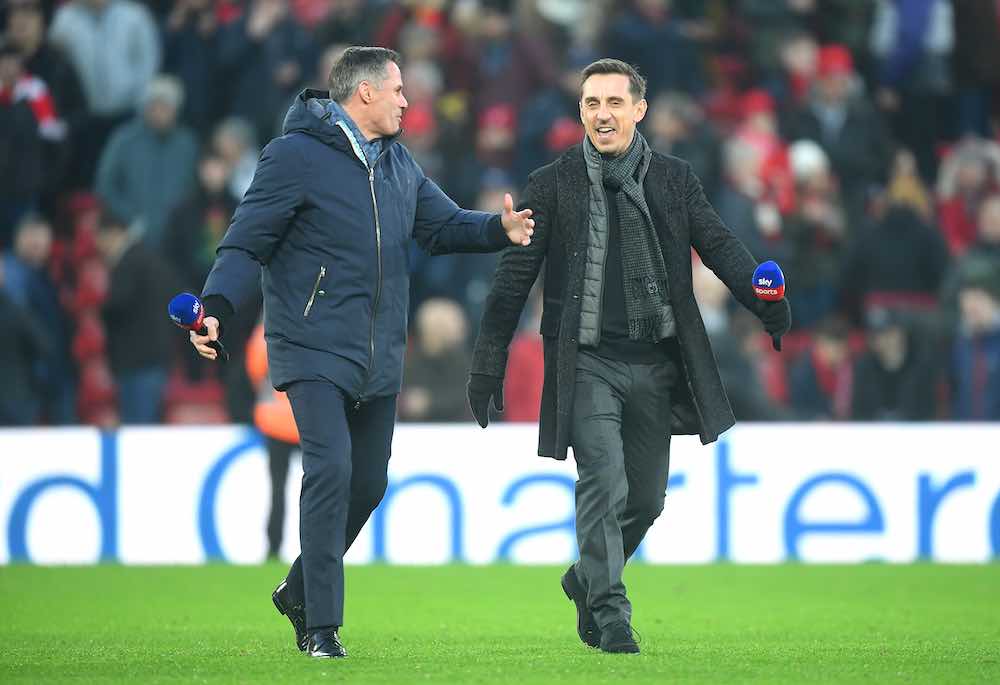 ---
You were a one-club man at Liverpool FC and you went on to have a long association with club, making many appearances and winning trophies. How do you look back on your time there, what are your highlights and memories, and what does the club mean to you?
"Liverpool FC means everything to me. I was there from nine years of age and it is well documented that I was an Everton fan as a kid, so football means a lot to me and to a lot of people in this city.
"Liverpool gave me an opportunity to challenge for titles, and Liverpool Football Club are a massive part of my life. It always will be and that will never change.
"My highlights are many, but as is normal with a football career, there are lots of ups and downs, and it is how you bounce back in different situations. There are a lot of challenges in the game as well. Different managers coming in and players coming in to take my place.
"So my biggest achievement was staying at Liverpool for my whole career, really, because at times and at different periods in my career I felt the challenges coming at me and different players that were signed who were trying to take my place in the side throughout my time at the club — certainly for a club the size of Liverpool, who have got scouts all over the world.
"It has been my biggest achievement that I have been a one-club man."
---
Was it difficult for you to remain a one-club man? Did you have opportunities to leave Liverpool and were there any clubs both at home and abroad that were interested in acquiring your services? Did you have any periods in your career where you might have entertained a new challenge?
"To be honest, I never actually had the opportunity to leave Liverpool and I do not ever remember being close to moving to another club.
"I only played for Liverpool, so it was never the situation where I could play in [anything other than] a Liverpool strip. I would never want to leave Liverpool for anyone.
"If I would have had times were I was in and out of the team, or as a substitute for a long period of time, I love football that much and I am sure that at some stage if a club would have been interested I would have probably moved on to play regular football. But thankfully it never came to that stage, and I stopped becoming a regular for Liverpool at the age of 33 and there was no way I was going to spend the last couple of years of my career at another club.
"If that had been going on in my mid-twenties, depending on what the situation was… but no I never thought about leaving Liverpool and there was never any question when I would speak to my agent over the summer it never came to that, and I am delighted it never came to that.
"In the case of Steven Gerrard there were so many clubs sniffing around him and I was never in a situation like that."
---
How do you look back on your time representing England and what are your highlights and memories of playing international football?
"I would split my international career in two really, one with the full international team and one with the junior team. I would say that I enjoyed myself more with the junior team and I felt more of a part of those teams.
"I started playing for England from the age of 14 when I was at the national school (Lilleshall). At one stage I had the record amount of caps in the England under 21s, and captained the under 21s at different times in my career. I really loved those experiences and I look back on those times really fondly.
"My full national team career playing for England gaining 38 caps, I played in two World Cups as well as other tournaments, and that is something to be proud of, but actually what I did on the pitch, do I look back on certain games fondly or how I performed and helped the team?
"A lot of my England caps were coming on at half-time or coming on as a substitute. I never really had a spell of starting five or six games on the bounce at international level, and that was due to the strength of players in my position which was very tough at the time. The likes of Rio Ferdinand, John Terry, and Sol Campbell — they were the dominant three, as well as other good players, so it was not easy.
"I had times were I was brought back into the squad under Fabio Capello and if I had not retired from international football I could have got close to 50 caps. To gain 38 caps is not to be sniffed at when you see the quality of the players involved in the England setup, and I managed to get a lot more caps than a lot of great players through the years.
"I am proud of what I have got, but I can't say I look back fondly on those caps and my performances and certainly how the team did."
---
You accrued a lot of experience with Liverpool and England and played with some excellent players. When you look back, could you say who were among the best players you played alongside during your professional career?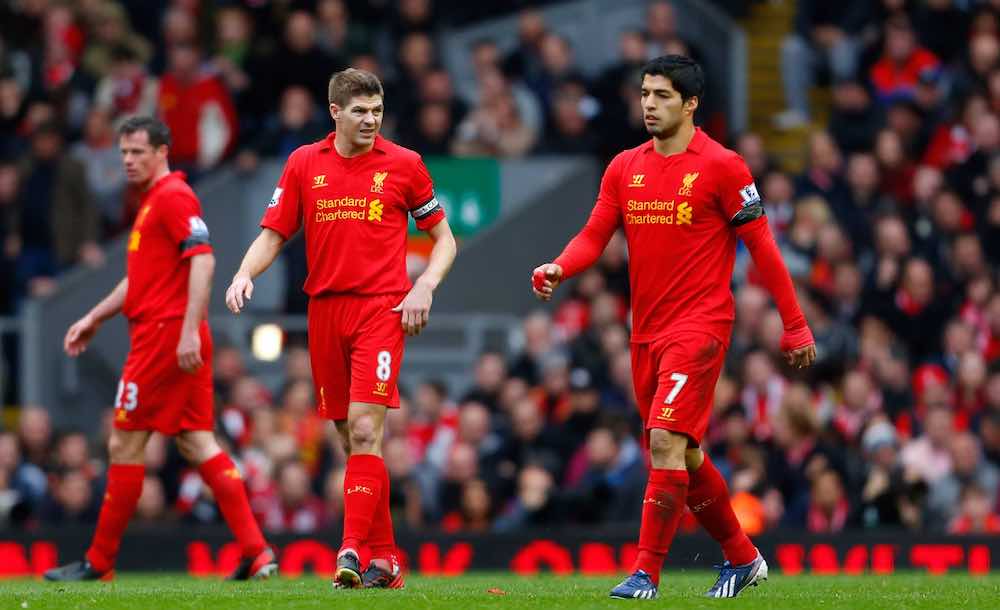 "Yes, during my time at Liverpool there are two players that really stand out, I would say — Steven Gerrard and Luis Suarez.
"If you look what Luis Suarez has gone on to do for Barcelona, and also his country of Uruguay, helping them to win a Copa America and get to the semi-final of the 2010 World Cup in South Africa, it shows how far he took such a small country.
"Fernando Torres was such a brilliant striker and I played with some great strikers. And Xabi Alonso, if you look at what he went on to do with Spain. I played with some great players.
"At international level it is difficult to say because I played with such great players for England and a lot of them were Manchester United players (unfortunately!) such as Paul Scholes and Rio Ferdinand.
"Frank Lampard and John Terry were also very good for England, and players that were labelled a 'Golden Generation', and we accept that, but you must also remember that there were many special players involved in the squads of our international opponents.
"There were some top England players around at that time and I believe the quality is better than the current England squad now, but this current England squad reached the semi-final of the 2018 World Cup in Russia, and that is something an excellent generation of England players could not quite achieve."
---
I can imagine in your position as a defender that you came up against some difficult opponents through the years. When you look back could you say who were the opponents that stood out for you?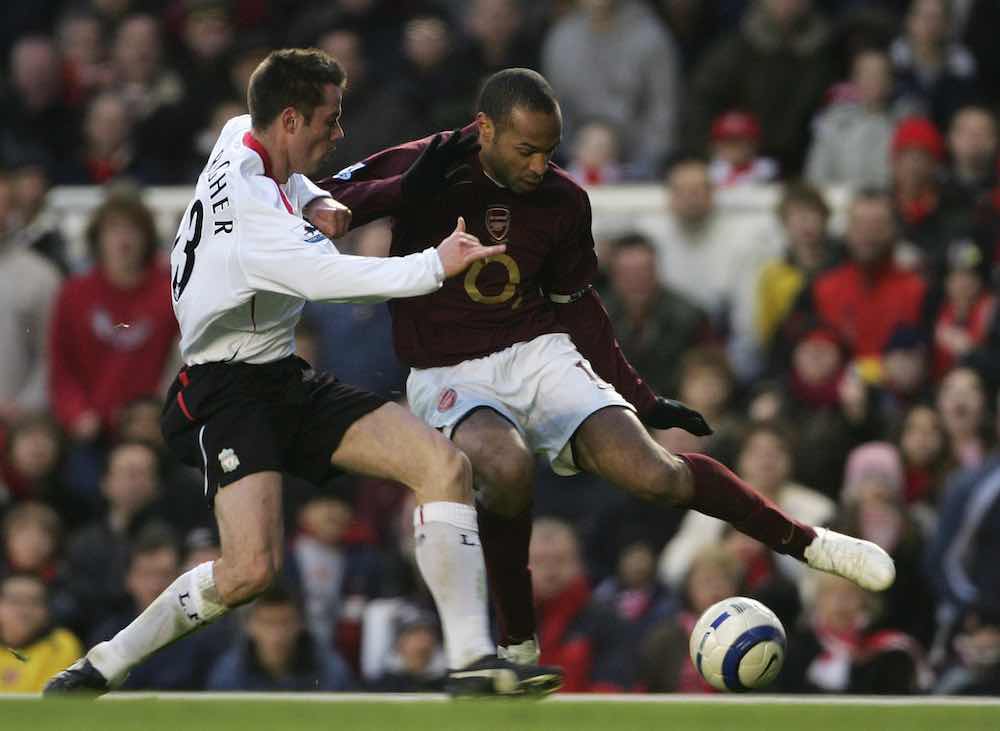 "When you think of the 2005 Champions League Final, the first-half performances of Kaká and Andrea Pirlo were just outstanding. That AC Milan first-half performance… they must sometimes sit back and wonder how they did not win that game.
"I look domestically in England with the Manchester United team that won the treble and Arsenal being so dominant at that time. The likes of Thierry Henry, Robert Pires and Dennis Bergkamp. That team was a great Arsenal team and we had important games at Liverpool. We played against the best Arsenal team ever, the best Manchester United team ever, the best Chelsea team ever, and those three clubs all had the best managers they have ever had in Arsène Wenger, Alex Ferguson, and José Mourinho.
"Then when I was coming towards the end of my career, Manchester City came up with a bucketful of money, so it was never easy and I think it was why Liverpool never won the Premier League. But I believe for three or four years on the bounce we were among the best four teams in Europe along with Manchester United, Barcelona and AC Milan, so that was the reason why we were not as successful domestically in the Premier League as we were in Europe."
---
You mentioned on the famous 2005 Champions League Final in Istanbul, and everybody knows what a tremendous achievement it was. As a player who was involved in that final, was there a particular moment for you where you knew that you could turn the final around? Going on to achieve what seemed impossible at half-time and write history in the Champions League and for Liverpool FC.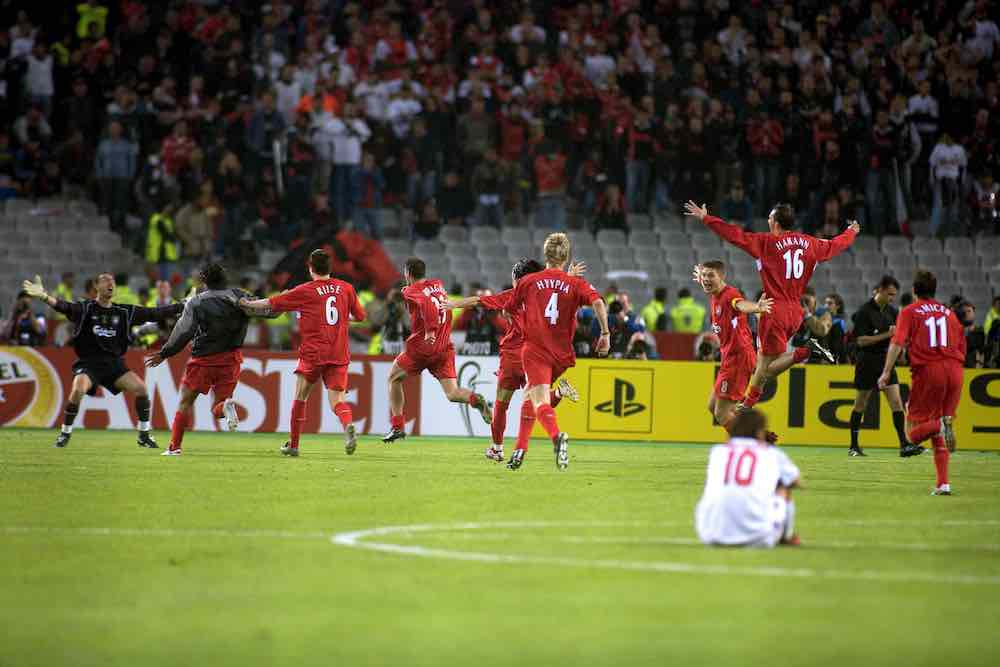 "I think it was when Vladimír Šmicer scored to make it 3-2. I think that was the goal that gave everyone the lift and belief that we would get back into this, and I think there was no stopping us then.
"I think it was inevitable that we were going to make it 3-3 with the momentum that we had and the shock factor for AC Milan. Like getting knocked down in a boxing round. A bit like a boxer where you know that round is going to be yours and we managed to get the equaliser before AC Milan got to the bell. We managed to equalize to make it 3-3 so quickly.
"At 3-1 we were just pleased that we got a goal and that gave us a bit of hope, but 3-2 just gave us a huge amount of belief that we were going to get back into the game. When we were level we felt that AC Milan were not superhuman like we thought they were in the first- half.
"Rafael Benítez made a substitution at half-time and even then we did not think we would get back into the game, but it was then what happened on the pitch and the goals that followed, particularly the second goal."
---
Finally, Jamie, when you look back on your playing career could you say who are the coaches and managers that meant a lot to you and played a key role in your development as a professional footballer?"
"I believe at youth level at Liverpool Steve Heighway was a dominant force at what was then called the School of Excellence at Liverpool. It was no surprise to me when he became involved that something started to happen with the young players.
"Steve McManaman, Robbie Fowler, Steven Gerrard; and Dominic Matteo, David Thompson, Michael Owen and myself. It was great to have players coming through. I would say that Stevie Heighway was the master at youth level.
"Manager wise, Roy Evans was the first manager to give me a chance in my career and I think the best two managers who were influential in my career were Gérard Houllier and Rafael Benítez.
"To train every day and play under them helped to shape the player that I became and I had successful times under both managers. Gérard helped me as much off the pitch as on it, and particularly on the coaching side of things on the training pitch. He helped to make me a first-team regular Liverpool player.
"Then Rafael Benítez took me a level higher where I became one of the most important players in the team. I became vice-captain and I was seen as being one of the leaders in the team.
"Under Gérard Houllier I was in a team that was winning trophies and doing well and Rafa helped me to the next level where I would play in a different position as a centre back at times, which is a position on the pitch that means you have a huge responsibility. I took to it, and I always thought it to be my best position. In the autumn of my career, to then go on to win the Champions League which I could never have dreamed of that day in Istanbul."