By Jerry Mancini.
The last time Napoli won a trophy was back in 2014 when they lifted the Coppa Italia and followed it up with a Supercoppa Italiana.
Seven years later, Napoli are once again Coppa Italia champions after defeating Juventus 4-2 in a penalty shootout following a 0-0 draw.
Gianluigi Buffon stood tall for Juventus and put in a world-class performance. The goalkeeper's performance reminded us he still has the ability to not only take play in but to also play well in important matches. The same can't be said of Juventus generally, though, and their worries stem further than losing this Coppa Italia.
The club's inability to score and create any flow through midfield could hurt their chances in retaining their Scudetto and advancing in Champions League.
Napoli's defensive approach stifled Juventus and contributed to the win, with only Buffon's performance meaning the game wasn't over after 90 minutes.
Gianluigi Buffon Shows Flashes Of His Past Brilliance
Maurizio Sarri waited frantically on the sideline for Cristiano Ronaldo and Paulo Dybala to show their brilliance, but it was Buffon in the Juve goal who delivered the best performance in this match.
The Italian goalkeeper reminded us that he still has some fuel left in the tank to play at a high level. He made seven saves and kept a clean sheet, showing great focus and poise throughout the match.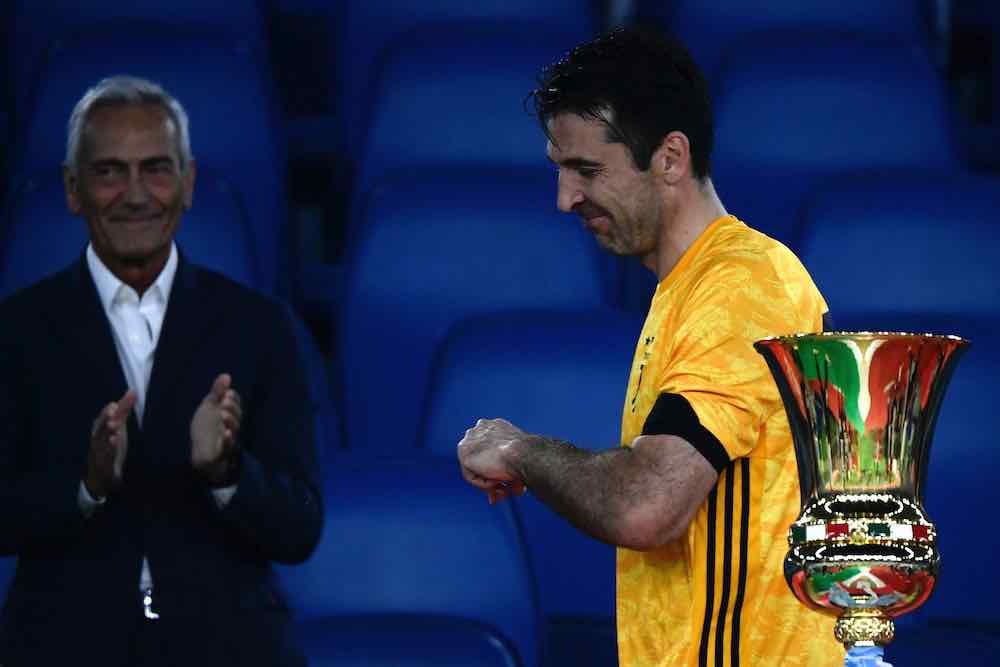 Buffon saved from Diego Demme in the first half, doing a good job of closing down space and making it difficult for the midfielder before saving with his feet.
In the later stages of the match, he rose to the occasion once again. Nikola Maksimovic positioned himself in the box following a corner kick and was able to get his header on goal. Buffon reacted well, making a diving save to prevent Napoli from snatching the late win they deserved.
Buffon was unable to repeat his heroics in the penalty shootout, but that the game reached that stage, with Juve still in with a chance, was down to him.
Juventus Need To Resolve Their Midfield Situation
The same issue continues to be the narrative for Juventus this season. The club still struggle with midfield creativity rather than simply midfield possession. They have become too predictable, and have made it easy for their opposition to defend against.
Rodrigo Bentancur has been their best midfield option this season, showing great movement and an ability to advance the ball upfield. He finished this game having made 47 passes with a passing accuracy of 94%.
A relatively anonymous Ronaldo was limited to one shot on goal and lost possession on four occasions. Slow indecisive passes, poor decision making in midfield, and the inability to create space in the final third for the front line has been a concern.
To make matters worse, the club just aren't scoring goals, Miralem Pjanic has shown to be inconsistent, while newcomer Adrien Rabiot has not helped resolve these problems and has looked slow and indecisive in most games. If the club's difficulties continue, this could lead to a difficult and not very enjoyable end to the season.
Napoli Take A Conservative, Almost Catenaccio Approach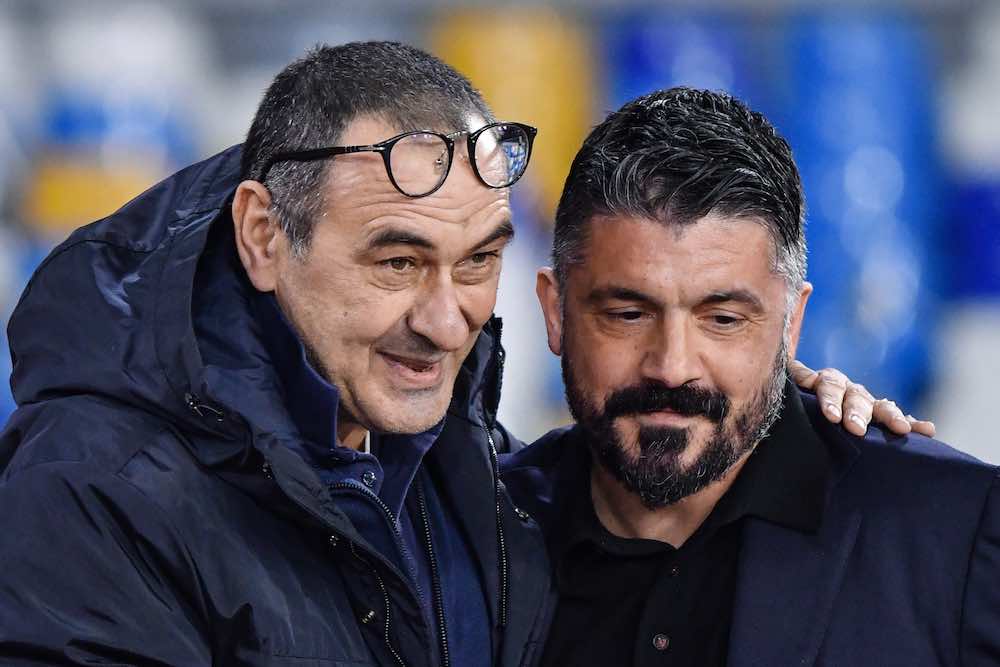 Gennaro Gattuso took a defensive approach to this game, utilising a deep defensive line when Napoli didn't have the ball. Kalidou Koulibaly did a great job of stifling Ronaldo throughout the match, limiting the forward's opportunities. Dybala also struggled in one on one coverage.
The Bianconeri managed to get three shots on target and were given little space to work with in the final third. It was almost the return of Catenaccio, as Napoli used a defensive team approach to block their opponents' path to goal.
The defensive line was highly organized and limited crosses into the penalty area as they applied consistent pressure to the wingers.
Despite this defensive approach, out of possession Napoli still created more scoring opportunities than Juventus when they had the ball, and possession wasn't as weighted in Juve's favour as might be expected — just 53.6% – 46.4%.
Ultimately, Gattuso's plan worked and Sarri's didn't, even if it eventually took penalty kicks for Napoli to secure this deserved cup win.