By Alan Feehely.
Richarlison broke from deep, finding his compatriot Bernard on the left flank before continuing his run into the box.
Bernard played the ball out to Lucas Digne, who then squared it back to Richarlison. He took a touch to bring the ball away from Shane Duffy before turning to his right foot and placing his shot into the bottom right corner, wheeling away in celebration with the Everton crest between his teeth.
It was a cold January afternoon against Brighton, but the attendant Evertonians could have been in Rio de Janeiro, bathed in warmth. It was a fantastic goal that was the distillation of exactly what Richarlison is all about. He had the intelligence to begin the move, the skill to finish it, and showed respect for the club in his celebration.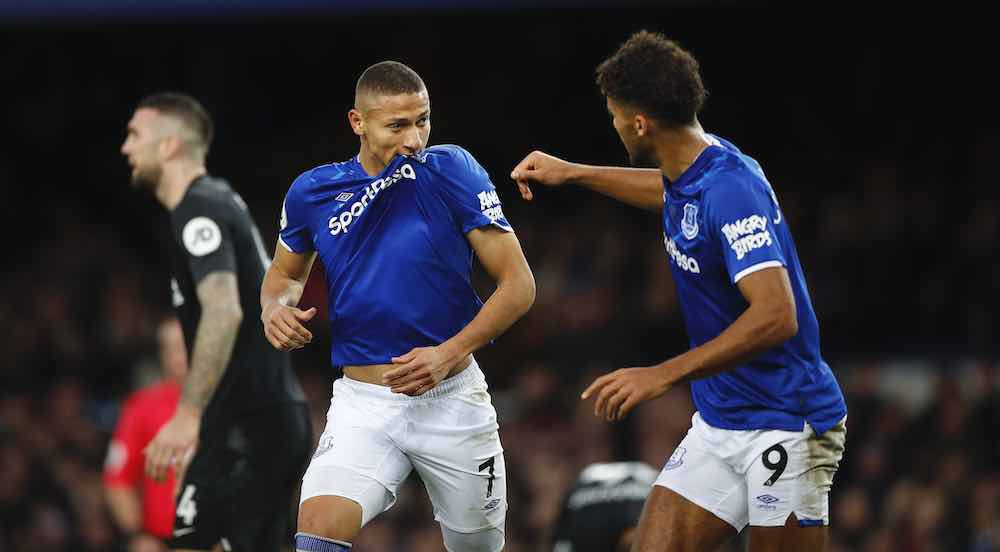 Séamus Coleman and Leighton Baines are both stalwarts who have earned themselves a place in Everton's history, but Richarlison belongs to a different cadre, one that hasn't welcomed a new member since Tim Cahill departed the club in 2012. It's that of the combative goalscorer, the terrace favourite, the player elevated into a higher echelon due to the joy they create.
Goals aren't the sole entry requirement. Romelu Lukaku scored more Premier League goals than anyone in Everton's history, but few at Goodison Park will recall his spell at the club with the same reverence as they would Duncan Ferguson. Lukaku was always using the club as a platform, utilising each international break to talk up his chances of a move. At Everton, to truly connect with the supporters, you need to have certain qualities — heart, tenacity, and an air of mischievousness.
Richarlison could well be destined for greater things. Barcelona were rumoured suitors this past winter and should he continue in his current trajectory Europe's elite will soon be falling over each other to secure his signing. For the present moment, however, it appears that the Brazilian forward is quite content to grow alongside Everton.
"I intend to be here for a long time," he told EvertonTV after signing a new contract last December. "This is the club which gave me the opportunity to show my football. It was here I managed to get a place in the Brazilian national team and it was here I have scored lots of goals in the Premier League.
"The club trusts me and I trust them. The supporters have a lot of affection for me and I try to give back all this affection as much as possible on the pitch, I go out and put my life on the line for them.
"I try to sweat blood and tears for this club, and I intend to continue honouring the shirt to make the fans happy. I hope they continue singing my name."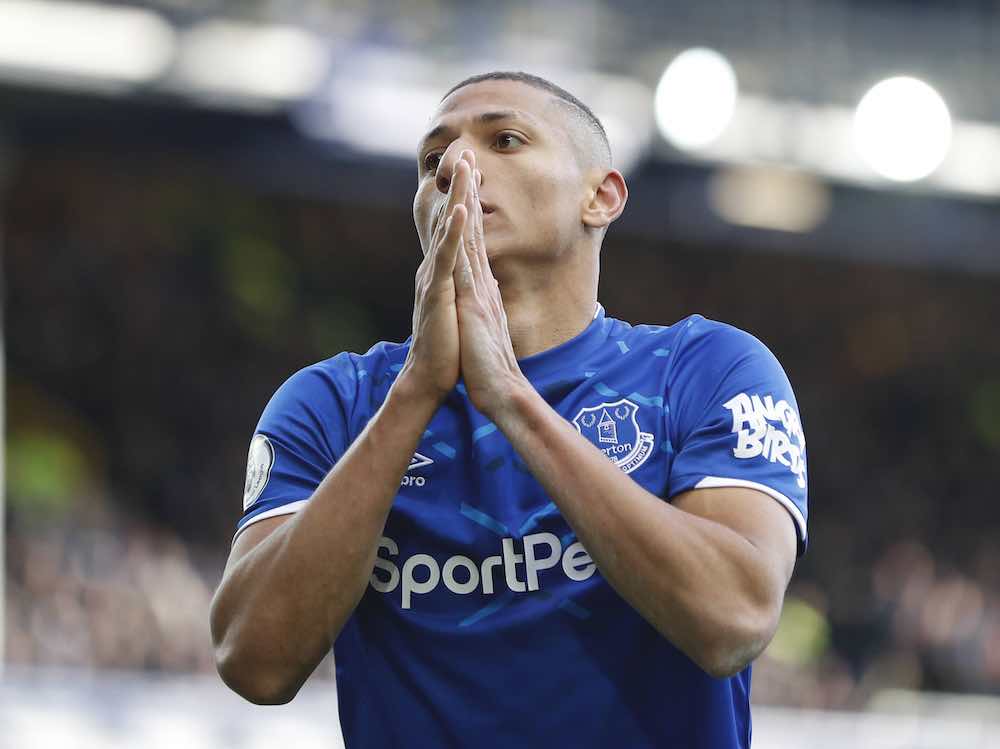 "He has a myriad of attributes that we love," explained Everton supporter Chico Azul. "Edge of the seat talent, aggression, charisma, and something which not many Everton players have — the ability to not shit themselves in big moments."
Richarlison began his Everton career quickly, with two debut goals against Wolves alleviating fears over his exorbitant transfer fee.
"I think the essence of his strong start brought some relief after Everton paid top wedge [for him] and were widely hounded for it, and I suppose that's manifested in his song from the fans – he only cost £50 million, after all," Azul agreed.
"On the pitch he's a direct runner with aggression and no little skill, and he also scores extra bluenose points for being good in front of goal in the air. There were early questions about his temperament, but that seems to have been balanced out without losing the fire that gives him a competitive edge."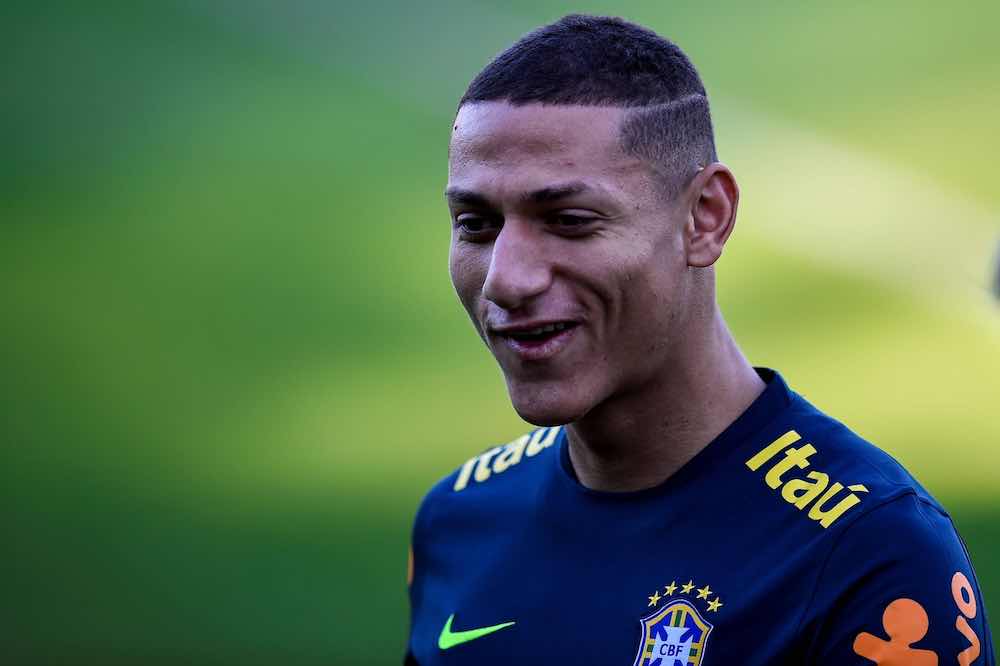 Born in Nova Venécia in the state of Espírito Santo, Richarlison began his career with local side Real Noroeste before making a name for himself in Belo Horizonte at América. He shone in their colours and proved an integral part of a team that gained promotion to Série A in 2015, earning himself a move to Fluminense in Rio de Janeiro.
"During his youth he was turned down by both Avaí and Figueirense and was thinking about giving up on football — he was washing cars to make money," recalls Brazilian football expert Robbie Blakeley.
"When he went to América, he only travelled with the money for a one-way ticket. It had to work out for him and, thankfully, it did.
"He played 24 games in 2015, scoring nine goals and clocking four assists to help the side win promotion to Série A. Fluminense paid América R$10 million for his services."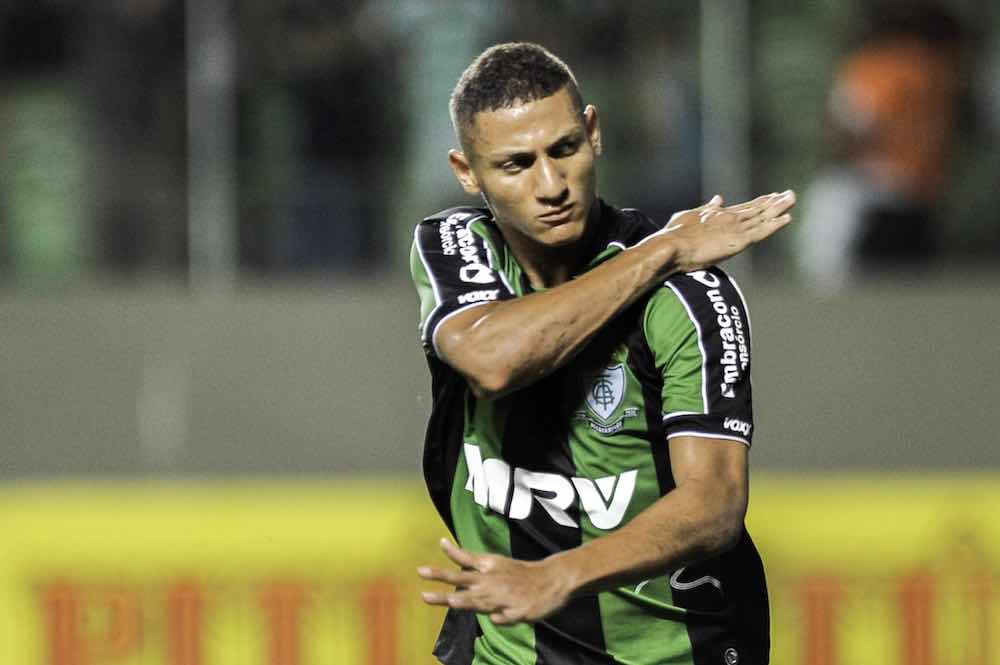 "I haven't got enough fingers to count the number of clubs who rejected me," Richarlison told AS.
"I was ready to give up football, but I lifted my head and I went to Belo Horizonte with just the money for an outward ticket for the last trial I had, with América. If I didn't make it, I had no money to get home to Espírito Santo, 600 kilometres away.
"I gave my all that morning and I passed. If I had given up after the first 'no' I would never have made it to where I am today. I had to live in my uncle's house because it was closer to where I used to train and I had no money for the bus.
"I used to sell candy and ice creams in the street and worked in the fields to help my parents. I couldn't have done it otherwise, because everyone did what they could do so I could fulfil my dream of being a footballer. I have learned that you need to have patience, perseverance, and faith in people to reach your goals."
"When Richarlison arrived at Fluminense he picked up an injury early on and was unable to build on the momentum he had gathered at América," Blakeley continued.
"He eventually made 26 appearances for the club in his first season but only managed three goals. Seeing as he had been signed to play as a centre forward it was a disappointing return, but time was still on his side.
"It was 2017 that he really began to shine in Fluminense colours, under coach Abel Braga. Playing as the spearhead of a three-man attack, he managed 15 goals across all competitions and began to earn recognition outside of Brazil."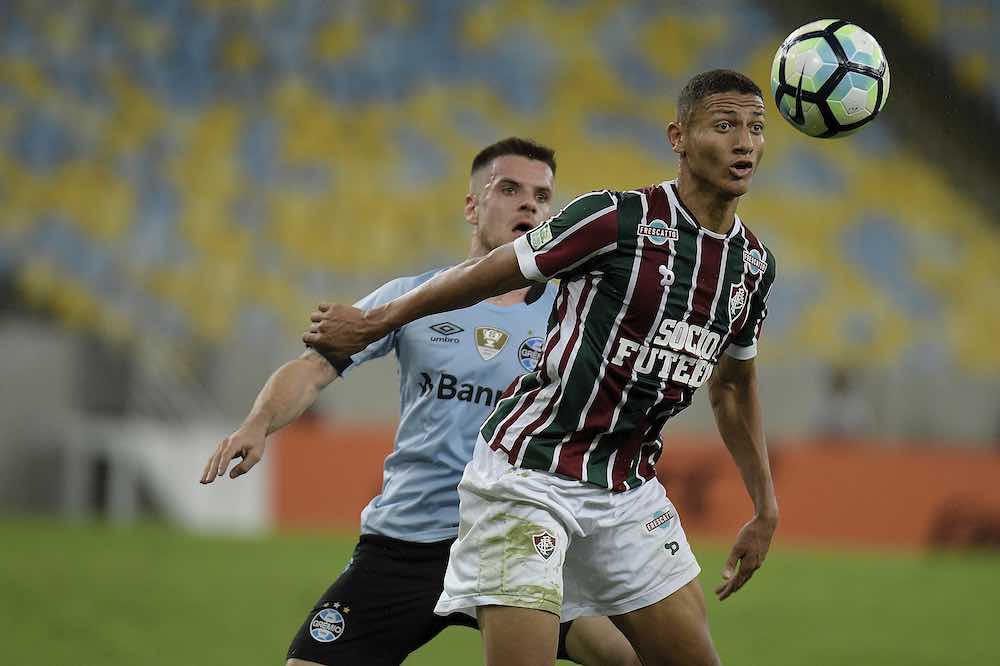 "I happily moved to Fluminense," Richarlison told FourFourTwo. "I made a lot of good friends there, but in 2016 I didn't feel so good because I wasn't playing, not even on the bench.
"I kept training hard to get a place in the team, and eventually, I got a few minutes during the Brasileirão and scored a few goals.
"The club hired a new manager, Abel Braga, before the next season, and that changed everything. He saw that I had potential and played me, and I found my rhythm. He helped me a lot, and I helped him on the field too."
Richarlison attracted the attention of both Ajax and Watford in the summer of 2017, eventually choosing to join the latter for a fee of £11.2 million. Like at Everton, he started his Watford career well, but, unlike at Everton, it tailored off quite dramatically.
"Richarlison joined the club in early August so he didn't have a pre-season, but he didn't need it," recalled Tom Wicks of Watford fanzine, Golden Pages.
"[Fluminense had] finished their season not long before he joined Watford, so he had a lot of momentum. He was sharp, quick and seemed to adapt very quickly. Although he won a fair few fouls, he was strong on the ball and was fantastic in the air, which was a surprise to see from a young Brazilian.
"Against Bournemouth, in the second game of the season in particular, he was absolutely sensational and completely tore through the Cherries' back-line. That sparked a run of good form and gave him confidence.
"Unfortunately, it seemed tiredness impacted him and he became less effective. It reached a point where although he was starting most games, Watford fans knew he would be ineffective. It was no surprise after effectively playing two seasons back-to-back."
In the royal blue of Everton, Richarlison learned from his experience at Watford and matured as a player. He's made 62 league appearances across his two seasons at the club with nine games still to play in 2019/20, scoring 23 goals.
Statistically, he rates highly in disrupting opposition moves and recovering balls, as well as winning ground duels in possession. This defensive contribution, alongside his finishing, is one of his biggest assets. He's proven himself to be tenacious as well as creative, putting in battling performances that have endeared him to supporters.
Everton go into the restart hoping to breathe fresh life into a campaign that had been flagging. Given that Carlo Ancelotti didn't take over at Goodison Park until December it was always going to be a season of transition, but the club will be hoping to have used the enforced layoff as a means of regeneration and push on from their current position of 12th.
Their season will restart with the Merseyside Derby on Sunday evening when champions-elect Liverpool cross Stanley Park.
"I think a lot can happen in nine games," Richarlison told Everton's official website. "The teams are very close in the table and instead of looking back and searching for mistakes, I prefer to think about the games ahead of us.
"We want to have as many good results as possible to, who knows, enter the fight for a place in a continental tournament.
"We have to keep that flame burning. The last time I played without fans was on the street in my home city, but it is a new reality because of the pandemic and we have to adapt to it.
"The crowd will certainly be sorely missed, but we understand it is for everyone's safety and for this horrible situation to end as soon as possible."
One thing that's guaranteed is that Richarlison will be at the forefront of whatever Everton are looking to achieve.
His future at national level is bright, with Blakeley believing him to be Brazil's best option as a central striker. He made his debut in August 2018 and was part of the squad that won the 2019 Copa América on home soil, scoring in the final against Peru.
"The Seleção have a host of top quality players across the front line and competition is extremely tough," Blakeley adds. "But in my opinion, Richarlison is the best option for the number nine shirt that Brazil have.
"He is a more consistent finisher than [Gabriel] Jesus, and [Roberto] Firmino doesn't fit effectively into the system that [coach] Tite wants to play, which is with a spearhead rather than a more fluid front three, the way Liverpool play.
"Richarlison is the most complete centre forward that Brazil have – versatile, direct, an excellent finisher, strong, ability to hold the ball up and bring others into play, and he is an excellent foil for Neymar running from deep. I expect to see him make the number nine shirt his own if given the chance."
As for his club career, things appear to be a little less settled. Richarlison seems destined for the elite, but the question is whether Everton will be able to grow with him or whether he'll need to move on to pastures new.
"He's got all the attributes, both in talent and mentality, to have a fantastic career," believes Azul.
"If he does keep progressing then the challenge for Everton is their own progression giving a platform to him and others who want to win things and play at the highest level. We've some distance to go on that, but, perhaps mercifully right now, so does he."