By Eduardo Razo.
For C.F. Monterrey supporters, the name Avilés Hurtado is associated with the words disappointment and failure due to one unfortunate moment in 2017. 
Before joining Rayados for the 2017/18 Apertura season and going through the incident that would define his career, Hurtado began his first-team career in Colombia with America de Cali where he made 28 appearances, scoring four goals. 
After a season and a half with Los Diablos Rojos, he made a move to another significant club in Colombia, Atlético Nacional. Hurtado made 23 appearances during his time there but didn't have the impact he would've wanted. 
When his time with Nacional came to an end, Hurtado headed to México. Between 2012 and 2015, the Colombia international spent time with Chiapas and Pachuca. During his first few years in North America, the seven-goal campaign in the 2015 Clausura became his best season.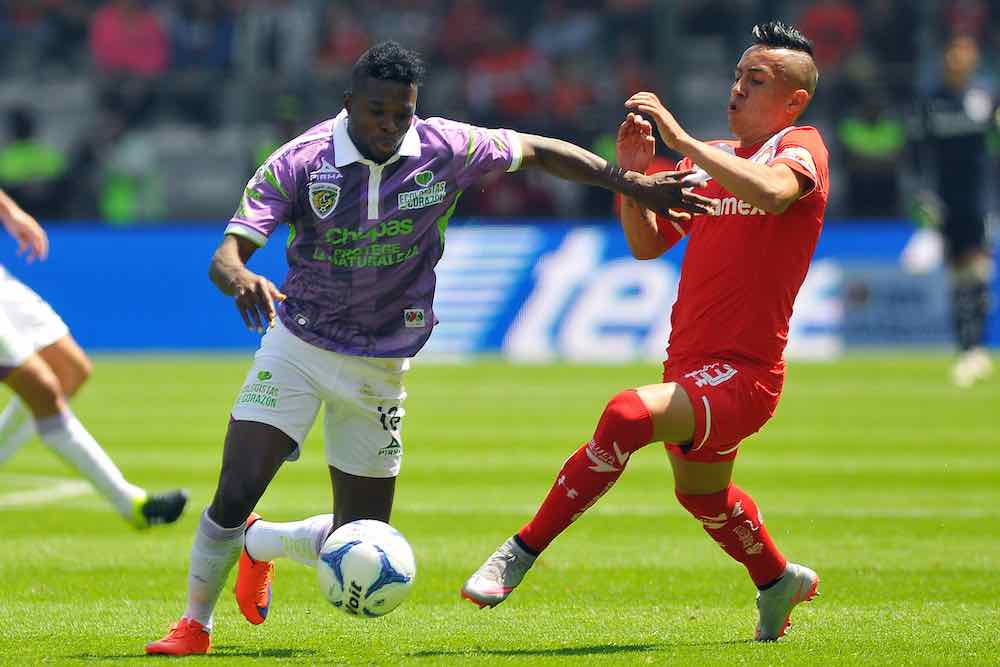 Hurtado's stats this far in his career gave off a projection of a winger whose goal-scoring is sporadic. One who will occasionally score five or more goals in a tournament season. Then came the campaign in which he would show signs of becoming a late bloomer. 
During the 2016 and 2017 calendar years, Hurtado made 41 total appearances with Club Tijuana. In his lone year with Xolos he saw a career-high return in the goal-scoring department. The Colombia international had 12 goals and 11 assists. After one year, he decided to remain in northern México and join Monterrey. 
The 2017 Apertura season began to show that Hurtado's breakout year with Club Tijuana was no fluke. He made sure that the remaining years of his prime would be the best as a footballer.
Through 26 matches, the Rayados forward piled up 16 goals, which became a career-best for Hurtado. After scoring three goals in the Liguilla, the left-winger used his best season as a footballer to help push Monterrey to a matchup against crosstown rival Tigres UANL in the first-ever Clásico Regiomontano in a Liga MX final. 
Hurtado didn't factor much in the two-legged final; he did have an opportunity to tie up the aggregate score late in the return match. Down 3-2 on aggregate, a penalty-kick was awarded to Rayados, and it was Hurtado who stepped into the pressure situation. 
Home supporters were holding their collective breaths at the Estadio BBVA. They saw Hurtado in the penalty box, hoping that the score would read 3-3 after his attempt. Monterrey fans were given heartbreak instead. The Colombian international's shot went wide, sealing the league title for Tigres in a 3-2 aggregate defeat for Monterrey. 
In a moment when the club, squad, and supporters needed him the most, Hurtado failed. The 16 goals he put in the back of the net that season leading up to that night in December became a distant memory. Also, his form, which had quickly rose to one of the better left-wingers in México that 2017 Apertura season, was gone. 
Two years went by until Hurtado would publicly talk about the incident with ABC Noticias (via TUDN). The Monterrey forward brought to light the events after the match when both he and manager Antonio Mohamed began shedding tears. 
"It was a sadness that abounds, not only in me but in the whole group. The dressing room was a sea of ​​tears," said Hurtado.
"The first person I hugged was El Turco, we started crying, and he gave me a cheer up." 
Although it seemed as though his teammates forgave him for that mishap, the fan base wasn't so quick to forgive. Then add in the rapid drop in form, and it became evident that the relationship between the fan base and the Colombia international was beyond repair. 
Three years have gone by, and Hurtado has yet to rediscover the form he showed prior to that missed penalty. Since then, he has only registered ten goals, including the one goal he scored during the 2019 Apertura campaign.
Now 33 years old, the chances are that will he never be able to retrieve his 2017 form, especially as injuries have also become a factor. Last season he suffered an Achilles' tendon rupture back in September, which caused him to miss the remainder of the Apertura, and, in cruel fashion, miss out on a potential redemption story.
Monterrey began marching through the Liguilla tournament, Hurtado's name became forgotten as supporters were living in the moment. Rayados were making a run towards a final appearance as the last team to squeeze into the Liguilla.
With the matches becoming tense, it's easy to forget Hurtado was still apart of the squad until the television cameras panned to him. After Monterrey defeated Club America in penalty-kicks, the team celebrated the club's fifth league title on the Estadio Azteca's grounds. 
Missing the entire playoff run with no chance for a redemption moment sums up Hurtado's time in Monterrey. Instead of being given the chance to redeem himself in a league title run, he will still be remembered for his missed penalty kick. 
With rumors surfacing of a potential move to Querétaro for the remainder of his contract, it could potentially mark the end of Hurtado's time in Monterrey. One that began with so much promise, but ended in disappointment.