James Rowe spoke to Pirin Blagoevgrad manager and former Northern Ireland international Warren Feeney for WFi. They discussed his move into management, his time with Luton Town, and representing his country as a player.
---
You became manager of OFC Pirin Blagoevgrad in 2019. How are you enjoying football management and what do you view as the challenges of managing such a club?
"Football management is something that I wanted to do when I finished playing professional football. I got my coaching badges when I was still playing at Luton Town and towards the end of my career I picked up a few injuries.
"I am not one to sit around so I went into coaching at the club and helping out the young players in the academies. I wanted to become a football manager and the opportunity come along to manage OFC Pirin Blagoevgrad, and it was an opportunity that I could not turn down.
"It is a fantastic challenge and I want to progress this club and get Pirin Blagoevgrad back to where I think they should be."
---
You mentioned your time at Luton Town. You played two seasons for the club. How do you look back on your time there and do you have any highlights or special memories?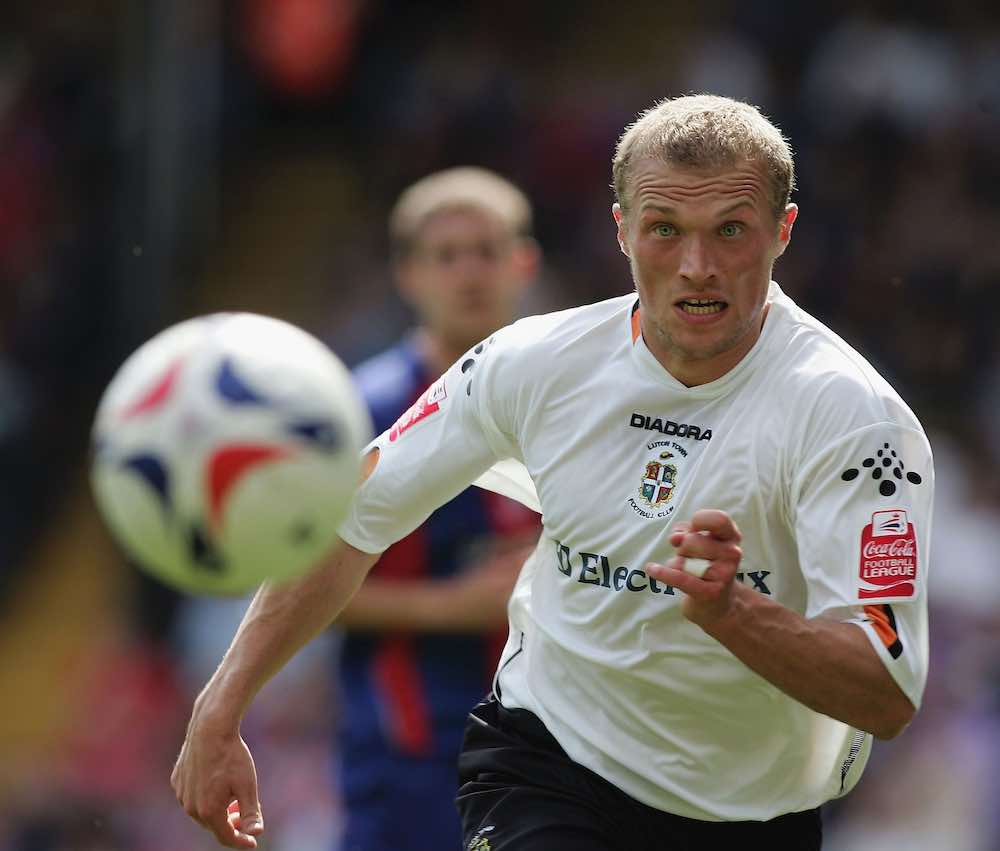 "I had the opportunity to go to Luton Town at the start of the season. They had got promoted from League One but I had already signed a contract with Stockport County as they themselves were tipped for promotion and I had agreed a pre-contract.
"I also loved my time at Stockport County but the opportunity came to go to Luton Town having scored 17 goals in 31 games. Barnsley FC, Doncaster Rovers and Huddersfield Town also came in for me but the one thing that sold Luton Town to me was working with Mike Newell.
"You do not hear this very often in football now, but I actually turned down more money at other clubs in League One but I said no because I wanted to test myself in the Championship with Luton Town instead of staying in League One.
"We had a fantastic team with a great team spirit. I still speak to Steve Howard, Kevin Nicholls, and Mike Newell. We had great camaraderie in the changing room which I have not seen in a long time. You don't get mates in football any more. Our dressing room was like a gang and you only have to look at how well we did.
"When we got into the Championship we were top of the league for the first four months of the season and our first four games were Southampton, Crystal Palace, West Bromwich Albion, and Leeds United. Three of those teams had just got relegated from the Premier League and we managed to beat three of them and draw with the other.
"I really enjoyed my time at Luton Town. It is a lovely place and I lived in Northampton. I then had the opportunity to go to Cardiff and eight players left at the end of that season. Kevin Nicholls went to Leeds, Steve Howard went to Derby County, Kevin Foley went Wolverhampton Wanderers, Carlos Edwards went to Sunderland, Curtis Davies went to West Bromwich Albion, so it just proves what a fantastic team we had and a good squad of players too."
---
You were capped by Northern Ireland. How do you look back on representing your country and what are your highlights and memories of playing international football?
"I think it is everybody's team to represent their country. My grandfather and father both played for Northern Ireland and I think that only a few of the third generation to go on to play for their country. It was the proudest moment of my life to win a cap and put on the shirt of my country.
"I had fantastic times the nights that we beat England and Spain and I have great memories to look back on and I still cherish those memories. Some nights I like to go and sit in my house and watch the games back that I was involved in playing for my country.
"We had some great games and we also had some very good players. The likes of Jonny Evans, Keith Gillespie, Gareth McAuley Chris Brunt, and David Healy had broken Davor Šuker's scoring record at the time so it just goes to show the quality we had in the squad at the time. We knew what we needed to do as players and we enjoyed playing with one another."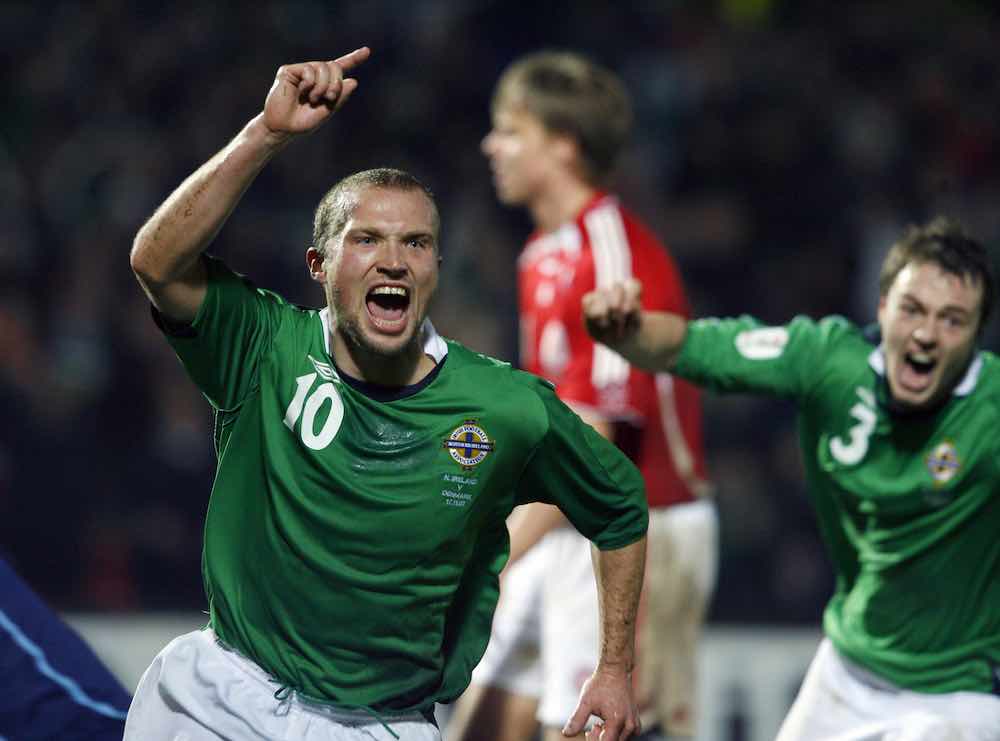 ---
You played under some very good managers at different levels in your career. Did you receive encouragement or advice from any managers upon entering football management yourself?
"Yes. When you look back you take ideas and points from who you worked with. I try to take points and I always try to be honest with the players, which I learned when I played under managers who were not honest, and I always wanted to know the truth when I was not playing in games.
"I played under Roberto Martinez who was a fantastic manager. One funny story which really hit home for me as a manager, and I still think about it to this day, is when I scored twice in a 3-0 win away at Yeovil Town and we were played against Swindon Town the following Tuesday.
"I was expected to be in the team, having done well the previous Saturday. It got to 18.30 the team was named and I was not in it and I had steam coming out of my ears. I marched right into his office and said: 'Gaffer, what is going on, why am I not playing?'
"He told me: 'Warren, think of the bigger picture. I am here to worry about a squad of players. You are here to worry about yourself and possibly a squad. I pick a team to win and it is your job to score goals, accept it.'
"I think to myself, wow I can't say any more than that, and I always try to respect and be honest with players and it is down to the character of the player.
"Craig Levein was also a very good manager who kept his players fit and I enjoyed my time playing under him at Dundee United.
"For me personally there are too many head coaches nowadays and not enough managers, and I always like managers in that respect."
---
Finally, Warren, could you describe your managerial philosophy, and is there anything in particular that you would like to achieve in your managerial career in future?"
"Yes, I would like to go on and win things and when I was at Linfield we had a great team that went on to play European football. People asked me why I did I leave having turned over the team, and it was hard managing a club like that because they have such fantastic support and they want to come first.
"I knew that the club were in transition and having turned over 12 players I left the club five points clear at the top of the league to go back across to England.
"It was just my instinct and what I wanted to do, and I had the opportunity to go to Newport County and at the time they were in the bottom three and I managed to keep them up that season. Then, the following summer, having turned over 15 players I lost my job after eight games so I have seen both sides of it.
"I want stability here at Pirin Blagoevgrad, and I know football is really hard at the moment but it is a job that I find really interesting.
"I left the lower leagues in England because I am an honest boy and I do not like what goes on behind the scenes at clubs sometimes.
"We had a chairman at Notts County who did not know how to run a football club, even though it was his money. Also what happened with then manager, Kevin Nolan, I had lost a little bit of interest in the way that some of the teams in England were going.
"Pirin Blagoevgrad are a club that I would like to progress and I hope to stay here for a long time."