By James Nalton.
Schalke 04 and United States Men's National Team midfielder Weston McKennie has spoken out following the message of solidarity he displayed during his side's game against Werder Bremen.
The 21-year-old midfielder wore an armband throughout the game bearing the words "Justice for George". He was one of a number of players who used their high-profile platform to send anti-racism messages during matchday 29, the first round of games to be played following the death of George Floyd at the hands of Minneapolis police.
Borussia Dortmund pair Achraf Hakimi and Jadon Sancho both wore undershirts displaying the words "justice for George Floyd," while Marcus Thuram of Borussia Mönchengladbach took a knee after scoring in a 4-1 win against Union Berlin.
"I wanted to express my solidarity and send an unmistakable signal against any form of racism," McKennie said.
"All eyes are currently on the Bundesliga and the attention is correspondingly large. The idea came to me spontaneously so that I could not speak to the club or my teammates about that before."
The laws of the game state that "equipment must not have any political, religious or personal slogans, statements or images," and "players must not reveal undergarments that show political, religious, personal slogans, statements or images."
McKennie revealed that he was asked by the referee to remove the armband as a result, but refused to do so.
"To be able to use my platform to bring attention to a problem that has been going on to long feels good!!!," he tweeted after the game.
"We have to stand up for what we believe in and I believe that it is time that we are heard! #justiceforgeorgefloyd #saynotoracism."
Floyd's death has led to protests across America, which have now spread around the world as anti-racism rallies take place in cities across the globe.
A number of high-profile figures from other sports have also spoken out including LeBron James, former NBA stars Stephen Jackson and Michael Jordan, and tennis players Naomi Osaka, Coco Gauff, and Serena Williams.
ENOUGH IS ENOUGH ✊🏾✊🏾

The time is NOW!! Not just for justice or change, but a SOLUTION!!! It has been going on way too long. This has been overlooked and belittled way too often! ENOUGH IS ENOUGH!!! pic.twitter.com/IqM18XjTga

— Weston McKennie (@WMckennie) June 3, 2020
German football supporters are known for highlighting social issues, regularly displaying banners in the stands during games and campaigning for fairness and equality. As the games are currently being played behind closed doors with no fans present, or Geisterspiele (ghost games) as they are known in Germany, it has been left to the players to carry these messages and raise awareness.
"Given the current situation in America, I see it as my responsibility and my duty to do justice to George Floyd, because racism is a problem that has existed for far too long," McKennie continued.
"Racism must not be part of our society today. That definitely has to stop. That is why it is more than a political message for me: it is something that I stand for with every fibre of my body, which I deeply and firmly believe in."
The DFB (German Football Association) decided not to take any action against the four players, stating that the sentiments and values expressed are shared by the DFB, who also left the door open for further demonstrations of support.
"Issuing punishments to those who have made anti-racist statements would fundamentally contradict the values of the DFB," said chairman of the DFB commission, Björn Fecker.
"It is now a matter of discussing proposals as to how players can clearly express the values of football such as integration and diversity, as well as the campaign against discrimination, whilst adhering to the rules set in place."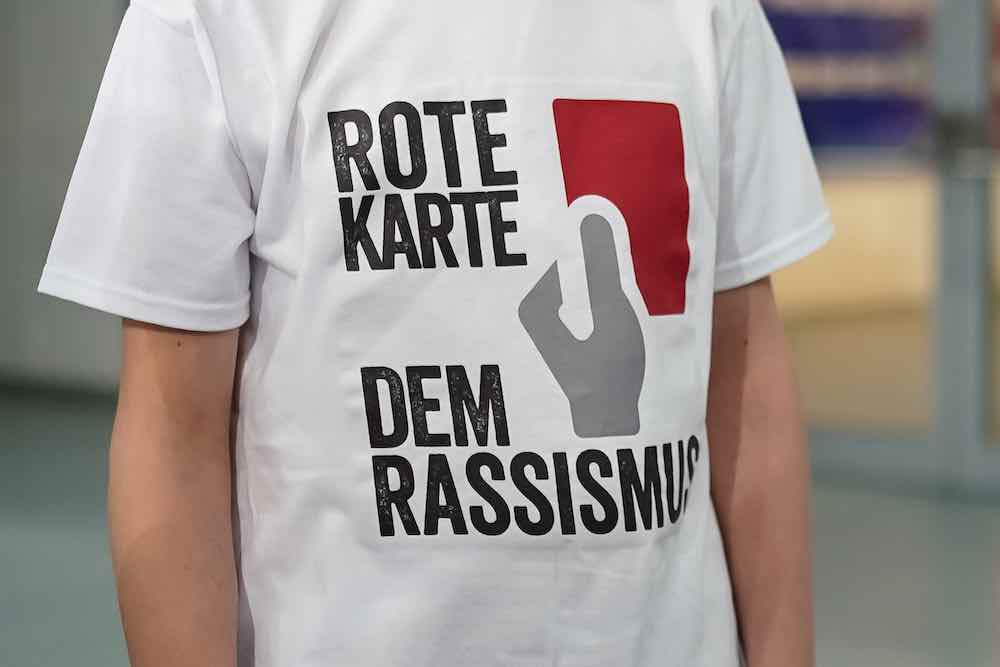 A statement from DFB president Fritz Keller added: "The DFB is opposed to all forms of racism, discrimination and violence, and stands for tolerance, openness and diversity — all values that are also deeply ingrained with the DFB statutes. That's why the players' actions have our respect and understanding."
Bundesliga players and clubs are expected to further raise awareness of the issues in the coming weeks, as the eyes of the football-watching world remain on the only one of UEFA's top five leagues to have resumed their season during the Covid-19 pandemic.
The English Premier League, Italian Serie A, and Spain's La Liga will resume by the end of June, with many more players expected to show their support.
"I know that I will continue to pay tribute to George Floyd in some way, not just him, but also the many senseless deaths that have occurred in these situations," added McKennie.
"Because I am convinced that athletes have one of the largest platforms on which they can influence. We should use that."