James Rowe spoke to former Tottenham midfielder David Howells for WFi. They discussed life after retiring from professional football, playing with Paul Gascoigne and against Marco van Basten, his time with Spurs, and some of the most influential coaches.
---
You retired in 2000. How are you enjoying retirement from professional football and how is life for you these days away from the football pitch?
"I retired from professional football after struggling for a year and a half down at Southampton with a knee injury. It just became apparent that I was not going to get back to the level of fitness required and my knee was shot to bits by then so I decided to call it a day.
"I also played for Hartley Wintney FC who are now playing in the Southern League Premier Division and doing very well. Hartley Wintney is a club that has a massive place in my heart because my brother and I, our Dad was manager of the club for eight years, so from the age of seven that is where our weekends were spent, kicking the ball around while Dad was managing the team.
"Four years after I retired professionally the then manager was a good friend of our Dad's and he asked me if I would come and play for them and they were the only club that I would have gone down to that level for.
"There are wonderful people at a football club that is unique, full of characters, and they have great people in and around the club. I enjoyed playing for them. I still go over there and watch them play and catch up with the guys there.
"I ended up playing for a Sunday League team, The Crown & Anchor Nomads in the Surrey & Hants Border Football League. We started in division four and ended up in division one. It was very enjoyable playing with my mates and I had a great time. It was brilliant fun playing on Sunday mornings and then back to the pub afterwards for some food with the opposition.
"When I retired my knee was in such a state that I did not think I would be able to do things like that so I am grateful to have had that time. It was wonderful.
"Retirement has been good it has been very varied. I am currently still involved in football working with an agency and working with the players to try and help them be as good as they can be, and do analysis with them and coaching as well sometimes, and I really enjoy it.
"It is a nice way to be involved the game without the volatility of being a coach or a manager where you don't get the stability and might have to travel around the country looking for work, and maybe having a decision to make about upheaving the family.
"I also worked at Charterhouse School for seven years as a director of football, and that was a wonderful place to work. A great environment with wonderful people. I have also had various other jobs and interests since retiring from professional football and I currently work as a performance analyst for Playerworks CSM."
---
You came through the youth setup and made over 300 appearances for Tottenham Hotspur. How do you look back on your time at the club and do you have any special memories or highlights, and what does the club mean to you?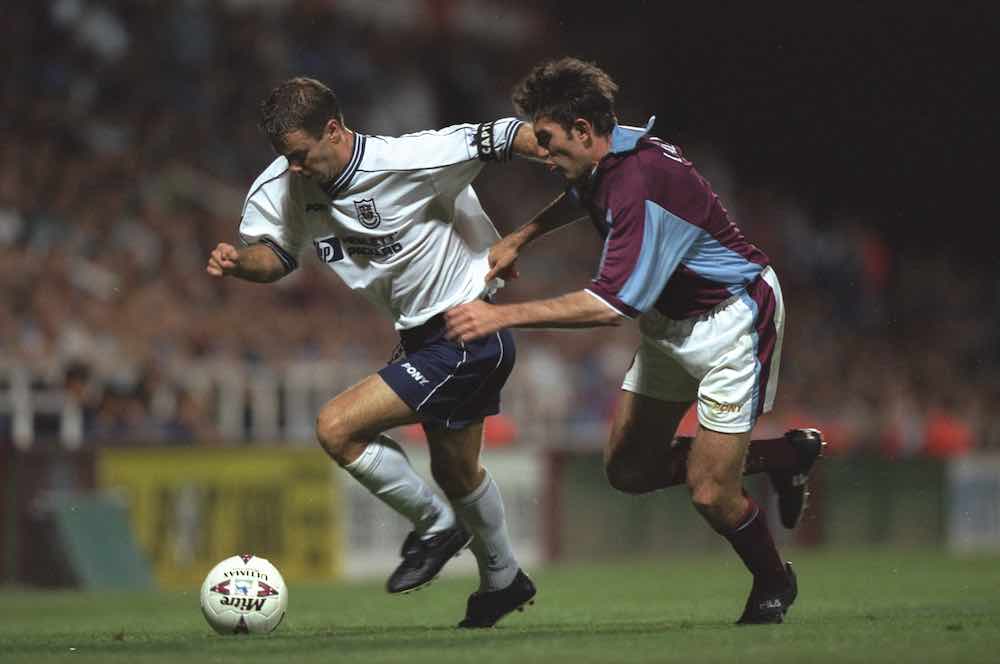 "I am very proud of my professional playing career, especially at Tottenham Hotspur. My family and I were Spurs fans and my Dad, who I mentioned earlier was a massive Spurs fan, and for me to go and play for the club… If I would have played one minute for Tottenham Hotspur it would have been a dream come true, so to go on have a career at the club for 12 years and play 335 times for them was absolutely beyond special.
"Since retiring I have gone back to being a fan. I am very privileged to work at the club on matchdays. There are a group of about 16 of us former players who go around the ground and speak to the supporters and it is brilliant for me to be able to do that.
"I walk into the room at the beginning of the day and my heroes are in there: Pat Jennings and Martin Chivers. I still go a little bit shy and try not to show that I am in front of my idols, but it still gets my every time when I walk into the room that they are all in there. It is an absolute privilege for me."
---
You also played two seasons for Southampton FC. How do you look back on your time at the club and do you have any highlights or special memories?
"The one word that I would use to sum up my time at Southampton FC, would be frustration. I really enjoyed Southampton as a club and the people and the supporters, but for me it was frustration as I only played eleven games for the club and my knee was just getting worse and worse.
"I had three operations in my first six months at the club and it was a tough time in terms of frustration and constantly trying to get back fit over 18 months and not getting anywhere near it.
"So it was a relief, in the end, to give up and say enough is enough and call it a day. I have nothing but fond memories from my time at Southampton and I made a lot of good friends who I still stay in touch with now.
"Southampton FC are a terrific club with great people still in and around the club now. I still go to St Mary's for the match when the play Tottenham Hotspur, and it really nice to see the people there again and it really retains the family atmosphere that has always been at the club."
---
I can imagine in your professional career at Tottenham and Southampton that you played with some very good players. Could you say who were among the best players you played alongside when you look back in your career?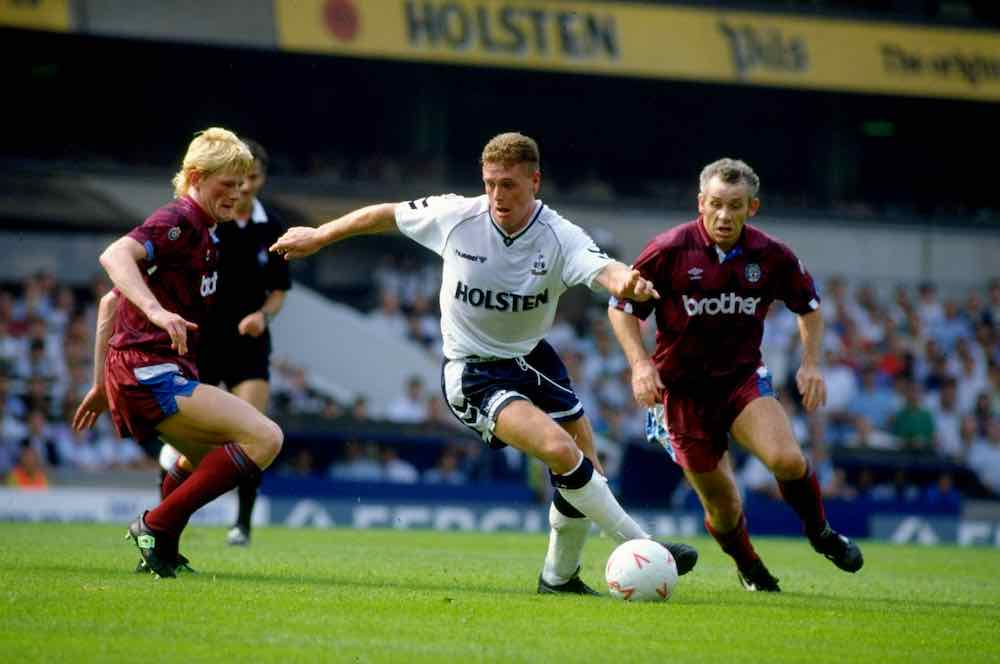 "Yes, I was very lucky when I first came into the Tottenham Hotspur team. Ray Clemence was in goal and Steve Perryman was playing — Glenn Hoddle and Ossie Ardiles too. A few years earlier I was standing on the terraces watching them, and to go and play with those guys, even though I was not regularly in the team at that time, was special.
"I played once with Glenn Hoddle and that was an honour. I played with Ossie Ardiles and what a sensational player he was, but the best player I played with was Paul Gascoigne. I was lucky enough to play centre midfield with him for all his career at Spurs, and he was just so easy to play with.
"You could give him the ball in any situation and he could deal with it. He could travel forward with the ball and go past players. He also scored every type of goal and he also did not mind the physical side of the game. He was just an outstanding player.
"I was also lucky enough to play with Jurgen Klinsmann, Teddy Sheringham, Darren Anderton and Gary Lineker which was an absolute privilege but for me, Gazza stood out."
---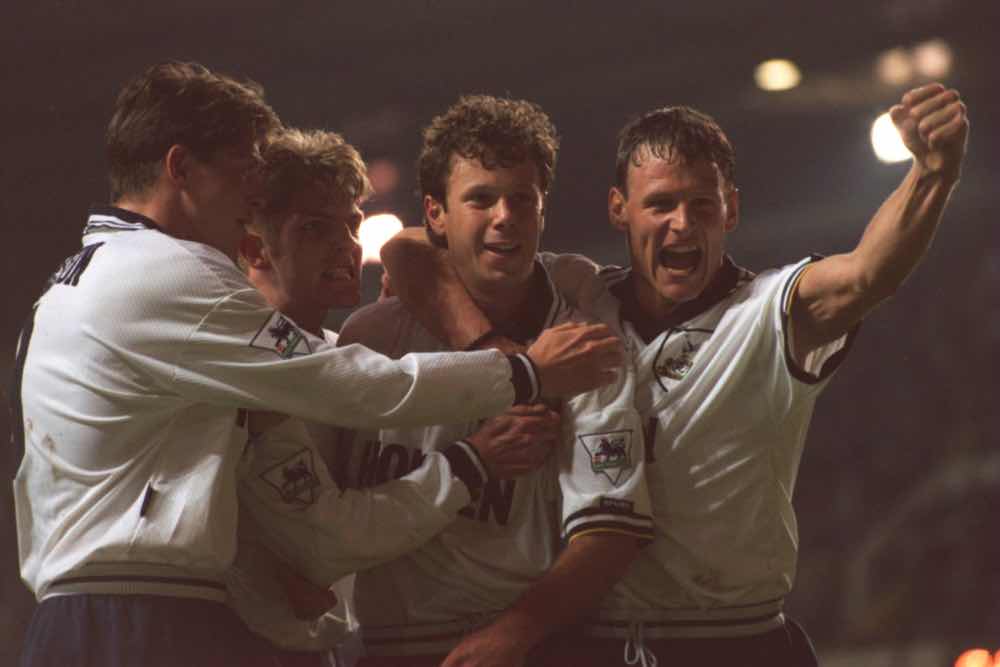 I can imagine in your position as a midfielder that you have come up against some difficult opponents through the years. When you look back could you say who which opponents stood out for you?
"Yes, in my position the two opponents I respected the most were Roy Keane and Patrick Vieira, for obvious reasons. They were the type of midfielders who would take you everywhere on the pitch. They were not just goalscoring midfielders, they would drag you back and were both very physical, but both very talented footballers.
"The ability that especially Roy Keane had, he was a fantastic footballer and that gets overlooked with the image that he portrayed on the pitch in terms of the hard man stuff, but he was a fantastic player as well. So those two playing in my position stood out.
"The player that struck me as the most talented player I ever played against was Marco van Basten. Tottenham Hotspur played against AC Milan in the late eighties at Wembley in a pre-season match, and as well as AC Milan being a wonderful team he really stood put in that team. He was just on a different level to anybody else, and I always tell people that Marco van Basten was the one that, in a single match, had the biggest effect on me. He was just incredible."
---
Finally, David, looking back on your career, could you say which managers meant a lot to you and played a key role in your development as a professional footballer?
"Yes, going back to the start of my career, when you are learning it is very important that you have the right sort of coaches and characters. There were two largely unheralded coaches at Tottenham Hotspur.
"The first one was Robbie Stepney, who was a fantastic guy and an amazing character who was so vivacious and funny. A proper football man who treated the players really well.
"The other one was Keith Blunt. He was the number two to Bob Houghton at Malmö FF when they reached the European Cup Final in 1979. He became youth team manager at Tottenham Hotspur when I first signed for the club.
"I worked for a couple of years with Keith and he was a very positive influence on me in terms of how to live your life, behave as a professional, and as a man. He later went on to be the head coach of the national youth development centre a Lilleshall, and he worked with players such as Michael Owen, Jamie Carragher, and lots of good players came through that school, and I believe he had a positive effect on a lot of players and they all speak very highly of him.
"The best manager I played under was Terry Venables. His man-management was top draw and he knew exactly how to deal with people on a one to one basis. He knew exactly what players needed and he got to know the players on a personal level as well as how the players were technically.
"His training was always vibrant and he always had a plan. We always went on the pitch with a plan when we were playing in matches, which was not always the case of all the coaches I played under. He was also a great guy as well who really stood out for me."