By Tom Nash.
It's been a long hard season for Wolverhampton Wanderers. It got underway in July 2019 in the Europa League qualifying rounds, and when it ends in the latter stages of that tournament in August, they will have played 60 matches over a thirteen-month period.
How did each of their players cope during this marathon campaign?
Rui Patricio 8/10
Portugal's number 1 was brought in to replace John Ruddy and add a level of quality and experience to the starting XI following Wolves' 2018 promotion.
His 2018/19 season did not stand out given the high expectations that come with a European champion, but that was not the case this time around.
Patricio looked more assured in the air, and has formed a solid unit with Coady, Boly, and Saiss in front of him. His penalty save against Paul Pogba in August allowed Wolves to go undefeated in their four games vs the two Manchester sides.
Willy Boly 8/10
Boly has proven to be one of Wolves' best signings in recent years and is arguably among the best central defenders in the division.
He is tall, strong, good in the air, safe in possession, and a guarantee of clean sheets for the team. He lost concentration at key moments post-lockdown but overall had another superb season. It's surprising the team didn't miss him more during his four-month injury lay-off.
Conor Coady 8/10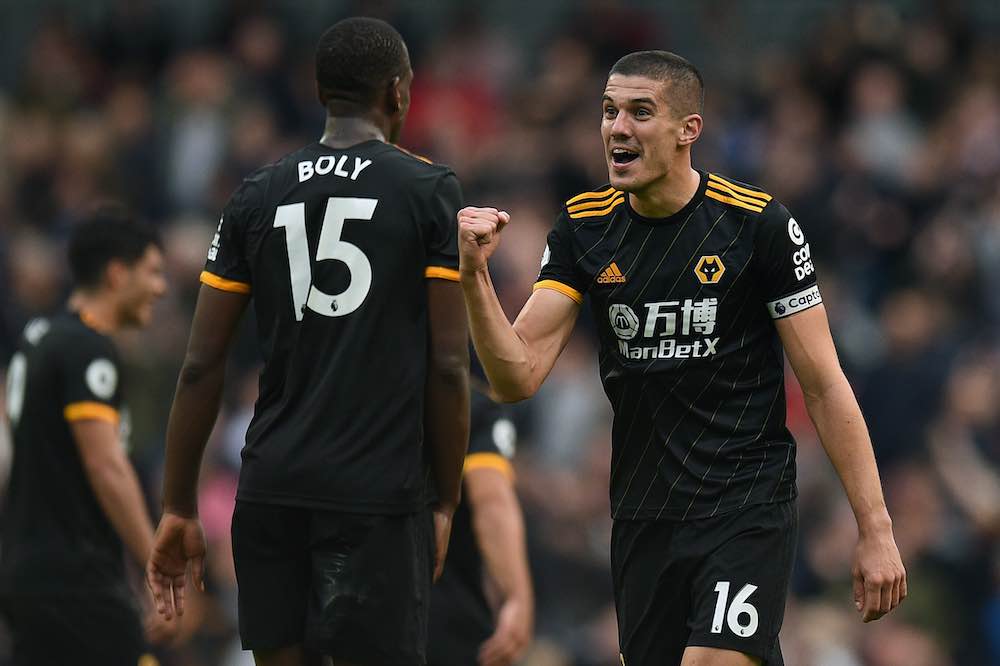 Yet again, Coady has captained Wolves brilliantly this season. He orchestrates the team's back three expertly, communicating constantly. He has gained precision with his long balls out to the wing-backs.
He can get beaten for pace by the likes of Sterling or Rashford if caught out of position but minimizes the number of times this occurs.
He was flawless in the team's astonishing 2-0 victory at the Etihad Stadium in October which tipped the title race in Liverpool's favour at an early stage, and confirmed Wanderers as a candidate in the race for Champions League football.
Romas Saiss 7/10
The Moroccan has perhaps been one of the most satisfying stories of the 2019/20 season for Nuno Espirito Santo.
His conversion from a defensive midfielder into a centre-back seems to be complete. He, Coady, and Boly form an excellent back three which is difficult to beat aerially or for strength.
The left side of the back line appears to be in good hands and Morocco will benefit hugely from the expertise he is acquiring in Wolverhampton.
Matt Doherty 7/10
The Irishman scored with an unforgettable last-minute strike to wrap up an unlikely double over Guardiola's Man City in December, but blew hot and cold aside from that.
Wolves fans are used to him being one of the most consistent players in the team but his performances didn't live up to his high standards at times. He was a victim of Santo's constant changes of shape and personnel, and Adama Traore appeared to not need anyone's help down the right flank at times, leaving Doherty anonymous.
There is no need for change in that position, but he'll probably feel he had a better season last year than this one.
Jonny Otto 8/10
The Spaniard has progressed nicely this season after taking some time to adapt to a new style of football in a new country last season.
The defensive side of the wing-back role comes naturally to the former Celta Vigo man as he is a responsible left-back by trade. However, he has added more to his game in an attacking sense this time, playing one-twos down his flank with Jota and others.
When he fooled John McGinn with a step-over in Wolves' win over Villa it was apparent he now plays with self-confidence with the ball as well as without it.
Ruben Vinagre 7/10
The young Portuguese wing-back is another exciting attacking wide man of the type Nuno Espirito Santo is known to be fond of.
Wolves' win away at Tottenham in March, a rare start on the left ahead of Jonny Otto, showcased Vinagre's strengths and weaknesses.
Spurs were able to get at Wolves down their left flank, exploiting the drop in quality defensively that Nuno's men suffer whenever Otto is not present. In attack, however, Vinagre flew up the wing with confidence teaming up brilliantly with his countryman Jota, helping to provide pace and creativity.
He will need to improve defensively to threaten Jonny's place in the starting XI, and is more likely to play a cameo role from the bench in 2020/21 whenever Wolves need a goal or an attacking option against a stubborn opponent.
Leander Dendoncker 8/10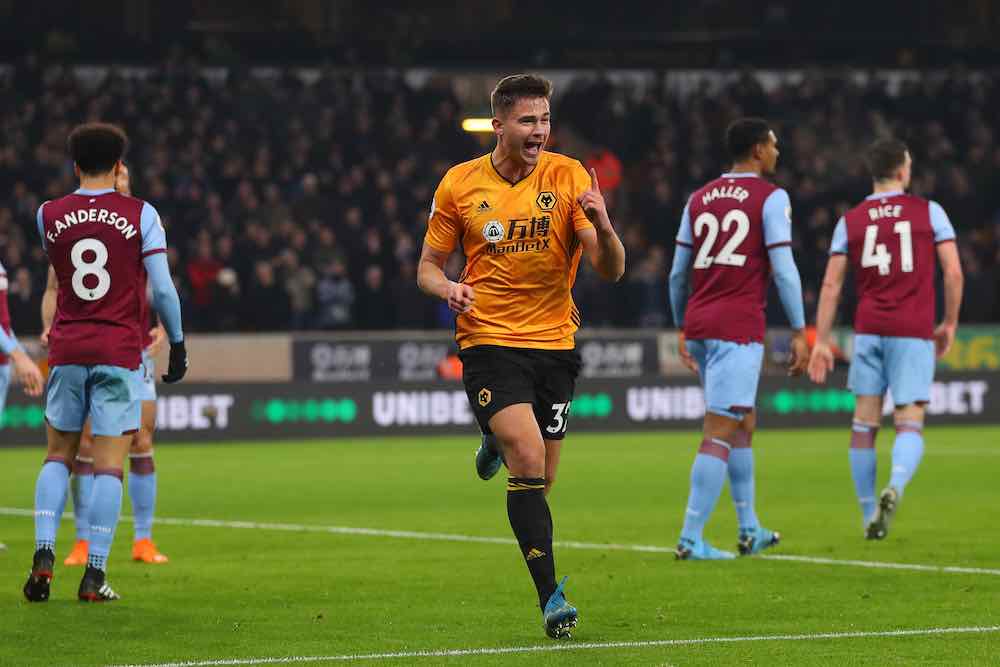 The young Belgian is proving to be a hugely valuable asset to Santo. A midfielder by trade, he was given the daunting task of filling in for Boly in defence during his long absence and did so very well. Wolves never lost touch with the European places and looked comfortable during that period.
Elsewhere, he has helped form an effective midfield three with Neves and Moutinho, and chipped in with some important goals at the end of the season just as he did last year. A very satisfactory campaign.
Ruben Neves 8/10
Neves continues to grow into a top-class midfielder under the guidance of Santo and his coaching staff. Known mainly for his lethal right-footed shots from outside the area and his superb long-range passes, he has quietly added another aspect to his game this season.
Wolves play without a destructive central midfielder known for tackling and intercepting, so Neves has slowly moulded himself into the club's best player in this area.
His positioning has improved and he is constantly learning about what he needs to do without the ball. This, added to his skills in possession, makes the 23-year-old a player with a huge career at the highest level ahead of him.
Joao Moutinho 7/10
The Portugal star became an instant hit at Molineux in the 2018/19 season, adding a level of class and technical quality that immediately propelled Wolves into the top half of the Premier League for the first time.
While his debut season in England was probably worth a 9/10 or at least 8, he has not had the same impact this season. Many argue this is because Traore has dominated Wolves' attacking play so much down the right channel that Moutinho sees the ball less on the inside left.
Either way, there is no doubting his quality or his importance to the side. Even as he reaches his mid-30s, he's an integral part of the team.
Adama Traore 9/10
Adama Traore's 2019/20 campaign will go down in Premier League folklore alongside Tony Yeboah's volleys and Jayjay Okocha's flicks and tricks. The Spaniard has left commentators scrambling for new adjectives. 'Unstoppable' and 'unplayable' are two often used.
Forecasting Traore's next move once on the ball is not difficult. Stopping it, however, very much is.
In the 2018-19 season his supernatural power and pace was not matched by an end product. Over the summer of 2019 that was rectified emphatically, turning the ex-Middlesborough man into one of the hottest properties in world football.
He can beat any full-back in the league at will, and can now normally match it with a precise cross to a striking partner too.
Will Wolves be able to retain him? Will he want to leave? Will any club be willing to match the asking price in the current pandemic-stricken economy? Speculation over his future promises to fill the rumour mill for a good part of the summer.
Diogo Jota 7/10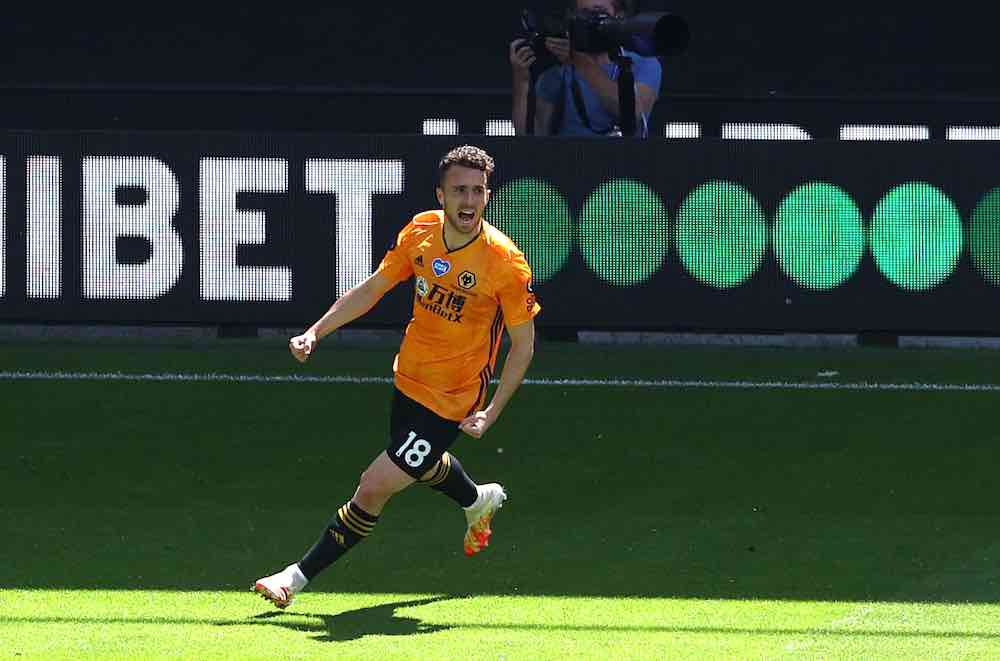 Jota exploded onto the English football scene in 2018-19 with a series of memorable goals, notably a hat-trick against Leicester and a strike vs Arsenal.
However, in 2019/20 his form went through more notable highs and lows. His flashes of pace and trickery in possession were still there, as were a number of big goals, but Santo probably feels the youngster must produce more consistency in future.
Occupying Wolves' most prominent threat down the left flank, perhaps he was another victim of the team's tendency to shift the ball to the in-form Traore down the right.
His talent is there for all to see, but Nuno will try to get more consistency from the Portugal forward in 2020/21. The rise of Pedro Neto will add competition for the left forward spot.
Pedro Neto 7/10
Pedro Neto was another of Santo's success stories this season. The young forward (another Portuguese) really made his mark on the team and staked his claim for more regular starts next year.
Coming mainly off the bench in the final 25 minutes, he often provided the impact the team was looking for in the final third with trickery and goals.
Aged just 20, he has the potential to turn into a Premier League young player of the year in future, and is in the ideal setup to put his career on an upward trajectory.
Raul Jimenez 9/10
Whenever a striker scores a number of important goals in their debut season, debate immediately arises among fans as to whether they will be a 'one-season wonder'. Perhaps rightly so, given this has happened in the past.
Jimenez answered that question emphatically this season, following up a successful first season with an even more impressive haul of 26 goals in 2019/20, 17 of which came in the league.
The Mexico star is a natural goalscorer who also understands the importance of working for the team. He often drops deep to interact with his midfield partners and start an attack, and is always lurking ominously for the opponent around the six-yard area when moves are finished.
He was linked to teams such as Manchester United and Juventus during the lockdown. Wolves fans would be delighted if those rumours just went away and came to nothing as replacing his lethal effectiveness would be a mammoth task.