By Chris Smith.
FC Cincinnati exited the MLS is Back tournament at the quarter-final stage on Tuesday night with a 4-2 penalty shootout defeat to the Portland Timbers.
After going 1-0 down to a Jaroslaw Niezgoda effort in the 67th minute, Allan Cruz capitalised on a terrible late error from Timbers' 'keeper Steve Clark to win a penalty, which Jurgen Locadia gratefully dispatched to force a shootout.
But the Ohio side couldn't get over the line, with Clark redeeming himself by saving Locadia's effort during the shootout, while captain Kendal Waston blazed over the bar to send Cincinnati home at the round-of-16 stage.
However, rather than being humiliated in the fashion we've seen all too often from Cincinnati since joining Major League Soccer last year, the Orange and Blue have taken their tail from between their legs and can leave Orlando with pride and a sense of hope for their prospects when the regular season gets back underway.
Much of that is thanks to the hard work being done by Jaap Stam.
Even with the signings of Locadia and Siem de Jong, Cincinnati are an obviously limited attacking outfit and although Stam outlined in his first press conference as manager that he wanted to play "attractive" and "dominant" football, that was clearly going to be tough with the tools at his disposal.
That is a low, low block from #FCCincy pic.twitter.com/Epp4ixhBOw

— Ben Wright (@benwright) July 29, 2020
So, the Dutchman had to come up with a new way of making his side competitive. Luckily, Stam is well-schooled in the rigid and regimented structures which can define much of European football.
Things went wrong for Cincinnati in their 4-0 Hell is Real derby defeat to Columbus in their tournament opener when Stam tried to use the immobile De Jong and Haris Medunjanin to go toe-to-toe with the Crew's agile and dynamic midfield. Since then, with lessons learned, he's changed system and approach and has truly made Cincinnati one of the hardest teams in MLS to break down right now.
As can be seen in the team's action heatmap from their final three MLS is Back games, Cincinnati — lining up in a 5-3-2 with every player packed behind the ball — were happy to sit deep on the edge of their own box and repel pressure. They remained narrow to ensure teams couldn't play through them centrally and instead, opponents were forced wide, where they had to pump crosses into the box.
That is meat and drink for the aerially dominant Waston and Co and in fact, Cincinnati won no fewer than 46 aerial duels from matchday two of the tournament onwards, completing 308 defensive actions, 143 interceptions, and completing 172 ball recoveries.
As shown in the defensive actions map (below) from those three matches, at no point were Cincinnati interested in going hunting for the ball high-up — that would have been suicide. Instead, they were happy to sit on the edge of their own box, deflecting attacks with a rigid defensive structure and ultimate positional discipline.
Sure, you can question the fact that Cincinnati allowed the opposition 38 shots during their fixtures against Atlanta United (7), New York Red Bulls (13) and Portland Timbers (18). But you can also point to how their opposition generated xG of just 0.30, 1.44 and 1.57 respectively — according to Infogol — while they conceded just once.
For all the pressure they came under, Cincinnati were able to deny the opposition high quality, meaningful chances at goal and were great value for their win and two draws (not including the penalty shootout loss against Portland).
"Of course you're pleased in not conceding and scoring yourself," Stam said of his side ahead of their clash with the Timbers.
"The first game, we've all seen that, and what happened for ourselves. We could have done better in that particular game but we didn't.
"You need to learn from the things you haven't done well, and that's what we've done. In the second and third game, we've picked it up very quickly, got the clean sheet, but also scored our goals, and of course, we're very happy in doing that.
"We want to keep on progressing and making things even more easy for yourself if that's possible. Of course, you need to play against opposition that has a lot of quality, so that makes it difficult.
"But we believe in ourselves and what we can do and what we've shown the last couple of games and hopefully we can make progress there."
Midfielder Caleb Stanko has also been glowing in his reference of Stam and how the former Manchester United defender has both commanded the respect of the dressing room and adjusted to run with a style that suits the roster at his disposal, rather than the far-reaching ideals of the club owners.
"[Stam] brings a very intense, tactical, disciplined approach to the game, which I really appreciate," he said.
"That hasn't always been the case with the past coaches, which is just a different style. But it definitely plays into my style.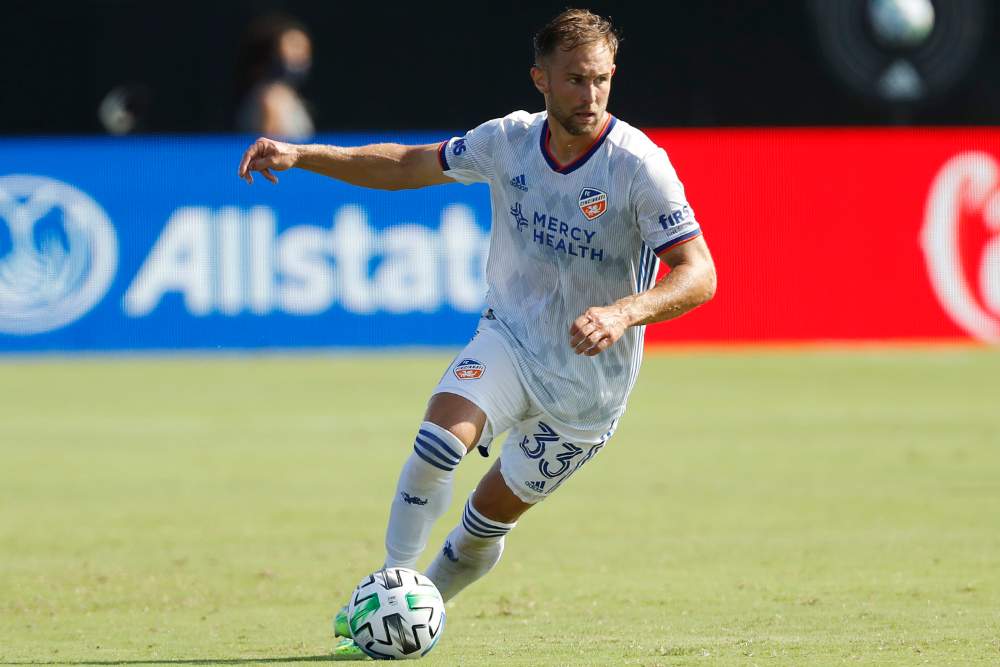 "I really respect the guy so much for what he's done as a player, and I think that he's really implemented a style that fits our team. It's been so far really good to work with him and I'm excited for whatever the future holds."
Does the fact that Cincinnati were able to advance through what was a 'group of death' to the MLS is Back knockout rounds make them a genuine contender to reach this season's playoffs? Perhaps that would be stretching a little.
However, by instilling a rigid and disciplined defensive structure, the Orange and Blue were able to nullify some of the most dangerous teams in this league, while the likes of De Jong, Locadia and exciting youngster Frankie Amaya are all capable of individual moments of brilliance to capitalise on the opposition's lack of ideas which comes from being frustrated in this manner.
More than anything, Stam has given Cincinnati fans hope that their side can lift themselves from the MLS basement and compete. That is a world away from their prospects last season and makes the MLS is Back tournament a huge success for the sophomores from Ohio.
---
All data from Twenty3, via Wyscout, unless stated otherwise.