James Rowe spoke to Watford forward Helen Ward for WFi. They discussed her return to Watford, representing Wales, and the best players she's played with and against.
---
You returned to Watford FC Ladies in 2017 having previously played for the club after coming through the youth setup. How do you reflect on your time there so far? What does the club mean to you and what would you describe as the strengths of this current Watford FC Ladies team?'
"Obviously Watford FC are a club that means a lot to me. I grew up in the area. My parents home where I grew up is only a 20-minute walk from the Vicarage Road and I spent a lot of my time as a kid going to watch the men's team on a Saturday with my older brother.
"I also started my career there at the age of ten and I spent 12 years there in my first stint. I left the club at the age of 22 and it was really the grounding that I needed. We went from what was called the South East Combination at that time right up to the top league — the equivalent of the WSL. It was not professional at that point but it was a top league and we were facing the likes of Arsenal, Chelsea and the big teams every week.
"It was also the first time the club had been in the top flight so that was a massive part of my football journey that lead me to go on and achieve the things I have since then.
"Coming back to the club in 2017, the club showed a lot of faith in me because when I actually signed for Watford I was eight and a half months pregnant with my second child. The fact they wanted to sign me when they knew that I could not play for a few months beyond that was a show of faith and helped to make my decision to return. It was like coming home.
"My plan was and still is to end my career at Watford and it is a place that means an awful lot to me and a place that I call home. We are in the third tier at the moment and we harbour ambitions to achieve promotion in future.
"We have assembled a good squad of talented players and young hungry players that are eager to make their mark on the game. We have a good style of play and we are confident that we can achieve that in future. We are also supported by a great backroom staff who are helping us to try to achieve those goals."
---
You played three seasons for Chelsea FC Women. How do you look back on your time at the club and do you have any special memories or highlights?
"Yes my time at Chelsea was the second most amount of time [at one club] in my career.
"I was signed by Matt Beard who I have an awful lot of respect for and I am still in touch with him now. He is a really good guy and a fantastic manager who has gone on to win plenty of things as a manager with different clubs. He has also been in the United States with Boston Breakers so it shows the calibre of the manager that he is. So for him to want to sign me back in 2010 was great.
"He is the sort of manger who looks after his players and if I was going through a spell as a forward where I was not scoring, he would put an arm around me and show that he had faith in me and that is the kind of thing that makes a big difference as a player — knowing that your manager has got your back. It was great to play under him.
"We managed to get to the FA Cup Final in 2012 which was huge. Unfortunately we did not win it. I have still never watched the game back in its entirety and it still hurts that we lost on penalties against Birmingham City Ladies, but it is still a part of my career and time at Chelsea in reaching that cup final. We beat Arsenal in the semi-final which nobody expected us to, so it was a really good journey.
"At the end of my time there I was not playing as much as I would have liked, but Emma Hayes had come in at that point and you could see that she was starting to build something. She was bringing in players from abroad which was at the time almost unheard of.
"She also wanted to play in a certain way and I did not quite fit that, but that happens in football and that does not dampen my time at the club. I am very proud to have played for Chelsea and it is an opportunity that I am very grateful to have had.
"Emma Hayes has gone on to do wonderful things at Chelsea they are serial winners now. She has built a world-class side that can compete with any team, not only in England, but probably the world.
"I look back with very fond memories of my time there and I am proud to have represented such a big club."
---
You have been capped on many occasions by your country of Wales. How do you reflect on representing your country and do you have any highlights or special memories?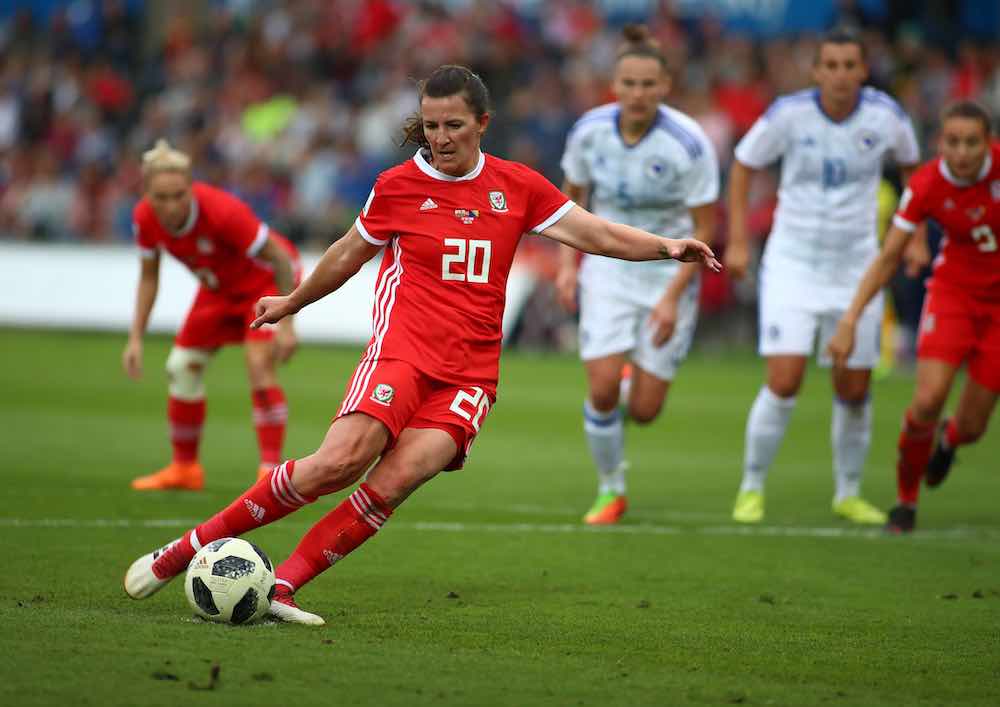 "Yes, I won my 90th cap in a friendly against Estonia at the start of March. I am immensely proud especially having had two children to have made that many appearances for Wales. I never thought such a thing would have been possible.
"To have scored 42 goals, as well, is another record that I am really proud of, and every time I put on that shirt it means the world to me, to sing the anthem alongside players that have become very good friends over the years.
"I made my debut nearly 12 years ago now in September 2008 in a 6-1 away win against Luxembourg, and that is a long period of time in anyone's life.
"We have come through big challenges as a core of eight players that have been there including the current manager, Jayne Ludlow. She was a player when I made my debut and she is now the manager and she has seen the growth of the squad and a team as a whole. She has been able to take us to another level and we were so close to qualifying for last summer's World Cup in France and our plan is to try to qualify for the European Championships in future.
"Our ambitions as a group are to get ourselves into a major finals for the first time in the history of the women's team.
"I can look back and be proud of so many things but there are hopefully some more things to look forward to in future as an international player."
---
You accrued experience playing for different clubs in England as well as playing international football. Could you say who are among the best players you have played alongside so far in your career?
"I have been very fortunate to play for some very good clubs, and also internationally I have played with the best players that Wales have to offer. It's hard to pick out a few names.
"The obvious standout would be Kim Little, who I played with at Arsenal. She was only young at the time but you could tell even then how good a player she was. She was already dominating the league in terms of creating and scoring goals and basically running the game from start to finish.
"Sophie Ingle is the captain of Wales and she also plays for Chelsea. She is one of the most laid back people you could wish to meet, but the talent that the girl possesses is unbelievable. She is technically gifted with both her left and right foot, and can create and score some great goals that anybody would be proud of in the goal of the season category. She has grown as a player since she has got older and when people ask me who my favourite player is I often say Sophie Ingle not just because of the player she is but the person she is as well.
"Jess Fishlock is another player who is incredibly talented. Ciara Grant from my time at Arsenal was an unbelievably gifted footballer who was exceptional in the air. Carly Davies is another defender I played with that knew how to read a game like the back of her hand. She was not the tallest but she very rarely got beaten in the air or beaten for pace, even though she was not the quickest.
"She was always in the right place at the right time. Karen Carney and Kelly Smith were also at Arsenal when I signed and they were both exceptional players. So I have been very lucky to play with such a talented group of footballers."
---
I can imagine in your position as a striker that you have come up against some very difficult opponents through the years. Are there any that stand out for you?
Yes, one that stands out as soon as you ask that question is Wendie Renard of France and Olympique Lyonnais. I played against her for Wales and she was quite young at the time. She was unbelievable.
"I remember standing in the tunnel and looking up and she was six foot plus and my friend and teammate Gwen Harris said to me: 'It's alright, maybe she is really slow,' and I thought, hopefully!
"Then we got out on the pitch and it quickly became apparent that she was not slow and that she was a very good defender.
"She is one of the opponents that really stood out for me and someone I found difficult to play against. She certainly stands out as one of the most gifted players and the most difficult defender to get the better of, for sure."
---
Finally, Helen, you already mentioned Matt Beard and Jayne Ludlow. Could you say who are the coaches and managers who have meant a lot to you and played a key role in your development as a professional footballer?
"I would say that Matt Beard and Jayne Ludlow have played a part, but [also] Sian Williams who was my manager at Watford. She was an unbelievably talented player who played for both Arsenal and England and when she came to manage Watford, she stepped up the level of professionalism at the club and the training intensity went up tenfold.
"It was at a point in my career where I was at an age where I really needed to push on and she was the one that enabled me to do that. It also opened up the door to make my debut for Wales as well, and that is something I am very grateful for.
"Jarmo Matikainen who was the Wales manager before Jayne, did an awful lot for my career and he believed in me. I always felt that when I went away with Wales that he had confidence in me and I scored a lot of goals under him as a player, and I don't think that is a coincidence. His play suited me although it did not suit every player.
"Keith Boanas, I did not spend a lot of time under him as a player but he was the manager that re-signed me for Watford and he made a real effort to do that. I was very close to signing for Tottenham Hotspur Women before I spoke to him, and he laid out the plans that he had for the club. On a personal level, he made me feel really wanted and that I would be a big part of what he was trying to build.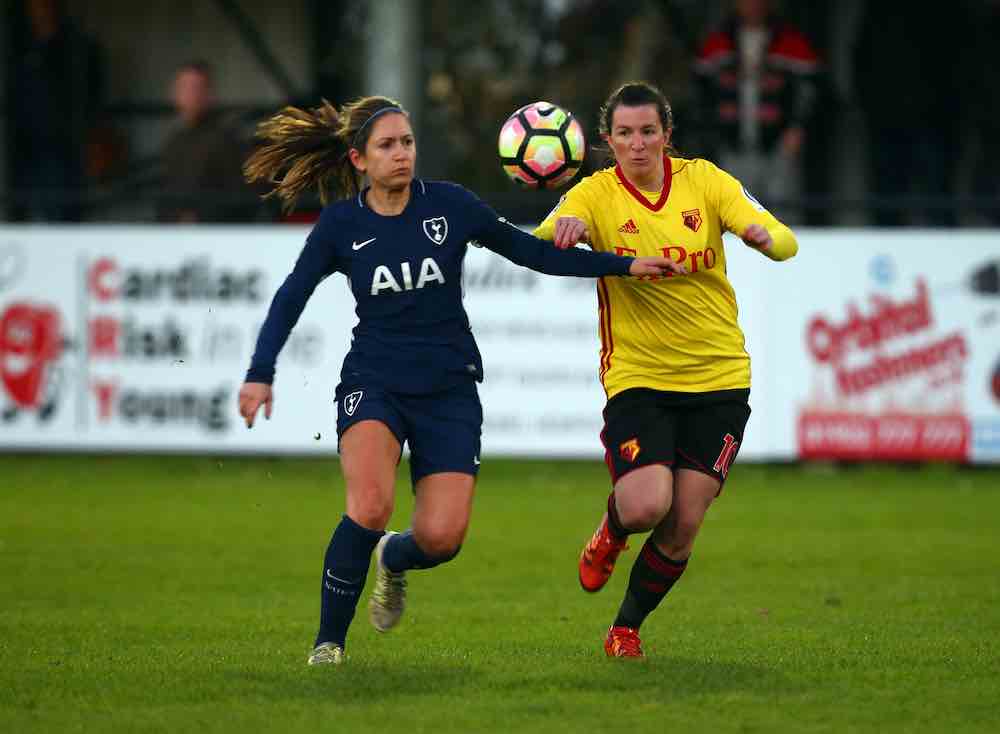 "He taught me a lot of things and he is a very experienced manager who has won a lot of things in his career and he has also developed some incredibly talented players in women's football. When he managed Charlton Athletic, they won a lot of trophies and some incredible players came through the ranks under his watch and I learned a lot during our time together.
"The only reason I did not sign for Tottenham Hotspur Women, was because it was Watford that came in for me. Had any other club come in for me at that point I would have gone to Spurs, but because it was Watford and they are my team, my hometown club, and it was like coming home. The only club that could have swayed me away from Spurs was Watford.
"There was no underlying reason and it was nothing that Spurs did or did not do it was just the fact that they were unfortunate that Watford came in for me and it was my time to come home."