By Jack Beville.
The politics of football clubs and their fanbases can, albeit fairly reductively, be narrowed down to two different forms.
First, the involvement in or endorsement of a club from political figures for political gain — for example, the Real Madrids and the Lazios of the football world.
Then there's a more grassroots, organic form of politics within the sport, often arising naturally from within the support and slowly becoming something that characterises the fanbase and, in turn, the club. To this end, you could take a plethora of clubs as an example; Celtic, St. Pauli, and Liverpool to name but a few.
Athletic Club, more commonly known as Athletic Bilbao, are a bit different. The culture of the club is born out of the tradition and history of the Basque Country, and this is reflected in the politics of both of the club and its support. Whether it is the club's transfer policy or the beliefs that characterise the club's support — Athletic Bilbao cannot be separated from the politics surrounding the club.
Bilbao's Basque Backbone
There is one thing in particular that sets Athletic Bilbao aside from almost all other clubs, especially those playing at the highest level of the game.
In an ever-changing financial landscape, clubs are constantly seeking to make use of increasing television and sponsorship revenue to fight other clubs for the signatures of talent from across the globe. On the opening weekend of the 2019/2020 Premier League season, for example, just over 37% of players starting for teams were eligible for selection for the England national team. That's 83 players out of the 220 that started.
Of course, it is wholly unsurprising that as football becomes increasingly globalised and culturally ubiquitous, players from across the globe will be identified, scouted, and brought to foreign divisions. This should not, in any sense, be frowned upon. After all, a great number of players who light up their respective leagues do not ply their trade in their country of origin.
What this does highlight, however, is that a football team's squad is very often an incredible mix of backgrounds, cultures, and nationalities. This isn't the case quite so much at Athletic Bilbao. But by no means is this a bad thing.
Athletic Bilbao's transfer policy, though not an official rule embedded in any form of written club constitution, is perhaps the most infamous club-specific transfer policy going, so much so that to choose to manage the club on Football Manager is seen as a unique challenge in itself.
The policy itself restricts Athletic Bilbao to signing only players from the Basque country, or those whose relatives were, and those who have been trained and developed at a club in the Basque country. As a result, Athletic Bilbao are often restricted to signing youth talent from clubs such as Real Sociedad, Deportivo Alavés, Eibar, and Osasuna.
The policy stretches back over a century to 1912 and is thus deeply entrenched in the tradition and the culture that embodies the club itself. Notably, Real Sociedad had a similar policy in the 1960s, though it was eventually dropped in 1989 following the signing of John Aldridge who is, if you weren't already sure, not of Basque origin nor descent.
The Basque country spans across both Spain and France, within the western Pyrenees. The French Basque Country is divided into three different provinces; Labourd, Soule, and Lower Navarre – this collection of provinces is known as the Northern Basque Country. Then there's the Southern Basque Country, which lies entirely within Spain and thus, as a result, is also referred to as the Spanish Basque Country. The most populated part of the Basque Country, it is made up of three provinces; Álava, Gipuzkoa, and Bisca, the capital of which is Bilbao.
After more than 150 goals for the club, Athletic Bilbao legend Aritz Aduriz has announced his retirement 👋

His career should have ended with the Basque derby in the Copa del Rey final at the end of this season 😢 pic.twitter.com/8fx61yaIXA

— Goal (@goal) May 20, 2020
Recent signings and talent nurtured by the club's prestigious youth system include names such as Iñaki Williams (born in Bilbao), Javi Martínez (born in Navarre), the recently retired Aritz Aduriz (born in Gipuzkoa), and current club captain Iker Muniain (born in Pamplona).
There was a fair amount of local debate in 2010 following the formal announcement of Bilbao's signing of Aymeric Laporte, now, of course, a key figure in Manchester City's squad, over whether he met the transfer policy criteria. Laporte's signing demonstrates how, at times, a fair amount of leeway is allowed and how a player's links to the Basque Country can be somewhat tenuous at best.
Laporte was born in southwestern France, in Agen, and thus was not personally from the Basque Country and potentially ineligible to sign for Los Leones. His great-grandparents, however, were both born in the Basque Country and so, albeit distantly, Laporte was deemed to be of Basque descent.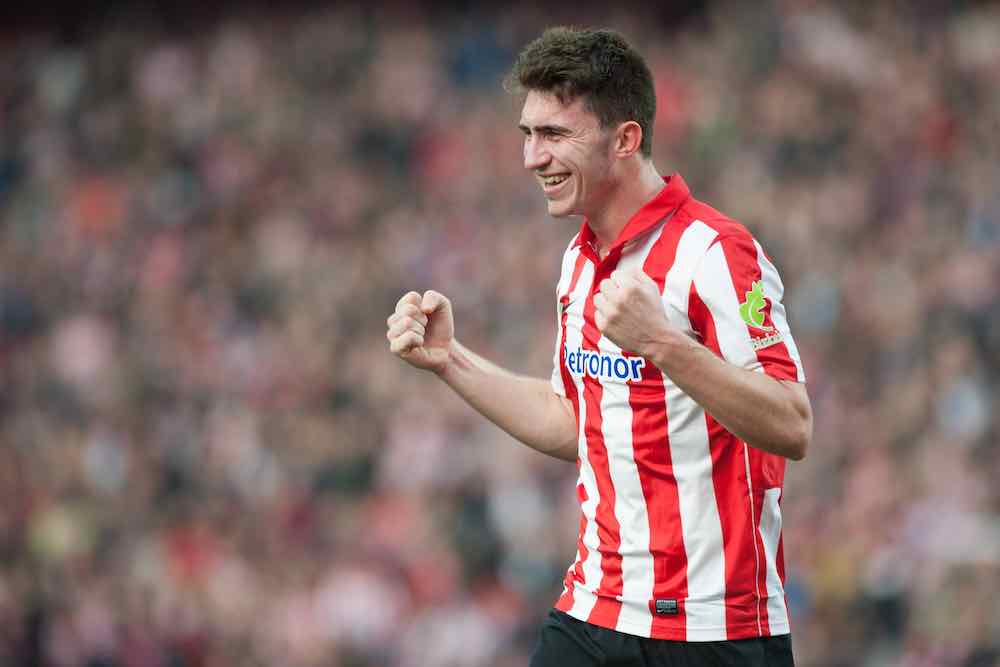 In a footballing sense, Athletic Bilbao's transfer policy does make their task of toppling the likes of Barcelona, Real Madrid and Atléti just that bit more difficult — as if it wasn't difficult enough already. Their talent sources are extremely limited and those players that are of Basque descent and develop into great talents for the club are often snatched by other clubs.
Bilbao do, of course, demand relatively high fees for their players – Javi Martinez cost Bayern Munich a Bundesliga transfer record fee of €40m due to the midfielder's lofty buyout clause. Kepa Arrizabalaga set Chelsea back a fee in excess of £70m, the world record transfer fee for a goalkeeper — whether or not his talent matches such a status is a different conversation of course.
Whilst Bilbao do make good money from their exports, the money is hard for the club to reinvest as easily as it would be for other clubs as a result of their transfer policy.
Debate surrounding the nature of Athletic Bilbao's transfer policy has always existed. Some believe the Basque nationalism represented by the policy to show loyalty to the club's Basque tradition. The transfer policy gives those born in the Basque Country, or in modern terms those of Basque descent, a chance to ply their trade at the highest level.
By signing only those players who fit the restrictions, Athletic Bilbao are able to promote, nurture, and develop local talent, ensuring that the Basque Country remains represented in football both locally and globally. In this sense, the policy seeks to maintain the identity of the club and its supporters through those who represent the club on the pitch. The saying, 'con cantera y afición, no hace falta importación' meaning, 'with home-grown talent and local support, you don't need imports', attests to this.
Iker Muniain's new contract, signed in late 2018, repaid this faith. Rather unusually, the contract did not include any kind of buyout clause, which Muniain himself explained, saying: "I didn't want a release clause because I do not want to have a price or be for sale […] I have great love for this club that has given me so much and to which I am very grateful."
The opposing view taken is that the policy has distinctly racist connotations and that, rather than simply being seen as preferential to those of Basque descent, it is flagrantly discriminatory. This view is, of course, understandable to some degree.
There is, broadly speaking, an issue surrounding nationalism in socio-political contexts. Whilst nationalism and patriotism both seek to communicate a sense of pride in a region or nation, they are often manifested in a way that instead seems to suggest, implicitly or intentionally, a sense of superiority over that which is foreign.
To level such a charge at Bilbao's transfer policy, however, is a rather reductive assessment of the club's intention that entirely disregards what the policy seeks to achieve. To label the policy as outright discrimination would almost conflate it to the behaviour of both Beitar Jerusalem and their fans — who are both anti-Arab and anti-Muslim, a stance demonstrated by the response to the signings of Zaur Sadayev and Dzhabrail Kadiyev.
As previously mentioned, however, Bilbao's strict policy has become more flexible in recent years and, as a result, is more representative of players from different backgrounds and descents — though they must still have some kind of connection to the Basque Country.
Los Leones' number nine, Iñaki Williams, was born in Bilbao to Ghanaian and Liberian parents who made their way into Spain by jumping the Melilla border fence which forms part of the border between Morocco and Spain. Williams represents the modernisation of the transfer policy and the increasing inclusivity involved in Bilbao's transfer strategy. In a 2-2 draw away to Torino in the Europa League in 2015, the forward became the first black player to ever score for the club.
Anti-Fascists, Anti-Ultras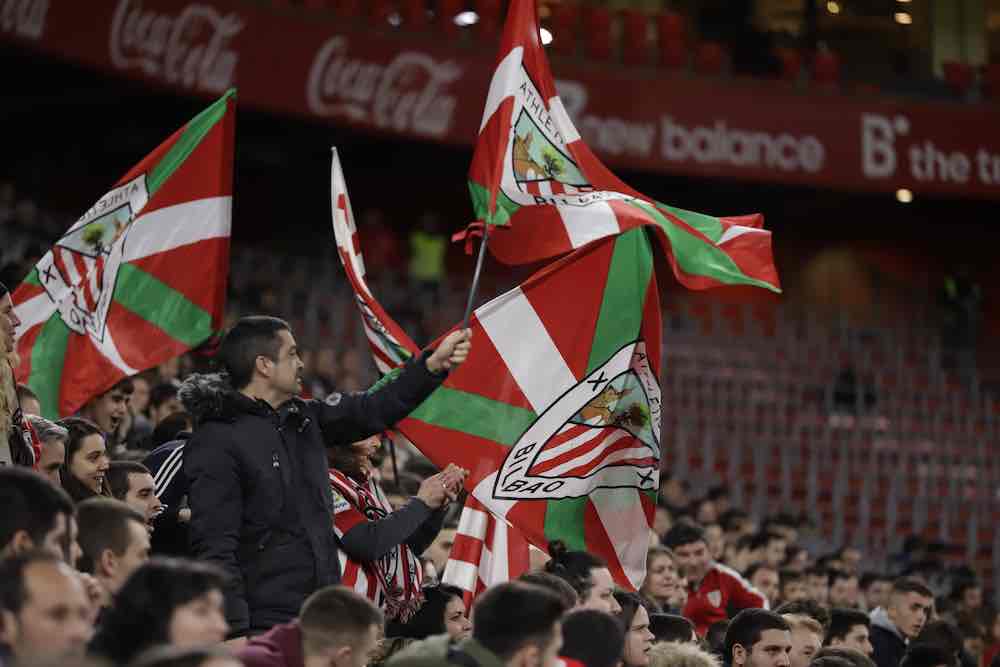 The separatist and nationalist politics that underline Athletic Bilbao's transfer policy are mirrored and represented in the stands and on the streets by the club's adoring fan base — a regular sight on matchday being the swathes of Ikurriña flags waving in the crowd. The San Mamés stadium becomes a sea of red, white, and green.
The sense of Basque pride in Bilbao is, unquestionably, something that ties the club to its fans, and the fans to the club. The club, for the fans, is not just a mere hobby with which they engage once or twice a week — it is a vehicle and a platform for the Basque community to voice their struggle against historic cultural oppression from the Spanish elite.
This is something Athletic Bilbao share with Barcelona, something that became evident in the final of the Copa del Rey in 2009 when the two sides faced each other at Valencia's Mestalla stadium. Before the match, the Spanish national anthem was played and subsequently booed, hissed, and catcalled in response by the Basques and Catalans in attendance.
The nationalism of Bilbao's fans is a far cry from the far-right nationalism that is rife through segments of modern-day football culture — it is almost the direct inverse. Athletic Bilbao's fans, particularly Herri Norte Taldea, are staunch leftists, and not only do they talk the talk – they walk the walk. Herri Norte are unique in the wider landscape of football's many supporter groups, partially because they oppose the label often attributed to them as an 'ultra' group. Instead, the group self-defines itself using the term anti-ultras.
This notion, of Herri Norte being a movement in opposition to the standard ultra group, with the connotations of far-right politics that often come with it (however accurate that perception is), symbolises the far-left ideals the group is based upon.
Herri Norte are fundamentally anti-racist, anti-fascist and, of course, pro-independence. Despite its membership standing at a relatively modest figure of 200 individuals, Herri Norte have been consistently influential and impactful in their anti-fascist efforts.
In 1995, for example, the group teamed up with SOS Racismo in organizing an anti-racism rally entitled 'In favour of immigrants and against racism in football'. More recently, the group clashed with Spartak Moscow fans on the streets of Bilbao prior to the second leg of their Europa League round of 32 tie in February 2018.
Spartak Moscow's ultras, and Russian ultras more generally, have become notorious for their ultra-nationalist, intolerant views and, as a result, Herri Norte responded by organizing a gathering under the name 'Against Fascism, we defend our city" the day before the match.
It was on matchday, however, when the violence came to a boil. Clashes between the two sets of fans on the day led to the death of Inocencio Arias García, who was a member of the Basque police force Ertzaintza.
Due to the anti-Spanish sentiments espoused by Bilbao's fans, they are often the victims of police-enforced violence and media condemnation when they travel to away games. Despite the violence of Spartak's fans on that day in February 2018, it was largely Herri Norte who received the brunt of the blame for what ensued by the media who are, quite frequently, more than happy to simply accuse Bilbao's Basque fanbase as being little more than terrorists.
The anti-Spanish, far left, pro-independence of Herri Norte does, however, see them come together with other teams residing in the Basque region in support of the non-official Basque national team. It is a phenomenon that demonstrates the complexity of football fan culture.
Whilst the ordinary supporters of Bilbao, Sociedad, Alavés, and Osasuna engage in the kind of footballing rivalry that you would expect from fans of local opposing sides, the ultras are united by their pro-independence beliefs and are, interestingly, able to put aside their differences and unify in the knowledge that their feelings of hatred towards Spain are bigger than any local rivalry.
The same is the case for fans of clubs in both Catalonia and Galicia through the Escamots Catalans and Segadors in the former, and the Siareiros Galegos in the latter. In the case of fans of the Basque Country's own national team, Euskal Hintxak was formed in order to represent the unification of Basque fans of different clubs behind their national team.
Much like Barcelona and their supporters, for fans of Los Leones, the club is more than just a football club. Athletic Bilbao, for their Basque fans, represent an opportunity, a platform, and a community. In the face of historic repression from the Spanish government, particularly during Franco's time, Athletic Bilbao has given Basques a place to voice their pro-independence views and their separatist political beliefs. This is what sets the club and its fans apart from the vast majority of fan groups across Europe.
Politics is often a crucial catalyst in the activity of ultra groups, but very rarely are they the politics of independence, separatism, and defiance in such a sense. Naturally, this is manifested in a variety of ways, but at the heart of Athletic Bilbao, there will always be this historic Basque bond.