Sporting Kansas City will face the Philadelphia Union in the quarter-finals of the MLS is Back tournament after claiming a 3-1 shootout victory over the Vancouver Whitecaps.
The Group D winners, who were coming off a 2-0 victory over Real Salt Lake, conjured up wave after wave of deadly attacks but just couldn't find a way past Vancouver's defence.
That was largely thanks to 21-year-old Thomas Hasal, the third-string goalkeeper for the Whitecaps playing in his third MLS game.
The Saskatoon, Saskatchewan native was forced to make some big saves to keep his side in the match, with his first one coming in the 18th minute to deny Sporting midfielder Gadi Kinda from close range.
Never a doubt.

Big up Thomas for a true Man of the Match performance. #VWFC | @phillipsbeer pic.twitter.com/ihREvvmOeH

— Vancouver Whitecaps FC (@WhitecapsFC) July 27, 2020
Hasal's impressive performance continued into the second half, as he denied Mexico international Alan Pulido from a tight angle, forcing the shot off the post with a strong hand.
Towards the final 10 minutes, Kansas City pushed hard, searching for the goal to send them through while denying Vancouver any chances of hitting them on the counter.
In the end, the match would go to a penalty shootout but Hasal wasn't able to provide the heroics, as 18-year-old Gianluca Busio netted the winning penalty for Sporting.
Although there weren't any goals in this one, there's still lots to dissect from both teams' performances and what they can provide in future matches.
These were the starting lineups for both sides.
The XI. #SKCvVAN // @BlueKC pic.twitter.com/LJsCIfvLE1

— Sporting KC (@SportingKC) July 27, 2020
The set up tonight 👊

What do we think about the 4️⃣-4️⃣-1️⃣-1️⃣ 'Caps fans?

Your starting XI, delivered by @DoorDash #VWFC pic.twitter.com/8aDPNGHo7h

— Vancouver Whitecaps FC (@WhitecapsFC) July 27, 2020
Sporting KC head coach Peter Vermes made just one change to the side that beat Salt Lake last week, with Kinda coming in for Busio.
Marc Dos Santos, meanwhile, decided to go for his fourth different formation of the tournament, making two changes from his team's 2-0 victory over Chicago Fire.
Former Colo Colo man Cristian Gutierrez and Colombian winger Cristian Dajome slotted into the line-up in place of defender Jasser Khmiri and youngster Ryan Raposo.
Hasal Impresses
There's no doubt Thomas Hasal put in a Man of the Match performance on Sunday night, even though the 'Caps lost on penalties.
The Canadian finished the match with eight saves and is yet to concede a single MLS goal during his 220 minutes of play.
As highlighted above, the youngster made plenty of key stops to deny Sporting and keep the Whitecaps in the game, including a superb, tipped save to force Pulido's effort onto the post.
THIS KID! pic.twitter.com/1Xs7PofHfS

— Vancouver Whitecaps FC (@WhitecapsFC) July 27, 2020
It's safe to say Hasal has taken his opportunity, but it wouldn't have arrived for two unfortunate reasons.
First off, Vancouver's first-choice goalkeeper, Maxime Crepeau, picked up a left thumb injury in the 3-0 loss to Seattle and was ruled out until late August.
Meanwhile, second-choice goalkeeper Bryan Meredith left the Whitecaps' camp in Orlando for his hometown of New Jersey due to family reasons, leaving Hasal as the only option to fill the goal.
Hasal has been able to take his opportunity and show his qualities on the biggest stage, given the game was nationally televised across the U.S, and he's certainly made a big case to fight for the number one spot alongside Crepeau.
SKC's Overloads Out Wide
For large periods of the game, Sporting found plenty of success down the left side by causing massive overloads to free up space around Vancouver's penalty area. Much of this was down to the play of Gadi Kinda and Portuguese full-back Luis Martins.
As shown by the 'attack sides' image below, from Whoscored.com, most of SKC's play came down their left side and Vancouver's right, leaving Jake Nerwinski and Cristian Dajome outnumbered when defending.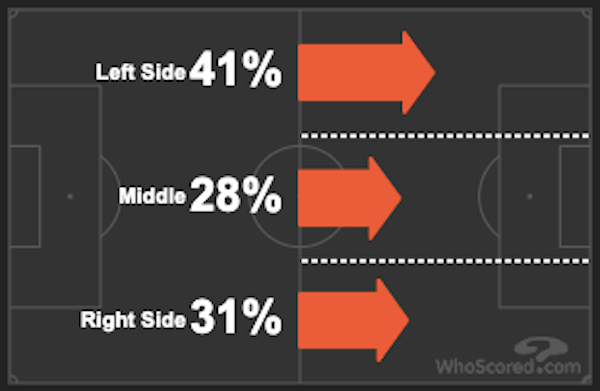 You'd expect Kinda to take a more central role for Kansas City, but the Ethiopian loves to drift out wide, dribble at defenders with pace and combine out wide with the wingers, which is exactly what he was able to do during the match.
Despite no breakthrough, the midfielder finished with 65 passes (the most among the front six), three key passes, a game-high seven dribbles and four successful tackles.
As for Martins, the fullback drove forward from touchline to touchline, threatening with numerous crosses into the box and combining plenty with Kinda.
The Portuguese registered 64 total passes, eight crosses, three dribbles and two interceptions, but simply couldn't provide the moment Sporting needed to clinch the win in normal time.
However, if Sporting are to be successful in this tournament and possibly go all the way, expect the combination of Kinda and Martins to play a big role on the offensive.
Defensive Standouts
If not for Vancouver's strong defensive performance, Sporting would've surely found the opener.
Along with Hasal, lots of credit has to go to the two centre-backs in front of him; Canada international Derek Cornelius and Serbian youngster Ranko Veselinovic.
Cornelius came up with a huge block just before half-time to deny Roger Espinoza from close range, just after another big save from Hasal.
6 saves on the night for Thomas Hasal! 🙌

The homegrown is making a name for himself! #SKCvVAN pic.twitter.com/sAUkIQqJd1

— Major League Soccer (@MLS) July 27, 2020
That was only one of the three blocks made by the Canadian, while Veselinovic added in another two.
The pair also combined for 17 clearances and four aerial duels, in order to extend Vancouver's shutout streak after conceding seven times in the first two games of the tournament and leaving the side much stronger than when they first arrived in Orlando.
"I am very proud of the group. I am very proud of our guys", explained head coach Dos Santos post-match.
"I am very proud of the staff, not only the technical staff, the medical staff, everybody that came here with the right attitude and every time there's a setback or a problem, the attitude of the staff, of everyone in the club, of the players was incredible. So we are leaving this tournament stronger, that's for sure."
The Whitecaps will now return to Vancouver and self-quarantine for 14 days, as per the COVID-19 health guidelines for entry into Canada, while Sporting KC get set to face the Philadelphia Union in the quarter-finals.