By Jordan Florit.
On February 15, 2020, after four years as a professional footballer, an 18-year-old Dianny Pérez left her home state of Zulia for the first time. Having played for Maracaibo Sport and Zulia FC, the left-back decided to make the switch to LALA FC, a team based in Puerto Ordaz, some 1,755 kilometres east.
"I came because the Superliga Femenina is divided into two groups: the Western and the Eastern," Pérez tells WFi.
"I had only played in the Western Group, so for that reason I wanted to come and experience the teams in the east, to start gaining that understanding and knowledge of both groups."
It was a mature move for a young player, but unforeseen circumstances transpired to make her astute decision emotionally and mentally costly.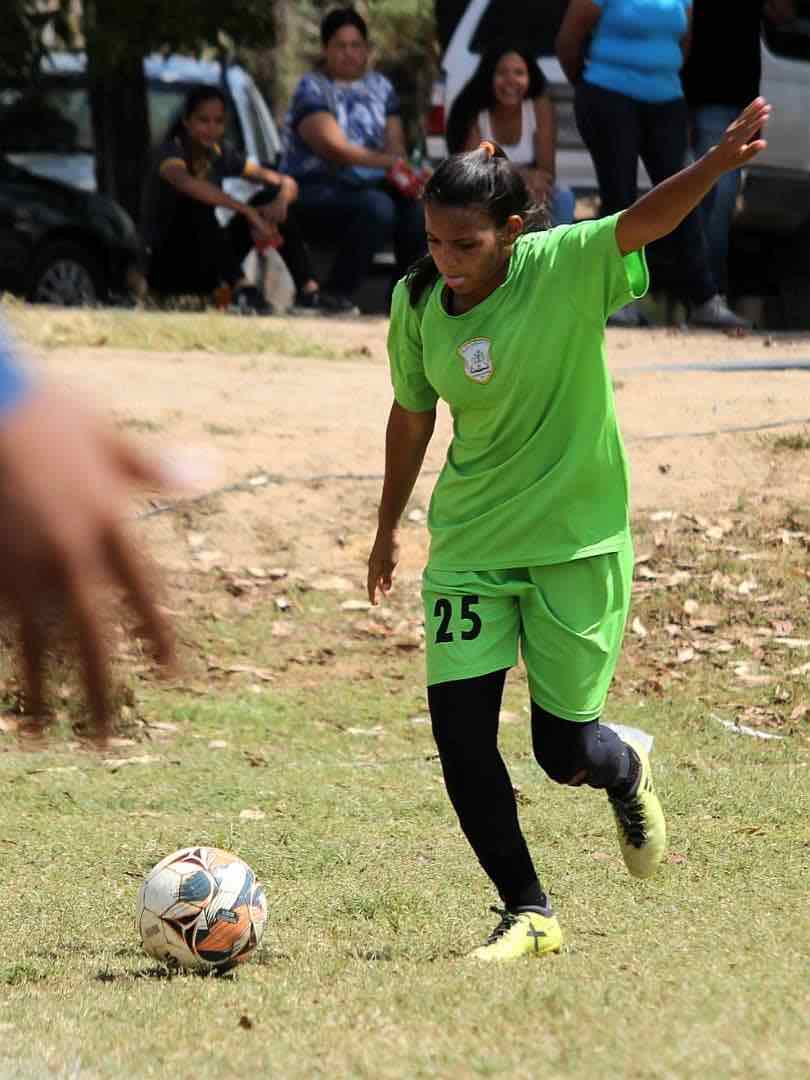 On March 17, a few days after the first case of Covid-19 was confirmed in Venezuela, president Nicolás Maduro announced a nationwide quarantine. It came two days after the Venezuelan Football Federation had announced the suspension of all football activity across the country. Dianny was yet to even kick a ball competitively for her new team. Worse was yet to come.
Four months have passed — and two since the federation permanently suspended the football season — and Dianny and her teammates are yet to be informed as to when they will resume training.
Meanwhile, the vast majority of their male counterparts throughout Venezuela are into their fourth week back. Noncontact temperature guns, automated sanitising stations on entry into the training ground, and personal protective equipment have become the new norm for many clubs.
"The men's teams that haven't restarted can be counted on one hand," says Pérez. "No women's team has started training, nor do we have any information about the tournament."
Right now, she and her teammates should be on their midseason break. Instead, their season never started.
What's worse is that in the five months Dianny has been at the club, she is yet to be paid a penny.
"I have not even received my wage for the first month," she says. "At Zulia, from the beginning to the end, I always got paid without any problem.
"Since everything stopped because of the pandemic, I haven't had any information from [LALA]. Nobody has contacted me, only the coaches, who just tell us that we have to wait for a response."
Just short of 2,000 kilometres from home, isolated by a nationwide quarantine as part of a global pandemic, and four months without receiving pay or seeing any family members is a set of circumstances beyond challenging, but perversely Dianny is lucky. Her family have been able to cover her living costs and she has been living with a friend not far from the club.
"At the start, it was very tough," she adds. "If I didn't have the help of my family, it would have been chaos. I had to have an operation just after the quarantine began because I had appendicitis, and, although I am now much better, I really don't know what would have happened if I didn't have that support." On July 6, Pérez turned 19 years old. It was a birthday with little reason to celebrate.
Although the men's team at LALA FC are yet to return to training either, the fact that almost all of the others have has prompted Dianny and a number of her fellow female professionals to take to social media and address an open letter to the Venezuelan Sports Minister, Pedro Infante, and the Venezuelan Football Federation President, Jesus Berardinelli, calling for their return and for equal treatment.
The letter reads:
Through this statement… we request to return to our work activities as men's professional football is currently, with all the corresponding health measures and guidelines given by [the World Health Organisation], FIFA, and CONMEBOL.

Since many players in our country who make their lives in professional women's football depend on their salary for day-to-day living, their very livelihoods, we see the need for our call to be heard. We also advocate for our coaches and everyone who is part of our football.

We are all fundamental. Without our work and effort on and off the pitch, we would not be here fighting for the equality we want. Our struggle is for the demonstration of discipline in our country. Venezuela is one of the South American countries with a number of players [in Europe], and that's why CONMEBOL, FIFA, and the FVF are receiving this call. Venezuela has a great history in women's football, and we can't go unnoticed.
"We want to be valued in the same way as the men," Pérez explained. "The treatment of the women's teams has always been this way.
"I know players with a lot of experience and they always tell me the same thing. We are players like the men and we also give titles to our country like the men. It's something we should all understand."
In fact, the women's teams have given Venezuela its only titles. Although at club level neither the men's or women's sides have won continental competitions (a Venezuelan team has finished runners-up of the Copa Libertadores Femenina twice in the competition's 11-year history, whereas the furthest a Venezuelan team has advanced in the men's equivalent is the quarter-finals), on the international stage, the women's team have come home with trophies and winners' medals on more than one occasion.
The women's national team, at youth level in particular, has played an important role in the country's football culture in recent years, galvanising and inspiring the nation with as much fire and fervour as any of the male selections have.
Between 2013 and 2016, the U17s won back-to-back South American Championships undefeated, and twice finished fourth at the World Cup, largely with the same core of players at all four tournaments. Such was the wave of optimism they caused in the country, a documentary film of their journey to the 2016 U-17 World Cup was made, named Nos Llaman Guerreras (They Call Us Warriors).
"I think these girls are an example of how, through sport, you can achieve incredible things despite many obstacles," Jennifer Socorro, one of the film's directors and a former national team player, tells WFi.
"It is quite incredible. The political, economic, and social situation is very difficult in Venezuela, so to do something this good is outrageous."
In the opening scenes, the team are being put through their paces by their head coach, a Panamanian man named Kenneth Zseremeta.
"These girls have gone through so many difficulties," he says to the camera. "Difficulties like a low quality of life, health, social, and economic issues.
"I get calls from my players saying they don't have anything to eat or that they have no money to buy essentials like deodorant or toothpaste."
Within seven months, and after four years of sustained success in the women's youth categories, Venezuela's amateur Liga Nacional was replaced with the country's first female professional football league, the Superliga Femenina.
It was a big step up. As then Federation President Laureano González said, it would secure the players' livelihoods: "Each player will require a contract and will receive the national minimum wage as a starting point. The Superliga will have all the characteristics of the first or second division." Namely, this was to be a salary, insurance, and greater career protection.
The first year of the professional league was Pérez's first season as a footballer. In name at least, she knows no different. But that is the problem. If situations like the one she is in now — that Venezuelan women's football is in now — are allowed to go on unchallenged, the professionalisation is in name only.
Where are the contractual wages or insurance packages? Where is the career protection? Perhaps Pérez's salary will be backdated once the pandemic is over — she says she really does not know what to believe — but four months of silence in the meanwhile is not showing respect and is certainly not professional.
"The love I have for the game and the passion that runs through my veins makes football so special for me; it is more than just a way of life," she says. "At my young age, I have earned the respect of the Zulia fans for my commitment in every game, because I would leave my heart and soul on the pitch every time I wore that shirt.
"I just ask Venezuelan football to support us. We all dream big, personally and professionally, and we all need a little bit of your help and support, to motivate us to achieve our goals."
And how does Dianny think the women's game in Venezuela can be improved?
"Treating us the same and giving us the same rights as the men will be the best way to improve women's football in Venezuela."