By Chris Smith.
Atlanta United kicked off Stephen Glass' spell as interim manager with a 2-0 win over Nashville SC on Saturday night. 
After a disastrous MLS is Back showing consisting three consecutive 1-0 defeats and the departure of Frank de Boer, this was a much-needed victory for the Five Stripes.
After largely controlling the first half, Atlanta's breakthrough finally came in the 40th minute after Pity Martinez controlled a superb long ball from Eric Remedi before turning Nashville defender Walker Zimmermann inside out and finishing low beyond Joe Willis.
I know he's been poor but give Jahn some credit here. His run to the back post drags Romney away just enough to give Pity space for a much easier finish…

What a ball from Rememdi too 🎯 #UniteAndConquer #ATLUTD #ATLvNSH https://t.co/xVmmrxJ9z8

— Chris Smith (@CJSmith91) August 22, 2020
And it was Pity who finished the job late into the second half, lashing home a Mohammed Adams pass in emphatic style to round off a night of relief for the 2018 MLS Cup champions.
It wasn't a perfect performance but there were plenty of positives for the Five Stripes faithful to take away, so, what did we learn about Glass' Atlanta United from his first showing?
1. Midfield Ambition
To get a sense of the struggles Atlanta United have had in midfield since Darlington Nagbe departed for Columbus Crew in the off-season, take a look at the mess that is their MLS is Back passing network below, or read our analysis of their failings from that tournament here.
While you can't say this midfield illness has been instantly cured, you could certainly see the green shoots of recovery on Saturday night.
Where in Orlando, possession had to be recycled between centre-backs with no options ahead of them to pass to, this clash with Nashville saw the likes of Emerson Hyndman and, especially, Remedi drop into the No.6 position to take the ball and progress the Five Stripes forward.
A look Remedi's touch map from the game — courtesy of Whoscored.com — clearly shows how Glass placed the Argentine in front of his backline to provide a constant passing option. It was a big task for Remedi to carry out and he largely did a fantastic job.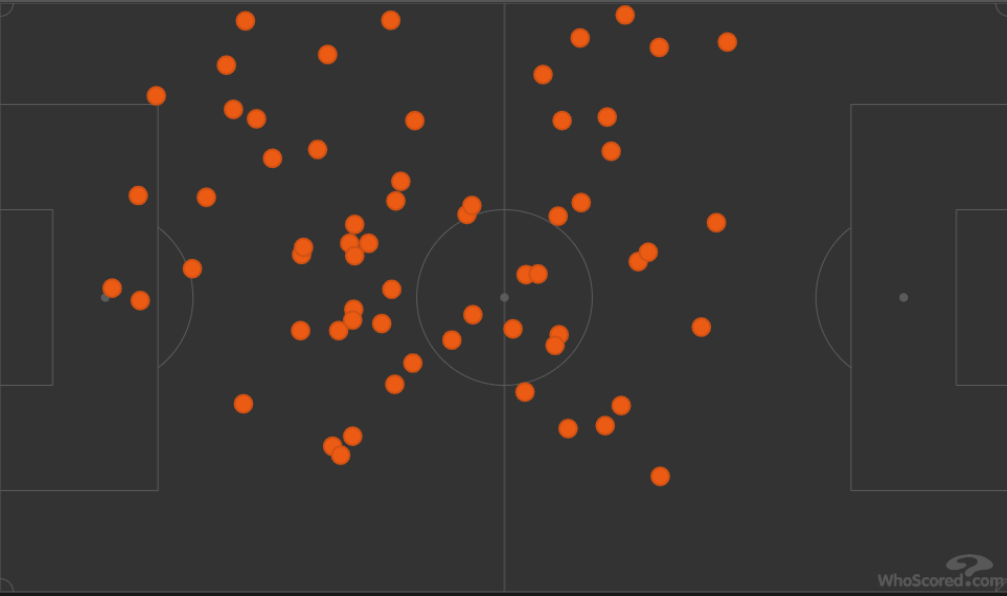 The 25-year-old completed 43 passes during his 85 minutes on the pitch — only the equally impressive Matheus Rossetto (47) and Anton Walkes (56) completed more for Atlanta — while it was his arrow of a ball forward which unleashed Martinez in the final third for the opening goal.
The end result of this more active midfield play was Atlanta being able to play more in Nashville's half, rather than on the edge of their own box. This pushed Gary Smith's side further back and isolated their forwards, while it also exploited the immobility of veteran Dax McCarty who, despite his defensive qualities, was often dragged out of possession by quick passing sequences and fluid movement.
2. Wing-back Combinations
With McCarty often pulled out of place and Anibal Godoy unable to adequately cover on his own, a whole plethora of passing lanes were opened up in the half-spaces for Atlanta United and some of thei biggest beneficiaries of this were their wing-backs, George Bello and Brooks Lennon.
The young pairing have shown flashes of their talent at various points throughout this season but all too often fell victim of De Boer's disjointed and stagnant pace of play, while Atlanta's tendency to give the ball away in bad areas left them caught far too high up the pitch to cover defensively.
On Saturday, we caught a glimpse of just what they can offer to the Five Stripes with both Bello and Lennon bombing forward at will, taking on diagonal passes through those aforementioned midfield spaces. At times, the duo even combined to set up chances for each other, such as in the first half when Bello broke forward and squared to Lennon who could only find the hands of Willis with his shot.
What's more, with a combined five tackles, two interceptions and five clearances between the two of them, Bello and Lennon showed far more defensive solidity than anything we witnessed during MLS is Back.
If Glass is to stick with the 3-4-2-1 system employed by De Boer, the form of their wing-backs is going to be of vital importance and this was certainly a positive step in that respect.
3. Pity Unlocked
Arguably the biggest frustration among Atlanta United supporters during the De Boer era was the form, or lack of, shown by Designated Player and record signing, Pity Martinez.
Sure, the Argentina international scored in the Five Stripes' US Open Cup final win over Minnesota United in 2019 and had momentary bursts of real quality but in general, he left fans scratching their heads and wondering where the reigning South American Player of the Year was hiding.
As was the case with most of the Atlanta team against Nashville, Saturday's performance was a monumental leap in the right direction.
Sure, we still witnessed some of the moments of frustration we've become accustomed to with Pity at the Mercedes-Benz Stadium, with the 27-year-old often guilty of running into dead ends and losing possession cheaply.
However, he was a constant thorn in the side of Nashville's defence, leading counter-attacks and looking to pick the lock with through-balls. And, well, how do you start to describe his two goals?
WHAT A STRIKE FROM PITY! 🔥@ATLUTD double their lead in the closing minutes. #ATLvNSH pic.twitter.com/O7KPYzuCbM

— Major League Soccer (@MLS) August 23, 2020
For the first, Pity brilliantly controlled a long ball from his compatriot Remedi and stood up Zimmermann before roasting him on the inside and slotting coolly home beyond Willis. For the second, he kick-started the counter-attack by finding debutant Erick 'Cubo' Torres in space before finishing the move himself, lashing home in style from an Adams pass.
This is the Pity Martinez we've been we've been wanting all along in MLS, the Designated Player coming up with spectacular, match-winning moments right when his side needed him.
One game like this doesn't make Pity a success, he still has so much more to give to Atlanta United, but what a confidence boost this two-goal haul against Nashville will be, and how refreshing it was to see him play with the fun and freedom he did during his River Plate days.