By Chris Smith.
Frank de Boer's worst fears were realised on Tuesday night as Atlanta United crashed out of the MLS is Back tournament without a single point or goal to their name. 
Despite being one of the pre-tournament favourites, the Five Stripes fell to successive 1-0 defeats at the hands of New York Red Bulls, FC Cincinnati and Columbus Crew, leaving Orlando with their tails between their legs.
So, to try and pick the bones from what has been an underwhelming and humiliating return to action for the 2018 MLS Cup champions, here are the 'seven deadly sins' of Atlanta United's MLS is Back exit.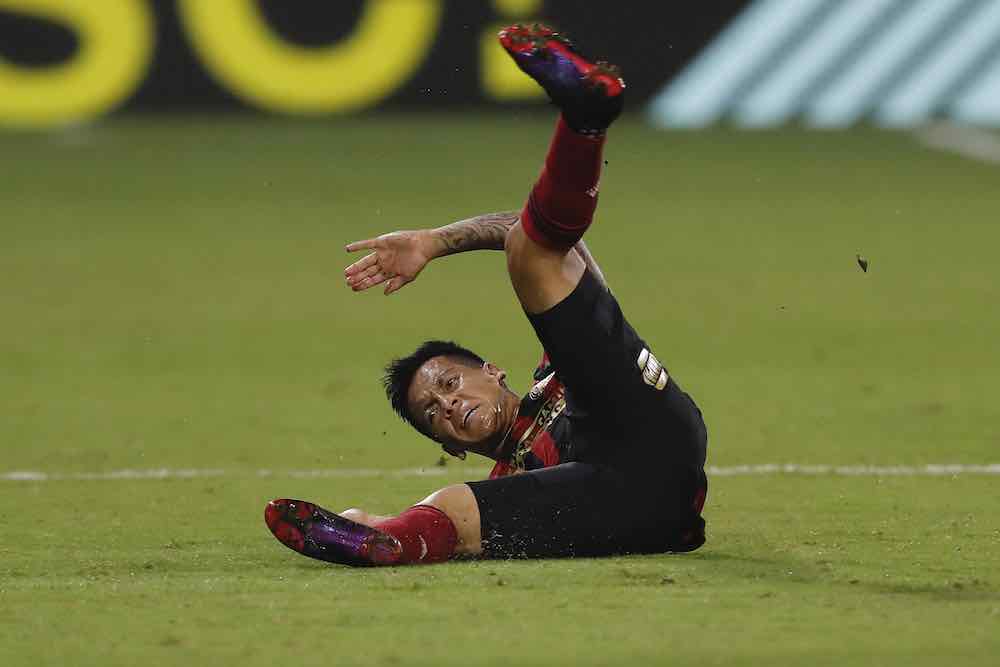 1. Lack Of Defensive Organisation
There are plenty of problems at the top end of the pitch and we'll get to those in a moment but first, we simply must touch on the terrifying defensive displays put in by Atlanta United during their time in Orlando.
Sure, they only conceded one goal in each game, but let's not forget they did play arguably the worst team in Major League Soccer and a Columbus Crew side with one eye already on the knockout rounds along the way.
Florian Valot's goal for the Red Bulls in their tournament opener highlighted a dangerous lack of understanding between left-wing-back George Bello, centre-back Fernando Meza and the central midfielders in front of them. The Frenchman was simply allowed to stroll into space as if going down a catwalk before finishing beyond a helpless Brad Guzan.
In the third match, after just eight minutes, the same thing happened again as Columbus' Luis Diaz ran straight into the same gap, only to hit the side-netting. No matter, moments later, the Crew this time exposed a weakness to the right of Atlanta's centre-back trio before cutting it across for Youness Mokhtar to score.
Going back to the start of the season, the Five Stripes have conceded a goal in each of their five games so far and when you're without your star striker, that has to be addressed. The losses of Leandro Gonzalez Pirez and Michael Parkhurst have hurt more than first anticipated.
2. No Midfield Options
Another huge problem to stand out in all three MLS is Back matches was Atlanta's inability to use the ball with any semblance of ambition or creativity. Or even competence for that matter.
Against the Red Bulls and the Crew, the Five Stripes were harassed by a high press during the early stages, before being forced to simply play it between their centre-backs and Guzan as the opposition dropped into a mid-block. A similar problem occurred during the defeat to Cincinnati and when you break all three down, the problem becomes clear: no Atlanta United midfielder was willing to drop in and make things happen on the ball.
This is illustrated perfectly in the passing network graphic below from Twenty3, which covers all three games in the tournament and shows the glaring lack of a midfielder around the centre circle to initiate moves.
Over the past couple of years, that job has mostly fallen to Darlington Nagbe, who completed all 43 of his attempted passes against Atlanta on Tuesday night, but the USMNT international was keen to leave the Five Stripes in the off-season, leaving a huge gap in the midfield.
De Boer clearly hoped Emerson Hyndman would be the solution here but between him, Eric Remedi, Matheus Rossetto and Mo Adams, the Atlanta midfield has lacked ambition and gone hiding when their team needed someone to grab hold of the game. The only central midfielder that can possibly hold his head up high is Jeff Larentowicz, a 36-year-old veteran lacking the mobility of those around him but still admirably willing to go and find possession.
3. No Back-up For Josef Martinez
Here is the big one.
"LAFC have scored nine goals without the MVP, Carlos Vela. Atlanta United look like they are playing a man down without Josef Martinez," said Taylor Twellman during his commentary on Tuesday night.
Whether it be Adam Jahn as a target man, Manuel Castro as an expert chance-misser or Pity Martinez (apparently) as a false nine, Atlanta couldn't have looked further from scoring down in Orlando.
Again, this can be shown in the data, as illustrated by the Twenty3 shot map below which shows the team created very few good chances (shown in red, yellow chances are more difficult).
Sure, you'd do well to predict Josef Martinez picking up such a horrible injury. That said, it doesn't leave De Boer without an excuse to find someone of a similar style and stature as the Venezuelan. Just look at LAFC picking up Bradley Wright-Phillips, or Ayo Akinola's emergence with Toronto in Jozy Altidore's absence.
Remember, Atlanta allowed Tito Villalba and Brandon Vazquez go during the off-season.
4. Underperforming Pity Martinez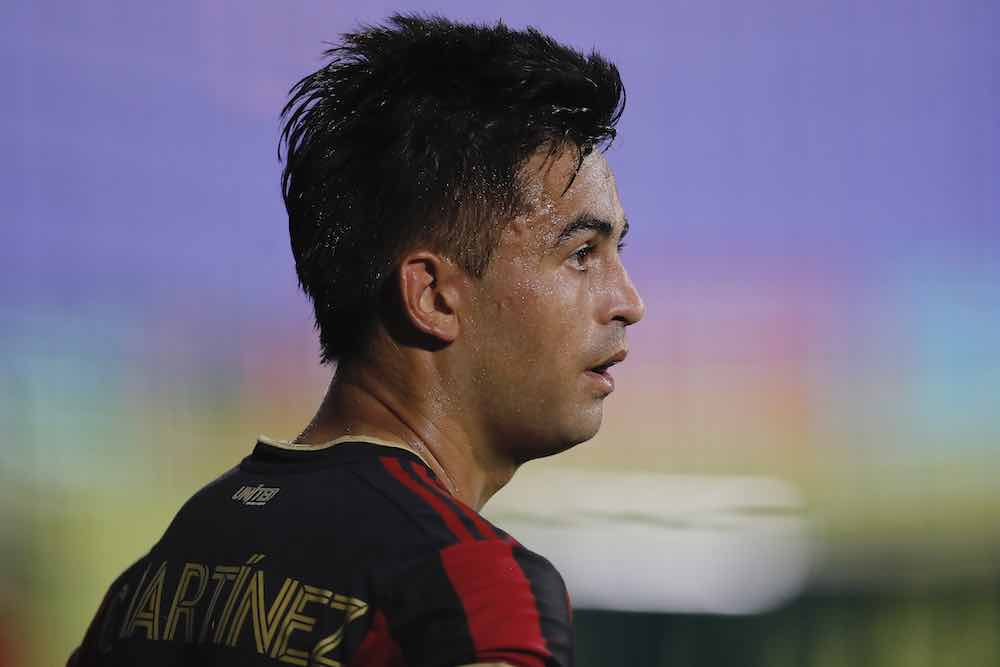 What to do with Pity Martinez?
The two-time Argentina international joined Atlanta United in 2019 as the reigning South American Player of the Year and a Copa Libertadores winner with River Plate but has failed to find any sort of consistency in MLS.
Sure, he did score in Atlanta's US Open Cup final win over Minnesota United and nobody can deny he's shown flashes of his talent, but Pity's tendency to over-hit crosses, fire shots miles over the bar and run into dead ends has left Five Stripes fans tearing their hair out. That theme continued during MLS is Back with failed deliveries and wild efforts at goal.
You do feel for Pity. He's clearly trying his level best to make things happen and looks nervous, frustrated and exasperated in equal measure every time he takes to the pitch right now. However, in Josef Martinez's absence, he was supposed to be the cause for hope among fans heading into MLS is Back.
Pity has had more unsuccessful touches (13) than any other player at MLS is Back and that tells but a fraction of the story.
5. Ill Discipline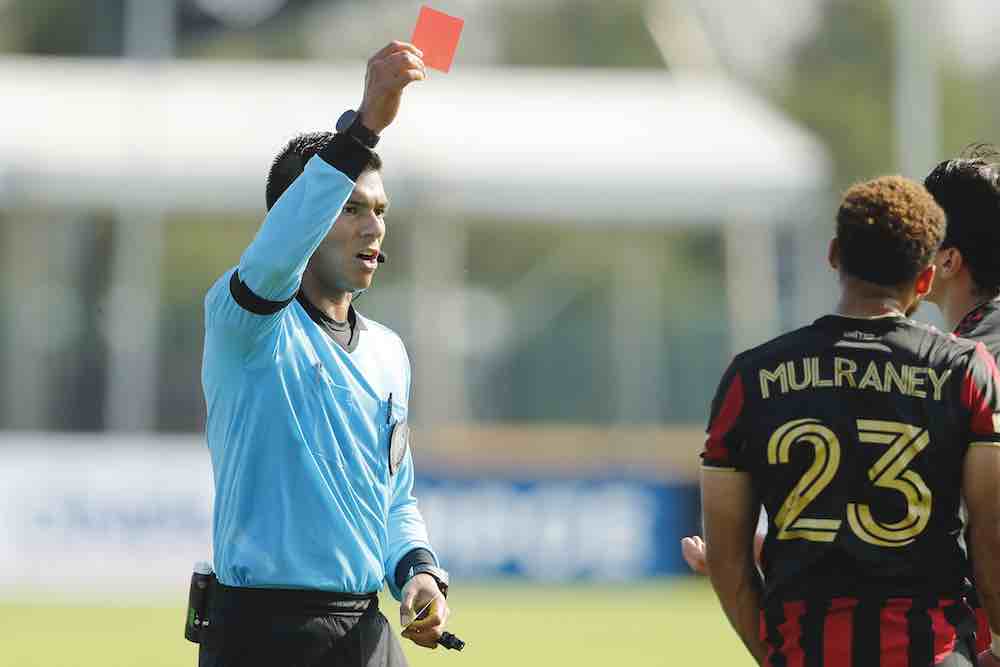 Would Atlanta have found a win against Cincinnati if they had kept 11 men on the field throughout? Nobody can answer that with absolute certainty but you can be sure they'd stand a much better chance.
Jake Mulraney senselessly got himself booked twice within the opening 26 minutes, leaving the Five Stripes with a mountain to climb — playing against 10 men only encouraged Cincy to sit back further and frustrate their opponents even more.  Then, only moments after coming onto the pitch for his debut, striker JJ Williams also saw red for kicking out at Kendall Waston.
Both were out of action for the do-or-die clash with the Crew on Tuesday night but that wasn't the last we saw of Atlanta's disciplinary issues. Although he didn't get a red card, defender Franco Escobar seemed like a man hell-bent on getting sent off in Atlanta's final MLS is Back group stage match, flying into tackles and getting right in the face of referee Timothy Ford after every call.
The end result was De Boer having to withdraw Escobar to avoid going down to 10 men, wasting what could have been an attacking substitution as the Five Stripes desperately chased the two goals they needed to stay alive in the tournament.
6. No Creative Spark
Not to pile it on Pity Martinez, but any side which can field the likes of him and Ezequiel Barco should expect to be a creative force in the final third. After all, the Argentine pair were signed with the very remit of laying on chances for Atlanta United's forwards, while also chipping in with a goal or two themselves.
It's puzzling, then, that the Five Stripes averaged a grand total of, oh, zero through balls per game during their MLS is Back campaign, but averaged the third-highest number of crosses per game (22). To translate, Atlanta ignored measured build-up and a risk vs reward approach in favour of simply launching speculative balls into the box.
What's more, all eight of Pity Martinez's shots during the tournament were taken from outside the box, with only four of them hitting the target, while only two of Barco's seven shots came inside the penalty area.
7. Tactical Stubbornness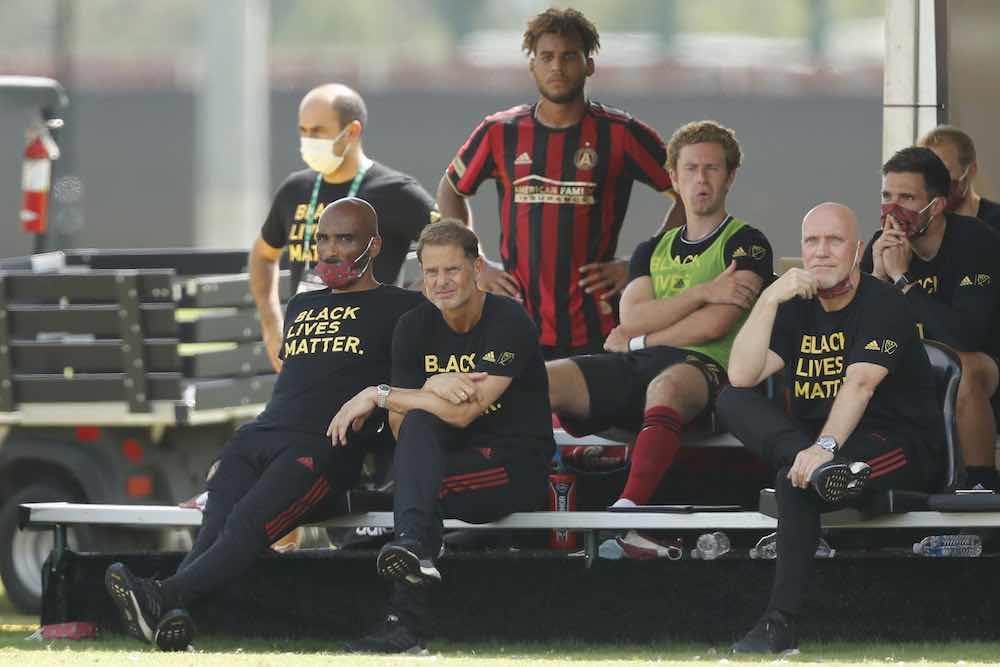 We can talk about Josef Martinez's absence, defensive lapses and a spineless midfield until the cows come home but one thing which has the 17s up in arms more than anything else right now is De Boer's tactical stubbornness in the face of woeful performances.
For the opening stages of their defeat to the Red Bulls, and although they still struggled, Atlanta rightly tried to use their three-man centre-back line-up to play through the opposition press. However, against Cincinnati, when they would have dominated possession regardless of the system, there was no need for the Five Stripes to line-up in a 3-4-2-1. Perhaps a 4-3-3 would have been better to allow for a runner from midfield to support the forward line, or maybe a narrow 4-4-2 could have created combinations in the middle while allowing the full-backs to get forward?
Even when Atlanta went down to 10 men, Cincinnati refused to come out and play which brings you to seriously question De Boer's decision to switch to a 4-4-1, leaving Pity Martinez all on his own up-front. A 4-3-2 formation with Ezequiel Barco supporting the Atlanta No.10 felt like a much more sensible solution.
Even against the Crew, De Boer shouldn't need telling that Nagbe and Artur are not naturally defensive players, while Pedro Santos ahead of them is far more interested in creating than he is tracking back. Again, a switch to a 4-3-3, or even pushing his wing-backs inside, would have created a numerical and stylistic mismatch which could have seriously worked in Atlanta's favour, allowing them to quickly pass through the Crew and get the ball to Barco and Pity in dangerous areas.
None of the above happened and without the results to back him up, De Boer has now left himself at the mercy of the demanding Atlanta United fanbase.