By Jerry Mancini.
Sevilla continue to show their dominance when it comes to Europa League football, advancing to the final thanks to Luuk de Jong's late winner, securing a 2-1 win against Manchester United.
La Liga's only remaining representatives in European competition are now one step closer to winning their sixth Europa League title and their fourth in the last seven years.
After Julen Lopetegui's short stint with Real Madrid (which lasted only four months), he has been able to turn his career around with Sevilla. Director of football Monchi appointed the Spaniard at the start of the season and this move has paid off handsomely.
He secured a top-four finish in La Liga, meaning the Europa League specialists will qualify for the Champions League next season, and could also win his first trophy with Sevilla.
Man United, meanwhile, will look back on their missed opportunities in the second half. The club failed to win any silverware this season, but have progressed quite well since Bruno Fernandes joined in January.
While Ole Gunnar Solskjaer's side will now head towards the transfer market to address key areas, their run to the Europa League semi-final could be seen as a success.
Ever Ready Banega
The consistent play of Éver Banega will go unnoticed on the scoreboard and in many statistical areas, but the midfielder continues to have a productive tournament and has been one of the focal points in Sevilla's recent success.
He's shown to be relentless on the pitch, playing at a high tempo, winning challenges, recycling possession and creating space in the midfield.
Banega's ability on the ball, plus his vision and ability to deliver timely passes, enabled him to dictate the flow of the match.
The graphic below from Twenty3 shows his excellent control of possession in the opposition half.
He was composed and calm in the midfield and played a part in the winning goal through his build-up play in midfield. He was involved three times, exchanging passes with Jesus Navas, Munir and Franco Vázquez, allowing all around him to move into space which eventually led to De Jong's strike from Navas's cross.
The move reflected his general involvement in the match. He was inventive in attack while also back-tracking to help the defence. He finished with two key passes, three crosses, ten accurate long balls and a pass success of 94%.
Bono Steps Up For Sevilla
Bruno Fernandes converted a penalty to give Man United an early lead, but this strike from the spot was the only goal the Premier League side could muster. The performance of Sevilla's Morocco international goalkeeper, Yassine Bounou, or Bono as he's known, prevented them adding a goal from open play.
In the second half, United were the more dominant side, controlling much of the play and creating chances, but they were continually thwarted by the Sevilla goalkeeper. He made a number of key saves and was decisive when coming off his line to clear the danger.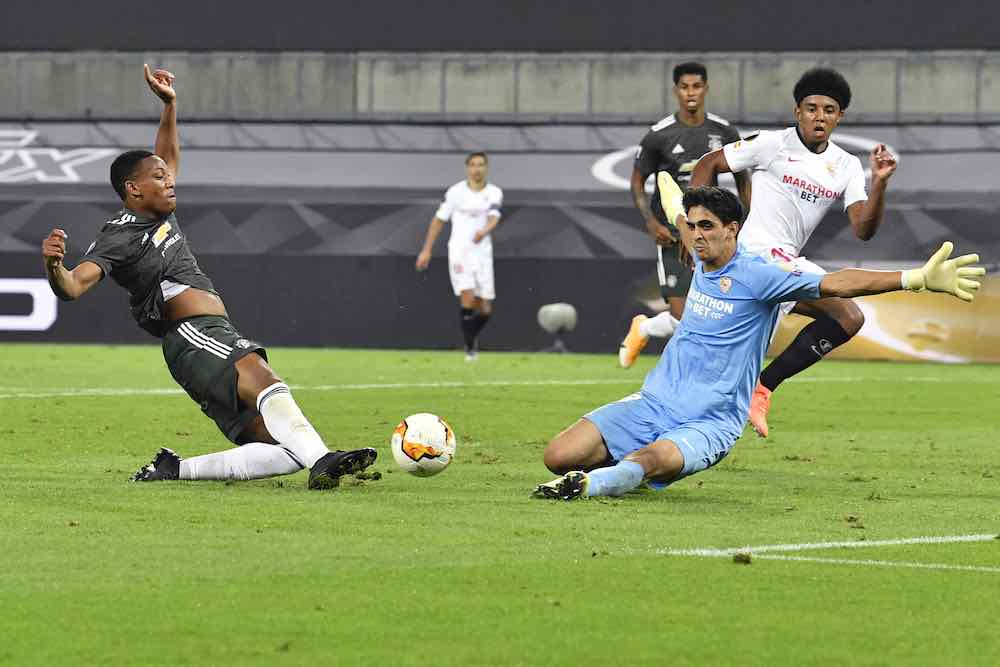 Bono was by far the busier of the two goalkeepers as United finished with 20 shots on goal. Seven of these were on target and he made six saves, none more outstanding than those on Mason Greenwood and Anthony Martial's chances the second half.
On the occasions Sevilla were struggling to stay in the game, their goalkeeper weathered the storm and helped keep his team in it, and ultimately win it, with a stellar performance.
Suso's Wise Move From Milan to Seville
Suso started the season with AC Milan where he found himself in and out of the lineup. The attacking playmaker was used in various roles with the Rossoneri but struggled to find consistency and form.
The arrival of Zlatan Ibrahimovic in January along with the change in formation from Stefano Pioli made way for Milan to send Suso on an 18-month loan to Sevilla. This move has helped to revitalize his career.
Credit to Lopetegui, who has instilled confidence and showed faith in the former Liverpool man. He elected to start Suso in the previous two matches, and this decision has paid off.
Suso made the most of his opportunities and was vital in their win. He scored a crucial goal in the first half to level the scores. He made a clever run into the box and converted a brilliant cross from Sergio Reguilón. He played with great awareness and was decisive and aggressive in the final third.
A change in scenery has helped Suso turn his career around and now has him one step closer towards winning the Europa League.