By Raj Das.
Pep Guardiola is undoubtedly one of the most decorated managers in the history of club football. But there have been moments when he has come across as an individual who is perhaps too clever for his own good.
Bald, always with a stricken look on his face, he gives us the image of a tortured genius, a man who, it seems, is always on the verge of making a major tactical breakthrough in every game he oversees.
Guardiola's achievements are there for all to see. Yet somehow, he was left with a bitter taste in the mouth once again after his mistake-ridden Manchester City came up short against Lyon. This had been the Catalan's third attempt to reach the semi-finals since he arrived at the Etihad. He had also been knocked out by Monaco in the Last 16.
When Manchester City had appointed him as their head coach in 2016, expectations were high. If someone had said then that he would not reach the semis in his next four attempts, especially after his consecutive semi-final defeats in Bayern Munich, that person would not have been believed.
But that is exactly how things transpired. It is astonishing to realise that a manager of his stature has not lifted the UEFA Champions League for nine years. The great European wait continues not only Manchester City, but also for their 49-year-old manager.
Guardiola is Unnecessarily Experimental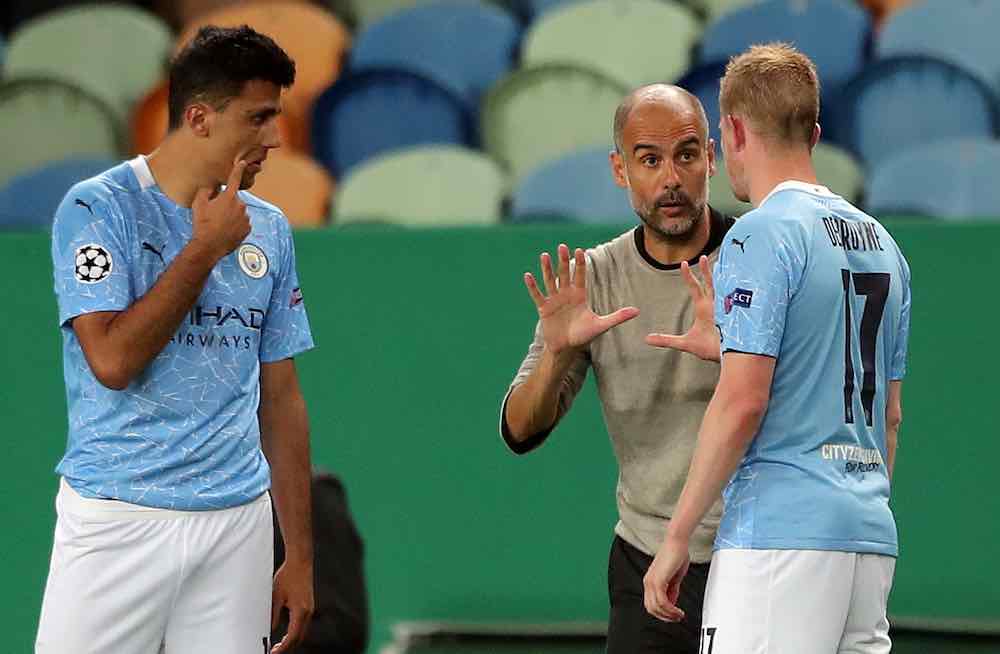 In the semi-finals of the 2014-15 season of the Champions League, his Bayern Munich were pitted against Luis Enrique's Barcelona. This was the first time we saw Guardiola changing an efficient and effective system by tweaking the approach of his Bayern team.
Although the graphics showed a 4-3-3, he began the game with a three-man backline. This played straight into the hands of Barcelona's three quick forward players, especially Neymar. Realising his mistake, he later adjusted it into a four-man backline.
Commentating on the game, Gary Neville remarked: "Well the positive tactics start to look naïve… Pep Guardiola has gone on and shocked us all. Incredibly he's set up Rafinha in the left centre-back role – I imagined he'd play as a right back."
Neville also said the most crucial words: "I don't know what it is but it's certainly different to what we imagined!"
Here perhaps lies the crux of the matter. Guardiola enjoys confounding and bewildering even the best of experts with his approach. His jumpy, excited nature, coupled with his head-scratching enables us to think that we are witnessing possibly the greatest innovator in modern football.
Yet, it is often the case of calling out the naked king. He is sometimes too inventive, too experimental, too detailed. He can often give us the impression of a man who wants us to marvel at his great genius.
His move backfired. Bayern were beaten 3-0 on the night and Barcelona went on to win the Champions League that season. Many experts had considered Pep Guardiola's Bayern Munich tenure to be a failure.
Much Possession; Little Penetration
Against Lyon, he went with a 3-4-2-1 approach. We wonder why he had to change a tried and tested system. Implementing the 4-3-3, or even a 4-2-3-1 would have made better use of City's plethora of attacking talents. Why couldn't Riyad Mahrez start from the beginning?
The most abiding impression however has been that Guardiola paid Lyon too much respect. Before the game, he remarked how Lyon were a dangerous opponent.
"They are organised, aggressive, so fast," he said. "People up front, wing-backs, the quality in the team is something else."
After the 1-3 blow, he cut a despondent figure, trying his best to appear optimistic and positive in his post-match press conference.
One of the worst things about Guardiola's City is that they always dominate a game, but do not always score the goals commensurate to their dominance. Against Lyon, City had 72% of the possession. Yet, in the whole of the first half, they looked toothless in attack.
The team had good movement and lots of clever interplay. But it all came down to individual mistakes from two of their most trusted players.
Much of it has been tactics for tactics' sake for Guardiola. His tactical tweaks and adjustments have not always improved City, but have occasionally stifled them. Against Lyon there was very little goalmouth action in the first half. For all his masterminding, Guardiola has not yet solved City's European problems.
Guardiola Cannot Simplify
Today, with all the statistics and videos available at our beck and call, it is tempting to overthink and overanalyse situations. It is easy to second guess oneself, and have doubts about one's ideas. But football is no rocket science, although some people treat it as such.
It is sometimes necessary to play football without having the burden of creating extensive dossiers and heat maps and video analysis. It is sometimes alright to go with a tried and tested system.
In the documentary, All or Nothing: Manchester City, Kevin de Bruyne described Guardiola as "detailed". However, too much fine-tuning and planning can also be counterproductive.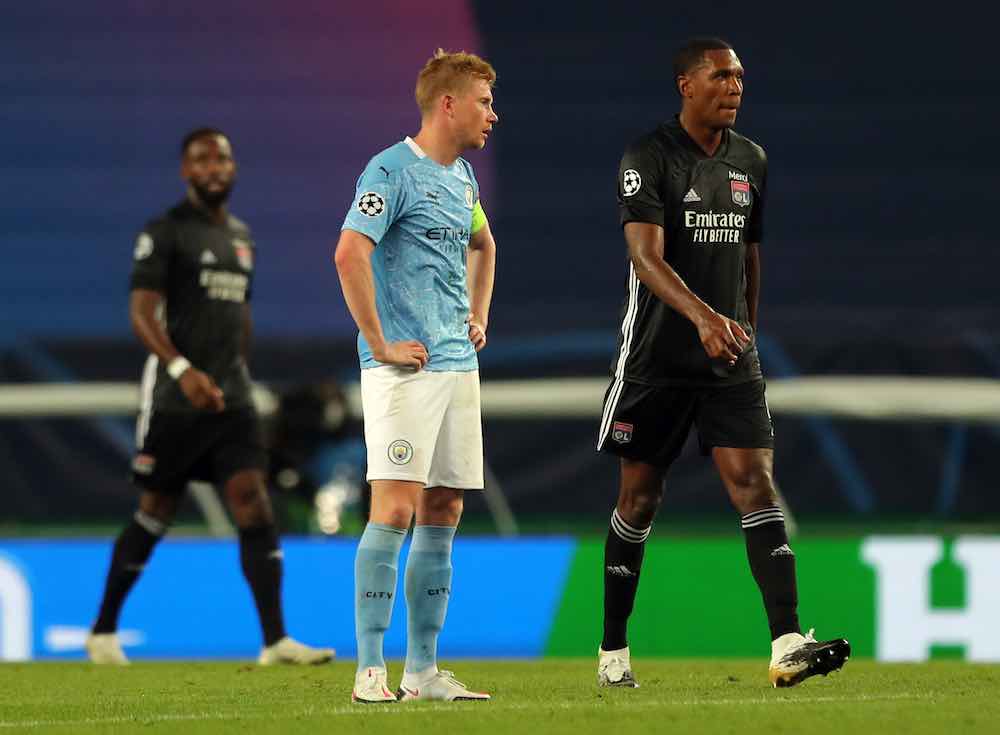 Much of Guardiola's tactics has been intricate and detailed, but they have also occasionally backfired in big games. What is funny is that Guardiola always picks the big matches to try out his unconventional methods. He reserves his great experiments for the big stage. He also ends up paying heavily when they backfire.
Next season, he will have spent five years at a single club for the first time in his managerial career.
Guardiola may well have to sort out many of his players' contract situation as well. Fernandinho, at 35, is not the player he was even three years ago. Slow and lacking in ideas, he tends to concede unnecessary fouls. At 32 now, Sergio Agüero, too, is in the final year of his contract.
Afterthought
Surely Sheikh Mansour and his board will run out of patience sooner rather than later. They have already invested so much time, money and energy to this project that it almost seems unthinkable that they will do anything so rash as to sack Guardiola. But after this barren 2019/20 campaign, the thought of axing the Catalan genius must have crossed their minds at one point.
Looking at the clubs that have eliminated City, we must also understand any frustrations they may have. In the past seasons, City have gone out against clubs such as Monaco (in the last 16) and Tottenham. This time, it was Lyon. Only Liverpool may be considered worthy victors.
Will Guardiola have the strength of mind to rebuild the team once again? Will he be able to clear out the dead wood and infuse new blood into his team? Will he be allowed the funds to spend on players during such a time? Will he be able to go for another season with the belief that it could be their year in Europe?
Only time will tell.
For now, all he needs is a holiday and some peace of mind to solve the next piece of his Manchester City puzzle. But he must not overthink this time. He must come out of his 'tortured genius' persona and learn to take football more simply.