Cavalry FC striker Marcus Haber has opened up on the unique experience of life at the Canadian Premier League's Island Games and offered his thoughts on the standard of play so far.
Haber joined the Cavs from Pacific FC in the off-season and netted his first goal for the club in a 2-0 win over Valour FC recently. Although that is his only goal so far, the 31-year-old has impressed with some strong performances leading the line for Tommy Wheeldon Jr's side.
In just its second season, CPL might have feared the worse with the forced suspension of play due to the coronavirus pandemic, but credit must go to the league for organising a return to play in the beautiful setting of Charlottetown, Prince Edward Island.
Similar to the MLS is Back tournament in Orlando, CPL are playing out the Island Games in isolation from the public, with players put together in a hotel away from the public, as to reduce the risk of spreading the virus.
Matches are being played and fans are watching on from their homes but, of course, being put on an island together, away from the public raises a host of issues away from the pitch.
Boredom and managing your day can be one problem, while players and managers are no longer able to conduct press conferences in person and are now having to allocate time slots online for Zoom calls with journalists.
However, that has also thrown up a world of opportunity for this young league, with outlets around the globe now able to get more up close and personal with those around CPL than they would have previously.
And Haber — who has helped Cavalry go unbeaten during their opening four games — joined us himself via a Zoom call to shed some light on how to pass the time between matches and training sessions.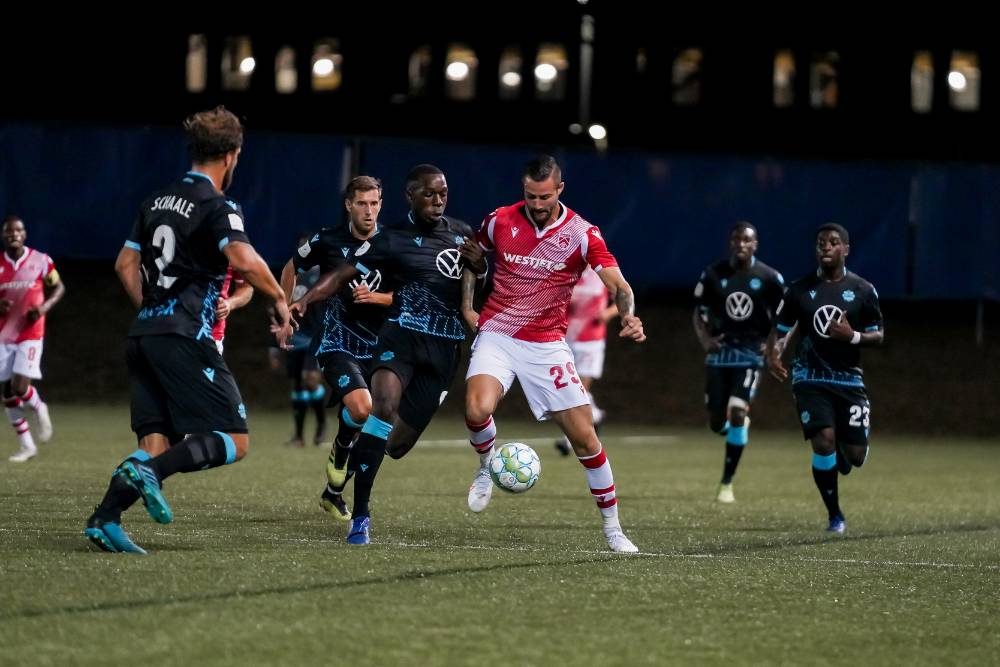 "It hasn't been easy, I think it's a big adjustment for anyone to be put in a confined bubble for a period of time," Haber told WFi. "Credit to the league for organizing it. I think the hotel has been really good, the rooms are nice, our food is decent and the weather has been okay.
"It does get a bit repetitive throughout the days and it is a bit bizarre seeing the players you're playing against every day walking through the halls and greeting them, it is a little awkward at times.
"But at the end of the day, I think on the whole, we're all quite happy to be back playing and that's just part of how it's going to be.
"It's just about breaking up the days and finding something to keep yourself busy, whether it's a book, a show or something on Netflix. It's just finding ways to stay sane, keeping in touch with friends and family via facetime to have some sort of contact with the outside world, I think that's important because you can't always have your mind on football 24/7 or you'll go a bit nuts.
"But it's been okay."
And when it comes to the standard of play so far, Haber has been pleasantly surprised with the amount of football being "played on the ground" in CPL so far, admitting it has been a lot more stylish than what he often experienced during his time in Scotland and the English lower leagues.
"I'd say that the standard on the pitch is probably better than what I expected in terms of the overall technical quality," Haber added. "I'd say there are some really good players in the league.
"If I had to compare it to where I've played in the past, I'd say the only thing that's different is there's more football played on the ground in the Canadian Premier League, I think a lot of teams like to get it down and pass it and break lines.
"In the UK, sometimes in the lower leagues or in Scotland, you might play a bit more direct and games are a bit more of a fight sometimes.
"It's interesting, there are obviously different ways of playing the game but I will say from a technical standpoint and ability of players, it's a lot higher than the majority of the public would have expected."
Cavalry Atletico Ottawa on Thursday in their next match.