By Alex Windley.
Julian Carranza showed that Inter Miami may think twice about buying another striker.
The Herons overcame their mental hurdles to finally get their first win in club history, beating Orlando City 3-2.
The victory over their rivals showed that Miami's troubles wouldn't be permanent. A swift exit from the MLS is Back tournament saw the team have a month off, that quick break gave manager Diego Alonso a couple more weeks to work on the team's tactical structure and shape.
Suffice to say, that extended pause helped in several ways.
On August 22nd, Inter Miami put in their best performance so far, dominating the game despite only having 36% of possession. Not only did that match show that Miami are capable of playing beautiful football, but it also became a welcome home party for both the club and 20-year-old Argentinian, Carranza.
First Win
First Win at Home
First Brace in Club History
First MLS Goals for @carranzajuli21

— Inter Miami CF (@InterMiamiCF) August 24, 2020

With all the talk of potentially bringing a star number nine as their third and final Designated Player, Carranza's Man of the Match performance raised some eyebrows with fans and pundits alike.
There has been plenty of discussion of how Miami should use their last DP spot, but with Caranza showing that he's more than capable of leading the line, is it time for Alonso to look elsewhere for his last DP?
Play the Youth
It's not a surprise that Alonso likes to use young players as much as he can.
During his stints with Monterry and specifically Pachuca, Alonso was integral in bringing through players like Rodolfo Pizarro, Victor Guzman, and Hirving Lozano, handing them their first-team debuts.
At Inter Miami, he will look to do something similar.
In their opening two games against LAFC and DC United, although Carranza was out with a foot injury, the next man on the depth chart was 21-year-old South Carolina native, Robbie Robinson. Many people believed that Miami would struggle heavily during those first two matches with Carranza being out for an extended period of time, but Robinson proved that he also has the ability to lead their attacking trident.
According to WhoScored, during Miami's match against DC United, Robinson won five of his eight duels and had a total of three shots while also creating one goal scoring opportunity.
But perhaps his most important job that day (similar to Carranza's in Miami's second match against Orlando City) was to use his pace and physical strength to hold up the ball well and create space for more creative players like Lewis Morgan and Rodolfo Pizarro to get on the ball.
As shown in the graphic below from the Twenty3 Toolbox, he received the ball from deep on the right, before bringing Morgan into play, and also exchanged passes with Pizarro down the left.
The argument is, if Inter Miami sporting director Paul McDonough were to bring in an experienced number nine from Europe, it would be redundant when Robinson and Carranza are able to do the exact things that Alonso wants from his front men.
Of course, it would be foolish not to consider at least bringing in a star striker like Radamel Falcao, Edinson Cavani or, more recently Luis Suarez, but if Miami want a more complete squad, perhaps buying another creative central midfielder or a winger would be in the team's best interests.
What Position?
If Miami choose not to go down that route, there are various options that they could turn to. If the reports that Miami were after Willian for a period were any indication, it's evident that the south Floridan club could go after another wide forward. Even though Miami has solid players at that position, including Scotland International Lewis Morgan and Argentine prospect Matias Pellegrini, after that, the depth chart after does have a bit of a drop-off.
For example, for as talented as he is, Pellegrini has yet to make a significant impact on any of Inter Miami's games. According to WhoScored, during Miami's recent match against Orlando City, Pellegrini had his best game in a Miami shirt, ending the game successfully completing 85% of his passes, and completing the most dribbles (5) of anyone on the pitch.
His biggest contribution, however, was on the defensive side.
Pellegrini, alongside the midfield duo of Victor Ulloa and Wil Trapp, was the most central player on the pitch, as shown below in the heatmap from Twenty3. Couple that with the Argentine recovering the ball three times and throwing himself into defensive duels (winning nine of his eighteen), it is possible that Pellegrini's future could be more in central midfield than on the wing.
If that is the case, Inter Miami should seriously look towards getting another wide player.
Back in December, according to The Athletic, Miami were in negotiations with Colombia international, Roger Martinez. Martinez not only plays as a centre-forward but is also a big threat on the wing. With his technical ability and pace to get in behind defenders to create plays out of nothing, Miami could use a player of his calibre.
A wide forward like Martinez, stationed on the left-hand side of Inter Miami's offence, could provide an extra dynamic to what looks to be a slowly improving attacking front four.
Pellegrini's relative lack of speed and tendency to be taken off the pitch late in games due to fatigue make him a slight issue from a physical standpoint.
If Inter Miami don't go after a number nine, bringing in a wide player that can provide width, technical skill, and the ability to create attacking opportunities out of thin air could take this offence to the next level.
What Next?
As the regular season rolls on, fans and pundits alike will continue to debate on how Inter Miami should spend their last DP spot.
It's apparent that the Herons will go after another attacking player, but the question is, what position should they use it on?
Robinson and Carranza may be young, but their outings against LAFC, DC United, and Orlando City suggest that the duo have enough talent to lead Miami's attacking front four. Yes, there are questions about their ability to perform consistently given their age, but under a manager like Alonso, they couldn't be in a better situation when it comes to honing in their skills.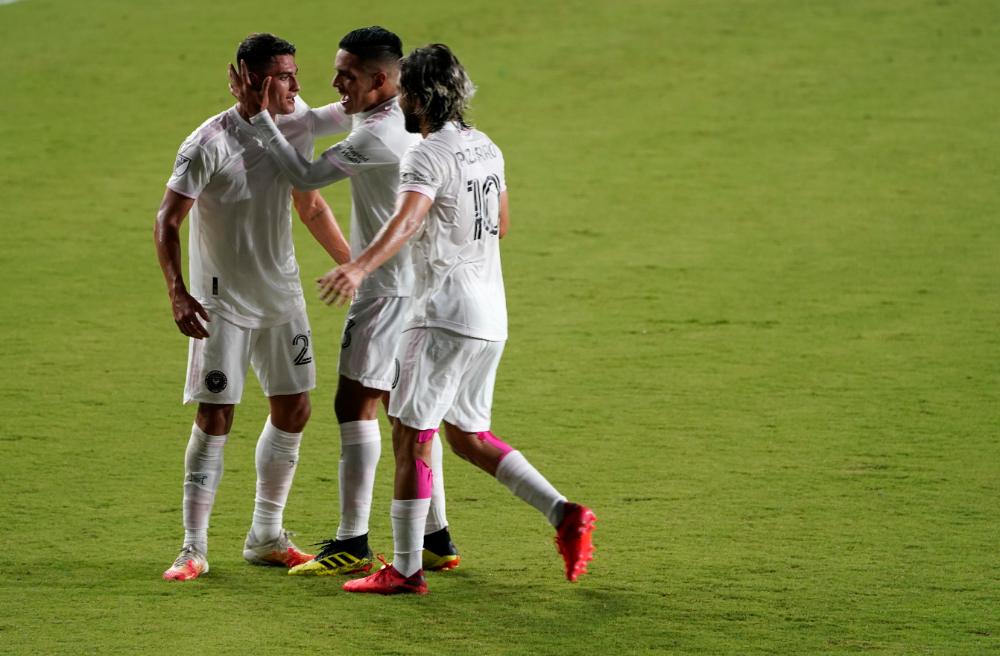 It's a bit of a risk, but one Inter Miami should be willing to take.
Whatever happens, Inter Miami's front office has a big decision to make. Do they continue to trust Alonso with Robinson and Carranza's development, or do they go out and pluck a big-name player that's on the market?
Time will eventually tell where Miami's priorities lie.