By Louis Smith.
When Cerro Porteño and Olímpia lock horns once again in a game that is often one that can be the highlight Paraguayan football season. This Sunday will be no different, but at the same time this weekend's matchup will be a Superclásico like no other.
Both sides occupy the top two after 16 games, with Cerro leading the way, four points clear of their rivals.
When Paraguayan football came to halt in March, Cerro had been massively underperforming in all competitions, which subsequently led to them being knocked out out of the Copa Libertadores at the qualifying stage. In the league, they sat sixth — nine points adrift of top spot.
Since the break, there has been a huge turn around in fortunes for El Ciclón who have not dropped a single point since returning, winning all eight matches — something they had not done for 46 years.
During that period, Cerro have scored 14 times and conceding only three, putting themselves in the driving seat to break Olimpia's run of four straight titles.
A win on Sunday would put Cerro seven points ahead of second place with only five games to play, putting them in a healthy position to take the title.
Goalkeeper Rodrigo Muñoz spoke about Cerro's run following the pandemic:
"When defending we are doing well, and when attacking as well — we have achieved a consistency that we did not have before the pandemic," he said.
"I think that an identity was achieved, the team promised that we had to be workers without the ball. The team feels very well physically, and that is key. We are being solid and compact so they don't hurt us."
Good news for Cerro is that top scorer, Diego Churín, is back in training after missing Wednesday's match through injury. He will be a welcome boost to Cerro's attack.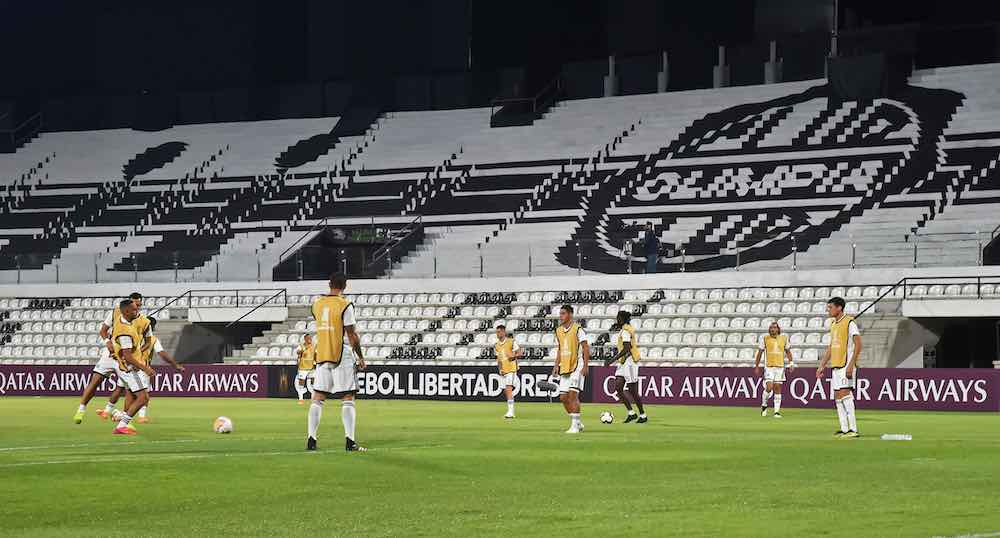 In the Olimpia corner, since lockdown they have won five, drawn two and lost one, placing them four points behind their rivals. Anything but a win on Sunday will make it difficult for them to defend their title and make it five league titles in a row.
After losing last weekend, Olimpia bounced back with a 3-0 victory midweek over 12 de Octubre, allowing them to keep the pressure on Cerro.
Speaking to ABC 730 AM, Olimpia manager, Daniel Garnero, spoke about his excitement going into the Superclásico.
"This clásico will be special because we are four points down and we are going to play it with great enthusiasm and eager to cut the points gap," he said.
The last time the two sides met was back in February — a 1-1 draw. That match then was played in front of a packed out crowd but the clash on Sunday will be played in an empty stadium — a huge shame considering how spectacular the atmosphere would have been at the La Nueva Olla as Cerro hunt down a first title since claiming the Clausura in 2017.
It won't be the same without fans, but one thing is for sure, it's set to be a fantastic spectacle and will play a huge part in determining where the first piece of silverware in Paraguay will go in 2020.
Having no fans in attendance, Cerro have opted to use cardboard cutouts of supporters. They haven't lost since this idea was adopted…
Expected Starting XIs
Cerro Porteño – Popi Munhoz; Alberto Espínola, Juan Patinho, Alexis Duarte, Santi Arzamendia; Federico Carrizo, Mathías Villasanti, Ángel Cardozo, Enzo Giménez; Claudio Aquino, Diego Churín.
Olimpia – Alfredo Aguilar; Sergio Otálvaro, Carlos Rolón, Jorge Arias, Iván Torres, Hugo Fernández, Richard Ortiz, Nicolás Domingo, Jorge Rojas, Derlis González, Roque Santa Cruz.