By George Nash.
From tears in Turin to dentist chairs at Wembley and wrecked hotel rooms in La Manga, it's fair to say, of all the British sporting sagas that could conceivably make the jump to the big screen, none would be more suitable than the Paul Gascoigne story.
The tale of a working-class boy from Gateshead who became a national icon, before well-publicised personal issues somewhat tainted his reputation, is brimming with the same tragic heroism often found at the heart of many fictional screen dramas.
And, sure enough, a Gazza biopic is indeed in the works, confirmed as much by the former Newcastle, Spurs and England playmaker speaking with the Daily Mirror earlier this week. "There are backers looking at a film and trying to find someone to play me" he revealed.
The movie will be based on Gascoigne's memoir Gazza: My Story, and, by his own admission, won't shy away from the off the field struggles with alcoholism that has come to define his later years. "Let's face it," he said, "I have nothing to hide. It has all been in the press, the good and bad."
Producers have a rather hefty task on their hands. Finding an actor capable of portraying one of football's greatest mercurial talents and one of its most nuanced, enigmatic characters — a blend of charisma, brilliance, vulnerability and pathos — certainly won't be easy. However, here are five actors who could just step up to the plate.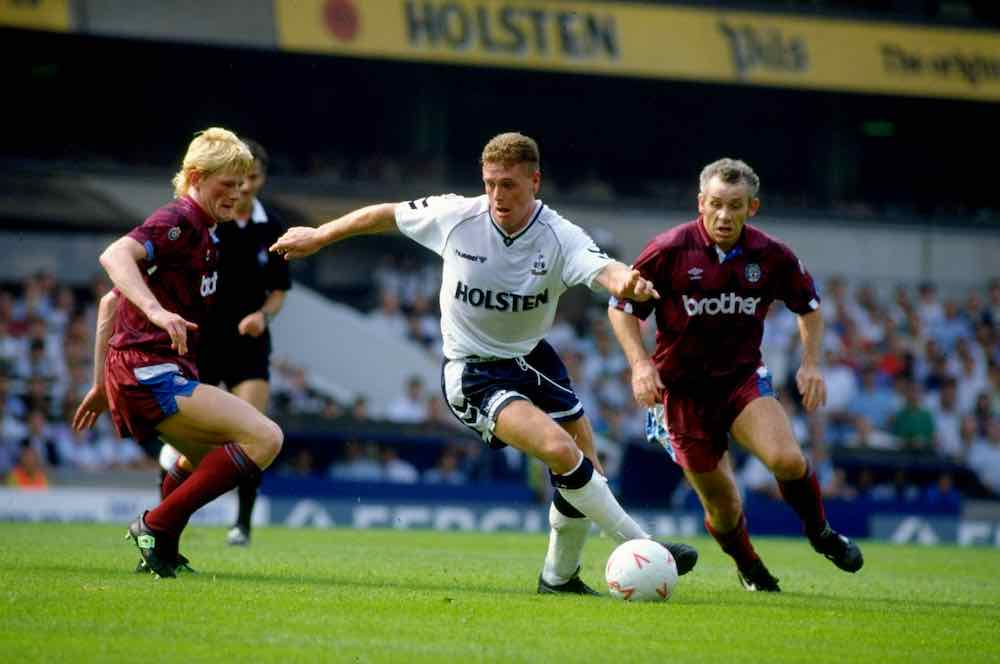 Jack O'Connell
Aside from sharing a rather striking physical resemblance to a youthful Gazza, Jack O'Connell, of Skins fame, has shaken off the shackles of some early-career typecasting to prove just how accomplished an actor he truly is.
The 30-year old began screen life largely restricted to the archetypal young thug in gritty British dramas, but has since ventured across the pond to find success in Angelina Jolie-directed war films, share screen time with the likes of George Clooney and Julia Roberts, and occupy top billing as a weary outlaw in the Netflix-produced Western series Godless.
Gascoigne would be a little closer to home for the Derbyshire-born actor, but no less exciting in the results it might yield. O'Connell's rare ability to convincingly balance the paradoxes of flawed characters — men who appear at once reckless, at times abhorrent, yet oddly charming and equally vulnerable — would make him a compelling choice for the footballing icon.
Paul Mescal
After his breakout performance in the hit BBC TV adaptation of Sally Rooney's coming-of-age novel Normal People — with a little help from a certain chain necklace — Paul Mescal is rapidly becoming one of the most promising young screen talents coming out of Ireland.
Be it getting drunk and dancing to a Stones track in a hotel room, or popping out for crisps and cans of pink G&T in shorts and a vintage Adidas trackie, currently, anything and everything he seems to do turns instantly to gold.
Perhaps then, the Mescal effect might find further footing in the Gascoigne biopic, with the 24-year old Paul a seemingly ideal fit for playing the younger version of his namesake, utilising the former's deftness of expression to explore the emotional complexity veiled by the eccentric extroversion of the latter.
Plus, Mescal's real-life Gaelic football talents would likely translate quite seamlessly to capturing Gascoigne's ball mastery, eliminating the need for body doubles and going some way to eradicate the risk of the notably shoddy, inauthentic technique that perpetually plagues most football films.
Charlie Hunnam
Describing a screen role as one that an actor was born to play is about as cliched as the slow-motion last-minute overhead kick winner in a film about football. But for Charlie Hunnam, a Geordie by birth, it's a sentiment that edges ever so slightly closer to holding a degree of accuracy.
Sure, Hunnam might possess a little too much of that rugged, Hollywood handsomeness to entirely convince in the role of Paul Gascoigne. But, as someone with previous experience playing royalty on the big screen in Guy Ritchie's King Arthur film, who's to say he can't do it again as one of the kings of Tyneside?
Tom Hardy
Tom Hardy might not be the most obvious pick to play Gazza, but, then again, there aren't many actors working today that regularly exhibit the same formidable versatility that Hardy does.
From notorious criminal Charles Bronson to Bane; from rumours of Bond to both Kray twins; from CBBC Bedtime Stories to the eponymous Brooklyn-born gangster in Josh Trank's latest film Capone, few can dispute the fact that Hardy could do a job playing just about anyone.
Gascoigne, Gary Lineker, Stuart Pearce, Chris Waddle, Chris Waddle's hair, Sir Bobby, Bianca — heck, Hardy could probably play them all.
Jude Law
Admittedly, this one might require a bit more convincing, but Jude Law as the star of a Paul Gascoigne biopic might just work. With some accent work, a few diction lessons and a little tinkering with makeup and prosthetics, Law could prove a dead ringer for an older Gazza.
And, looks aside, Law's experience playing characters on either side of the moral divide — an actor equally adept as a villain as he is a charismatic leading man — appear to be the perfect credentials for playing someone like Gascoigne, whose divisive off the field antics often seemed so at odds with his genius on it.