By Luke James.
It isn't unusual for elite-level coaches to set their sights upon managing their national team, especially after leading a youthful squad to a historic league and cup double.
After guiding Red Bull Salzburg to their seventh consecutive Austrian Bundesliga title, Jesse Marsch admitted to harbouring such ambitions. Perhaps the only detail worth noting is that Marsch is from the United States.
A true product of Major League Soccer, Marsch's 13-year playing career was divided between stints with D.C. United, Chicago Fire, and the now-defunct Chivas USA. Since retiring in 2009, the Wisconsin native has held six leadership roles — alternating between assistant and head coaching positions.
A deputy to Bob Bradley at the 2010 World Cup, Marsch has since left his compatriots behind. With the exception of Alphonso Davies, the former New York Red Bulls head coach is North America's most talked-about figure in the beautiful game. Marsch's ascent from MLS contender to hipster icon has been rapid, but his rise shows no signs of stalling.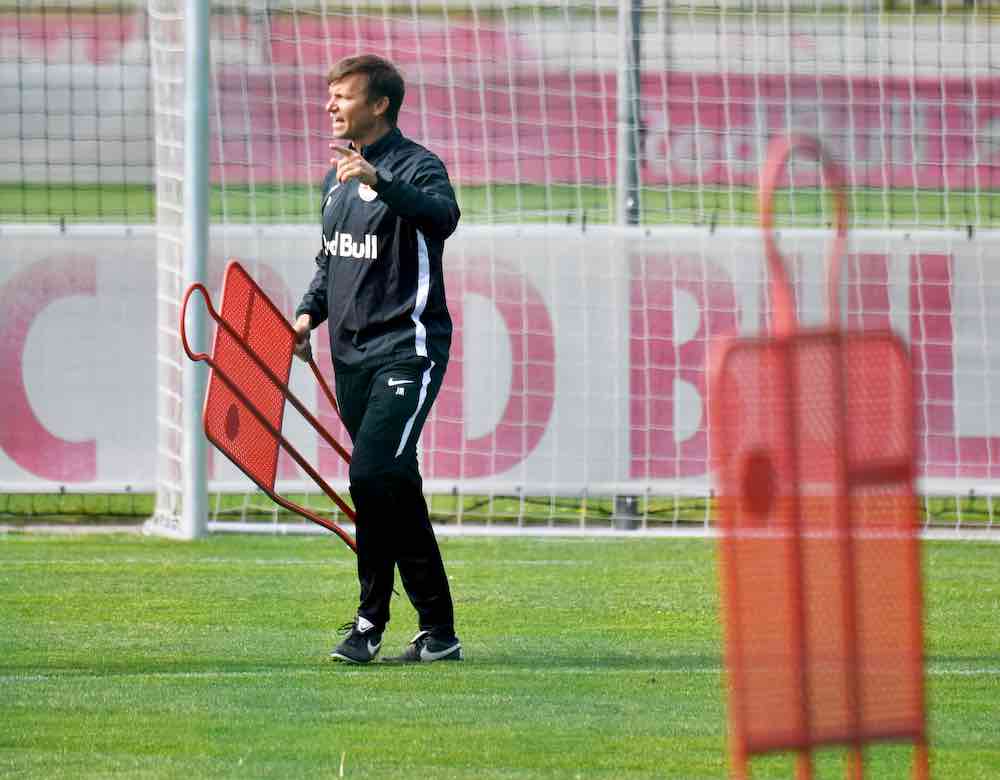 Marsch began his managerial career with the Montreal Impact, embarking upon what was an ill-fated stint in Quebec. Citing philosophical differences, Marsch departed the Impact on amicable terms after just one season at the club. Three years later, via a stint as an assistant manager in the NCAA, Marsch was unveiled as Mike Petke's replacement at the Red Bull Arena.
New York Red Bulls emerged as genuine contenders in 2015, securing a club record 18 league victories on route to winning the Supporters' Shield. The Red Bulls were subsequently beaten 2-1 in the Eastern Conference Final by Columbus Crew, but defeat scantly dampened the sense that an era defined by Marsch's style had begun.
LA Galaxy 2-3 RBNY – 29/04/18
By April 2018, Marsch's Red Bulls had solidified their tactical identity. They travelled to the West Coast at the end of the month to face Sigi Schmid's LA Galaxy, securing an eventful 3-2 victory at the StubHub Center.
In a match partially defined Zlatan Ibramhimovic's individual excellence, the Red Bulls harried and pressed the Galaxy effectively, especially in wide areas. Such was the strength of New York's wide press that it created the game's opening goal.
Dave Romney, forced to pass inside from the right flank, placed his Galaxy teammates in a precarious situation. With New York committed to a half-pitch press, Tyler Adams intercepted Bingham's loose pass, before teeing-up Alejandro Gamarra. Insulated from LA Galaxy's counter-press, the Paraguayan midfielder played the ball through the opposite half-space, allowing Bradley Wright-Phillips to penetrate the defensive line.
With the Galaxy stretched by Gammara's vertical pass, Daniel Royer was allowed freedom of movement on the left flank. By this point in Marsch's project, the outcome had become inevitable. Bradley Wright-Phillips delivered a low cross to the far post, allowing Royer to give the Red Bulls an early lead.
From a primitive stage in his managerial career, tactical flexibility has been a cornerstone of Marsch's approach. The Red Bulls' opening goal against the Galaxy was not borne out of fortune. It was no coincidence that Romney was pressed as he encroached beyond the halfway line, nor was it a surprise that he was shown inside.
Romney, deployed at right-back despite his left-footedness, was the prime target of New York's press. The Red Bulls' victory over the Galaxy relied on two elements: targeted pressing and swift transitions.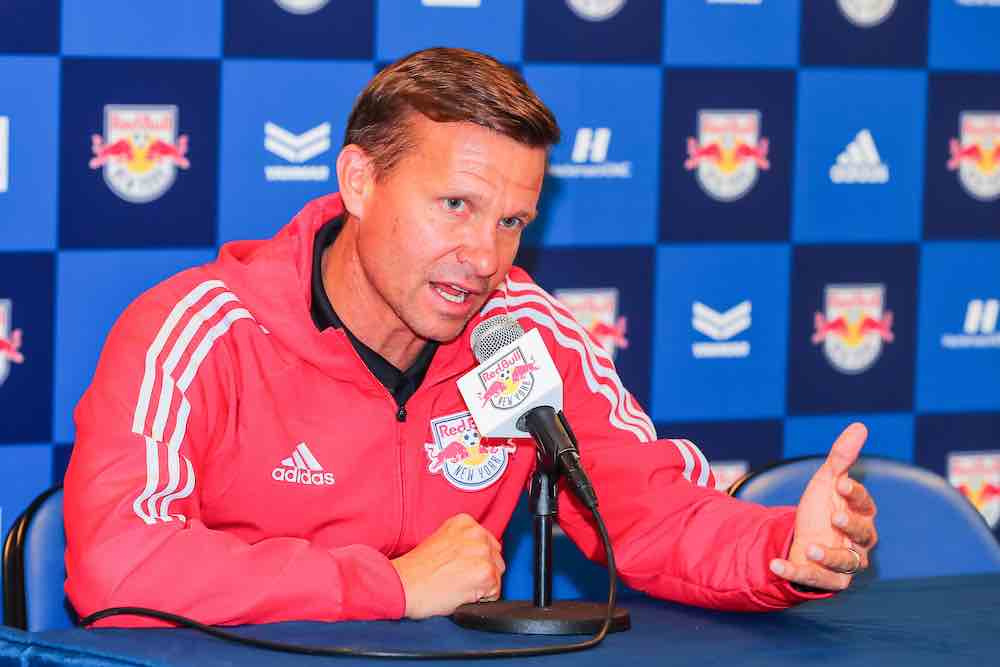 While Marsch remains wedded to those principles, the two-time USA international, has eliminated a number of deficiencies from his coaching. With New York in the ascendancy against the Galaxy, Marsch substituted Aurelien Colin and shifted Adams from central midfield to right back. The decision almost cost the Red Bulls the game.
The change allowed the hosts to gain control of the midfield, thus negating the requirement for LA Galaxy to beat New York's press. With Marsch's strategy nullified, Ibramhimovic started to dominate and went close to earning Schmid's side a point.
First Steps in Europe: Marsch vs Bradley
Bob Bradley's European adventure came to be defined by ridicule and failure. Having enjoyed some success with Stabæk and Le Harve, Bradley arrived in Swansea in 2016 hoping to revitalise a struggling side. Instead, the former USMNT head coach was ousted after just 85 days in charge of the Premier League outfit.
Bradley's Premier League experience ended on sour terms. Swansea won just twice in the 18 matches that Bradley coached, drawing twice and losing on seven occasions. Only John Toshack and Colin Appleton have fared as badly in the Swansea dugout.
The defining image of Bradley's time in England is not the 4-1 defeat against West Ham that cost him his job; it was his use of American terminology that really put the cat amongst the pigeons. Following a 3-0 defeat against Middlesbrough, Bradley referred to a penalty as a "PK" and his side's visit to the North East as a "road game".
The fallout was comical. USA Today reporter Martin Rodgers suggested that: "Britain's social media dwellers" had too much time on their hands and "should get back to their television sets, currently toting endless reruns of Love Actually and blanket coverage of the ever-popular world darts championship."
Ultimately, Swansea's American experiment ended in failure. Had Bradley's Premier League experience yielded positive results, the British press might have forgiven him for the occasional Americanism. Instead, Bradley's language barrier created an additional hurdle for him to clamber over. The decision to sack Bradley inflicted serious damage upon the reputation of North American soccer and helped to spawn Ted Lasso.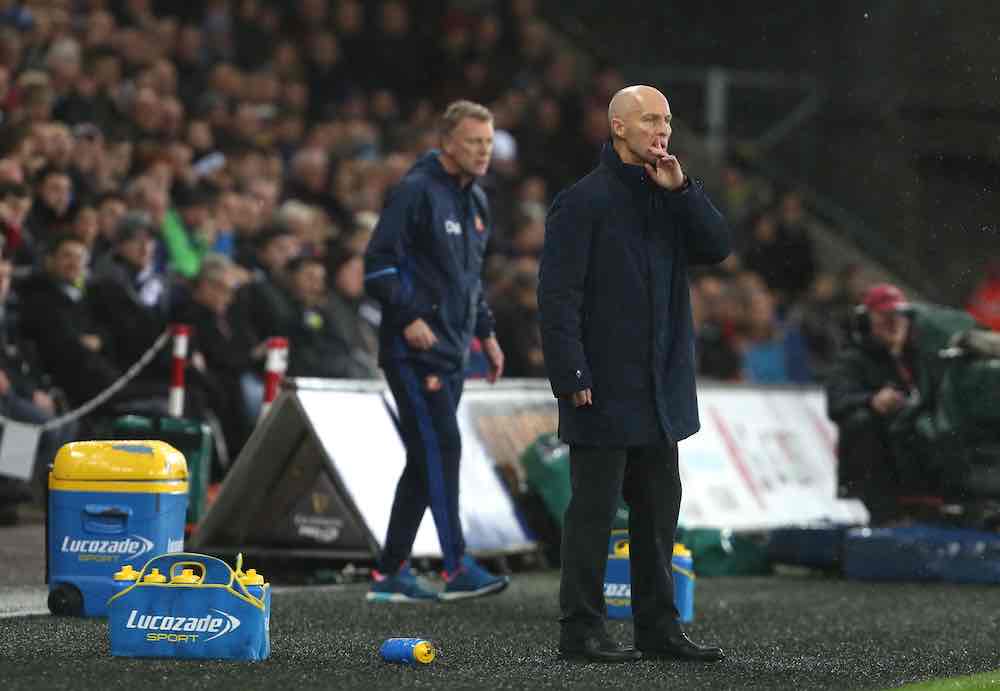 Amid the backdrop of Bradley's flop, Marsch's arrival in Europe was met with a degree of scepticism. Initially an assistant coach at RB Leipzig, Marsch has, so far, avoided the pitfalls that entrapped his predecessor.
Upon his arrival in Lower Saxony, Marsch implemented a "wheel of punishment" as a means of encouraging team spirit.
"There's a spinning wheel in the changing room," RB Leipzig head coach Ralf Rangnick told Bild. "There are different segments on there with different punishments.
"Monetary fines only rarely do anything. It hurts the players more when they have less free time, for example."
Having developed under the Red Bull model in New York, Marsch's transition to life in Europe was accelerated as an assistant to Rangnick. After passing his audition in Leipzig, Marsch was unveiled as Red Bull Salzburg's head coach in April last year. Salzburg sporting director Christopher Freund said:
"We are delighted to have found a successor to Marco Rose very quickly, and to have gained clarity for the season ahead in good time.
"Jesse Marsch is a coach who allows us to determinedly continue the path we have taken. We have followed his career and development very closely in recent years, and we have spoken often.
"We are completely convinced of him both as a professional and as a person. He knows our philosophy and way of playing football very well."
Within months of his appointment in Salzburg, it became clear that Marsch was the right fit.
RB Salzburg 5-2 Wolfsberger AC, 10/08/19
The Red Bull way was especially evident in Salzburg's 5-2 victory over Wolfsberger AC in August 2019. Although the scoreline flatters Salzburg's performance, the tactical trends espoused by club and manager were evident on an afternoon where Erling Haaland was utterly dominant.
Salzburg lined-up in a relatively uncomplicated 4-4-2 formation for the visit of Wolfsberger. Haaland and Patson Daka led the line for the hosts, while Andreas Ulmer, Jerome Onguene, Andre Silva, and Patrick Farkas comprised Marsch's back four.
Although Haaland's hat-trick stole the headlines, Takumi Minamino's virtuoso performance was more important to Salzburg's success. Drifting inside from the right flank, the Japanese international controlled the alley between Wolfsberger's defence and midfield. Minamino's freedom helped to generate space for Farkas to exploit on the flank, but also created an overload in central areas.
Much like Royer's opening goal against LA Galaxy sixteen months earlier, Salzburg regularly created opportunities by exploiting the half-spaces. Salzburg's proficiency from set-pieces has also been instrumental to Marsch's success in the dugout, and was the source of the goals that won Salzburg the points against Wolfsberger.
Marsch's Future: German Bundesliga-bound?
Counter-intuitively, Salzburg's 4-3 defeat against Liverpool was the match that propelled Marsch onto the world stage. Praised for his half-time team-talk, a rallying cry delivered in German and English, Marsch said: "They have to feel us guys, they have to know we're f***ing here to compete, not just that we're here to stylistically going to try and play the same way, but we came to f***ing play."
Jesse Marsch's half-time team talk against Liverpool 🔞 #Salzburg pic.twitter.com/fCEZHKgqMI

— World Football Index (@WorldFootballi) October 4, 2019

Marsch's evolution as a coach has been rapid. While at the helm of New York Red Bulls, he was criticised for making too many changes; for tinkering for tinkering's sake. Since arriving in Europe, Marsch has displayed the characteristics of a coach empowered by self-confidence and an organisation that genuinely believes in his strengths.
He has shown the tactical flexibility required to succeed in a major league. While LASK continue to provide the main source of opposition to Salzburg's Austrian hegemony, competing in Europe remains a genuine challenge for the Austrian Bundesliga champions.
Following Salzburg's league and cup double, Marsch has been linked to multiple jobs in the German Bundesliga – most notably with Borussia Dortmund and Hoffenhiem. Though the American head coach immediately moved to quash suggestions that he could leave Salzburg this summer, it is telling that Marsch is being mentioned in the same breath as possible vacancies in a major European league.
After proving his worth in Salzburg, Marco Rose made the switch to Borussia Monchengladbach. Marsch currently sits atop a managerial conveyor belt; if he continues to develop Salzburg's prodigious squad, offers to manage in the likes of England and Germany will arrive.
Jesse Marsch is on the verge of take-off; Red Bull has given him the wings required to fly.