James Rowe spoke to IJsselmeervogels Dutch centre-back Kevin van Diermen for WFi. They discussed his return to IJsselmeervogels, playing for Vitesse Arnhem and NAC Breda, playing against Luca Toni, and the coaches who have helped his development as a footballer.
---
You signed for IJsselmeervogels in 2018. How are you enjoying your time at the club so far and how would you describe a club such as IJsselmeervolgels?
"I am really enjoying being back at the club where it all started for me at a very young age, and it has always been my dream to return to the club. In the beginning, I had to get used to going from full-time professional football to amateur football, and training three evenings a week instead of eight times a week, so I needed a period of adaptation.
"IJsselmeervogels are a club that are a huge part of the village. They are the biggest and most successful amateur teams in the Netherlands, and it is very special as someone who comes from that village to play for the club. It gives me an extra boost when I represent the club."
---
You came through the youth setup and went on to make first-team appearances for Vitesse Arnhem. How do you look back on your time at the club and do you have any highlights or special memories?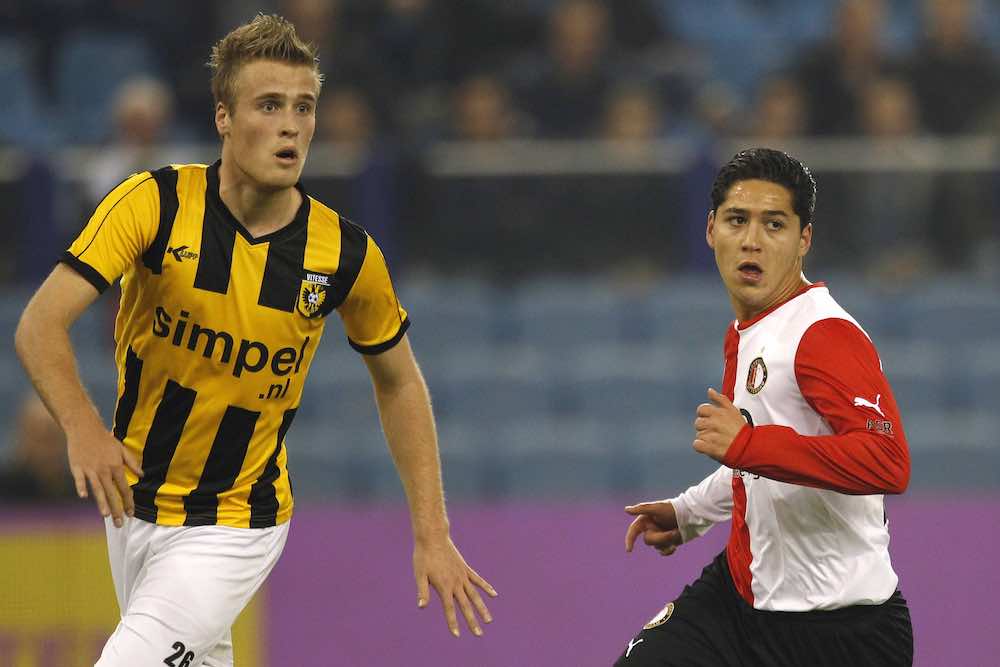 "Yes, I had a fantastic time at Vitesse Arnhem having arrived at the club from the age of 12. At that time Vitesse Arnhem had only just started out with a D1 (U12 team) and we had a really successful group of young players where many went on to represent the first team.
"At that time, the club were only second to Ajax in the Netherlands in terms of the quality of their youth academy. I played alongside players such as Erwin Mulder, Eloy Room, Ricky van Wolfswinkel, and Wiljan Pluim.
"It was a very professional environment coupled with playing matches at a high level. I ended up spending a part of my youth in Arnhem.
"I also represented the Dutch national youth teams from under 16 to under 20 level, as well as making my debut for the [Vitesse Arnhem] first team under then-manager Aad de Mos at the age of 17. He gave me a lot of confidence. And under Theo Bos, I managed to establish a place in the first team.
"All in all, I had a great time and I look back with fond memories. Training with Wilfried Bony where I learned a lot and he often gave my compliments.
"I went on to play 40 matches in the first team of Vitesse Arnhem, and one match that stands out for me is the Championship match for AZ Alkmaar away under then manager Louis van Gaal. AZ Alkmaar only needed a point to win the Eredivisie and we managed to win 2-1 and they became Champions the following day.
"Coming up against opponents such as Mounir El Hamdaoui and Mousa Dembélé was a real test and there was a great atmosphere too as everybody in the stadium expected AZ Alkmaar to become Champions.
"Also, my home debut in the GelreDome against FC Groningen was also very special for me. Education was also an important part and I remember sitting in the classroom with Ricky van Wolfswinkel and we even went on to do a presentation for a school project and our exams together. We had a real click with one another and we got on really well."
---
You played one season for NAC Breda. How do you look back on your time at the club and do you have any special memories or highlights?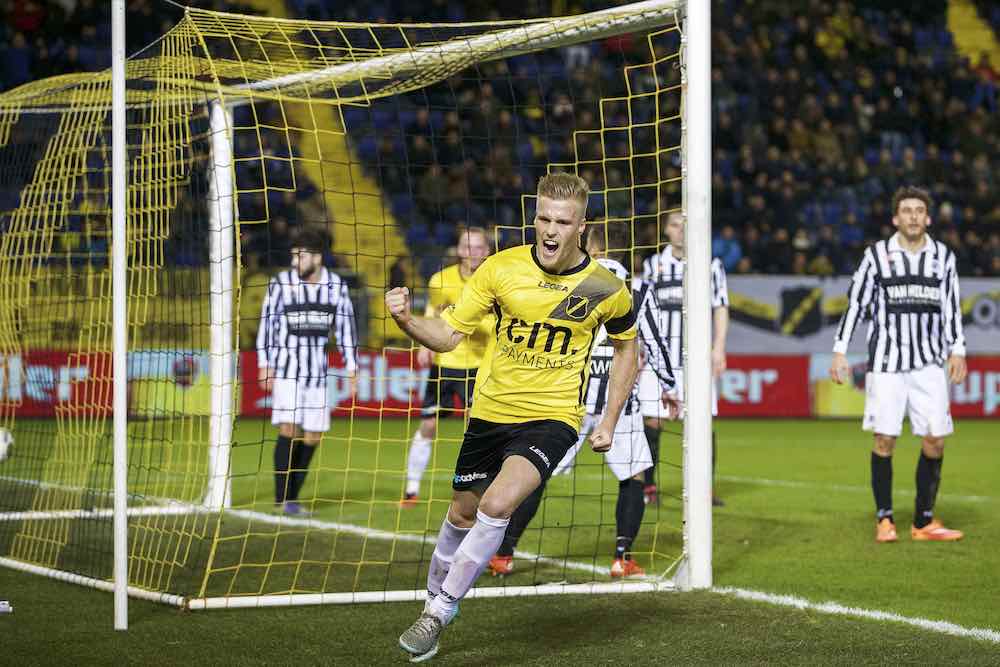 "I had a very special season at NAC Breda. On the last day of the 2016 winter transfer window I signed for the club and the manager was Marinus Dijkhuizen who I knew from my time at Excelsior Rotterdam. I started really strongly at NAC Breda and I remember scoring in my second and third match for the club.
"Everybody knows about 'Avondje NAC', with the fanatical supporters that they have. NAC Breda are in many ways an Eredivisie club in terms of their stadium, supporters. I am proud that I was able to play for such a great club, and the home matches are something that I will never forget — and also the amount of NAC Breda supporters who attended our away matches.
"At times NAC Breda was a turbulent club in the sense that there was always something going on. It is a big club in the Netherlands where the environment was sometimes chaotic. The club is also a big part of the city of Breda. From my one season at NAC Breda I can say that they are a fantastic club."
---
You mentioned the players that you have played alongside and you have accrued a lot of experience in Dutch professional football. Could you say who are among the best players you have played alongside so far in your career?
"Yes, during my time at Vitesse Arnhem the likes of Paul Verhaegh and Theo Janssen were extraordinary players, and you can see that in the career that they have had.
"Wilfried Bony and Davy Pröpper, too. You could see from a young age how good Davy Pröpper was, and you knew that he would showcase his talent sooner rather than later.
"You can even see now in his performances for the Dutch national team. In the youth academy he was known as a massive talent and he would often be decisive in matches.
"Marco van Ginkel was also a very good player. I have been fortunate to play with some great players also at youth international level at different ages, such as Georginio Wijnaldum, who at youth level was particularly good. Leroy Fer, Daley Blind, and Luuk De Jong too."
---
I can imagine in your position in as a defender that you have come up against difficult opponents through the years. Are there any opponents that stand out for you in terms of talent and ability?
"When I would train with Wilfried Bony he would show his class. The season after I left Vitesse Arnhem he went on to become top scorer in the Eredivisie. He is physically a very strong player.
"I remember with the Dutch national under 20 team, I played a match at the training complex of Bayern Munich against players that were not on international duty, and I came up against Luca Toni who was a fantastic player. I grappled with him a few times during the match and he asked me in an irritated way: 'Do you want my shirt?' And we swapped shirts after the match!
"It was special to play against Bayern Munich then managed by Louis van Gaal. Luca Toni went on to become top scorer in Europe.
"I remember playing in the ArenA against Ajax and coming up against Luis Suarez who was unplayable. He would hang on the right-hand side of the pitch and was such a good player.
"Facing strikers like Mounir El Hamdaoui and Mousa Dembélé are memories that always stay with you."
---
Finally, Kevin, could you say who are the coaches and managers who have meant a lot to you and played a key role in your development as a professional footballer?
"First and foremost, Pascal Jansen at Vitesse Arnhem was important in my development. He is currently assistant manager at AZ Alkmaar. He is a great coach and I learned a lot from him.
"Aad de Mos gave me a lot of confidence at a young age. as did Theo Bos. Aad de Mos is a special manager to play under, especially at a young age. One of his qualities is his experience. He seemed to know what will happen in a match.
"I have also experienced his interesting team talks and although he was very eccentric in his character at times, he was always well prepared for matches and also very tactically astute. He was also not afraid to make difficult decisions and bench players at times.
"When playing under him you could see how much of an experienced manager he was, who had worked at the top of European football, and the confidence and belief that he showed in me at a young age is something that I will never forget.
"[Recent] Hoffenheim manager Alfred Schreuder, who was assistant to Theo Bos, was also a very good coach. You could see even then how good he was and I was not amazed to see him do well at Ajax and also in Germany.
"I am grateful to Marinus Dijkhuizen. We had a great season in achieving promotion together at Excelsior Rotterdam and he brought me to NAC Breda. I played under current FC Utrecht manager John van den Brom for six months, and he is an excellent manager."