James Rowe spoke to new Southend United manager Mark Molesley for WFi. They discussed life as a part-time manager at Weymouth, his time at Aldershot Town, and playing and coaching at Bournemouth.
---
You became manager of Weymouth FC in 2017. How are you enjoying football management and what do you view as the challenges of managing a club like Weymouth FC?*
"I must say that I am thoroughly enjoying my time as manager of Weymouth FC. We are into our third season and I have enjoyed every minute of it.
"It is a lot of hard work. I view the challenge of managing Weymouth as it is meant to be part-time hours but managing a club of this size is anything but part-time, so the challenge is balancing the work-life ratio. Myself, my staff and the players all have jobs outside of the club so Weymouth is an add-on to the time constraints that you have.
"We always wish we could have more time with the players, more time on the training pitch, and more time to do analysis. We do try and make up for that by working very hard away from the football club as well, and that is why the job can consume you because we are striving to be the best that we can. The main challenge is trying to run a full-time model on part-time hours. That is our challenge in a nutshell really."
---
You played five seasons for AFC Bournemouth and you currently have a coaching role at the club. How do you look back on your playing days. Do you have any highlights or special memories and could you elaborate on your current coaching role?
"Yes, when I signed for AFC Bournemouth it was a bit of a dream come true for me. I was a bit of a late developer and I came through the Non-League ranks and that was my first furore into League Football.
"I loved every minute of my time playing for the club, and a particular highlight was that we were bottom of League Two in administration and really up against it. Some players were not getting paid most weeks and it was touch and go whether the club would survive at all. There was talk that if they were relegated that they may go out of business completely and we stayed up under all odds.
"Eddie Howe got appointed on New Year's Eve and from then we never looked back. We even showed promotion form from that day until the end of the season to stay up on the penultimate day of the season against our relegation rivals Grimsby Town.
"We also got promoted the season after as well. My time at AFC Bournemouth was also tinged with frustration especially when things are going well as I had two seasons out through injury.
"After I retired I got the opportunity to come back to the football club and I started working in the academy along with Stephen Purches with the under 21's. Fortunately, that role became a full-time role as I became assistant to Stephen.
"I had also led the role a couple of times and also assisted Carl Fletcher and currently Sean Cooper. All three are fantastic coaches that I have learned so much from and being in and around AFC Bournemouth is such a hard-working environment, people work really hard.
"The Gaffer and all his management team are such an infectious group that you just can't help but learn and love working there."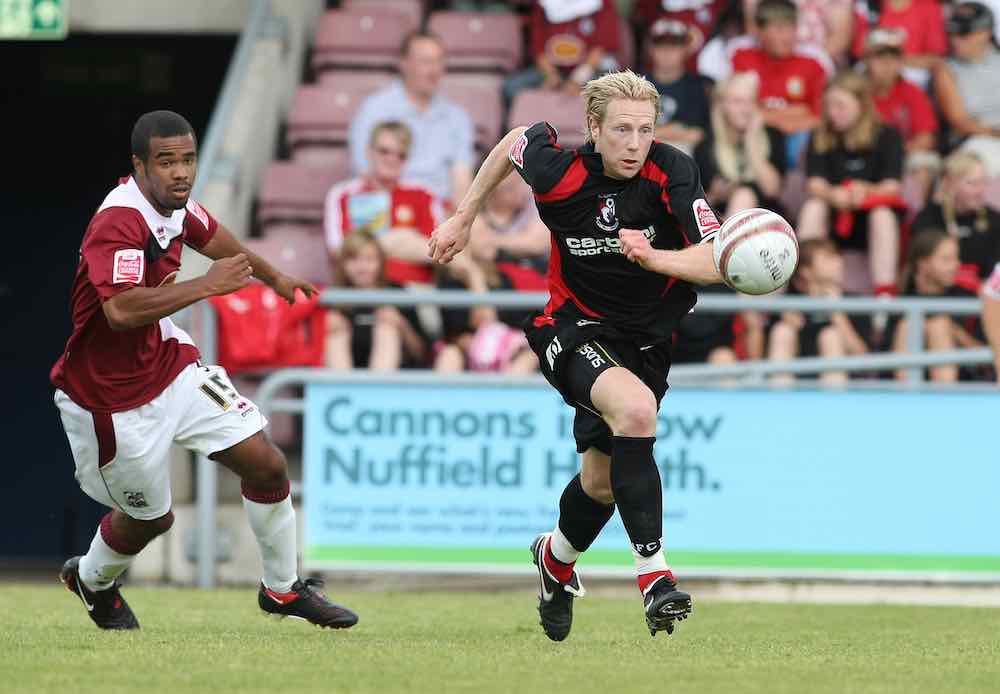 ---
You had two spells at Aldershot Town as a player. How do you look back on your time at the club and do you have any special memories or highlights?
"Yes, definitely. Aldershot Town are a club close to my heart and they gave me my professional debut. It was always my dream as a kid to be a professional footballer, and I realized that dream at Aldershot Town.
"Terry Brown took a chance on me coming from the lower leagues. I have some really fond memories and getting to train every day as a professional footballer. Again, my season was impacted by injury which unfortunately was the story of my career, but nevertheless, I had a great first season there and I was lucky enough to return to the club again in difficult circumstances.
"The club was in administration and we started with minus 10 points and we had to fight really hard that season to stay up, and ultimately we did.
"I was lucky enough to score the winning goal against rivals Woking FC that helped to keep us up that day. We stayed up in dramatic fashion, so that was definitely a big memory.
"We had a good FA Cup run the season after where we beat Portsmouth FC after taking them to a replay at home. I scored the winner and I was lucky to score in both games. I look back on great memories from my time at Aldershot Town."
---
You are currently coaching at AFC Bournemouth and you are surrounded by great coaches with great knowledge. In your opinion what are the skills and characteristics needed by professional footballers to become a success in the Premier League in this day and age?
"I believe players need certainly a work ethic. A real big work ethic and a deep inner belief and drive to want to improve and get better every day, because to get in the Premier League, the players that are now on show are fantastic but they are also fantastic in every area. Not only are they technically great footballers, they are also physical specimens now.
"Their mentality has to be strong because of the media and spotlight on them all the time, and the ups and downs that football brings.
"You have to be mentally strong, physically fit, technically good, and you also have to be tactically aware now with so many coaches and managers developing great teams and styles of play. You have to be tactically aware to be able to play those systems and also combat those systems when you are playing against opponents, so it is really a mixture of all those four things for me really."
---
Finally, Mark, you have undertaken different coaching roles at AFC Bournemouth and you are now manager of Weymouth FC. Do you harbour ambitions to become a professional manager and a football league manager in your own right in future?
"It is something that I would not rule out. At the moment I am so fortunate in the role that I am in. I have been at a Premier League football club surrounded by fantastic people that I am learning so much from. I am certainly earning my stripes and gaining a lot of experience. And also standing on my own two feet running my own regime at Weymouth FC as well, surrounded, again, and supported by a fantastic staff.
"At the moment I am developing and coaching players and I am also doing a similar model at Weymouth FC.Our budget is not the biggest and we have to develop players who have been disregarded by professional clubs or younger players that are having their first run at men's football on loan,  coupled with experienced players who are coming to the end of their careers.
"I am really enjoying the experiences that I am getting and, hopefully, all these experiences will stand me in good stead in trying to survive in professional football because ultimately it is a difficult area to work in and it can sometimes be short-lived.
"So I am trying to do everything that I can to make myself the best that I can. My sole focus is to get as much experience and be the best that I can possibly be, so if that opportunity ever arises hopefully I will be equipped to deal with it.
"But what I can say is that I am in a great place at the moment, learning my trade and improving myself every day around great people."
---
*This interview took place before Mark's move to Southend United.