By Chris Smith.
As the MLS is Back tournament fades into the distance and the regular season gets back underway, it's safe to say Orlando City fans have plenty of cause for optimism.
The Lions went all the way to the final of the tournament hosted in their own backyard and although the Portland Timbers won the showpiece 2-1 to lift the trophy, Orlando exceeded any and all expectations to make it that far.
It wasn't a mere fluke, either. Indeed, Orlando knocked out heavyweights Los Angeles FC in the quarter-finals, while they also topped a group containing New York City FC, Philadelphia Union and Inter Miami.
The improvement on the pitch was clear and so much of that must be credited to the efforts of new head coach, Oscar Pareja, who took over from the sacked James O'Connor during the off-season and arrived with a very respectable CV having won a Supporters' Shield and US Open Cup with FC Dallas in the past, as well as running up a 47% win-rate at Liga MX side, Club Tijuana.
"So let's be honest with our team, we know we are a team who needs to improve a little more, but at this moment I'm so happy to be on this team with this coach and with this staff," said DP and star forward Nani when asked about the recent growth of Orlando.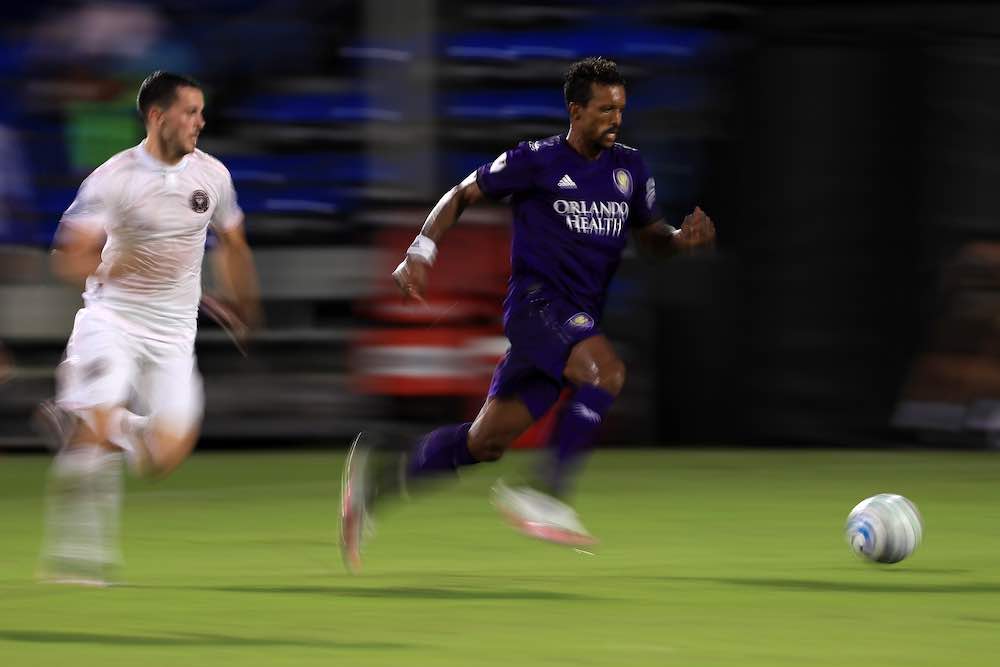 "Because we showed – we took these two months to improve and we did it. And my hope to our fans and all the people who trusted us the first day – I hope they're proud of us because from today we just can be better. And to every team in MLS now who will face us, they know they will face a strong team and the respect will be there on the field."
So, just how has Pareja turned this Orlando City side from MLS laughing stocks to one that can genuinely dream of a first-ever playoff appearance? Let's take a look.
Defensive Organisation
Even prior to the MLS is Back tournament, Orlando had put in two much-improved regular-season performances against Real Salt Lake and the Colorado Rapids and although they only took one point from those two games, it was clear Pareja had been hard at work drilling this side.
One of the first things any new manager needs to address when taking over at a struggling team is the defence and although Orlando weren't disastrously bad in terms of actual goals conceded — 52 during 2019, 14th among MLS teams — they were something of a disorganised shambles.
The Lions made the third-highest number of errors leading to a shot (20) among MLS sides during 2019, while they were routinely caught out in behind their own full-backs — sure, Ruan and Joao Moutinho pushing high are and have long been among Orlando's greatest offensive weapons, but they were often too slow to get back once possession was surrendered, while the centre-backs rarely positioned themselves to cover the space they left. In short, Orlando were easy to chew up in transition moments.
Robin Jansson, in particular, was guilty of going chasing balls far too high up the pitch rather than sitting in to cover for his full-backs but, under Pareja, the giant Swede has formed a brilliant partnership with Antonio Carlos where both stay deep and organised to repel pressure, while also staying in position to cover their full-backs when they go on their crusades into the attacking third.
The end result? Orlando's defence has been well-placed to make the third-highest number of interceptions (96) in MLS this season, while they also rank third for blocked crosses effective (15). The Lions ranked 18th and 14th respectively in these two metrics throughout 2019 and as intangible as it may feel, having a rigid structure within their back-four has undoubtedly helped relieve the pressure on their own box.
Huge credit must also go to the likes of Jhegson Mendez and Oriol Rosell for sitting deep and protecting Orlando's centre-backs, while also ensuring it's almost impossible to break the Lions' midfield line with vertical passes, as shown below in the graphic from the Twenty3 Toolbox.
Midfield Fluidity
Bad though they were defensively in 2019, Orlando were arguably even worse in the midfield, seemingly incapable of controlling possession for even short stretches of a match, while their disjointed shape and lack of players showing for the ball led to misplaced passes and long hoofs upfield.
Indeed, the Lions attempted the 17th-lowest number of passes (14,671) throughout 2019, finding their target with just 11,754 of them — also 17th. Of those passes, just 2,168 of them went backwards, 16th among MLS teams, and although that may seem like a good thing on the face of it, it also points to a lack of quick interchanges between deep-lying midfielders and centre-backs and an apparent need to throw the ball forward when maintaining control would be more advisable.
The contrast this season, however, is absolutely incredible. So far during 2020, Orlando have attempted 4,118 passes, been successful with 3,427 of them and gone backwards with 569 of them, with the Lions ranking first among MLS teams in all three of those metrics.
Pareja has introduced a new level of midfield control to this side and has created a wonderful fluidity between the likes of Mendez, Rosell and DP Mauricio Pereyra.
Obviously, as can be seen from their passing network graphic below, much of Orlando's play is focused down the left side, with Paerja looking to get Nani involved in the game as much as possible.
However, what is also noticeable is how Pareja has effectively created a series of possession 'boxes', where four or five players will occupy a section of the pitch to create a huge numerical advantage and, thus, more easily retain the ball.
This creates a ton of space on the right, too, where the ball can be switched across to Ruan who is then able to use his immense speed in one-on-one situations, while Pereyra has also pushed much further forward in order to support and combine with Orlando's central striker.
As noted by mlssoccer.com's Evan Weston, Orlando have trained 'tirelessly' to be better in possession since Pareja's arrival, so it's no surprise to see them dominate the ball in six of their nine games so far this season — even taking 53% of the ball against LAFC and 64% in the MLS is Back final against the Timbers.
So, Where Do Orlando Go From Here?
2020 has already seen Orlando show immense growth in comparison to what has come before during their time in MLS and already, the respect for this team is growing throughout the league as a result.
"That's for you and other people to determine it," Pareja said in Spanish when asked about respect for his side around MLS. "For us, we have an immense respect for ourselves and for our supporters and this project. And we hope that this gets bigger and magnifies as we achieve objectives. Today we are in a final and we're sad because we didn't win it because we could've won it.
"We'll push forward and hopefully get the respect from the opponents, the people and the fans who before may have seen Orlando as a smaller team, today see us as a very competitive team. Because I think that's the reality. We're a competitive team and we're here because no one gifted us or the players anything."
That said, this team is anything but a finished product and Pareja will not be resting on his laurels. He will be acutely aware that for all their dominance of possession against the Timbers, his side was effectively muted by an organised, rigid low-block.
"I think you have to give credit to a team who has it clear," Pareja said of the Timbers' gameplan in the final. "They lowered the block and we couldn't break it. Well, we need to improve on that part because if you have that possession and you have that amount of time with the ball, then we want to be dangerous. Obviously, today it was a challenge, it was many defenders in the line of the 18 yards and that created problems."
As can be seen in their passing ratio by zone graphic below, a massive portion of Orlando's possession has been centred in the middle third of the pitch, with the ball moving between deep-lying midfielders and centre-backs rather than with their difference-makers up top.
When faced with a deep defensive structure, Orlando struggled for ideas and with that in mind, it's no surprise to see they've been limited to one goal or less in six of their nine games so far in 2020.
A much more effective centre-forward option than Tesho Akindele, who has registered double-digit goals in a single season just once in his career so far, or Dom Dwyer — who is quite frankly a liability when it comes to discipline — is obviously required. And while Chris Mueller came far close to realising his potential at MLS is Back than we've seen before, the fact remains that he scored just three goals throughout the tournament, with each coming in the opening two games against Inter Miami and NYCFC.
Even with that in mind, the foundations are now in place for Pareja to build a truly competitive Orlando City side — one that we haven't seen before in Major League Soccer and one for supporters to finally be proud of.