By Andy Wales.
The Ballon d'Or is widely regarded as the most prestigious individual award in the game. Organised by France Football, voting is compiled from journalists all over the world. It's history, dating back to 1956, and global voting format add to the honour of its recipient. Over recent years, it has unsurprisingly been dominated by the generational exploits of Lionel Messi and Cristiano Ronaldo.
In fact, Luka Modric, in 2018, is the only player to break the Messi/Ronaldo stranglehold of the past 12 years. Had France Football not opted to cancel this year's award due to Covid-19, Robert Lewandowski would have almost certainly been a new name on the coveted trophy.
Lewandowski scoring goals is nothing new, but this season he has defied father time by getting better and enjoying a career-best goal return. In a season where Lewandowski has celebrated two birthdays, his 55 goals and 10 assists mean he's averaged a mind-blowing goal contribution every 63.6 minutes.
Here's a fun fact:
Robert Lewandowski turned 32 on Friday, he was only 30 when the season began!

— Andy Wales 🇪🇺 * (@AndyArmchair) August 23, 2020
Though his career had humble beginnings in his home city of Warsaw, he was top scorer in the third and second tier of Polish football for Znicz Pruszków before moving to Lech Poznań. It was during his two seasons here that he caught the eye of scouts from around Europe's top leagues with a string of impressive performances and the sort of deadly finishing that would become his hallmark.
In the summer of 2010, Lewandowski opted to join a rejuvenated Borussia Dortmund under the stewardship of an exciting young coach named Jürgen Klopp. After a year of acclimatisation, Lewandowski became a fixture in the Dortmund side that successfully retained the Bundesliga title and added a DFB Pokal.
Use your football knowledge to make bets on the football stock market – Football Index
By the time he'd helped fire Dortmund into the 2013 Champions League final, Lewandowski was being linked to a number of Europe's leading lights. However, with just one year left on his contract, he remained in Dortmund and made the controversial decision to sign a pre-contract agreement with Bayern Munich.
His 103 goals in 187 games across his four years at Dortmund would normally afford him eternal hero status, but leaving for their biggest rival on a free transfer left a sour taste. Perhaps the negative reactions played into his debut campaign not quite reaching the expected heights.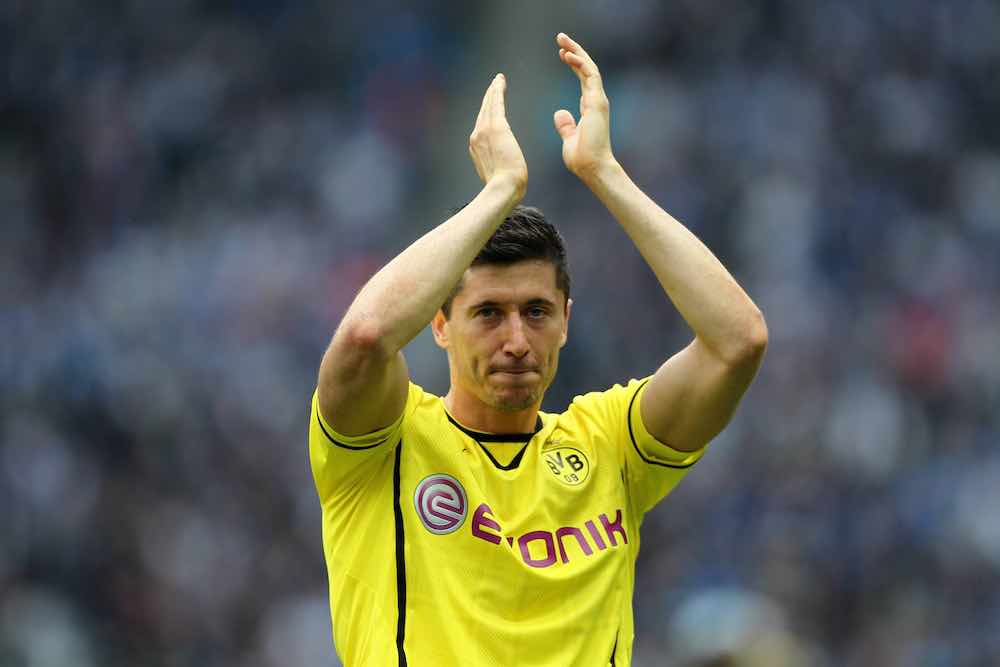 Any disappointment in his goal return didn't last long. In every one of the following five seasons at Bayern, Lewandowski has registered 40 goals or more. This included the record-breaking 5 goals in 9 minutes against Wolfsburg in September 2015. These astonishing goal-scoring feats have been matched with a magnificent level of consistency and professionalism.
The move to Bayern was supposed to help both parties achieve European glory. Lewandowski came agonisingly close with Dortmund, only to be beaten by Bayern, who themselves wanted to add more. Domestic success is almost a given for the Bavarian giants and it's no secret that their aspirations are dominated by a desire to rule European football.
Expectations of achieving that under Pep Guardiola were high but ended at the semi-final stage. As time moved on and Bayern went through managers, it seemed an ever more distant hope. With Bayern looking increasingly vulnerable under Niko Kovac and Lewandowski turning 30, you'd be forgiven for thinking the striker would end his career without a Champions League winners medal. Then along came Hansi Flick.
Lewandowski's 'Benjamin Button' 2019/20 season had already started in prolific fashion before Flick was appointed to replace Kovac; the change came in the team around him. Bayern quickly resembled the all-conquering 2012/13 Jupp Heynckes side.
The first player in the history of football to win a continental treble while also being the top scorer in each competition.

Bundesliga (34)
DFB Cup (6)
Champions League (15)

Robert Lewandowski. pic.twitter.com/bqBZmqnyfG

— Alex Chaffer (@AlexChaffer) August 23, 2020

Incredibly, Lewandowski finished top goalscorer in every competition Bayern won. Perhaps even more impressive is the fact that he scored more goals than he played matches in each of those competitions too.
His 55 goals across 47 games give him an average of just under 1.2 goals per game. Any top striker in their prime would be proud to achieve such a feat across a full season. For it to be done by a man who recently turned 32 is immense, and given the way he looks after himself off the pitch, there may be more to come.
It was only fitting that Lewandowski ended his career-best goal-return with the trophy that had eluded him. His 15 goals in the Champions League helped put Bayern where they strive to be.
In a treble-winning season where he scored more goals than anyone else in Europe, Lewandowski would ordinarily add a deserved individual award to team glory.
It's unfortunate that circumstances have denied it, but treble-winning goal king Robert Lewandowski will be the uncrowned Ballon d'Or winner.
Buy shares in Robert Lewandowski on Football Index – bet on the football stock exchange
---
+18, New UK and Ireland customers only, begambleaware.org, T&Cs apply.