Bundesliga Zeitung, by Andy Wales.
The first Englische Woche in the Bundesliga since its restart culminated in the title race effectively coming to an end. Bayern Munich's 1-0 victory in Dortmund midweek was followed up by a 5-0 mauling of Fortuna Düsseldorf. Their seven-point cushion at the top with just five games remaining looks unassailable. 
It's a shame the title race looks done after what has been such a competitive season at the top. However, there is still plenty to play for in the battle to secure European football and the fight against relegation.
With just seven points separating second and fifth in the table, Dortmund cannot allow themselves room for self-pity. The title may have gone but a Champions League place is far from confirmed, but the 6-1 thumping of Paderborn suggests their focus hasn't slipped.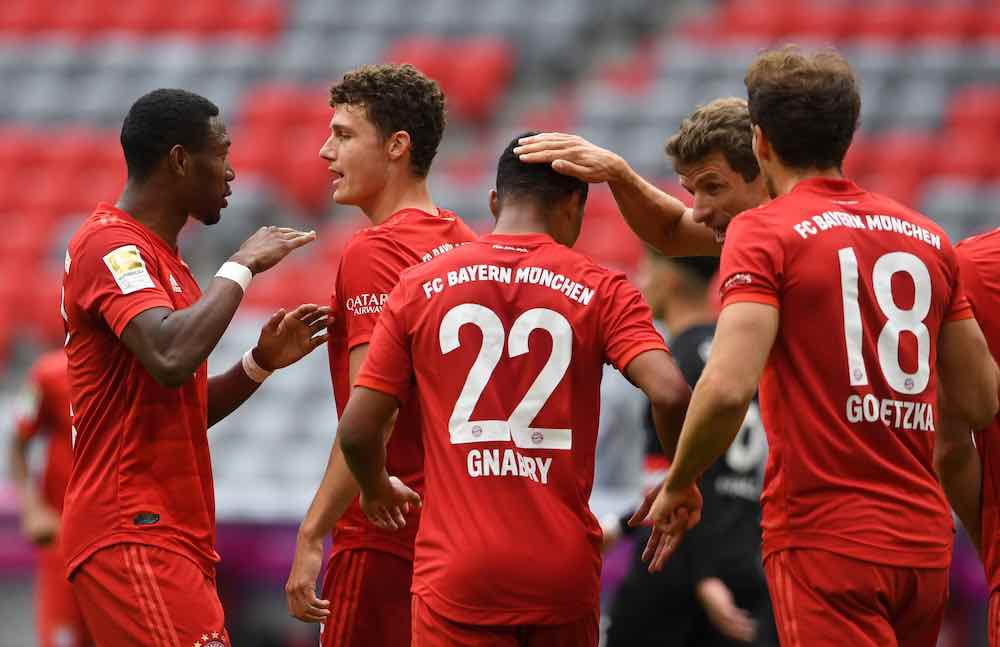 'Nearly but not quite, an opportunity missed,' was the story of the 2018/19 season for Dortmund. The same can be said of this season and, indeed, Lucien Favre's time in charge. Following the defeat to Bayern, speculation quickly spread that Favre's tenure at the Westfalen will end this summer. He has expressed his intention to see out his contract, but that decision won't be his to make.
Despite starting off well at Dortmund, the harsh reality is that when the pressure increased, he and his team were found wanting. A failure to capitalise on a disjointed and dysfunctional Bayern under Niko Kovac cost Dortmund the title last year. Those same fragilities soon reappeared this term to similar effect. 
Often, Dortmund are pretty on the eye, but after spending just over €100m last summer and investing further in January, it's clear the club wish to be more than beautiful bridesmaids. 
None of this debate over Favre's position and potential successor should detract from the job Hansi Flick has done at Bayern. The galvanising effect he has had in such a short space of time has been incredible. It is reminiscent of the impact Jupp Heynckes had when he temporarily returned after the sacking of Carlo Ancelotti. 
It is more than just harmonising the team. The entire club is again pointing in the same direction. Flick has shown his tactical acumen, but it's his man-management skills that have made such a difference. Getting the very best out of established names, developing young talent, and restoring that imperious Bayern aura. 
Since taking charge back in November, Flick has won 22 of his 25 Bundesliga matches as boss. It's a tremendous record that beats even Pep Guardiola's start at Bayern.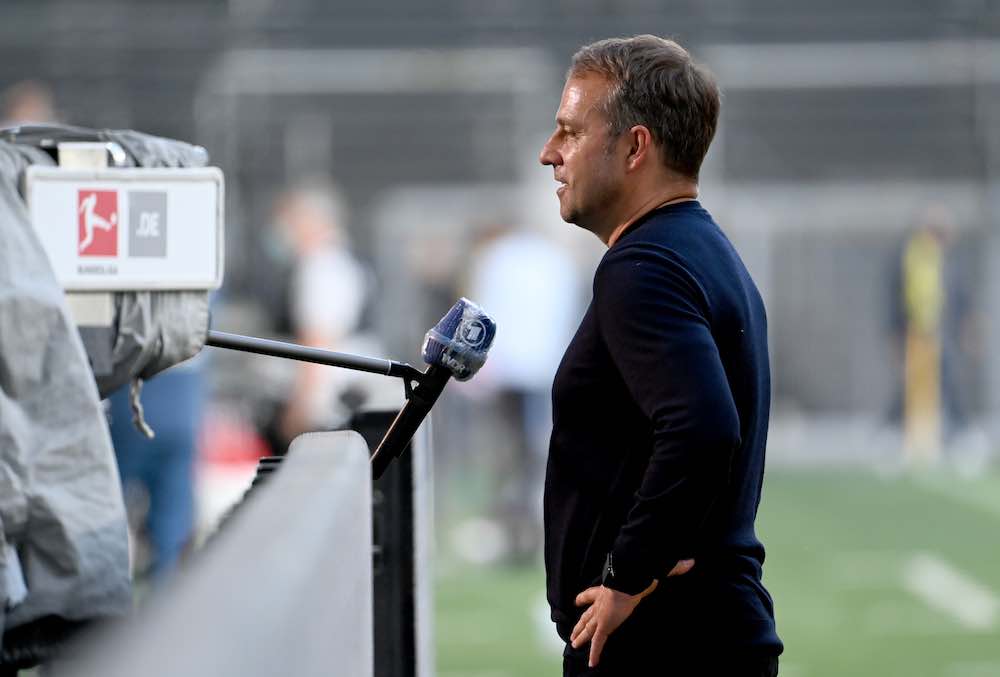 Flick told reporters: "Statistics and records don't interest me, what's important is to have a successful season."
Despite his indifference to statistics, his wasn't the only record to be set on Saturday. Robert Lewandowski's brace took him to 29 Bundesliga goals for the season and 43 in all competitions. He is the first player aged 30 or over to register that many Bundesliga goals in a season. In addition, he has also now scored against every team in the league. 
Unbelievable numbers from the Polish striker who appears to be improving with age. Is he football's Benjamin Button? Nearly as impressive is the resurgence under Flick of Thomas Müller. The former Germany international has racked up 18 assists, more than anyone else in the league and just three behind Kevin De Bruyne's record from 2014/15.
The influence of Lewandowski and Müller was encapsulated beautifully in Bayern's third goal against Fortuna. Lewandowski played in Joshua Kimmich, whose impish back-heel was immediately hooked inside by Müller for Lewandowski to finish. It was a wonderful team goal and the highlight of team performance that demonstrated the relentless attitude under Flick. 
He has truly restored the identity of Bayern, both in terms of style and psychology. That air of near-invincibility they once enjoyed that had some opponents beaten before kick-off is back. Importantly, just as there was no resting on laurels against Düsseldorf, that relentlessness was evident as he gave a team talk on the pitch post match. A unified Bayern look like a winning machine again and it's clear they have their sights set on more than just the Bundesliga.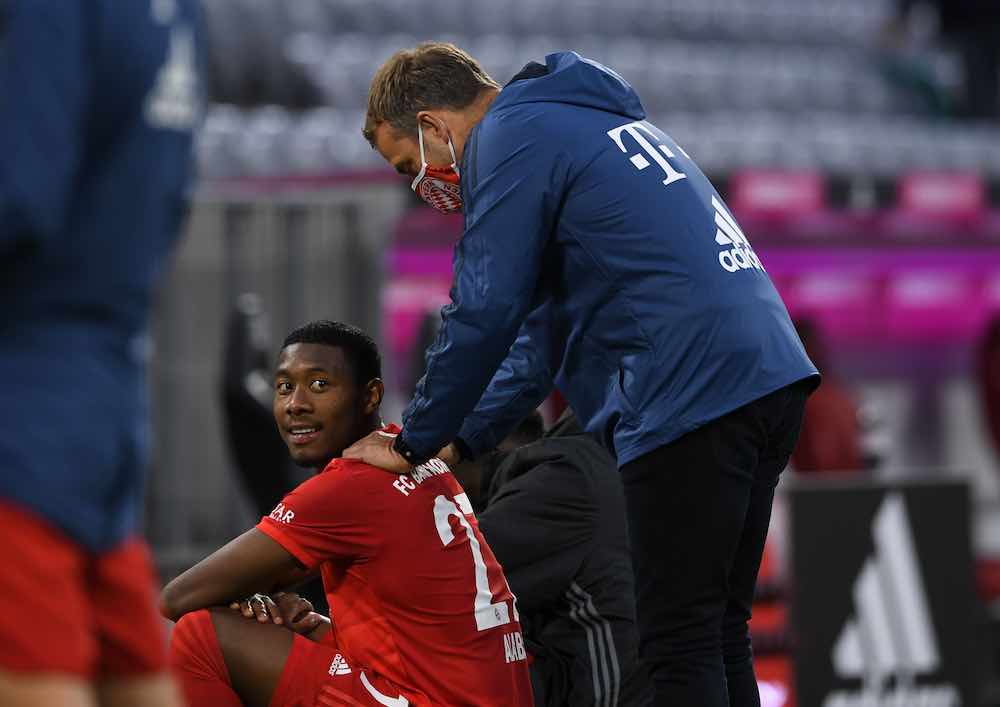 Müller is not the only beneficiary of Flick's approach; Manuel Neuer is back on form, Leon Goretzka has finally settled, David Alaba a surprise at centre-back, and Alphonso Davies a revelation at left-back. It's often said that the Bayern job is mostly about controlling egos,  and Flick has handled that superbly while also developing young talent.
It's true Dortmund can look back at the first half of the season with a justified sense of frustration. They could have taken more advantage of the situation that presented itself, but didn't. Enter Flick and the rest is history. 
Bayern yet again winning the title will seem predictable, but it has been one of the most competitive title races in years. The gradual domination of Bayern as the season wore on is testament to the work done by Flick. Of course, the Bundesliga would benefit from a different champion, but Bayern will be worthy winners and may well break more records along the way.