By Howard Green.
Willian Borges da Silva finally made his move from Chelsea to Arsenal. It's not been the most secretive of transfers and Arsenal fans seem to be excited about the finalisation of the deal, but after seven seasons of service to Chelsea, why did Willian want to move to their London rivals? And what does he offer to an Arsenal team gaining momentum?
Close to Home
Although it's rarely taken into account when discussing such narratives around transfers, footballers are human too. Creatures of habit who once settled in an area may not wish to leave.
Willian, with a young family, is likely settled in London after seven years playing for the Blues. Even though he received offers from other wealthy leagues, it would make sense for him and his family to remain in the English capital.
Another human reason for Willian to move to the Emirates is the opportunity to once again play alongside David Luiz. The two are great friends and currently co-own an Italian restaurant in Mayfair. Who wouldn't want to play next to their best mate?
OFFICIAL: Willian leaves Chelsea for Arsenal on a free transfer ✍️ pic.twitter.com/Ja8vmEPQPS

— Goal (@goal) August 14, 2020
Experience
Luiz's poor performances following the Premier League restart led to questions around Arsenal's decision to extend his stay for another year. Although his form picked up, it's clear the reason Luiz was offered a new contract is because he brings a lot of experience to a youthful Arsenal squad.
Willian's move is very much in the same vein. His presence will benefit the development of young, talented wingers such as Reiss Nelson and Nicolas Pépé.
Willian, like Luiz, has experienced national team and European cup success, two things many characters in the Arsenal squad lack.
More importantly, Willian offers the maturity to guide a young Arsenal team to overcome tournament losses and setbacks, and his maturity and seniority in the squad may also enable a future career in coaching.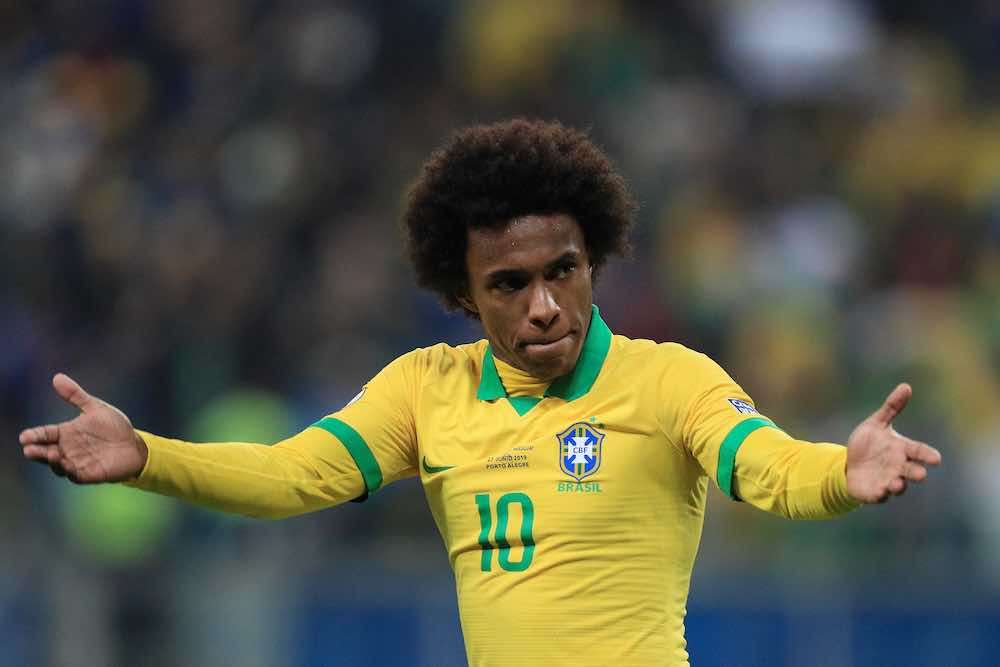 Tactical Similarities
Both Chelsea and Arsenal have lacked tactical identity over the last couple of years, and both have experienced recent managerial changes that have brought changes in style.
This was evident during the FA Cup final between the two as both teams played in a 3-4-3 formation that might seem strange for young managers, Frank Lampard and Mikel Arteta, who have so far both tended to prefer four at the back.
Arteta's game seems to resemble something of the old Chelsea, likely appealing to Willian. In particular the 4-2-3-1 formation José Mourinho used in the Champions League matches during 2014/15 in which Eden Hazard and Willian would regularly star. It's likely that Arteta's style has excited Willian because of the attacking flexibility it can offer him.
A New Beginning
Perhaps surprisingly, the 2019/20 Premier League season was statistically the best Willian has ever had, producing nine goals and 11 assists in 36 league appearances. This then begs the question of why Chelsea didn't try harder to keep him at the club.
A simple answer to this is the manoeuvres Chelsea have made for world-class attacking midfielders and wingers this summer. It's difficult to imagine where Willian would be placed in a starting 11 containing Timo Werner, Hakim Ziyech, and possibly Kai Havertz. If Willian wanted first-team football, he can certainly be offered it at Arsenal.
Willian on a free transfer is an absolute steal for Arsenal. Even if he doesn't have the kind of season he had at Chelsea, his wealth of knowledge and experience must be exciting for fans and players. The 32-year-old still has a lot to prove to his old club, his new supporters, and the rest of the Premier League.