By James Nalton.
As Barcelona approached their first game of the new league season, at home to Villarreal, all eyes were on Lionel Messi. How would he react following a wantaway off-season that led to even more turmoil in the Barcelona boardroom, and almost led to his move to Manchester City?
All eyes then shifted to Ronald Koeman. The Dutch manager and former Barcelona player charged with sorting things out on the pitch, and getting his players to try to ignore what's going on off it.
All eyes should have been on Ansu Fati. The 17-year-old winger Villarreal forgot to mark in the game's early stages, and only made a token attempt to do so after that.
Thanks to the teenage Spain international, Barcelona were 3-0 up within 35 minutes. Any worries Koeman had about the size of the task he faces were eased ever so slightly within that first half an hour or so.
The winger scored one from Jordi Alba's cross (with a nod to Antione Griezmann's movement to make the space), another from Philippe Coutinho's through-ball, and was fouled by Mario Gaspar in the area allowing Messi to score his first of the season from the penalty spot.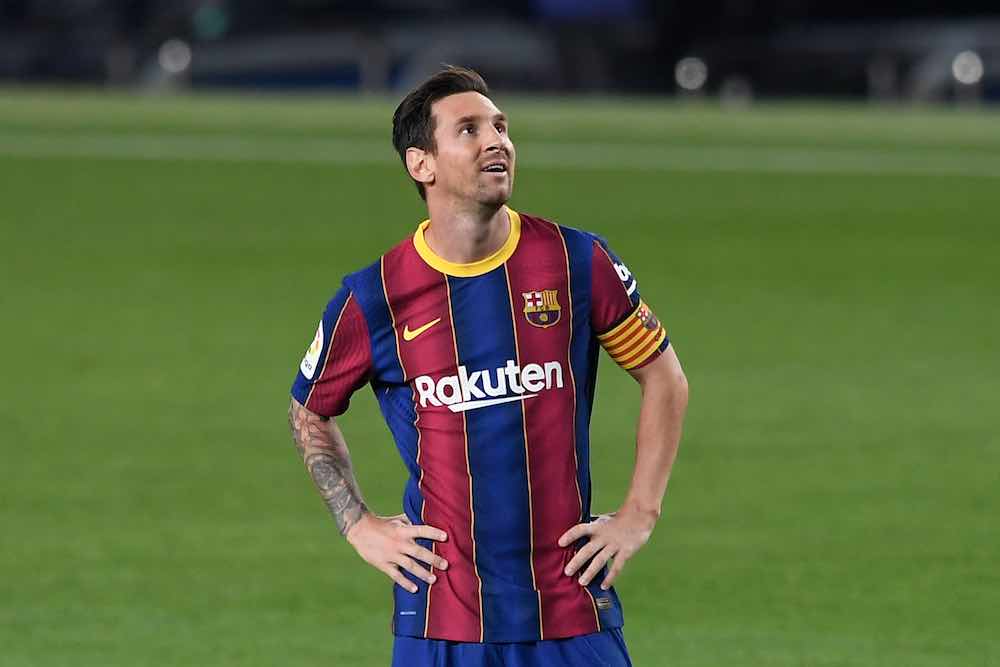 A fourth before half-time, coming via a Pau Torres own goal, barely registered on the scale of fake crowd noise, and the Barca players congratulated each other as if they'd just finished a particularly enjoyable training session.
The furore around the future of Messi this summer meant there was more analysis of his contract, his burofaxes, and his legal standpoint than there was of how Messi the footballer might go on to play under his new manager.
The answer to that unfashionable question is False 9, or at least it is following Koeman's first La Liga game as Barcelona manager.
Barcelona formation vs Villarreal #BarcaVillarreal pic.twitter.com/W5n33tkLeP

— James Nalton (@JDNalton) September 27, 2020
Fati was electric all night, and on the few occasions he managed to link up with Messi successfully, he seemed to spark the Argentine into life.
We should all know how good Messi is by now, but the quickness and quality of his movement and passing once he gets involved in a passage of play still astonishes.
There is an air of uncertainty going into this next chapter for Barcelona, but one thing that is for sure after this game is that they will face tougher tests this season.
Other opponents will not afford Barca that space that allowed centre-back Clement Lenglet and playmaker Coutinho to launch the attacks that led to goals in the first half. Coutinho travelled half the length of the pitch with the ball before feeding Fati for his second, and the Brazilian was impressive in his No. 10 role.
The truth is that Koeman still has good players at his disposal, and Barca are still one of the best sides in Europe. They still have Messi and they have one of the most impressive young players on the continent in Fati.
They still have experienced senior professionals Marc-André ter Stegen and Miralem Pjanić to come into the team, as well as Sergiño Dest — the American right-back who is set to sign from Ajax this week.
Looks like Barcelona will beat Bayern to the transfer of Sergiño Dest. The €23m fee could prove to be a bargain.

Watched Dest at the 2019 U20 World Cup in Poland. He's gone from Jong Ajax to being wanted by two of the world's biggest clubs in just over a year 🇺🇸⚽️ #Barca #USMNT pic.twitter.com/df5SBAjI3U

— James Nalton (@JDNalton) September 27, 2020
A host of exciting young players wait in the wings for their chance, including Pedri, Ousmane Dembélé, Francisco Trincão who replaced Coutinho, Fati, and Griezmann in the second half as Barca warmed down.
The danger is that this game will give Barcelona a false sense of security, a false sense of superiority over the rest of La Liga rather than just over Villarreal in this particular game. But it's unlikely that Koeman will be complacent, and unlikely that he will approach this as anything but a difficult job — albeit a difficult dream job — and this might be a good thing for Barcelona who should be looking to make things happen this season, rather than expecting them to.
As the fireworks subsided on the pitch following that first-half excitement, fireworks outside Camp Nou lit up the night sky during the second half as La Mercè festivities continued in the city.
Barcelona CF themselves won't be celebrating too much after this win, but it nevertheless felt like a much-needed one following a summer of uncertainty.