By Louis Smith.
São Carlos, a municipality in the state of São Paulo, is the birthplace of Liverpool's first-ever Brazilian signing.
Fábio Aurélio began his footballing career as a teenager when he ventured south to join the São Paulo youth academy. Just a few years later at the still-tender age of 17, he burst onto the Brazilian scene with his boyhood club. This was just the beginning.
Between 1997 and 2000, he enjoyed well over a hundred outings for the Tricolor and his solid performances helped them win two Paulista State Championships.
His rapid ascendance caught the attention of both the manager of Brazil's Under-23 side, Vanderlei Luxemburgo (who was also in charge of the senior Seleção), as well as some of Europe's top clubs.
"It was incredible and all very quick. I arrived at São Paulo FC at the age of 14 to play for the Under-15 category, and three years later I was making my professional debut," Aurélio told WFi.
"Growing up at the club I have always supported and getting to the top level so young was unbelievable. Things happened so naturally that I didn't have time to pay attention to the process — I just enjoyed the journey.
"My time at São Paulo was not long, but at the same time it was very intense and enriching. In a very short period of time, I acquired experiences and knowledge from great players until I earned a place in the first eleven — after the exit of Serginho to AC Milan [in 1999].
"We conquered the Campeonato Paulista and reached the Copa Do Brasil final. This great campaign led me to represent Brazil's national team at the 2000 Olympics in Sydney, which was when Valencia became interested in signing me."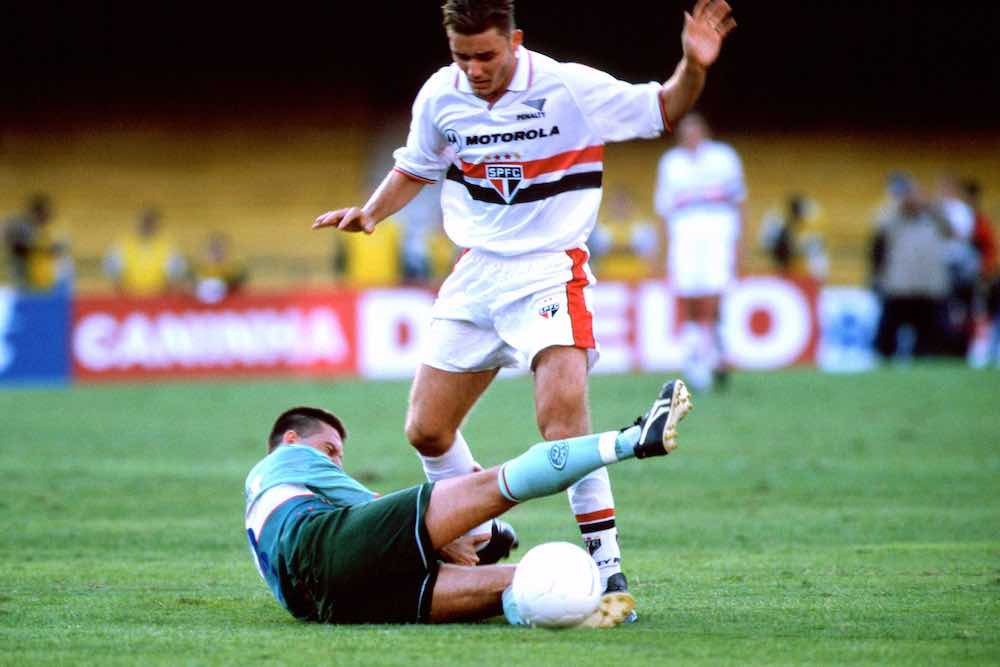 This marked the end of his time at São Paulo, and he went on to join the Spanish club shortly after the Olympics, having been spotted by Rafael Benítez, who would come to play a key role in the player's development.
Unfortunately, Aurélio's first season at Valencia was hampered by injury, and he only managed seven matches throughout the campaign. Despite this, some optimism could be taken from the fact that he played in every minute of the final four league games.
At the start of the 2001/02 campaign, though, injury struck once again for Aurélio — it seemed as if any time he found rhythm, luck wouldn't be on his side. Nevertheless, whenever he was knocked down, inner grit and determination compelled him to bounce back, and at the end of this particular season his perseverance paid off.
On 5 May 2002 in the penultimate game of the season, Valencia travelled to Málaga, with los murciélagos seeking a victory to claim their first Primera title since 1971.
The visitors took the lead courtesy of another South American, Roberto Ayala, and on the stroke of half-time came the moment Aurélio had been waiting for. Here, the son of São Carlos found himself one on one with Pedro Contreras and did not hesitate to hit a left-footed thunderbolt. The goalkeeper never stood a chance.
Aurélio's goal at La Rosaleda secured the win as well as the league, ending for Valencia fans over three decades of living in the shadows of others.
"Winning the first La Liga title for Valencia in 31 years and above teams like Barcelona and Real Madrid was another marvellous moment that I had the privilege to experience," reflected Aurélio. "It was even more special because I scored one of the goals that gave us the title.
"For me, the key to that success was the whole group. We had a lot of good players, but our strength was not based on individuals and everyone understood that. We went step by step, and in the end, we saw that the possibility to win was real — the confidence was there. Rafa knew what we had to do and how to make us believe."
In the year following this success, Aurélio enjoyed one of his finest individual seasons, scoring eight times in 27 league appearances — in doing so, garnering recognition as one of the best left-backs in Spain.
Never far from a setback, however, this acclaimed campaign was curtailed at the final straight by a broken leg, which hindered him from playing anything more than a cameo role in the following season's league and Uefa Cup double triumph.
Always reliably resilient, though, the final two of his six years at Mestalla saw him return to roam the flank in over half of his team's games. Overall, he turned out 119 times for Valencia, finding the net 13 times, before an exciting new chapter was offered to him upon the end of his contract: the opportunity to reunite with Rafa.
Benítez had left Valencia in 2004 to join Liverpool, where he continued to make miracles happen, most significantly the following year in Istanbul where, in the most dramatic of circumstances, he guided the club to their fifth European Cup. When Aurélio became a free agent in 2006 and Rafa came calling, the player jumped at the chance.
"The Premier League was a very attractive competition, and English was my favourite subject at school," he said. "Although I didn't speak the language at the time, I had the desire to do so.
"Obviously, this was just one factor. The most important was the confidence of Rafa, a coach who I knew and who trusted in me; there was also the greatness of Liverpool FC — that is indescribable.
"It's very difficult to say how I felt, especially after arriving at the club and discovering that I was the first-ever Brazilian to play for the Reds — that just made it all the more special."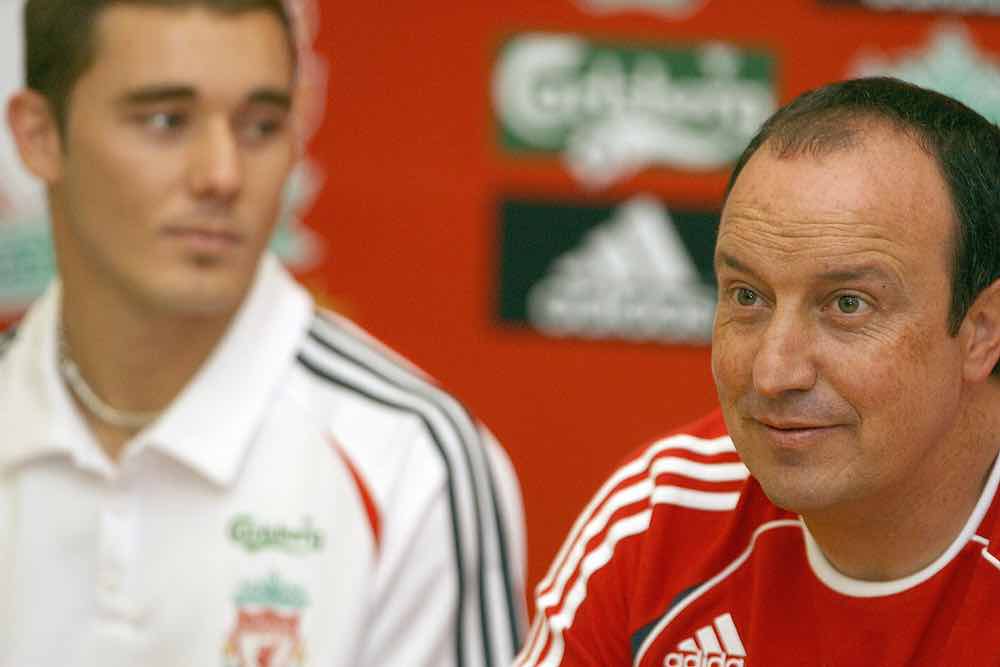 The willingness of Rafa wanting Aurélio to join him at Liverpool and Aurélio wanting to join Rafa shows the mutual respect the pair have.
"I am very grateful for Rafa's confidence in me and for the opportunity he gave me," he adds. "His help in developing my abilities and improving my game first began at Valencia, where I experienced great moments under his command.
"What I think he helped me with the most were the defensive and tactical aspects — I was, after all, an offensive left-back with the classic Brazilian style. He helped me a lot to adapt to European football and to solve problems on the pitch more confidently. Apart from that, I felt he trusted in my game, which made me more secure and more aware of his demands. He really was very good tactically.
"For me, he was like my dad in football. I only regret not being more available to him due to the many, many injuries I've had to deal with during my career."
In what was another six-year spell, Aurélio's time at Anfield saw him rack up 134 appearances and score four goals.
His best season was 2008/09, which also coincided with the club's best league performance under Rafa. Liverpool ultimately finished second and their domestic campaign was not short of highlights, chief among them the trouncing that left bitter rivals Manchester United red-faced at Old Trafford.
"That moment was and still is very special for me. It is still the thing I hear about the most from Liverpool fans," said Aurélio.
"I scored the free kick that Vidić had received a red card for conceding, so my goal increased the gap to 3-1 with a one-man advantage. It created a comfortable situation to face the rest of that game, which ended 4-1.
"The mood after the game was great — how could it not be? We had won against our top rival at their home for the first time in five years, with an emphatic result at a really important moment in the season. It kept our hopes to win the long-desired Premier League title very much alive."
As well as memorable moments in the league for Liverpool, Aurélio also featured 25 times in the Champions League, allowing him to experience the fabled Kop atmosphere on European nights.
Just a selection of the standout games he played in include 2008's 2-0 victory against Inter Milan in the last 16, the thrilling all-English quarterfinal with Arsenal — decided on Merseyside with a 4-2 home win — and the following season's 4-0 battering of Real Madrid.
"Unfortunately, only the ones who had or have the opportunity to walk from the dressing room to the field know how special it can be," Aurélio says.
"It's one thing to have this feeling from the stands, but as a player hearing the song "You'll Never Walk Alone" on the way to the pitch, and having that crowd gearing you up prior to every single game is something unexplainable that counts a lot in favour of the team. At the same time, it lets the opponents know how hard it will be to play there."
With several to pick from, Aurélio shared with WFi some of his fondest memories of his time at Liverpool.
"Even though I was prevented by injuries from enjoying more great moments in the Liverpool shirt, I really enjoyed every time I got the chance to play for the Reds," he said. "For me, my favourite moment was one special week in the 2008/09 season.
"First, we beat Real Madrid 4-0 at home in the Champions League, making it 5-0 on aggregate. Following that, we had that victory I mentioned before against Man United.
"This was my favourite time because of the importance of those results and also because I was free of injuries, enjoying what, in my opinion, was my best season at Liverpool."
After Liverpool, in 2012 Aurélio accepted an offer from another former boss, this time Vanderlei Luxemburgo; this saw him move back to his homeland to play for Grêmio. Unfortunately, he was unable to feature much — yet more injury trouble left the Brazilian with a lengthy spell on the sidelines, and he ended his playing career in 2014.
However, since retiring, Aurélio's commitment to the sport hasn't diminished as he now finds himself involved in a nurturing, behind-the-scenes capacity.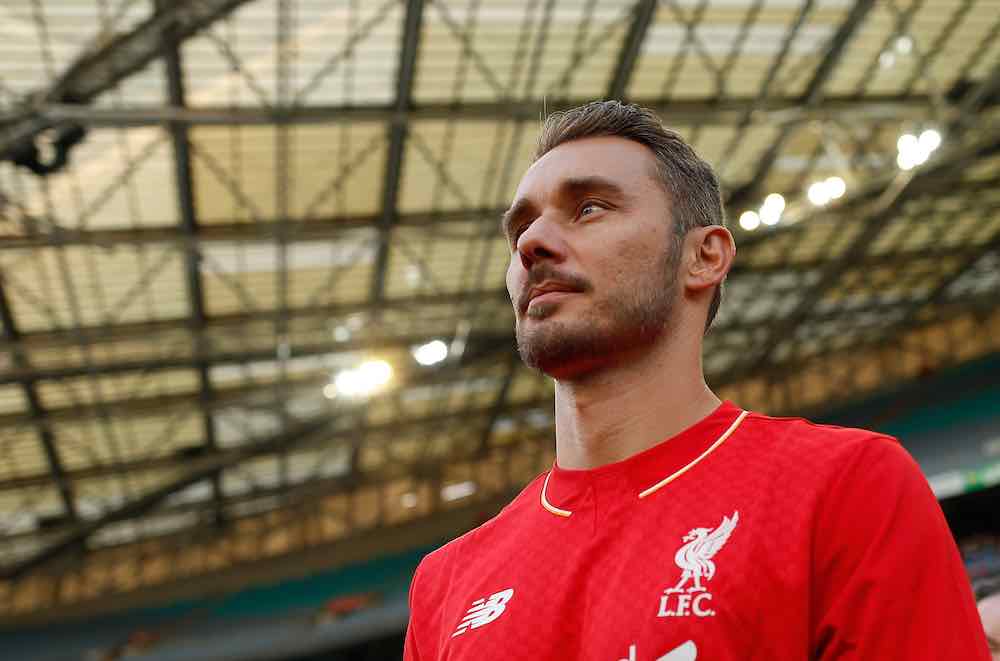 "I am a lover of the game, so I did retire from playing professional football, but not from football itself," he said. "I can't live without it. I have always liked training and still look after myself and my body, so I haven't changed.
"I would say I do it more now, as I know more about my body and what is good and what is not so good for me. I keep on training and playing whenever possible.
"I now run a company based in Brazil called NG Soccer. I do so with my brother-in-law Edu Schimidt and a friend of ours called Neto Genovez. Edu is a former player of São Paulo, Celta Vigo and Real Betis; we met when we were 15 at São Paulo.
"After the Olympics in Sydney [where Edu also played, as did Ronaldinho], we went together to Europe: I moved to Valencia and he went to Celta Vigo. As for Neto, I have known him since I was seven years old. He also played with me and Edu in the youth academy of São Paulo and it was he who originally founded the company.
"We look after players' careers and advise them on all matters. As you can tell, our company is very familiar [with the industry]: everyone has lived in football and is focused on passing our experiences and knowledge on to the younger generation. We try to help them and show them what they need to do if they want to achieve big things in their careers.
"We help them not only with on-field matters but also with every aspect of their lives. In our playing days, everywhere we went, our behaviour and conduct were always our marks, and we don't want to change that.
"We know it's not an easy job — the times are different. Social media and all the information players now have in their hands can be very distracting, so we need to use [this landscape] in our favour, while keeping their focus on their objectives.
"Nowadays, being a player is not enough. First of all, you need to be an athlete. You can be talented and gifted, but, without work and desire, you won't have a chance. So I'm enjoying this challenging job!"