By Andy Jones.
The Department for Culture, Media and Sport (DCMS) met with the governing bodies of all major sports following the latest national COVID-19 restrictions that will be implemented from Thursday, September 24. The DCMS took the decision to place plans on reintegrating fans into stadiums under review.
Many football fans had been preparing themselves for a return to grounds, with pilot schemes having already taken place last weekend at seven English football league fixtures.
There were plans to bring supporters back into stadiums from the October 1, but this has now been put under review by the DCMS until further notice. It is understood that restrictions could last up to six months, a prospect that looks set to bring a dark cloud over the football community this winter.
EFL Look To Premier League For Help
Gate receipts are fundamental to the running of all football clubs. They are one of the main revenue streams, especially for those lower down the ladder where for most it will be the main source of income.
The financial insecurity surrounding many clubs is concerning, and a further six months of restrictions could send many clubs under and potentially destroy the football pyramid.
The EFL lost £50m last season due to fans being unable to attend matches, and it believes losses of up to £200m could be lost this season.
"The impact could be quite devastating," Tranmere Rovers vice chairman Nicola Palios told BBC Sport.
"A lot of clubs were already having financial difficulties before this pandemic started and this may sadly tip some of them over the edge."
A Premier League statement read: "Football is not the same without attending fans and the football economy is unsustainable without them.
"Last season, Premier League clubs suffered £700m in losses and at present, our national game is losing more than £100m per month. This is starting to have a devastating impact on clubs and their communities."
If there was no matchday income these would have been the operating loss totals in the Championship in 2018/19 £'m pic.twitter.com/4oswFmHLI5

— PriceOfFootball (@KieranMaguire) September 22, 2020
The Premier League and the EFL are in discussions about a support package to give financial aid to those that are in desperate need of help.
It is long overdue that football's big boys start to take action and help their lower league brothers, in what are unprecedented and uncertain times. Ahead of Chelsea's Carabao Cup fixture against Barnsley on Wednesday, the London club paid for their opponent's coronavirus tests, highlighting the gulf in resources each club has.
Lower league teams just can't afford to constantly test for the virus let alone run a club without their main source of income. Many clubs face the real prospect of disappearing, destroying local communities up and down the country with many already struggling before the pandemic.
The Football Supporters' Association chief executive Kevin Miles has written to the government after plans to allow fans back into grounds was put under review:
"The FSA has written to the Government to stress how important it is that we start to allow fans back into games.
"Feedback from our members at test events has confirmed high levels of compliance with all the health and safety measures put in place, and that they felt safer at games than they have done in many other social situations.
"Having fans at games is of course not only important to the lives of supporters, it is also crucial to the survival of so many clubs who play a crucial role within their communities.
"A combination of revenue at the ground and government support is urgently needed to keep clubs going. The Government has to listen to fans and football clubs on this one."
Confirmed Cases On The Rise
In a week that struck a huge blow to the heart and soul of football, there have been several high profile confirmed test results. Rising cases across the country are a reminder that the virus is here to stay for the foreseeable future.
Leyton-Orient released a club statement on Monday (21st) stating that "a number of our first-team squad have tested positive for COVID-19." The O's Carabao Cup match with Tottenham was subsequently postponed.
West Ham United also confirmed three members of the club had tested positive on Tuesday — manager David Moyes along with players Issa Diop and Josh Cullen — ahead of their Carabao Cup clash with Hull City. The trio were instantly sent home to self-isolate and left the London Stadium just 45 minutes before kick-off.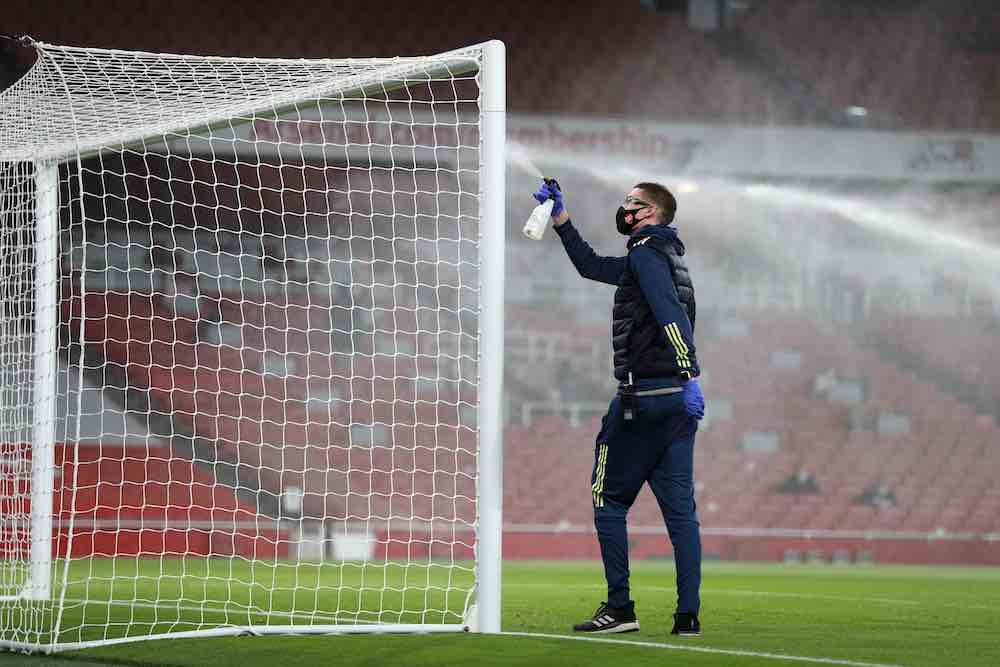 Manchester City's Ilkay Gundogan tested positive on Monday prior to the Citizens Premier League opener against Wolverhampton Wanderers. Gundogan was omitted from the matchday squad along with Aymeric Laporte who had been in close contact with the German international, although the French defender has not tested positive himself.
These confirmed cases could be devastating to football as a whole. With the government introducing new restrictions from Thursday football chiefs will be worrying what the implications will be if stricter restrictions come in further down the line.
Not only does the football community have to continue to play games behind closed doors, resulting in huge financial losses, but the whole sport could also be brought to a halt again if testing continues to return positive cases.
Boris Johnson has been clear on 'reserving the right' to implement more draconian measures if the new ones set out on Tuesday are not followed. This is not a situation clubs or communities will be able to survive.
The proposal of another full-scale national lockdown will see many clubs go under unless the government and the Premier League step in to help those in need.
Football culture is built around local and community clubs, bringing thousands of fans together in a shared passion. As a nation we are passionate about all sports, and especially football, it is this sense of passion and pride for our national game that motivates us all to get involved and do whatever we can to make sure this winter is not the end of the road for our great football pyramid.