By Jerry Mancini.
Alejandro Pozuelo's 90th-minute penalty was enough for Toronto FC to steal three points in a 1-0 win over New York City FC on Wednesday night.
The last time these two clubs met was back in July in the MLS Is Back tournament round-of-16, where NYCFC won 3-1 against TFC in a dominant performance. Once again, NYCFC put on a terrific performance yet, this time, were less clinical in the final third.
NYCFC — who appear to have lost Heber to a long-term injury — were relentless throughout the game, dictating the tempo and pace of proceedings. Their inability to finish their chances was their downfall, however, as Gary Mackay-Steven and Jesús Medina each had big opportunities, while Alexander Ring came closest right before half time. The midfielder received a pass in the box down the right flank from Mackay-Steven, who delivered an accurate and well-timed cross. Toronto 'keeper Alex Bono was well positioned and made the save to keep the game scoreless.
Bono was the difference-maker in this match for Toronto, finishing with eight saves to earn his 28th career clean sheet — a club-record he shares with Stefan Frei. It was only Bono's second start since May 2019 and he put forth an impressive performance when his team needed him the most. Nonetheless, it is a task that is not easy when a goalkeeper is not playing regularly.
Tonight's difference: @Alex25Bono 🦴

Alex Bono tied the all-time club record for clean sheets (28) tonight. #TFCLive pic.twitter.com/SBtfYRcugO

— Toronto FC (@TorontoFC) September 24, 2020
"I feel really good about my game right now. I'm really confident about where I'm at. Everything seems to be coming all together for me and that helps grow confidence," Bono said after the match when asked about what has been the key to staying sharp with minimal playing time.
"Obviously, everyone knows confidence is a big part of goalkeeping and that's something I lacked a lot of in the last few years. Starting with the middle of last year, I've been feeling really good about the way I've been playing, about my shape, I feel like I'm in shape and I'm in form right now."
TFC struggled for most of the match to create any chances in the final third and sustain any pressure. They finished with a possession share of 41% and had three shots on target and it was their defence that stood tall as they made many timely blocks and clearances throughout the match.
Omar González was a strong presence at the back and finished with four clearances and one interception. Additionally, Chris Mavinga also played a key role with two clearances, two interceptions and two blocked shots.
Good teams find ways to win on nights when things are not going their way. Wednesday was a clear example of that and one which manager Greg Vanney agrees was the case for his side.
"[It was] a bit of a make-shift group, a make-shift midfield," he said. "We tried something a little bit at first — because we don't have many midfielders — to get a couple of forwards on the field. The game just worked out that we just didn't have much possession and because of that, it wasn't a good shape for us to defend.
"We had to make some adjustments, credit to the guys because guys were playing roles they don't usually play. They were doing things defensively that they don't necessarily always do. They gut it out, they ground it, they did whatever they had to do."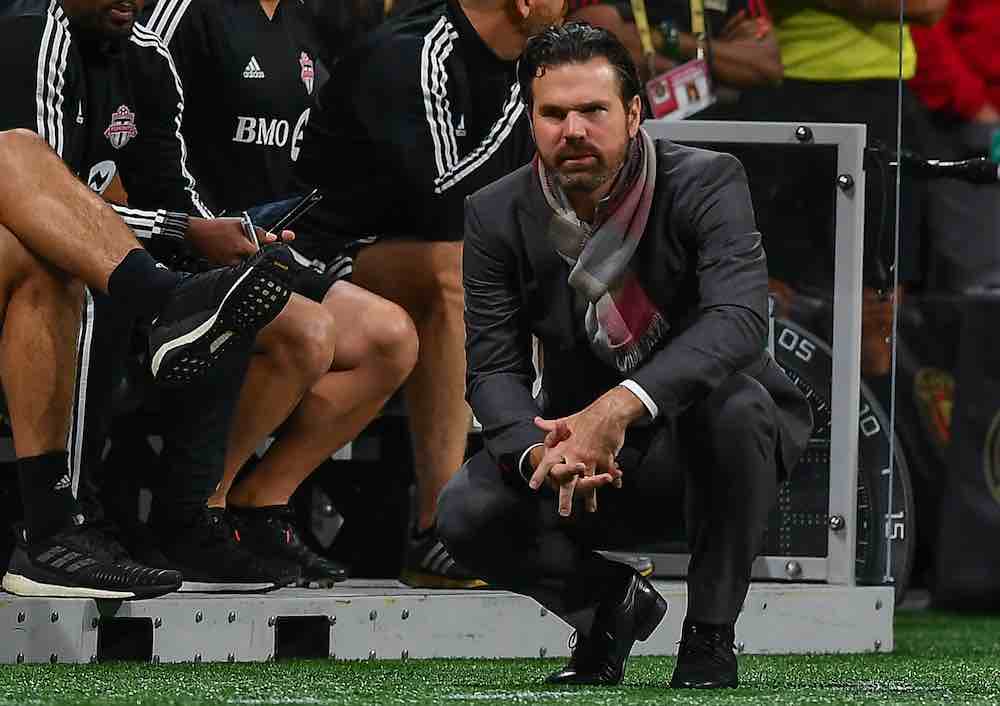 The win puts an end to NYCFC's six-game unbeaten streak and keeps Toronto in fourth-place in the Eastern Conference, tied with Orlando City on 22 points. It was a gutsy performance from Toronto who will surely feel fortunate for leaving with three points.
However, the gutsy performance drew further praise from Vanney after the match.
"For me, wins like tonight are sometimes more valuable than the wins you get when you play teams off the field," he added.
"We know we have a good group who could play soccer and tonight is just a character win. I think that the guys are more proud of this win than the other wins when we play well."