By James Nalton.
There was a reason Real Madrid were so desperate to sign James Rodriguez in the summer of 2014, and that reason wasn't just because he was the best player at the 2014 World Cup in Brazil (even though Lionel Messi was the official Golden Ball winner).
James was, and still is, a global star with a global profile. You don't get away with wearing one of the most common names in the world on the back of your shirt if you're not, although its pronunciation — 'Ha-mes' — sounds much better than its anglophone equivalent.
He was arguably the last of Real Madrid's galactico-style signings prior to the transfer of Eden Hazard from Chelsea to Real in 2019, and though his time in Madrid has been disjointed, he has not lost any of that star quality, or any of the ability that goes with it.
Everton will pay La Liga's champions a fee of around £20m plus add-ons for a player who could be one of the most eye-catching in the Premier League should he stay fit. From Real's point of view, they will get an unused high earner off their books. Everton will get a new star player, and a big star at that.
Use your football knowledge to make bets on the football stock market – Football Index
James' global popularity means it's perhaps not an exaggeration to say he's the highest-profile signing Everton have ever made.
For popularity context, he has more followers on Twitter than any Premier League club but two (Arsenal and Manchester United).
Everton have signed players considered better or higher-profile in the UK. Gary Lineker spent a season at the club before his move to Barcelona, Paul Gascoigne arrived in the twilight of his career, and Wayne Rooney returned from Manchester United having spent a good while as one of England's most high profile forwards. And there are a number of others who fit this 'British star' category throughout Everton's illustrious history.
Samuel Eto'o, one of the greatest African players of all time, may be the only player who comes close to James's profile worldwide, but the Cameroonian was 33 when he arrived at Goodison Park and his career was winding down.
James is 29, and it still feels like he is yet to realise his potential, but despite his up-and-down career at Real Madrid there were flashes of what he is able to offer and, generally, he offers world-class creativity as advertised.
Whether this quality is able to transfer onto the pitch at Everton, and whether he can remain injury-free for long enough periods to make a difference for the club, remains to be seen, but he arrives with something to prove and will be given a platform on which to prove it.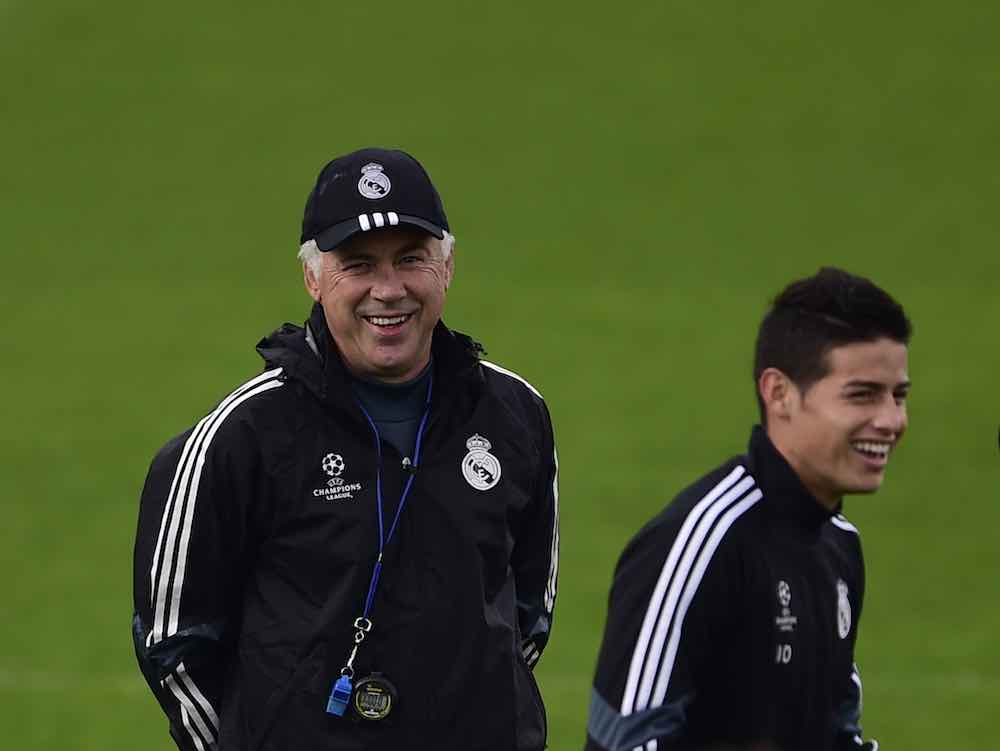 Perhaps the only Everton signing that comes close to James in terms of global recognition is that of manager Carlo Ancelotti himself. After all, it's unlikely that James would be arriving at Goodison Park if it weren't for the presence at the club of a manager he holds in high regard.
Ancelotti was in charge at Real when the Colombian joined following that World Cup in 2014. There were suggestions the Italian coach was shoehorning his new signing into the lineup because he had to, but he explained in his autobiography that this was not the case.
"People think that I played James because the [Real Madrid] president had spent a lot of money on him after the World Cup, but I was not influenced by that," Ancelotti stated.
"Money does not matter once the player is at the club; I wanted James on the wing for his talents as a footballer. He is a hard worker and not selfish at all: an authentic professional."
Meanwhile, James reflected on his time with Ancelotti during a conversation with Rio Ferdinand in June 2020.
"I worked with a remarkable, top coach, Ancelotti," he said. "He is wise, he knows a lot, he knows how to manage teams, so I really trusted him.
"I had a wonderful year. I scored 17 goals and 17 assists, I think. It was an incredible year."
According to Transfermarkt, it was actually 17 goals and 18 assists for James during his first year at Real under Ancelotti, and it's interesting that the decorated coach also speaks of the player's work rate — something not often associated with a playmaker often seen as 'luxury'.
As shown in the radar below from Football Slices, he posts decent numbers for successful pressures when compared to players in similar positions, and his supreme creativity is also evident when looking at the data from the past two seasons.
Ancelotti also managed James for a short period at Bayern. Their paths crossed for a handful of games before Ancelotti was sacked following a 3-0 defeat to Paris Saint-Germain in the Champions League group stages.
"It was a very, very good transfer and I have to thank Carlo Ancelotti once again," CEO Karl-Heinz Rummenigge said in 2018 when discussing Bayern's loan deal for James. So this isn't the first time Ancelotti has sought to bring the player into his side.
James can operate as a playmaker from almost any area, whether that be central midfield or any attacking midfield position, wide or central.
"As long as he has freedom, he will do well." WFi's Colombia correspondent Simon Edwards told Forbes.
"Ideally a 10 in a 4-4-1-1 / 4-2-3-1, but he could also play as an inverted forward on the right of a 4-3-3, but he never dribbles and won't go on the outside, ever." That last part is also reflected in the above radar.
Ancelotti could stick with his 4-4-2, using James as one of the forward pair to become a 4-4-1-1, or as a playmaker from out wide, especially as the Italian believes his new man has a higher work rate than is often perceived. He could also facilitate a change in formation to one of a number of systems in the positions Edwards mentions.
Even though it might not feel like it given the relatively low fee and James lack of impact in recent seasons, this is an unprecedented transfer for Everton. A bona fide marquee signing. As Everton and Ancelotti target European qualification, they will be hoping James' performances on the pitch live up to his profile off it.
Buy shares in James Rodriguez on Football Index – bet on the football stock exchange
---
+18, New UK and Ireland customers only, begambleaware.org, T&Cs apply.