By Chris Smith.
LA Galaxy's recent 2-0 defeat to Real Salt Lake highlighted a worrying trend which continues to follow them around this season: the shocking form of Javier Hernandez.
Mexico's all-time leading goalscorer signed for the five-time MLS Cup champions from Sevilla to much fanfare during the off-season, with the hope being that he'd fill the void left by the departure of Zlatan Ibrahimovic and better link up with fellow forward Cristian Pavon.
However, things have simply not transpired how Chicharito or the Galaxy would have liked so far. Sure, injuries have played their part but to date, the 32-year-old has managed just the one solitary goal from six appearances in a Galaxy shirt, coming during a 2-1 defeat to the Portland Timbers back in July.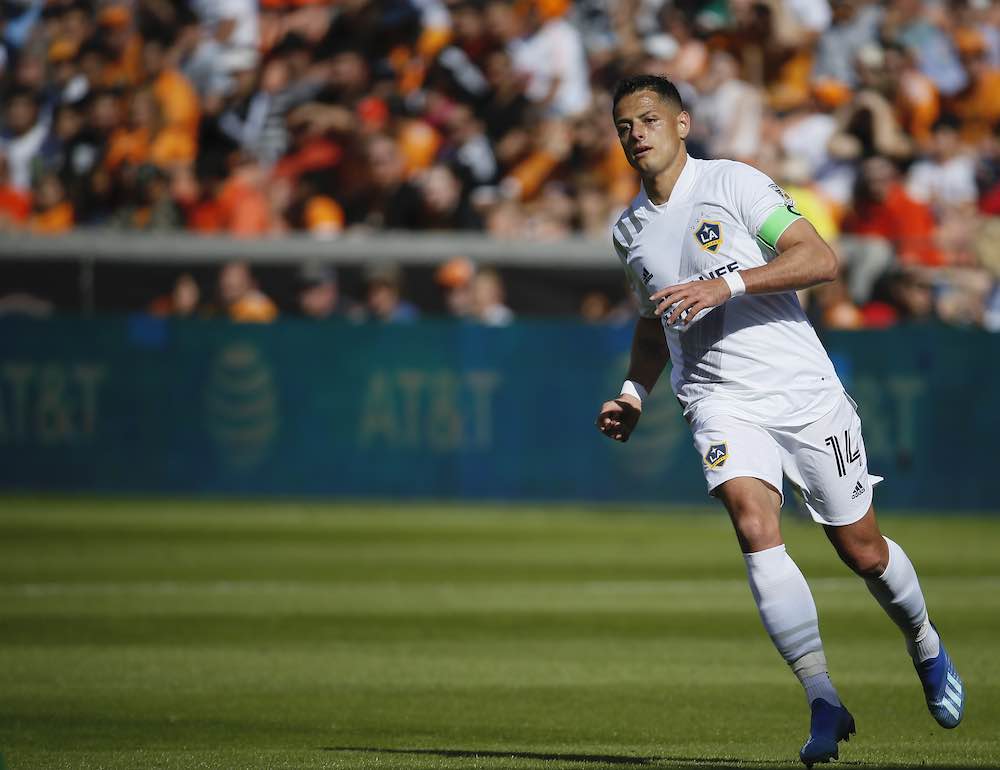 What is worse is the fact that in the six games they've played without Hernandez this season, the Galaxy have lost just once, taken an average of 2.17 points per game and, most strikingly, scored 14 goals at a rate of 2.33 per game. By contract, with Hernandez in the side, the Galaxy are yet to win, taking just 0.33 points per game, while they've only scored twice.
To lay the blame squarely on Chicharito would be slightly short-sighted. Guillermo Barros Schelotto still carries the same obsession with crossing into the box as he did when Ibrahimovic was leading the line, attempting the eighth-highest number in MLS this season with 251, but have found success with just 49 of them, placing them 17th in the league.
To expect Hernandez to step into that system, when he made his name in Europe as a poacher in the 18-yard-box and a striker that would run off the shoulder of the last defender, is unfair and something Schelotto must either work out, or answer for.
Still, things clearly aren't clicking for the Galaxy while the Mexican is on the field. So, what exactly is going wrong?
Stifling Pavon
Prior to Hernandez's return to fitness, the Galaxy had lost just one of their six games without him, beating LAFC twice, Sanjose Earthquakes and the Timbers, as well as picking up a draw against Houston Dynamo.
During that run, Argentine forward Cristian Pavon was the star of the show, scoring five goals and grabbing an assist. Furthermore, the Boca Juniors loanee averaged 3.83 shots per 90 minutes, 4.67 completed take-ons per 90 and 1.67 chances created per 90. For all intents and purposes, Pavon was the star of the show.
Upon Chicharito's return to the side during a 0-0 draw with the Earthquakes in mid-September, however, things have been a little bleaker for Pavon across three games. The Argentina international has, by contrast, failed to score or assist, while his take-ons complete have more than halved to two per 90 minutes.
From the passing network graphics below — provided by Twenty3 — you can see that during the six games the Galaxy played without Hernandez, a concerted effort was made to get the ball to Pavon in dangerous areas as frequently as possible, while the 24-year-old can be seen bringing fellow forwards and midfielders into play with great regularity.
With Hernandez back in the side, the emphasis of the Galaxy's play has now shifted. Instead, Schelotto's men are far less direct, spending longer sequences recycling the ball between their centre-backs, while more of their forward plays are coming down the right flank.
You'll also notice that the arrows indicating passes to Pavon are thinner, indicating lower frequency, while the forward's average position has moved more centrally as he attempts to get more involved in the game.
Without explicitly saying so, midfielder Sebastian Lletget alluded to the fact that during that six-game stretch without Hernandez, the Galaxy were better able to bring Pavon's strengths to the fore.
"I just think we weren't utilizing our creativity as much," he said of the early-season struggles following a 3-0 win over LAFC — their last victory to date.
"I mean, obviously it makes it easier, when you've got somebody like Pavon, who is so dynamic, so creative, can make something out of nothing. And we just sort of followed his lead in a lot of ways. I connect really well with him.
"More than anything I think with time, as a team, we're learning more about each other, we're getting that chemistry."
The comparison between shot assists shown in the graphic below is also striking, with a much larger concentration of balls into the box from wide areas when Hernandez is on the pitch, rather than cut-backs or passes to the top of the box without him.
Alongside the likes of Diego Rossi, Alejandro Pozuelo and Darlington Nagbe, Pavon is one of the leading contenders for this season's MVP award. However, it is clear that he flourishes more when the Galaxy play through him and use him as the focal point of their attack, committing defenders one-on-one, popping up for goals in the box and digging out moments of pure genius.
Out Of Sight, Out Of Mind
On a more personal level, it is extremely clear that — whether by his own choice or a tactical decision from Schelotto — Hernandez is simply not playing to his strengths or appearing in the areas of the pitch where he is needed.
In the recent 2-0 defeat to RSL, Chicharito managed just 23 touches of the ball, the fewest of any starting player in including goalkeepers, with only two of them coming in the opposition box, while the former Manchester United man didn't manage a single shot, completed take-on or key pass.
In short, he was completely anonymous and was even replaced by 22-year-old forward Ethan Zubak in the 80th minute with the Galaxy still chasing the game.
The heatmap from that game below shows the Mexican to be operating largely around the halfway line and often even inside his own half, while his heatmap from the entire season only moves him slightly further up the field.
When compared with some of MLS's other star forwards, it's clear that Chicharito simply isn't having an effect on the game in the attacking third.
Leading scorer Diego Rossi has averaged 6.06 touches in the opposition box per 90 minutes this season, while he has managed 3.73 shots per 90. Columbus Crew's Gyasi Zardes has attempted 2.03 shots per 90, while Seattle Sounders' Raul Ruidiaz sits on 3.54.
By contrast, Hernandez has averaged just 1.93 shots per 90 minutes and 4.08 touches in the opposition box — the 111th and 76th-lowest in MLS respectively. Put simply, he is just not getting into areas where he can be a threat to the opposition.
The fact that Hernandez has played just 419 minutes across six games so far this season is a caveat which needs adding. Chicharito remains one of the biggest names in CONCACAF football and has shown over the years for the likes of Man Utd, Real Madrid and Bayer Leverkusen — not to mention El Tri — that he can, indeed, come up with match-winning moments.
However, it's clear to see that the Galaxy are struggling to accommodate him into the side and, more worryingly, they're actually much more effective in the final third and exciting in possession without him.
This is something that cannot last if Schelotto has serious designs on challenging during the playoffs — a Galaxy with Hernandez firing on all cylinders is a much more daunting prospect than one without, regardless of Pavon's ability to drag the team on his back.
Serious work is to be done if Hernandez is to avoid being seen as a 'hype' signing and have the effect on MLS so many expected him to before the season began.