By Jerry Mancini.
The journeys taken by professional footballers can vary greatly from player to player. There are some who are naturally gifted and have a skill set that puts them among the best in the world. Others start at a young age and have to work their way up before they find themselves playing in the top flight.
Once a player has achieved their goal of playing in a big league such as Serie A, La Liga or the English Premier League, their ability to stay in that league, show their true form, and be consistent enough to play at the highest level becomes the biggest challenge.
Once this happens, the dream comes true.
Francesco Acerbi's life has been filled with many challenges. He is an individual who is classified as a hard worker but, more importantly, someone who has shown perseverance and the power to never give up whatever life has thrown at him.
Acerbi joined Lazio from Sassuolo in the summer of 2018 as a replacement for Stefan De Vrij who had left to join Inter Milan.
In his first season with the Biancocelesti, he scored three goals from defence and followed up with two goals in his second season in Serie A.
He has a strong aerial presence, good concentration, and an ability to read play and intercept passes. While he is a risk-taker higher up the field, he also has the ability to recover if he's caught out of position.
The record for consecutive Serie A appearances is held by Javier Zanetti with 162, and Acerbi was on course to break that last year but was stopped at 149 games following a sending off against Napoli on January 20, 2019. Not many footballers have managed to play every minute of every league game in a club season, and this demonstrates Acerbi's resilience and reliability.
After receiving those two yellow cards against Napoli, the centre-back was quick to apologize to his teammates and fans, taking accountability for leaving his team with ten men.
In 2013/14, Acerbi was battling cancer while at Sassuolo, but this did not stop him from joining his team in training sessions during his period of cancer treatment. Despite returning to training, his return to the pitch was postponed until the next season.
As well as his recovering from cancer, he once battled alcoholism after the passing of his father while he was playing with AC Milan. Something he was reliant on to ease the pain, but overcame.
"After my father died, when I was playing for Milan, I hit rock bottom," Acerbi said. "It was as if I'd forgotten how to play, or why I was playing. I started drinking and, believe me, I'd drink anything.
"It might seem like a terrible paradox, but the cancer saved me. I had something new to fight against, a limit to overcome. It was as if I got to start life all over again and saw the world in a way I'd completely forgotten."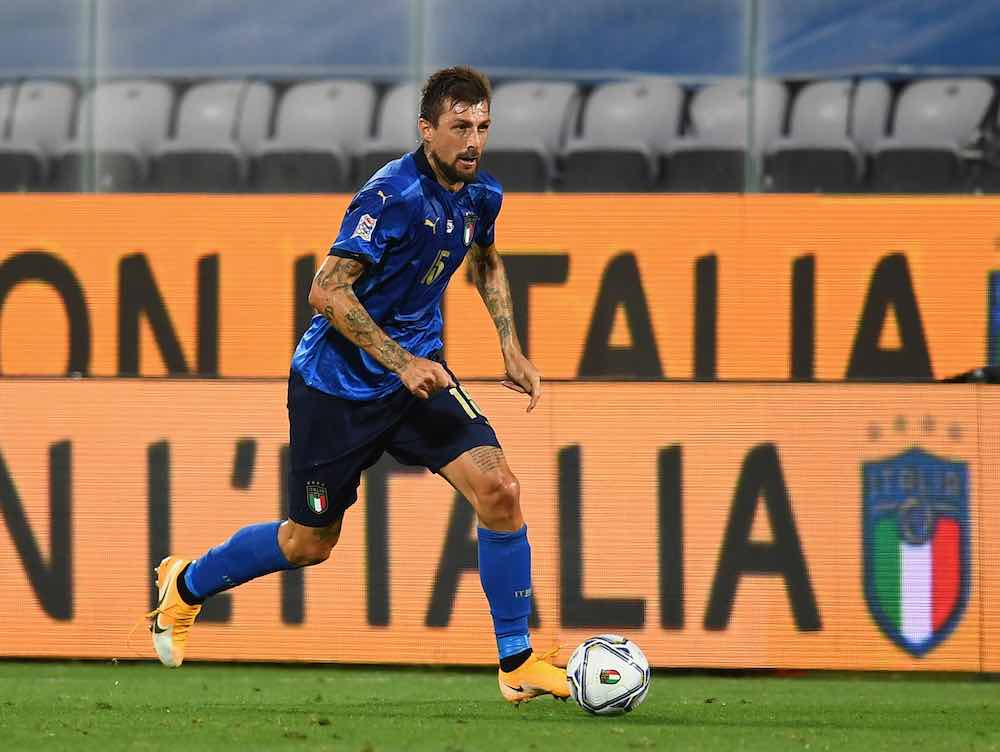 Acerbi has been a great addition for Lazio and this year earned a spot with the national side after Giorgio Chiellini picked up an injury. His strong play has caught the attention of Roberto Mancini and the 32-year-old has thrived playing with the Azzurri.
With the possibility of Ciro Immobile becoming the next captain of Lazio, Acerbi should be considered as an alternate choice to wear the armband given his qualities and characteristics.
Some may see him as a player who is ageing, but it seems to be only the beginning for Acerbi. He continues to grow and establish himself as one of the best defenders in the game.
"I'd love to play on until I am 38 years old, as I still have some things I'd like to achieve with Lazio, then I'd like to become a coach," Acerbi sain in an interview with La Repubblica.
"I think having that illness improved me as a person, cancelling out remorse and regret. I became an observer of my surroundings.
"I eliminated the superfluous, the negative, but also the illusions. I stopped dreaming big and started to focus on simple targets."
Although it hasn't been easy for the Italian, he's worked hard to find his place in the game. This is someone who overcame many difficulties in his life, and whether that be earning a spot with the Azzurri, playing with Lazio, recovering from cancer, or overcoming alcoholism, he is someone who has shown determination, accountability and a strong work ethic. Acerbi has always been referred to as the Italian lion — a nickname that suits him well.