By Jerry Mancini.
Toronto FC welcomed Columbus Crew to Rentschler Field on Sunday night for an entertaining and wild match between the two sides.
Columbus opened the scoring near half-time via a cross from Pedro Santos that deflected off Chris Mavinga for an own goal. TFC followed up with three straight goals in the second half from Jozy Altidore, Álejandro Pozuelo and Richie Laryea to seal a 3-1 victory.
Columbus came out as the stronger side to begin the match. They looked more clinical and decisive in the final third, with continuous pressure on Toronto's defence, who needed to be very quick and alert. Columbus looked composed and fluid which had Quentin Westberg busy between the sticks.
Luis Díaz and Gyasi Zardes each came close to scoring within the first 20 minutes of the match. The Crew executed their plan very well in taking Pozuelo out of the game in the first half, with the Spaniard rarely being involved. In doing so, Toronto struggled to create chances in the final third. After dominating the first half, Toronto adjusted in the second half and took the game to Columbus.
Within the first five minutes of the second half, Altidore scored his second goal of the season to level the game at 1-1 for Toronto. In the build-up, Laryea showed great patience and concentration to get his pass towards Pozuelo that led to him passing off to Altidore and finding the back of the net from just outside the box.
Right before the hour-mark, Toronto had their first lead in the match. Laryea received the ball down the right flank and made an accurate pass towards Pozuelo, who beat Eloy Room to give Toronto a 2-1 lead.
Laryea once again made his mark late in the match. He put forth a great individual effort as he showed great movement, precision and concentration to beat two defenders before firing low through Room's legs. The right-back has really elevated his game this season, scoring four goals and adding one assist, while he has played a key role in many of TFC's wins.
Absolutely brilliant. Take it yourself, @RichieLaryea_! ⚡ pic.twitter.com/86cd5KQLxZ

— Major League Soccer (@MLS) September 28, 2020
"I have a lot of confidence in myself and my teammates have a lot of confidence in me and I have a lot of confidence in this team," Laryea said when describing his recent form following the match.
"The team are trying to challenge each other, challenge ourselves to up our performances every game and be able to step up in big games and big moments."
Laryea was the best player on the night, contributing to two of TFC's three goals andaving a major role in their win. Toronto's ability to turn their game around in the second half was the difference-maker. Manager Greg Vanney's half-time talk with his players in the dressing room had them come out ready to start the second half.
"A lot of it was, emotionally we were carrying our frustrations from one play to the next. Just if something happened it was impacting people and there was a lot of that going on," Vanney said when describing what transpired in the locker room at half-time.
"If there was a call that we didn't like, it was impacting. Our reactions were leading into us getting disconnected, guys showing their emotions on the field. We weren't a cohesive unit.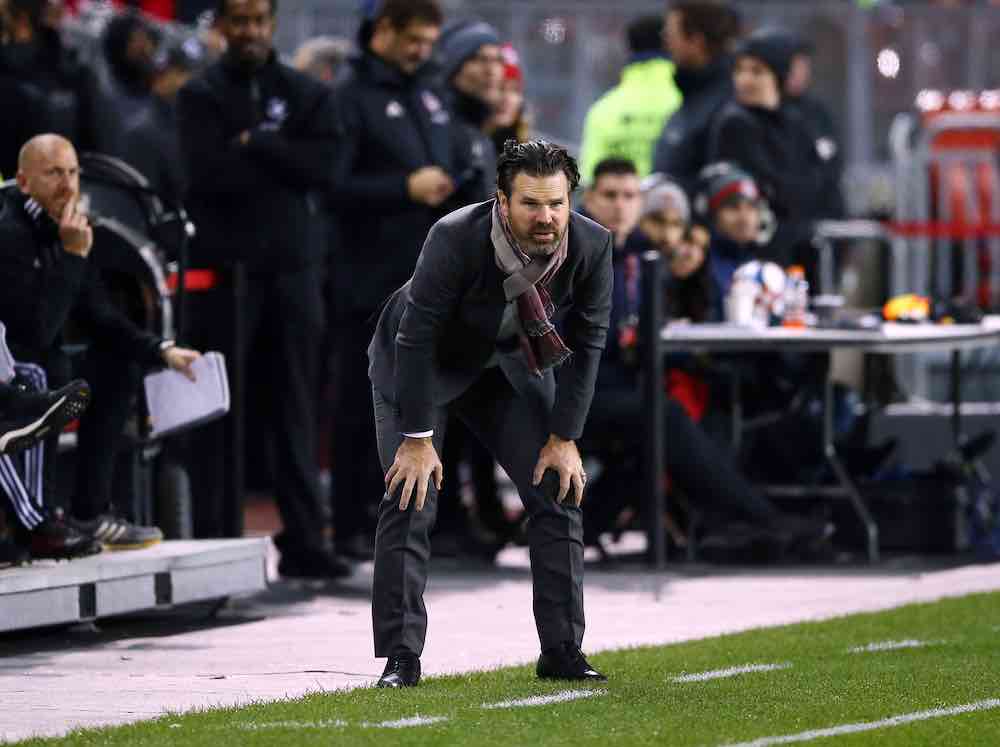 "We just needed a reset. We needed to drop that and we needed to not be our worst own enemy on the field. We needed to move proactively and we needed to stay connected and be positive. Get from one play to the next play. That was a big part of it, to be honest.
"The guys took a deep breath, they came out and reconnected after. We also made some tactical adjustments in what we were doing. I think those gave us a really good structure to work. It doesn't matter what the structure is if your mind is not in the right place or you're letting things frustrate you."
The result ended Columbus' six-game unbeaten streak and was the first time where they conceded three goals in a match since last May. For Toronto, they extended their unbeaten streak to four games and moved into a three-way tie for second place in the Eastern Conference with Orlando City and Philadelphia Union.