By Jordan Urban.
Paul Pogba is one of world football's most divisive talents. To some, he's a verified superstar; a World Cup winner and Champions League finalist with passion and personality. To others he consistently flatters to deceive, failing to reach the heights the hype around him suggests he could.
The raw numbers fail to make a decisive case either way. Last season's injury-plagued campaign produced just a single goal and three assists (1.9 xG, 2.7 xA), while the season prior, his 13-goal, 9-assist (14.5xG, 5.2xA) haul netted him a place in the PFA Team of the Season (although over half his goals came from successfully converted penalties).
Pogba, while supremely talented and undoubtedly a good player, is an incredibly frustrating case of a skillset with strengths and weaknesses that interact together badly, to the extent that he ends up being less than the sum of his parts.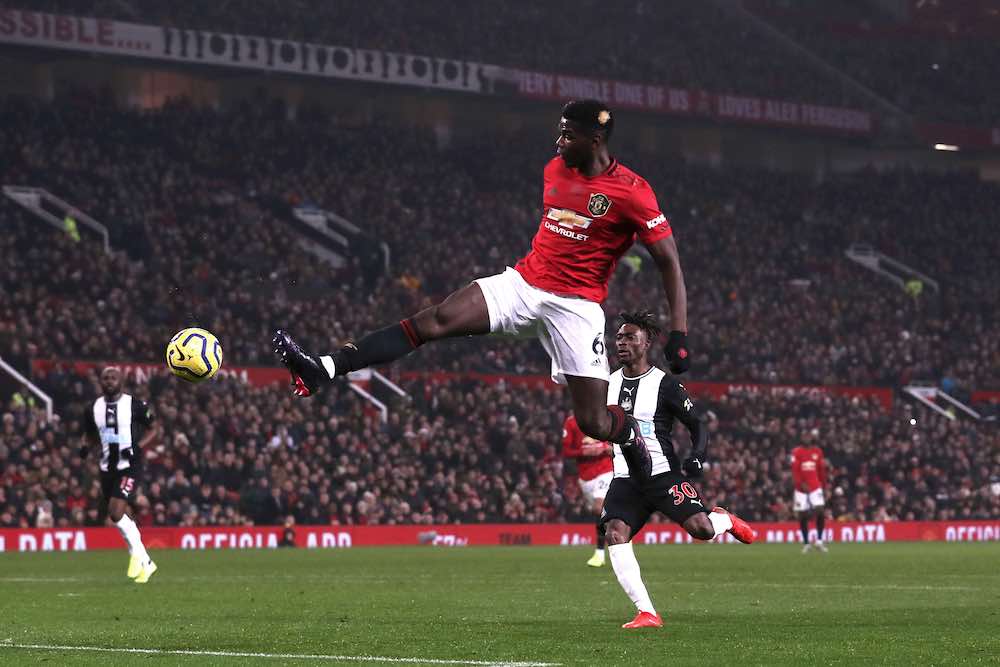 There's no doubting that Pogba has some outstanding qualities with a rare mix of physicality and technical proficiency. He's blessed with a 6ft3in frame and the quick feet of a man six inches shorter, and he's showcased his capacity to play outrageous long-range passes on the biggest stages of them all.
There's a reason, as Amazon's All or Nothing documentary recently revealed, Jose Mourinho spent a significant portion of his half-time team talk when United travelled to Spurs in July warning of Pogba's vision and long passing ability. FBref tallies his long pass completion rate in the Premier League last season as 80.9% — well above league average.
Pogba is not short of doubters, and one of the questions that's plagued him throughout his career is that of his best position. At United under Mourinho, he played numerous midfield roles, including as a No. 6, No 8, and No. 10, and under Ole Gunnar Solskjaer he began as a left-sided 8/10 hybrid before transitioning to deep-lying playmaker for the 2019/20 season.
The debate over his best position is symptomatic of a more significant issue; that Pogba's strengths and weaknesses complement each other extremely badly. If you only look at Pogba's strengths, you see a generational player who can do it all, all over the pitch. But he also has substantial weaknesses that limit his effectiveness no matter where he plays.
If Pogba plays deep, he maximises his capacity to play defence-splitting long balls, but his poor defensive abilities and propensity to get caught in possession get exposed. If he plays further up the pitch he maximises the danger he poses with his dribbling skills and physicality, but his poor off-the-ball movement, and resulting sub-optimal shot discipline, noticeably impacts on his effectiveness and his strength of playing long-passes is negated.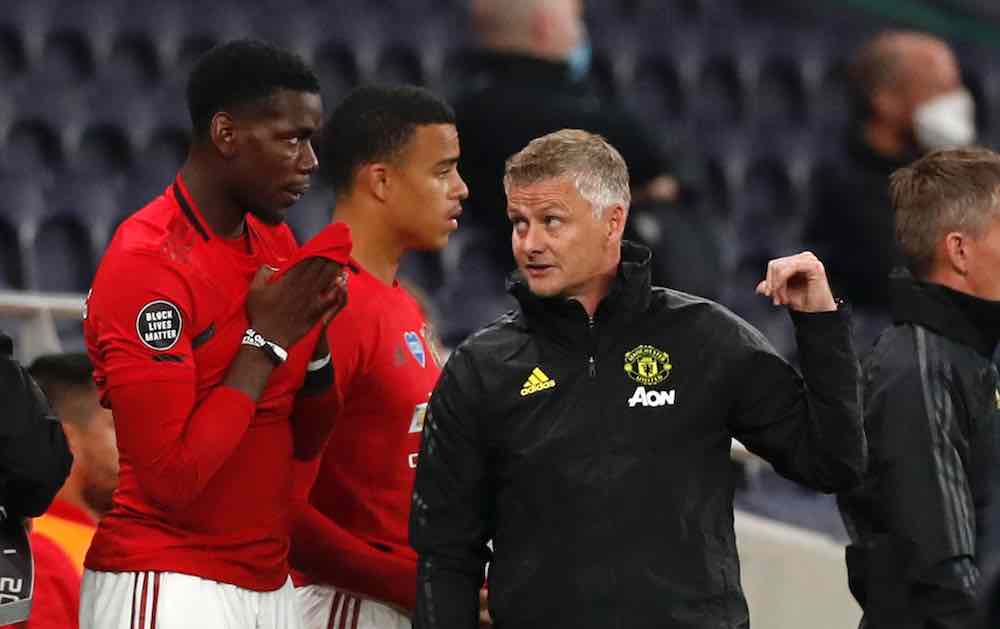 The reason Solskjaer has moved him to deep-lying playmaker may be to try and carve him out a role that allows him to play to his strengths while minimising his weaknesses.
In this position, Pogba is tasked with probing the opposition defence and given the freedom to spray his long-balls across the field without having to overly worry about defensive responsibilities. But this role is a somewhat luxurious one, and in United's preferred 4-2-3-1 essentially requires sacrificing a defensive body.
This is likely why Solskjaer chose to partner Pogba with Nemanja Matic — a defensively-minded, offensively-limited stopper — as the games restarted post-lockdown. Despite the signing of Donny van de Beek, the Pogba-Matic axis seems to remain United's preferred midfield partnership as we move into 2020/21.
Pogba As A Deep-Lying Playmaker
Here, we see the heat map of Pogba (top) playing against Chelsea in Manchester United's 2019/20 season opener — a game in which United didn't have a great deal of possession, instead opting to sit deep and counter-attack. The whole team heatmap is below, from Whoscored.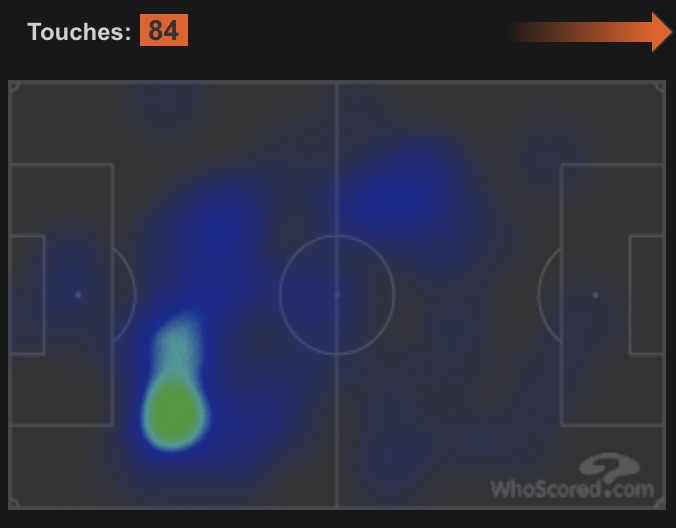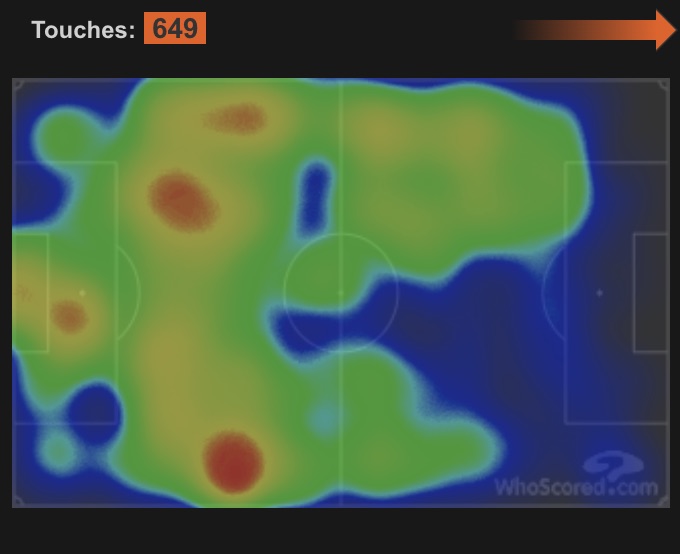 Here are the respective heat maps from the post-lockdown fixture against Bournemouth, a game where United had 70% possession and scored five goals.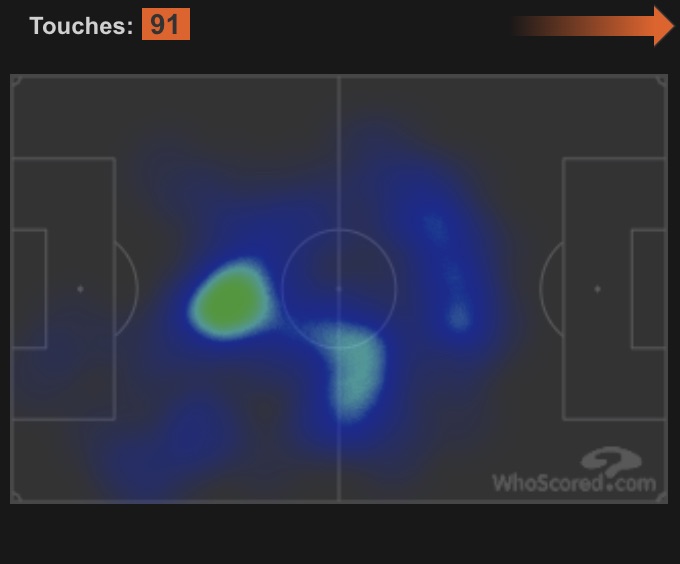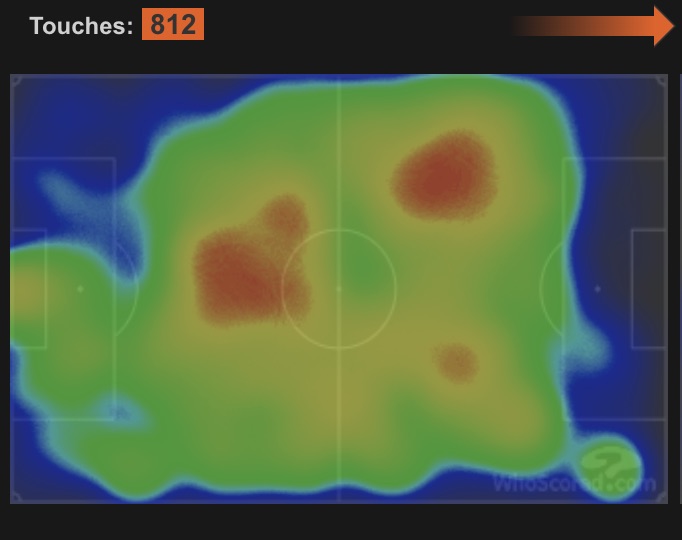 As you can see from looking at both sets of heat maps above, Pogba sat comparatively deep, content to wait for the opportunity to play defence-splitting passes like this:
But while these games provided moments that showcased the best of Pogba in a deep-lying position, they also provided moments that demonstrated the worst.
Here is one of multiple examples from the Chelsea game where he invites pressure and gets caught in possession in a situation where losing the ball would be extremely dangerous for his side.
Pogba acts as if he believes that releasing the ball too early is a fate worse than death, with the consequence that he often releases too late.
Thankfully for Pogba, on the above occasion the ball squeezed out to Wan-Bissaka and was cleared. While in that instance Pogba's carelessness didn't cost United, a few weeks later losing the ball in possession directly led to Crystal Palace's second goal in a United 2-1 home defeat, after which Pogba came in for significant media criticism.
This wasn't just a pre-lockdown thing either. Below, Pogba loses the ball in an extremely vulnerable area against Aston Villa to give them a three-on-two. The ball carrier Trezeguet went on to hit the post.
In the same game, his poor tackling skills and lack of defensive acumen are demonstrated as he allows Anwar El Ghazi to waltz past him under minimal pressure.
As El Ghazi advances towards him, Pogba inexplicably offers a cricket-esque long barrier to block off a non-existent passing lane, giving the attacking player plenty of time and space to simply run around him.
Pogba should be thankful that El Ghazi took the option to shoot off-balance from range rather than dribble into a more dangerous position or use the man to his left.
Often when Pogba is defending, as in the clip above, it's seemingly not so much that he is incapable of defending, rather he has limited interest in truly applying himself. The screengrab below, from the moment Crystal Palace's winning goal hit the back of the net, is case in point. Pogba is circled in yellow and having lost the ball high up the pitch he makes no attempt to track back, instead, watching on as his teammates battle unsuccessfully to rectify his mistake.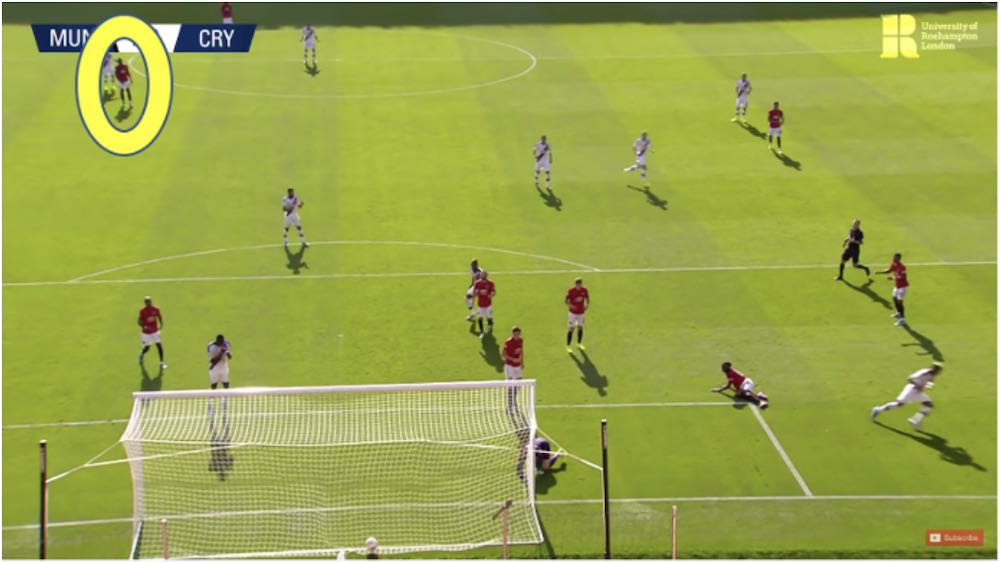 Pogba rarely gets involved in defensive actions, preferring to hang in front of the ball in anticipation of it finding its way to him so he can start a counter-attack. As a deep-lying playmaker, his sole objective seems to be to receive the ball and spray passes about.
It is difficult to find examples beyond the El Ghazi one of him being taken on in open play because he rarely gets into positions to participate in those kinds of actions. To corroborate that observation, the analytics platform SmarterScout pegs his stylistic propensity to 'disrupt opposition moves' and 'recover a moving ball' as a measly 25/99 and 15/99 respectively.
Whether it's mental, technical, tactical, or because he realises he's not that good at it, defending isn't something he spends a great deal of time doing.
Pogba In A More Attacking Role
When Pogba plays further forward these defensive concerns are mitigated, and he is capable of causing damage with his unique blend of technical and physical skills.
After a lot of speculation about his effectiveness coming off a long injury layoff, he reminded everyone of his attacking abilities against Tottenham and Sheffield United in the first two games of Project Restart.
In the first clip, his quick feet win a penalty; in the second, his mazy run is only interrupted by his own teammate's eagerness to take on a shot himself.
However, playing in these more advanced positions reveals more of Pogba's weaknesses. He is an extremely ball-dominant player with bad off-the-ball movement; a type of profile that can be frustrating in the final third.
The handy graphic below, from Kees van Hemmen, shows that in 2019/20 the majority of Pogba's value in possession came from playing passes rather than the positions he took up to receive them (although this can partly be attributed to his deep-lying role).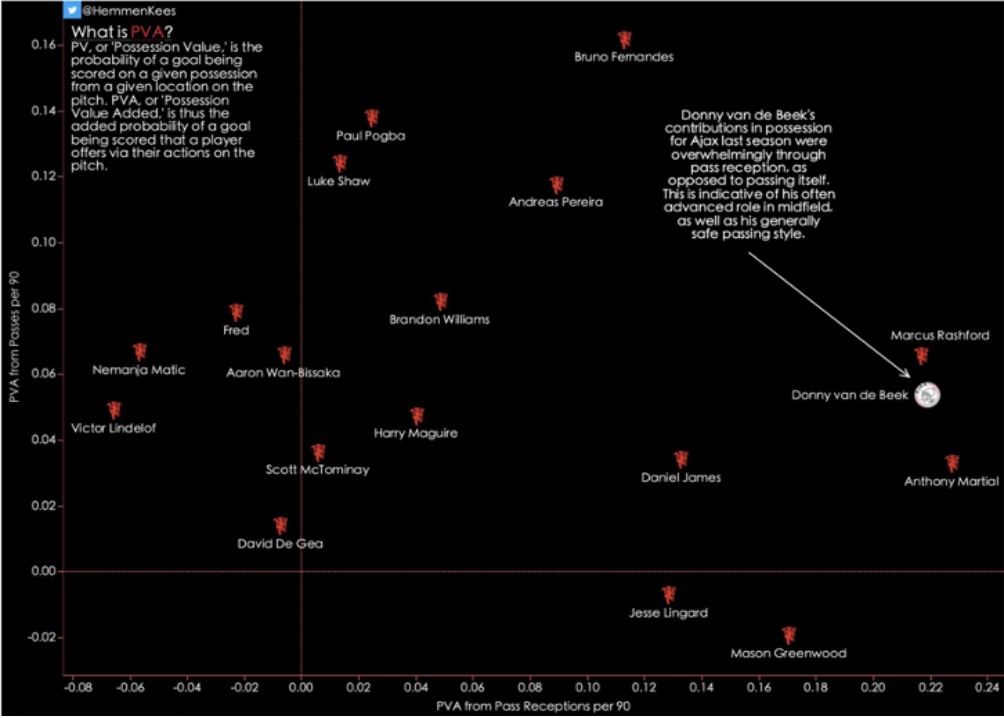 In GIF form, that looks like this:
Pogba, by now playing the No. 10 role vacated by a Bruno Fernandes substitution, plays a probing pass into a dangerous area, and instead of continuing his run to further contribute to the attack, slows himself into a jog.
This deprives his team of an additional body for the rest of the attack and himself the opportunity to get into a position where he can score or further contribute to a goal.
In advanced areas, off-the-ball movement can be key to unpicking defensive structures, but unless Pogba has the ball at his feet he can be a passenger at times. Even when playing as a 10 he takes up positions in the penalty area too infrequently, and — as seen above — too often sees his role in the attack as superfluous unless he is on the ball.
When Pogba does move off the ball effectively, he can be devastating. One of the most significant goals in his United career to date, in a comeback derby win against Manchester City, was the result of the kind of ambitious run that he too often eschews.
Pogba plays a pass to Alexis Sanchez, and instead of hanging back bursts into the area to find a pocket of space, before leaping high to nod home and send the United fans into delirium.
But Pogba simply doesn't do enough of this kind of thing. His shot discipline suffers because of it; he doesn't get into strong shooting positions enough and is instead reduced to making too many speculative efforts with low xG.
The shot map below, from the 2018/19 season where he largely played a more advanced role, reveals too many low-probability long-range efforts.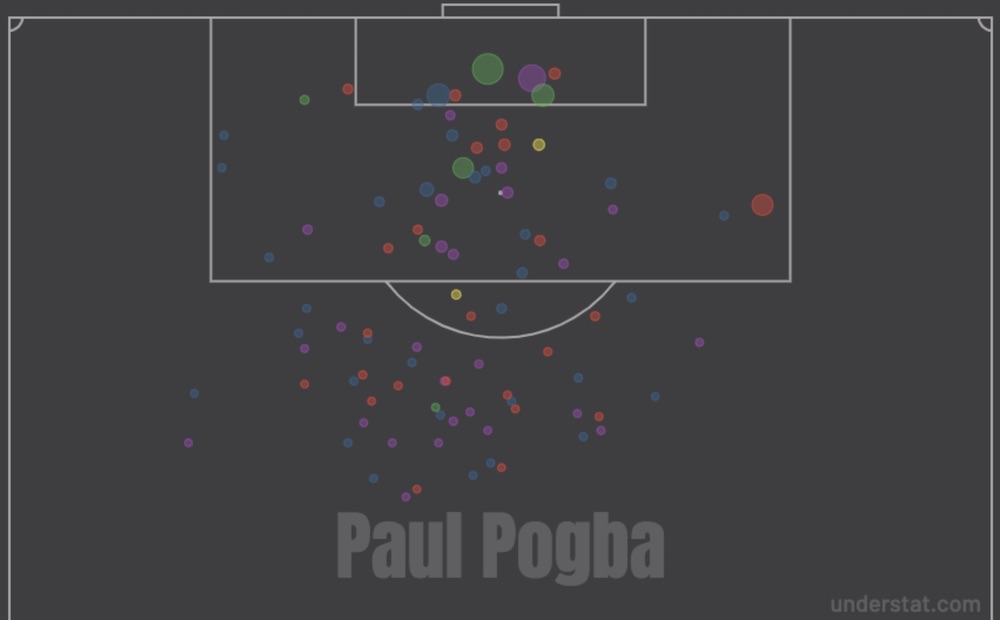 Pogba has a lethal strike and powerful header but doesn't get himself into the proper positions to use these attributes often enough.
The Paul Pogba Conundrum
The purpose of this article isn't to show Paul Pogba isn't a good player — anything but. He's extremely talented and can do things on a football pitch that few others are able to. But his skillset is awkwardly distributed, with his weaknesses and strengths complementing each other badly.
He's very good at a wide and unusual variety of offensive qualities; it's not very often that you find players with dribbling and passing abilities like he has. But these are supplemented by prominent weaknesses.
Solskjaer's choice to play Pogba as a deep-lying playmaker places emphasis on his long-passing and chance creation from deep while essentially sacrificing a defensive body. United's control of the midfield suffers for this decision, but it improves their offensive threat.
From deep, Pogba's exceptional ability to drive balls over the top of the defence is extremely valuable, and he's mobile enough to advance the ball by dribbling too. However, watching Pogba play there will always involve an element of frustration because the defensive side of his game can be so poor and he can open his side up to vulnerability by getting caught in possession.
Pushing him forward might seem like a solution, but that comes with its own set of frustrations. His poor off-the-ball movement dents his creative capacity and harms his shot discipline, and it seems like a waste of his superlative long-passing skills to play him so high up the pitch.
At the outset of the article, I noted that Solskjaer is set to continue playing Pogba as a deep-lying playmaker during 2020/21. Given United's strengths — notably a speedy and mobile front three — playing him there seems like the right call, and he will be a significant player for them this season. But Pogba should count himself lucky that he plays for a team that can afford to fit him into their system, warts and all.
Systems that rely on more well-rounded midfield competence, like Liverpool, or dynamic movement, like Manchester City, would struggle to accommodate him.