As has been the case across Major League Soccer in 2020, Toronto FC have had many hurdles to overcome.
From the obvious Covid-19-related protocols and disruption to the less obvious behind the scenes effects of this, such as constant travelling and long-distance relationships with their close ones. Last year's MLS Cup runners up have shown resilience, just as they had to on the field on Sunday, when Pablo Piatti scored a late goal to secure a 1-0 win versus Atlanta United.
The win extended Toronto's unbeaten streak to nine straight matches, and this was their 12th win this season. Over the stretch of their unbeaten streak they have had to overcome key injuries to players such as Jozy Altidore, Michael Bradley, Ayo Akinola, and Chris Mavinga.
Missing both of his strikers against Atlanta, Greg Vanney changed his formation to a narrow but fluid 4-2-3-1 shape with Piatti and Alejandro Pozuelo and Tsubasa Endoh behind Patrick Mullins who started up front.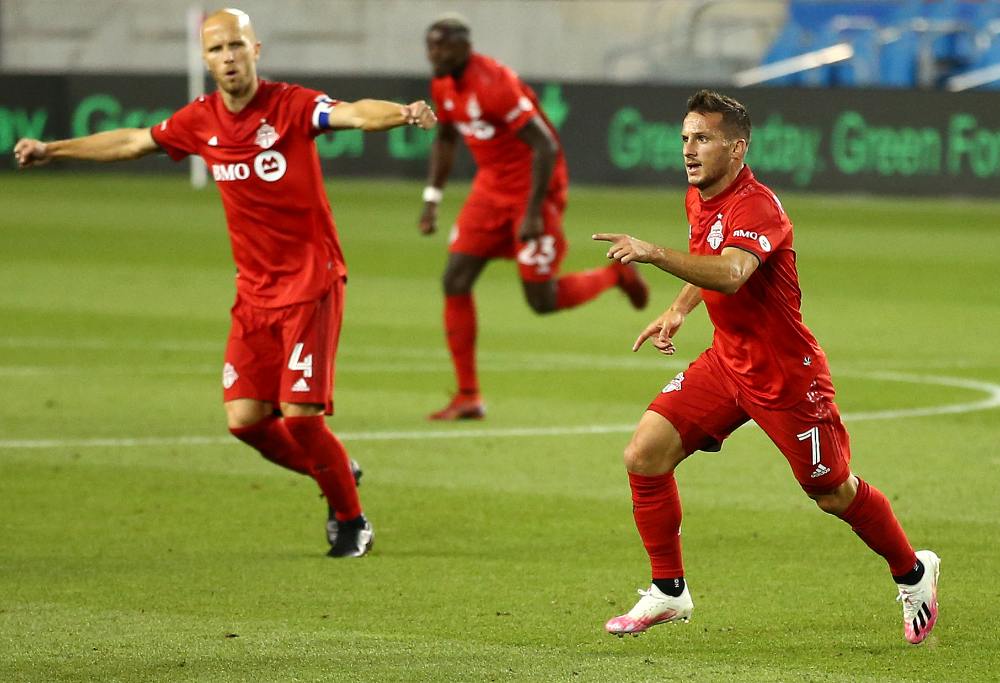 Piatti put in a great performance and led the way against Atlanta. The winger has proven to be a massive upgrade over players such as Endoh, Jacob Shaffelburg, and former TFC player Nicholas Benezet, and Vanney now has a consistent and experienced player who can play in numerous attacking midfield positions.
Piatti was forced to miss the start of the MLS season due to a hamstring injury picked up in training. The break back in March due to Covid-19 was a benefit for Piatti as he used this time to recover ahead of the return of MLS in July.
"Of the guys who benefitted from the break, the pandemic break, Pablo was 100% one of them because obviously, he had come to us coming off of an ACL injury," Vanney said.
"He immediately injures the hamstring which is not uncommon when players come back from big injuries like that. So, the fact that we had another 3-4 months off really gave him time to not just heal but to get stronger.
"He's a hard-working guy, you see it every game. He works his socks off, will work defensively and offensively and he puts a shift in every single time. We have a lot of guys who are willing to work and do whatever they have to do right now, he's one of those guys.
"He brings experience in reading the game, reading what situations are happening and how to deal with them. He has some real quality on his left foot and tonight with his head."
TFC captain Michael Bradley, who has been sidelined for several weeks with a knee injury, made his return to the lineup.
During his absence, Toronto have found different ways to win. The midfielder has been impressed with their recent performance in past weeks.
"The mentality of our group continues to shine through in big ways," said Bradley.
"We have a group that is tried and tested and has been through a lot together. Obviously, the group constantly evolves.
"Nobody is handing out any awards after tonight. We got to keep going, keep pushing, understand that the biggest games are still to come and if we could continue to get better, continue to get sharper and combine that with our mentality then we'll be in a good spot."
An announcement from the Supporters' Shield Foundation board: pic.twitter.com/JSF8mmUXFp

— Supporters' Shield Foundation (@SupporterShield) October 17, 2020

TFC currently sit in first place in the overall standings, but received news hours before the match that the Supporters' Shield Foundation have decided to not award the trophy this year. A decision that left many puzzled.
"To find out with five games, that a handful of people decide that there is no trophy for whatever group wins it, right now we're in pole position, for me, it's really kind of disgraceful," Vanney said of the decision.
"It's losing the plot about what professional sports is all about. Its really pulling the rug out from under a bunch of professional players who really play for those kinds of things. For trophies and the emotion that it brings.
"If we win this thing, we're going to lift a trophy. I told the guys we're going to get a manhole cover, spray paint it silver and gold and were going to lift that damn thing if we have to lift it will all of us together."