By Tom Caldwell
Manchester City's academy has received plenty of coverage recently due to the involvement of players like Liam Delap, Taylor Harwood Bellis, and especially Phil Foden and Eric Garcia, in the first team.
On top of this, one of their former academy players, Ian Poveda, impressed against City for Leeds United last weekend.
If you dig a little deeper you'll see that it is no coincidence that the club keep producing talented players, and there are many more hidden gems in the Citizen's academy.
One of those is Rowan McDonald, who may be the next player to attempt to break into Pep Guardiola's first-team squad.
The 18-year-old has been at City from a young age and can play in central defence or as a holding midfielder. This is an indication that, from centre-back, he would be able to step out of defence play as an extra midfielder, something Guardiola likes from his defenders.
The youngster is very good on the ball, whether it be retaining possession or dribbling. He is able to get out of tricky situations using his football brain, often playing quick one-twos with his fullback, or becoming involved in passing triangles to get the young blues out of trouble.
He has a brilliant passing range and as City's youth sides often have a lot of the ball in games, this means he gets plenty of time to display his talents on this side of the game.
McDonald can play passes to any area of the pitch, whether it be a calm pass to a fullback or his defensive partner, or a 40-yard pass to a winger making a run in behind, he finds his man nine times out of ten.
An attribute that sets McDonald apart from other defenders is his excellent ability to carry the ball out into the midfield at pace and take players on. Once there, he can use his ability as a midfielder to create chances for his side.
He can be very useful when trying to break down an opposing team's low block, picking the right pass and knowing when to take a risk and when to play it safe.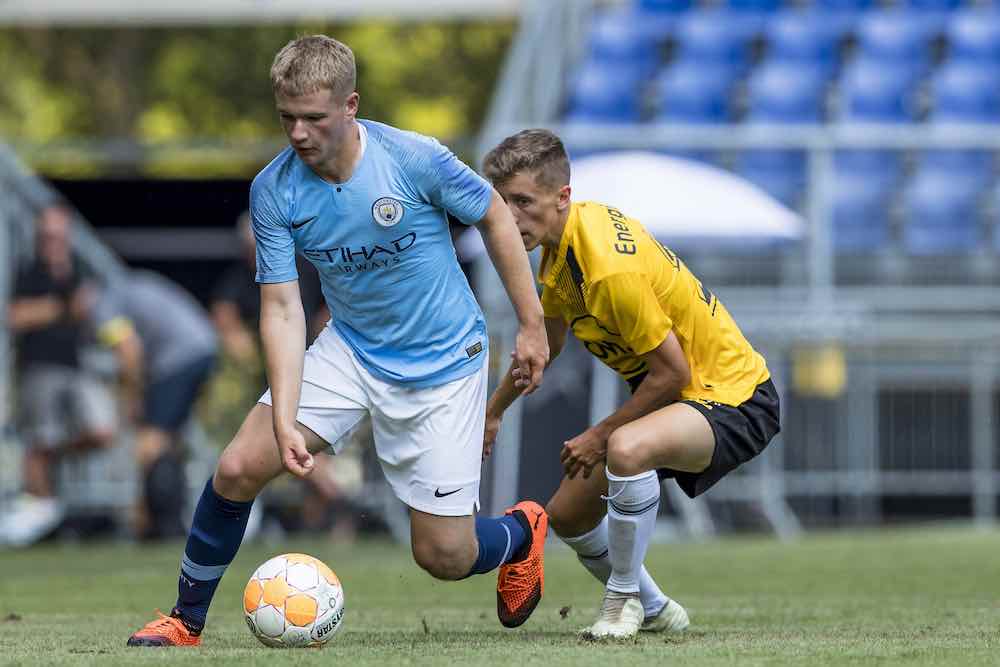 Off the ball, McDonald is an excellent ball winner. He's very good at positioning himself so the opposition are unable to advance up the field, and will often go one further and win the ball off them, starting a counter-attack.
The Oldham born defender made the step up to City's Elite Development Squad in 2019, and now finds himself as a regular starter there, often playing with CJ Egan-Riley or Taylor Harwood-Bellis, two other vastly talented centre-backs.
Tactically, McDonald fits into City's system of choice, until recently a 4-1-2-3, where he, his defensive partner, and the holding midfielder are the three main defensive blocks with the full-backs playing very high to help the attack. This means he can often be isolated one on one in defence but he rarely disappoints in these situations.
According to Felix from Looks Good On Paper, McDonald's Impact Score is 107.6, higher than Taylor Harwood-Bellis (104), who has already featured multiple times for the first team, and Tosin Adarabioyo (106.5), who impressed last season on loan at Blackburn.
THREAD: What is Impact Score (IS) and how does it work?

It's been great to have gained a large number of followers in the last few days, and with that has come plenty of questions about our main metric, Impact Score. This thread will be a detailed dive into what it is (1)

— Looks Good On Paper-Felix (@lgopfelix) August 17, 2020
This is just another measure to show McDonald's potential, and if you haven't heard of him yet, you certainly will in the future!