By Henry Jackson.
Liverpool produced one of their best-ever home performances under Jürgen Klopp on Monday evening, comprehensively seeing off an Arsenal side who arrived at Anfield full of vigour.
If Gunners supporters harboured genuine Premier League title aspirations before that game, those dreams were swiftly extinguished in 90 pulsating minutes.
On a night when so many superstars in red caught the eye, it was Sadio Mané who was again Liverpool's driving force, earning Man of the Match awards across the board.
If an early yellow card for a rash elbow/hand-off on Kieran Tierney highlighted Mané's occasional ugly side, the rest of the game outlined everything great about the 28-year-old as a footballer.
Working relentlessly off the ball, Mané was like a hyena alongside Mohamed Salah and Roberto Firmino, hunting in a pack and pressing Arsenal's deep-lying defenders into submission.
Use your football knowledge to make bets on the football stock market – Football Index
Interestingly, Mané's presses per 90 minutes are already double what they were at this stage last season – 31.0 compared to 15.7 – according to Anfield Index's Under Pressure podcast.
Similar applies with his possession wins per 90 minutes, with Mané's current average of 7.3 comfortably superior to last year's 3.8.
When it came to his on-the-ball expertise, the Senegalese is a perfect blend of unpredictability, quick feet and link-up play, causing Rob Holding, in particular, nightmares.
With an ability to either cut inside or hit the byline, to speed up play or slow things down, guessing Mané's next move is almost impossible for opponents, and there is a slickness to his game that doesn't always earn the praise it deserves.
It was Mané who tapped home Liverpool's equaliser after Klopp's champions had unjustly gone a goal behind, and he only grew in stature from that point on. Salah's influence diminished slightly as the minutes ticked by, and Firmino remained short of his best, but Mané was a star of the show, prior to his substitution late in the day.
This performance was just par for the course for him, though. He has been playing at this level for several years now.
If Virgil van Dijk and Alisson were the men who turned Liverpool into the dominant, trophy-winning force they are today, and Salah also took the Reds to another level when he arrived, Mané was very much the person who gave the Klopp revolution its first real injection of brilliance.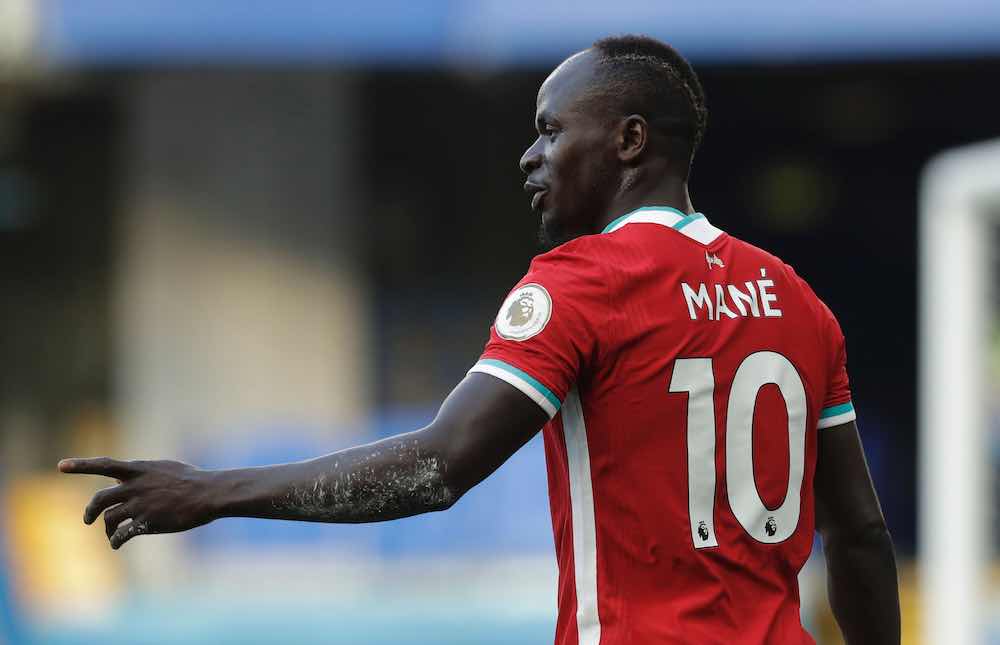 Liverpool enjoyed a productive first season with Klopp at the helm, reaching two finals, but they were sorely lacking an x-factor in the final third; someone with blistering pace and an ability to score and assist regularly.
From the moment Mané scored that stunning solo effort at Arsenal on his debut — it arguably remains his best Reds goal — he has never looked back, and his absence during the Africa Cup of Nations in 2017 essentially put paid to Liverpool's title hopes.
Salah took centre stage the following year, producing one of the great individual campaigns by a Liverpool player, but Mané still notched 20 goals and nine assists overall.
The 2018/19 campaign saw Mané record a career-high tally of 26 goals. By this point it was clear Liverpool had one of the best attackers in world football in their ranks.
Last season that may end up being the year that most defines Mané's time at Liverpool, though, as he proved to be the inspiration behind the Reds' long-awaited title win. There were exceptional performers wherever you looked, whether it be playmaker extraordinaire Trent Alexander-Arnold, the incomparable Van Dijk or likeable leader Jordan Henderson, but Mané was Liverpool's best player.
That might not have been recognised in the end-of-season awards, but he carried his team through some matches with a sheer will to win and world-class ability, not least away to Aston Villa, when a last-gasp goal and assist clinched a priceless 2-1 win.
This season has certainly started in a similar vein, with Mané bagging three goals in as many league games. At 28, he is a player performing at the peak of his powers.
Discussing a World XI will also prove to be a subjective debate, but it is hard to deny that anyone merits a spot out on the left-hand side more than Mané. He has been a model of elite consistency for four seasons now and he is genuinely unplayable at times.
He may not possess the aesthetic balance of someone like Neymar or Eden Hazard, or be a social media-obsessed celebrity footballer, but his numbers speak for themselves with 84 goals and 28 assists in just 174 Liverpool appearances.
Jamie Carragher recently suggested Mané could end up usurping the great John Barnes in an all-time Liverpool XI, and for the first time, that is starting to feel possible.
Considering Barnes is seen as one of the finest players ever to don a Reds shirt, it speaks volumes about what Mané has achieved, and what he could still go on to do at Anfield.
There are few better players on the planet on current form, if any.
Buy shares in Sadio Mané on Football Index – bet on the football stock exchange
---
+18, New UK and Ireland customers only, begambleaware.org, T&Cs apply.