By Louis Smith.
One of the ever-increasing tendencies in Brazil is that of clubs trying to rapidly develop youth players for the first team in order to fast track their professional progression. Vinicius Mingotti is a young forward who is going through that very process.
Mingotti started his footballing career at Grêmio Novorizontino before catching the eye of São Paulo's youth setup where he spent just six months, as he then moved to the state of Paraná to join Athletico Paranaense.
"Athletico is a club that any boy dreams of one day playing for," said Mingotti, speaking exclusively to WFi. "It is a club with an excellent structure and great professionals, which gives many opportunities for athletes of the youth academy. That's why I chose to wear this shirt.
"On a daily basis, I have always tried to give my best, regardless of where I find myself. I believe that at São Paulo FC I was not as comfortable as I would have liked. I was a little unsure, afraid to make mistakes. This insecurity ended up hindering my performance.
"Here at Athletico, however, my teammates and other professionals welcomed me; I adapted quickly and things flowed naturally."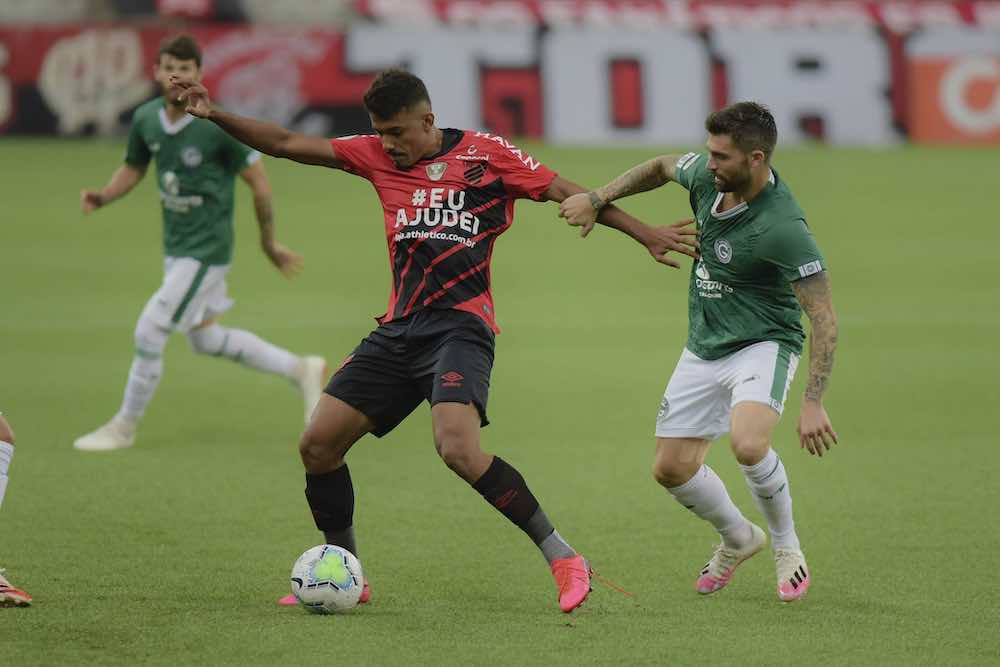 In recent years, Athletico have become one of the top Brazilian clubs, lifting the Copa Sudamericana in 2018 and, the following year, the Copa do Brasil.
This has been achieved not by splashing the cash but instead by nurturing young talents, giving them first-team chances when the coaches feel they're ready.
Two outstanding examples are Bruno Guimarães and Renan Lodi — both were part of Athletico's Copa Sudamericana-winning squad, having been given opportunities as youngsters to represent Furacão.
After lifting the Copa Sudamericana, Guimarães stayed on for another year, and became a pivotal factor in Athletico's Copa do Brasil triumph before joining Lyon at the beginning of 2020.
Lodi's impressive performances earned him a move to Spanish giants Atlético Madrid, where his on-field prowess has continued to progress and has been rewarded with four caps for the Brazilian national team.
Vinícius Mingotti vs Fortaleza:

1 assist
4 bolas recuperadas
6/7 duelos ganhos
3 chutes (1 no alvo)

Bela estreia 👏 pic.twitter.com/aQhpyjUzyg

— DataCAP (@statsCAP) August 9, 2020
It's stories like these that help young players such as the 20-year-old Mingotti want to join a club with a proven track record of developing talent.
"With each passing day, I always try to learn more," he said. "The coaching staff have been helping me a lot to perfect my game, especially in my movement, in attacking space, and in first-touch finishes."
After impressing in the youth team, Mingotti was called into the senior side earlier this year. It didn't take long for him to make his mark — in the match following his full professional debut he scored his first goal. This came in the Campeonato Paranaense, a tournament he went on to make a total of four appearances in and which his team ultimately won for the third year on the trot.
His performances during this state championship undoubtedly played a part in him featuring in the first six league matches of Athletico's 2020 Brasileiro campaign, which kicked off in early August.
"Everything happened very fast," he says. "I stood out in the games in the Copa São Paulo de Futebol Júnior [a prestigious tournament for under-20 sides], so when we came back from the competition [in January], the following week I was integrated into the team that was competing in the Campeonato Paranaense. Then, I started to look for my space.
"I thank God I was very well received by the entire group of players. It is a close, united group and the coaching staff also helped me greatly in this process, guiding me a lot. As time went on, I adapted more and more.
"Scoring my first professional goal was a childhood dream come true. It was a wonderful feeling — I was really happy."
This emerging prospect also found time to share his aims he has for the rest of the season:
"I hope to help my team in the best possible way, whether in the professional or the under-20 team. I want to help the team achieve its ambitious targets and also, personally, to score lots of goals."