Bundesliga Zeitung, by Andy Wales.
It's been an incredible week for Borussia Dortmund's Erling Haaland, even by his already lofty standards. He started it by winning the prestigious Golden Boy award, continued it by grabbing four goals against Hertha Berlin, and ended it with two more against Club Brugge in the Champions League.
It is easy to forget the deadly marksman is still only 20 and has been in the Bundesliga for less than a year. We've quickly become accustomed to him scoring goals in the black and yellow. His talent was widely known before signing in January, but his impact and development have still gone beyond expectations.
His size, strength, skill, speed, movement, intelligence, desire and sheer presence has seen him instantly compete with Robert Lewandowski in the Bundesliga goalscoring charts.
Quite telling is the instant rapport he struck with his team-mates. The likes of Marco Reus, Julian Brandt, Jadon Sancho and Gio Reyna were quickly on the same wavelength. Also telling is how he has become a figurehead in the team despite his tender age. All of this within his first year is an impressive accomplishment.
He added to this on Saturday evening with a blistering display of ruthlessness.
In a first half where Dortmund toiled, Hertha took an unlikely lead. It was one they held onto until the break when questions began to be asked of Dortmund. Would this be another opportunity spurned by Lucien Favre's side?
Earlier in the day, Bayern Munich slipped up at home, only managing a 1-1 draw with Werder Bremen. Bayern, already troubled by injuries, lost Lucas Hernandez early in the game and fell a goal behind. Hansi Flick has had an incredible first year in charge, dominating all opposition. A questionable squad depth, coupled with injuries might be Flick's toughest test to date.
A hectic schedule and lack of winter break means there's unlikely to be any let-up for Bayern any time soon.
It seems to be a recurring theme of the past couple of seasons, where Dortmund have a title opportunity. In truth, they threw it away in Favre's first season. Last year, amid the chaos of the Kovac reign ending, consistency cost Dortmund.
This year, a strong and talented Dortmund squad could be presented another chance, via different circumstances. Such is the quality of Bayern, Dortmund must capitalise on any opening that comes their way.
One key difference between the Dortmund sides that failed to capitalise and this one is Haaland. He was not a part of the Dortmund squad that threw away the 2018/19 title. His arrival in January was too late to repair the damage done to overtake a revitalised Bayern. Haaland's goal-scoring ability could have made the difference to those failed title challenges.
However, he is there now and his desire to succeed is evident. His ambition matches his talents and, as such, Dortmund may have a limited window to make the most of him.
Erling Haaland *should* be the kind of extraordinary one-off player that wins a Bundesliga title for Borussia Dortmund before he leaves the club (possibly next summer).

— James Nalton (@JDNalton) November 21, 2020
The first two of his four goals against Hertha highlighted his deadly instinct. He knew where to be and when off lovely passes from Emre Can and Julian Brandt respectively. His third, an example of a striker ready to pounce on any mistake. One loose pass was all it needed for him to spring the trap, surge through and score.
In addition, his first two goals came a few minutes apart and changed the game. This was the type of player Dortmund have been missing in recent seasons. Not long after scoring his fourth — putting the game beyond Hertha — Haaland was replaced. Again, it speaks volumes for Haaland's mentality that he was annoyed to be brought off because he wanted another goal.
His replacement was a story in itself — Youssoufa Moukoko — making his professional debut, just a day after celebrating his 16th birthday.
Dortmund's Youssoufa Moukoko replaces four goal hero Erling Haaland. In the process he becomes the youngest player ever to play in the Bundesliga (16 and 1 day old). pic.twitter.com/cgxcyVJQEm

— Archie Rhind-Tutt (@archiert1) November 21, 2020

This is a young talent regarded by some as the most exciting in world football. He has trounced youth football levels, breaking records, against lads older than himself.
Expectations are high but must be guarded against with a player so young. Dortmund have an excellent record at nurturing such starlets, so he is at the right club. Perhaps, he might become Haaland's replacement as richer clubs inevitably circle. For now, Haaland spoke post-match of his desire to play alongside Moukoko.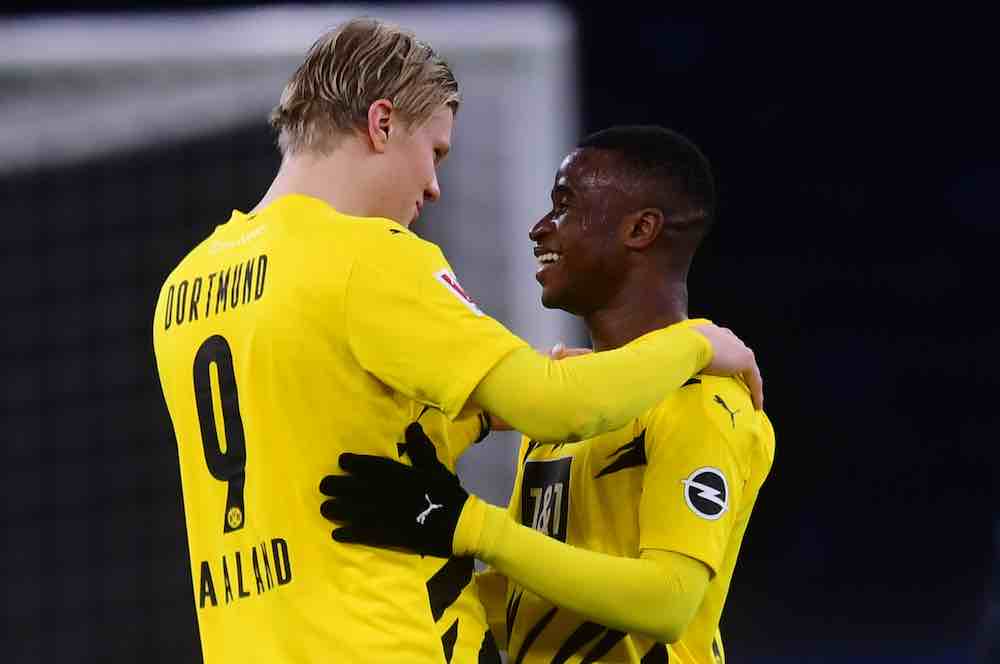 When you add in the likes of Jude Bellingham, Jadon Sancho and Gio Reyna, these could be exciting times for Dortmund fans.
Victory at home to Club Brugge in the Champions League all-but secured their passage into the knock-out stages. Naturally, Haaland helped himself to two more goals in the 3-0 win, topping off a fantastic week.
Winning the Champions League seems unlikely, but the Bundesliga should not be out of reach. What Dortmund have in Haaland is the golden boy with the golden touch; they just need to add some silverware.