By Chris Smith.
A league known and widely praised for its parity, it's very rare that you see a reigning champion defend their crown in Major League Soccer.
There was the legendary DC United side of the early years of the league which won three out of the first four MLS Cup titles under Bruce Arena and, later, Thomas Rongen.
And then, of course, the LA Galaxy dynasty which, between 1996 and 2014, not only won five MLS Cups, but also appeared in another four finals. Even they, however, only retained the title once, winning back-to-back championships in 2011 and 2012 — no side has retained the title since.
Seattle Sounders are this year's defending champions having beat Toronto FC 3-1 in the 2019 showpiece — a third final in four years for both sides. Although the Sounders only finished second behind Sporting Kansas City in the Western Conference and sixth in the overall standings, few will be counting them out of the race for glory this time around.
For starters, the Sounders finished second in the Western Conference to 2019 Supporters' Shield winners Los Angeles FC by a massive 16 points, losing 10 of their regular-season games, while in the east, New York City FC and Atlanta United both amassed more points. That didn't stop Seattle seeing off FC Dallas, Real Salt Lake, LAFC and TFC en route sealing their title.
But arguably the most important factor which could carry them over the line is their consistency. Not consistency of results — Seattle haven't won back-to-back games in seven matches and won just two of their final seven regular-season games, drawing three and losing two of the others.
By consistency, we mean who will be stepping out onto the pitch in this season's playoffs, and who will be coaching them from the dugout. Seven of the XI which started in the Sounders' 4-1 win over San Jose Earthquakes in their final regular-season game also lined up at the start of last season's MLS Cup, most crucially including the attacking quartet of Raul Ruidiaz, Jordan Morris, Nicolas Lodeiro and Joevin Jones, as well as midfield lynchpin Cristian Roldan.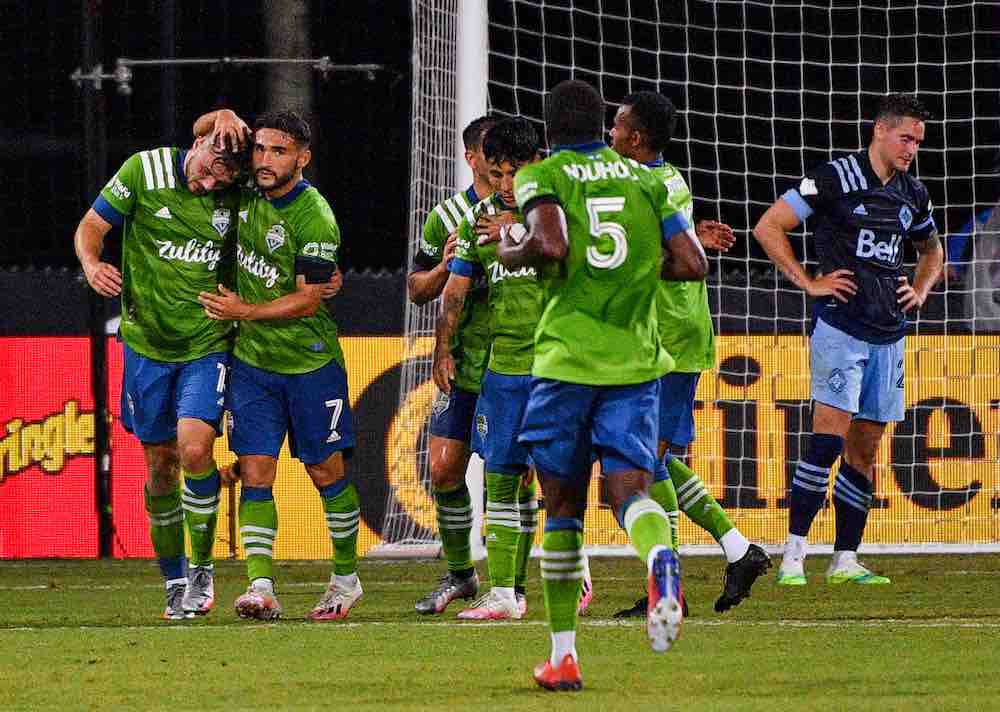 Each of the aforementioned players, as well as goalkeeper Stefan Frei and right-back Kelvin Leerdam, offer their own unique quality to this side. Whether it be Morris' ruthless pace, Lodeiro's ability to pick the lock, Jones' versatility, Roldan's midfield control or Ruidiaz's ice-cool finishing, they are all vital pieces of a carefully assembled puzzle simply made for knockout football. Furthermore, Ruidiaz is the only one of the latter five players not around for Seattle's earlier 2016 MLS Cup success.
"If you were going to make the case for why Seattle could make another run, that consistency is exactly what you would point to," mlssoccer.com's Ari Liljenwall told WFi.
"If you look at their squad from this year, most of the key pieces are the same as last year. You've got Nicolas Lodeiro who the entire team is built around, he's been the centrepiece since he came here in 2016.
"Beyond him, you have Raul Ruidiaz who has shown he's one of the best goalscorers in the league, but he's also shown that he elevates his game in the playoffs. He always comes through with the big goals.
"Then you also have Jordan Morris and Cristian Roldan, two guys who've been there and done it over the last few years, not to mention Gustav Svensson, Kelvin Leerdam and Stefen Frei.
"You go down the list and that core have been together through these runs, they're battle-tested and I think when it comes to the playoffs, that counts for a lot."
It's also important to talk about the man putting all of these pieces of the puzzle together: Brian Schmetzer. The 58-year-old is a legend in these parts having led the Sounders to three MLS Cup finals — winning two of them — and two Cascadia Cups in the MLS era alone. His list of achievements dates much further back into the club's USL days, too.
Schmetzer is a ludicrously underrated tactician, able to seek out each and every opponent's weakness before setting his side up to exploit it to their fullest potential. Just look at the way the Sounders beat LAFC in the Western Conference final by allowing Bob Bradley's men to dominate the ball, drawing their line forward before forcing a turnover and using their pace in the final third to devastating effect. In fact, Seattle went through the entire 2019 playoffs without ever having more than 46% of the ball in one single game.
"I think Schmetzer plays into that consistency, too," added Liljenwall. "He's accumulated a lot of experience over these last few years, he knows how to handle these situations and has a feel for the opponents, what type of game plans they have.
"He's a great man-manager but the question about Schmetzer has always been 'is he a good tactician?
"I think he showed against LAFC last year (in the Western Conference final) that he's able to get the players to buy into the game plan that applies to the opponent. I think that game validated Schmetzer's ability to impart a game plan like that."
I guess it's weird to ask about someone with his track record, but is Brian Schmetzer somewhat underrated?

— Nicholas Murray (@NJEMurray) October 30, 2019
This season, as defending champions, Seattle have been shown a lot more respect by the opposition, who now choose to sit a little deeper and allow the Sounders more of the ball. However, the off-season signing of Brazilian Joao Paulo has been inspired, not only offering Schmetzer's side a more robust defensive option in the middle, but also one with a real air of authority with the ball at his feet.
Paulo has been plugged into an already-successful side and the stylistic results are there for all to see — according to Whoscored, only LAFC (55%) have enjoyed a higher average share of possession than Seattle (52.%) this season, while only the Portland Timbers (46) have scored more than their 44 goals.
The Sounders face a tough opening playoff fixture at home to LAFC later in November and although the Black and Gold have won two of the last three meetings between these two with an aggregate scoreline of 7-2 (Seattle winning the other 3-1), Schmetzer has already proved how he can methodically and ruthlessly take Bradley's stylish team apart when it really comes down to it.
Seattle have the star quality, they have the experience and, perhaps most importantly, they have the best-equipped roster for knockout football in Major League Soccer.