By Mochammad Naufal Rizki.
One night in 2012, an 18-year-old Scotsman posted a tweet saying: "life at this age is rubbish with no money #needajob". The complaint he made seemed normal, like any other working-class youth at that time.
The young man worked at Hampden Park as a telephone service recipient for ticket bookings. But while working he also pursued his dream.
He trained with Scottish Third Division side Queen's Park two or three times a week and played at weekends. The dream of playing for the national team was still just that, a dream…
Who would have thought that the person behind the tweet is now the captain of the Scotland side who just qualified for next year's European Championships?
life at this age is rubbish with no money #needajob
— Andy Robertson (@andrewrobertso5) August 18, 2012
Andy Robertson is proof of the power of the semi-philosophical ideas of American poet Charles Bukowski. Bukowski is famous for his motto: "Don't try."
The meaning, of course, is not literal. Bukowski says that if a person is passionate about their job, they will have no trouble trying or working hard for it. They will do the job while letting their heart burn, and will never stop.
In short, he talks about passion. If a person is passionate about a job, it will not cause them trouble. They don't need to try for it. And success will come with that.
And that's Robertson. Since childhood, he was a die-hard Celtic supporter. He started churning out his dreams with the Celtic academy. Unfortunately, he was kicked out by the academy due to physical problems. His body was considered too small and was deemed unable to compete up to the senior team.
In an interview with James Pearce, Robertson admitted that, as a 15-year-old, he was certainly very disappointed at the time. It took him at least a full season to recover from that disappointment. Only then did he move to Queen's Park.
In his first year at Queen's Park, Robertson was still struggling to find a place and the club could not pay Robertson much. As a result, Robbo had to work in the club's corporate department at Hampden's Park. It was there that the legendary tweet above was born.
But of course, Robertson didn't stop. He kept playing football and trained harder. Former Queen's Park coach Gardner Speirs said that, at that time, Robertson trained three times a week in the evenings he played on Saturdays.
Robertson's efforts were now being recognized. He made his debut as a left-back in the Queen's Park first team in July 2012, aged 18. It was around this time Robertson was considering stopping playing football and began looking at college options instead. He finally decided to keep playing, and his game was getting better.
Since then, Robertson's football career began to escalate. His potential was noticed by the Scottish Premiership club, Dundee United. He moved to Dundee United in 2013 and, at the end of the season, began to break into Scotland squads, and also won the PFA Scotland Young Player of the Year award in 2014.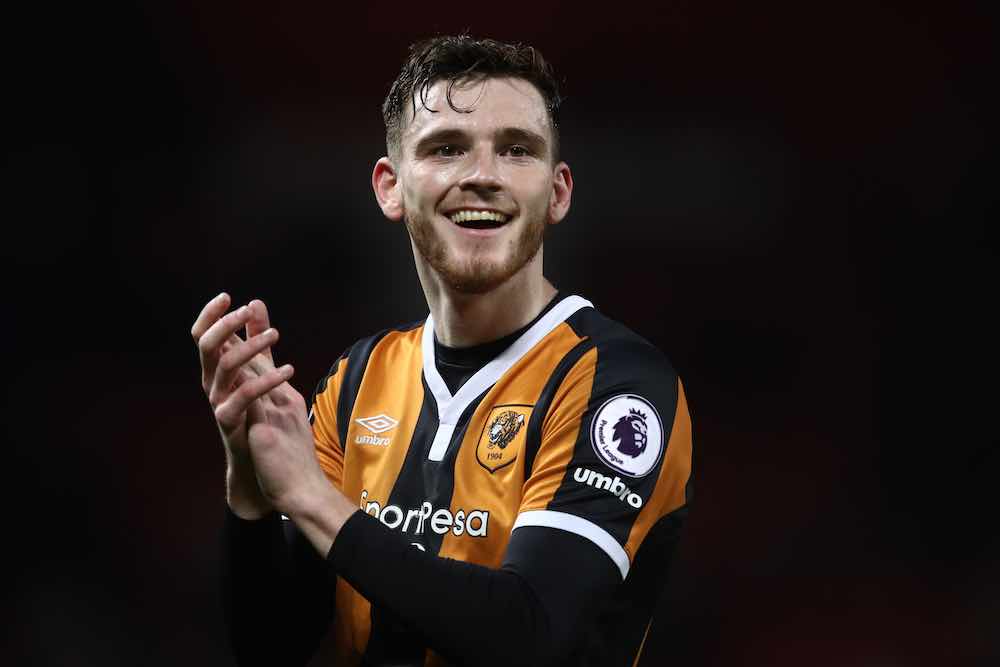 The young player's potential was tracked by Steve Bruce, then the coach of Hull City who at that time played in the English Premier League. Robertson moved to Hull City in July 2014 for under £3m. Unfortunately, in his debut season at the club, Hull were relegated, but Robertson's performance that season impressed many.
Former teammate Hatem Ben Arfa said that Hull's performances were poor, but there was a player whose performance he called "super, super, super good," and that player was Robertson.
Robertson stayed in the Championship with Hull and helped them climb back into the Premier League. Sadly, Hull City were relegated again at the end of the season, but this time Robertson did not go down with them.
Liverpool were looking for a full-back, initially as backup to Alberto Moreno, and in the summer of 2017, Robertson began a crucial chapter in his life.
He officially signed a long-term contract with Liverpool for a transfer fee of £10m. As was the case when he first moved to Hull City, Robertson's move raised many questions and doubts, even among Liverpool supporters themselves. His manager Jürgen Klopp immediately convinced the doubters, saying that he believed Robertson was the kind of person who does not limit his ambitions — a mindset that matched Liverpool's and his own.
Klopp's words proved to be true. Robertson's arrival at Liverpool really improved him as a player but he has also improved Liverpool.
Robertson has won the Premier League, Champions League, UEFA Super Cup, Club World Cup, and several individual awards at Liverpool, such as being included in the PFA 18/19 Team of the Year, 18/19 Champions League Best Squad, and the 2019 UEFA Team of the Year. All of this in just three years, during which time he was also appointed captain of the Scottish national team.
Finally, the young man who complained eight years ago on Twitter, successfully captained his country to qualify for the Euros.
As they defeated Serbia on penalties on Friday, November 13, Scotland were finally able to get back to a major tournament — their first since the 1998 World Cup.
Don't Try
That's the message that I think best describes the story of Andy Robertson. His passion for football is not something that springs from compulsion, but from his love for the game.
For nearly half of his life, Bukowski's works were considered waste and garbage. No publisher was willing to pay attention to his writings, but he didn't stop writing. He didn't try to keep writing. For Bukowski, his life was writing. He once said that if he did not continue writing the next verse of poetry the next day, he would be dead.
Likewise. Robbo. Rejection and doubt hit him. He kept playing and playing, practising, and practising some more. He doesn't have to try hard to be in that way because he is passionate about it. Trying hard comes naturally.
If Bukowski died because he stopped writing, then Robbo died because he stopped playing football. And that reason may now be what brought the young misfit to the pinnacle of his career. He didn't try, and he didn't stop.
"You don't try. That's very important: not to try, either for Cadillacs, creation or immortality. You wait, and if nothing happens, you wait some more. It's like a bug high on the wall. You wait for it to come to you. When it gets close enough you reach out, slap out and kill it. Or if you like it looks, you make a pet out of it."
-Charles Bukowski