By James Nalton.
Bryan Reynolds looks set to become the latest American to make the step up from Major League Soccer to European football.
Defending Italian Serie A champions Juventus are rumoured to be offering FC Dallas a fee of around $10m in return for the MLS club's homegrown player.
Fellow Serie A side Roma, as well as Club Brugge of Belgium, are also interested, but as was the case with the transfer of Reynolds' compatriot Weston McKennie from Schalke, once Juve make an offer, they are difficult to turn down.
On the face of it, Reynolds has the potential to be a long-term successor to Juan Cuadrado but could be sent on loan immediately, should he join Juventus.
Youth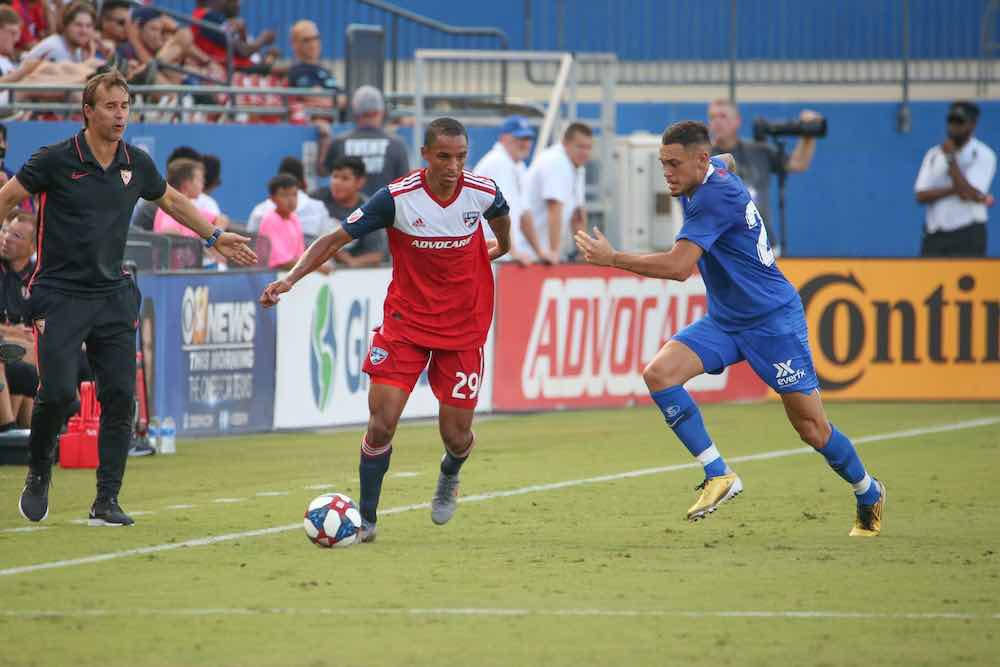 The movement of American players to some of Europe's biggest clubs is a growing trend, and one which has seen FC Dallas' focus on homegrown players come into its own.
Dallas boast a diverse academy — something that will only increase as (and sadly we still have to add "if") academies in the country move away from the pay-to-play system as some are already doing.
This is one of the ways to make an MLS side more exciting and give it identity in a single-entity league. The progress of local, homegrown players can provide fans with excitement and attachment to their club, and this is something FC Dallas do better than most.
The downside of MLS' increasing monopoly of the game in such a big country, though, is that there was no option for a player like Reynolds to develop at a high-level academy underneath a professional club in his hometown of Fort Worth.
This isn't a slight on the amateur academies who do vital work in communities across the country, more a call for the clubs attached to them to have more opportunities at a professional level in a more open system.
Reynolds had to travel almost 50 miles from Fort Worth to train in the FC Dallas system, with his family eventually relocating to Frisco where the club's academy is based — something not all players would be able to do.
Once there, he found himself at an academy which is an example to others across the country. Among the FC Dallas alumni are the likes of right-back Reggie Cannon now of Boavista, Juventus midfielder Weston McKennie, and Bayern Munich defender Chris Richards.
In 2016, a 15-year-old Reynolds, then a goalscoring winger, became the youngest player to sign a Homegrown contract with the club. At international level, he has played with the United States U16, U17, and U18 teams, but is yet to make his senior debut.
A spell with FC Dallas USL affiliate club North Texas SC in 2019, mixed with appearances off the bench in MLS as backup to Cannon, saw him further prepared for a switch to full-back.
Cannon's move to Portugal in September 2020 opened the door for Reynolds to step into the first team on a regular basis, and the teenager may have the potential to be even better than his talented predecessor.
"He had a great mentor in Reggie," FC Dallas coach Luchi Gonzalez said of Reynolds. "He's always been close with him and looking up to him.
"That's why I'm not surprised he's been able to step in and compete right away."
Style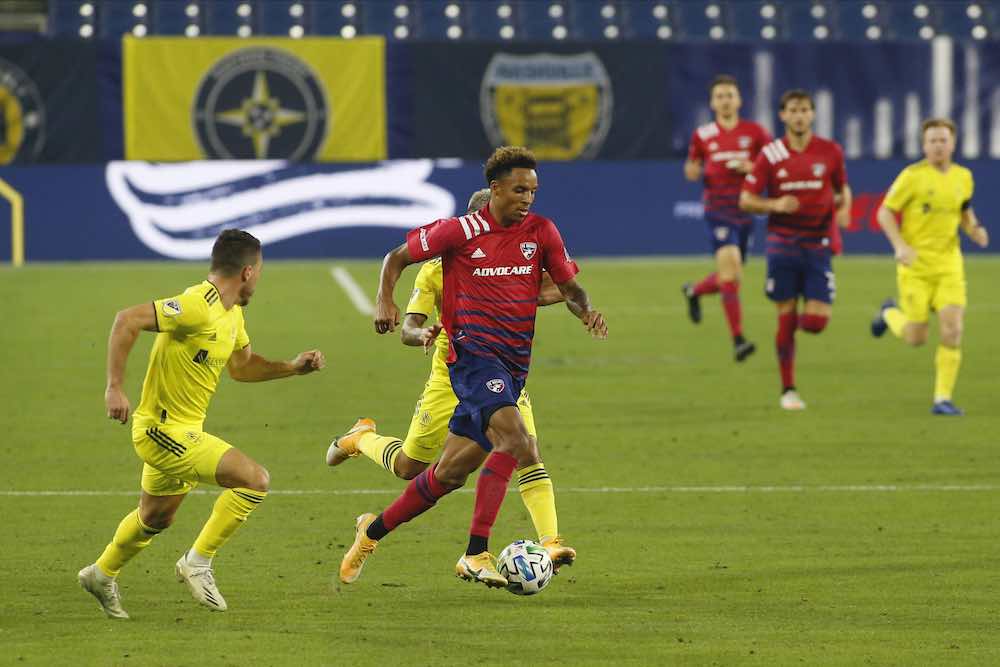 Anyone who's seen an FC Dallas game in which Reynolds has featured cannot have failed to spot his talents.
He's not exactly inconspicuous, and even a scout at the game to watch another of the club's players, Paxton Pomykal, say, will have come away from the game suggesting a more in-depth look at the 19-year-old right-back.
His 6ft 3in frame coupled with explosive pace and dynamism make him immediately noticeable. Add in a generous helping of skill and awareness, and you get a full back who can stand out on both sides of the ball.
In possession, his first thought is to make something happen, usually through dribbling. Then, once in advanced areas, he will attempt to deliver the ball into the danger area. He's able to make shorter passes with his weaker left foot and has good crossing ability with his favoured right.
He won't always cross at the first opportunity and will sometimes use his other skills to get into better positions before sending the ball into the box.
His delivery is varied and combines lofted crosses with low drilled balls and cutbacks from the byline. He will also dribble from deeper positions — all of which is shown on his SmarterScout actions map below.
Reynolds is strong defensively and uses his body well to shield the ball or knock unbalance opponents in 50-50 challenges.
His size provides useful reach when tackling and intercepting, as well as being handy for any aerial duels. His speed allows him to surprise opponents in defence just as it can in attack, allowing him to nip in front of them to intercept the ball or assert pressure as soon as they receive it.
FC Dallas are not necessarily known for their pressing, so this area of his game is relatively untested. That said, his existing attributes should lend themselves well to this style of football with some coaching and improved tactical understanding, which should also improve his defensive positioning.
Some Stats
All data used in this section is from FBref.
Full-backs aren't always expected to have a high pass success rate, especially if they are regularly sending the ball into busy areas, but Reynolds success rate of 80% is reasonably good. His short-pass success rate is 89%, but those longer passes or crosses come in at 57%.
An example of why this isn't a bad thing is Liverpool's Trent Alexander-Arnold, whose pass success for long passes (more than 30 yards) was just 49% in Liverpool's 2019-20 title-winning season — and the Englishman is widely considered one of the best crossers and passers around in this position.
This type of delivery is often designed to create uncertainty or chaos in an opposition defence as attackers wait to pounce — it is more about delivery into the right areas than necessarily finding a teammate everytime, though Reynolds can do both.
"He has great range in the attack, he gets into great spots, he makes smart decisions with his runs," said teammate Matt Hedges after a game against Inter Miami in October.
"He's a great crosser with the ball — probably one of the best we've had in a long time.
"The thing I like about him is when he's crossing the ball, he's looking to pick out the runners coming into the box and he's not just blindly crossing it."
This isn't to say Reynolds is in the same mould as Alexander-Arnold. He is a slightly more direct player in terms of running with the ball — a full-back who tends more towards the wing-back definition rather the wide-midfielder one, although he is closer to an all-rounder than a specialist in either of these.
Reynolds attempted an average of 2.55 dribbles per 90 during the 2020 MLS season, which puts him on a par with full/wing-backs such as Kyle Walker-Peters of Southampton or Juventus' own Cuadrado. Should Reynolds sign for Juve, it will be part of a plan to eventually replace or rotate with the 32-year-old Colombian whose contract expires in 2022.
A direct style of play comes naturally to him as a former winger, and in this sense, he has undergone a similar shift to Alphonso Davies, formerly of MLS side Vancouver Whitecaps. Although the Canadian left-back made this transition at a much higher level, with Bayern Munich, Reynolds could be similar in style once moving to Europe, even if he doesn't reach Davies' level.
There is plenty of room for improvement when it comes to taking players on and choosing when to do so, though his unpredictability when dribbling can be as much an advantage as a weakness.
Tweaked slightly, with better decision making on the ball in terms of deciding when is the right time to take opposition players on, his take-on success should rise from 50%, as it stood during the 2020 MLS season, to more respectable 60-70% levels.
This, in turn, would also increase his creativity and end product, as he would be more often in a position to produce, but four assists from 14 MLS starts last season isn't a bad return.
Summary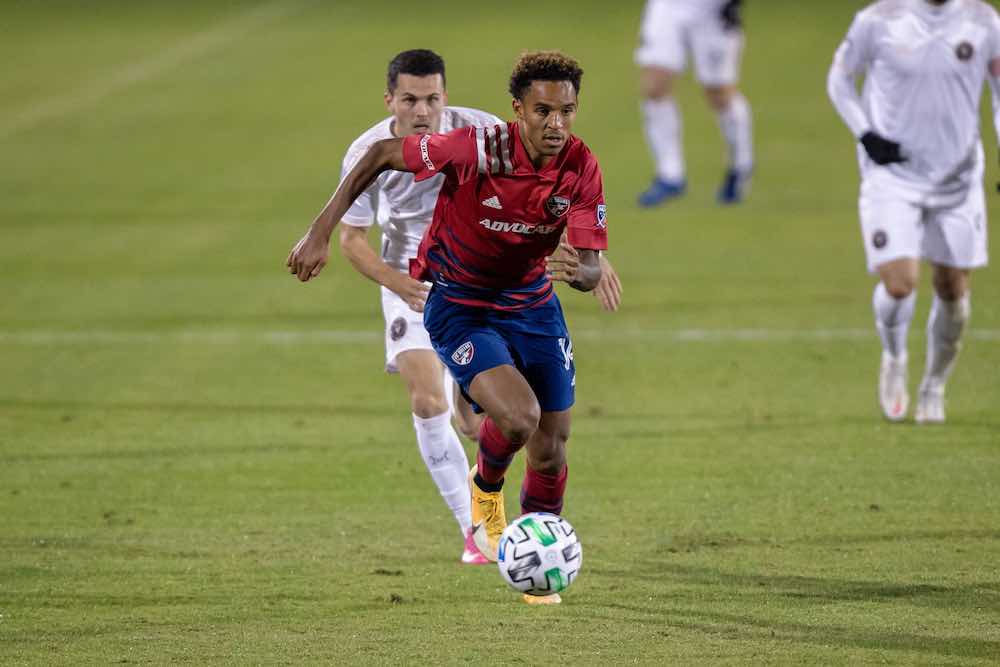 Reynolds is another example of the triumph of coach-to-play over pay-to-play in the US soccer youth system. Though his development spans both systems, the structure at FC Dallas prioritises the development of people, not just players, which in turn prepares them for future challenges even if they don't turn pro.
In Reynolds' case this future challenge looks set to involve a move to one of the biggest clubs in world football, following his mentor, Cannon, to Europe, and his compatriot and fellow Texan, McKennie, to Juve.
The signing makes complete sense for a club looking to the future in a position where all-round ability is increasingly important, and the coaching at Juventus should help Reynold's build on a highly encouraging breakthrough season in Dallas.
Such has been the excitement around his performances with Dallas, it's easy to forget that he only emerged into the scene as a first-team regular a few months ago. Juventus' decision to loan him out for a few months in a lower-pressure environment might be a wise one.
Though the move to Juventus is not yet official at the time of writing, whoever signs Reynolds is getting an exciting young player who can make an impact now, and a potential star of the future.
That a team like this are interested at all shows how highly regarded he is in Europe as well as America.