By Tom Robinson.
Cadiz, back in the top flight after 14 years, surprised everyone back in October with their 1-0 win over Real Madrid at the Santiago Bernabeu. The shockwaves reverberated around Spanish football. It wasn't just that Cadiz had beaten Madrid away for the first time in their history, it was that they had outclassed them, too.
Throughout their history the Andalusians have tended to be second or third tier regulars — save for a golden period in the eighties and early nineties inspired by cult hero Magico Gonzalez — but have immediately acclimatised to life back in La Liga, currently sitting in sixth after eleven games.
Primarily a defensive-minded side under Alvaro Cervera, Cadiz don't boss possession but still manage to create plenty of chances thanks to their solid foundations and irrepressible work rate.
A big part of that watertight backline has been their goalkeeper, Jeremias Ledesma, who joined on loan from Rosario Central in the summer.
The 27-year-old, nicknamed Conan, has 4 clean sheets from 8 games and has made a string of eye-catching saves along the way. This is all the more impressive given that Cadiz have already faced all of the current top five.
🇺🇦🙌🏼 ¡Queremos felicitar a Jeremías Ledesma por la reciente convocatoria a la Selección @Argentina!

¡Vamos Jere! 👏🏽 pic.twitter.com/XCnUSWahKG

— Rosario Central (@CARCoficial) October 6, 2020
Ledesma has conceded just 7 goals in 8 games (0.81 per 90) — skewed somewhat by an uncharacteristically poor performance in a 4-0 loss to Atletico Madrid — but nevertheless still finds himself among the top five best performing goalkeepers in the league, while also averaging 2.79 saves per game and a 100% aerial duel success rate.
In his first five games, Ledesma conceded just once in 450 minutes and kept out 93.75% of the
shots he faced. In the 2-0 victory over Eibar, Ledesma displayed his fantastic reflexes to keep out a powerful header from Takashi Inui, while he twice acrobatically denied Darwin Machis to ensure a draw in the derby with Granada.
As well as Ledesma's shot-stopping ability, his distribution has been another strength that has seen him fit in well at Cadiz. His long booming kicks upfield contribute towards Cadiz's direct approach, as demonstrated by his average pass length (47.94m) which is only bettered by former teammate Alberto Cifuentes (50.15m), who retired after making his La Liga debut at the age of 41, and Getafe's David Soria (49.14).
Ledesma's good form also saw him earn a call up to the Argentina squad in October after an injury to Juan Musso. Although he didn't see any game time, his selection suggests that he is in Lionel Scaloni's plans and provides yet another option for an area of the team that is up for grabs.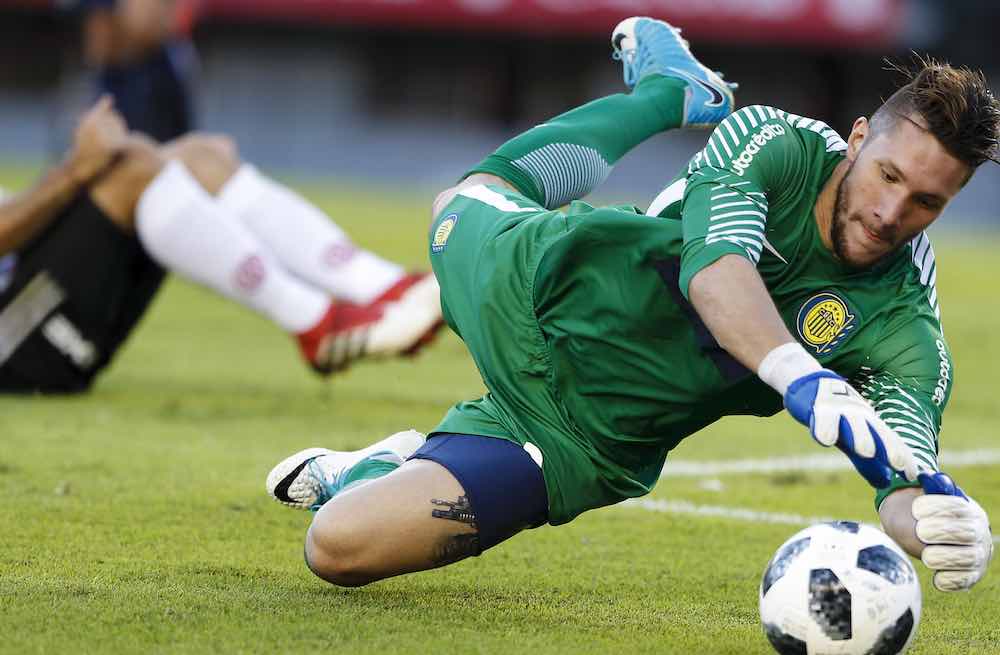 It's been a long journey to the top for Ledesma. Born in the small city of Pergamino — the hometown of current teammate Augusto Fernandez — Conan had been on the books of the nearby Rosario Central since the age of six.
Although Ledesma broke into the first team midway through 2013, just as Central were promoted back to the Primera, he had to wait patiently until his debut at the tail end of 2017. From that point on he didn't relinquish the number one spot for El Canalla, amassing 90 appearances over the next three seasons, as well as accruing valuable continental experience.
Arguably his lasting impression on the Central faithful was his heroic displays in the 2018 Copa Argentina victory. After Central finished as runners up in three of the four previous editions, Ledesma made a crucial save in the penalty shoot-out victory over Gimnasia in the final, as well as key interventions in against Almagro and Talleres earlier in the competition, to finally bring the silverware to Rosario and win the best goalkeeper award too.
These performances persuaded Cadiz to bring him across to Spain on loan and it seems likely they will take up the option to make the move permanent for around €1m after his stellar displays on the south coast.
It's still going to be a long season for the popular newly-promoted side and survival will remain the main aim despite their promising start. As for Ledesma, if he can establish himself as a regular for a La Liga side punching above their weight, calls for a national team debut will grow ever louder.