By Jerry Mancini.
When Lazio announced the €18m signing of Sergej Milinković-Savić from Belgian side Genk back in 2015, very few fans knew what to expect.
Prior to arriving in Rome Milinković-Savić had enjoyed a successful campaign, scoring five goals in his lone season in Belgium.
He was known by those who had watched him more closely as a versatile box-to-box player with an ability to score from both short-range and from distance, and an outstanding reading of the game.
It wasn't until his second season with Lazio that the Italian Serie A started to see what the midfielder was all about.
He scored seven goals in Serie A and the Coppa Italia combined, showing great footwork, the ability to drive through midfield, and good composure on the ball.
In his third year with the club was one of the Serbian's best. He scored 14 goals in all competitions and came close to helping his side secure a spot into the Champions League.
With his stock continuing to rise, he became one of the most talked-about players in Europe, and the transfer rumours started to swirl as the likes of Manchester United, Juventus and Paris Saint-Germain showed interest in the midfielder.
Use your football knowledge to make bets on the football stock market – Football Index
In the end, Milinković-Savić was not sold in the summer of 2018, but the transfer rumours did not subside.
Though he managed to score seven goals in all competitions in his fourth year with Lazio, it was his least productive year with the club. He showed poor form and fans started to boo him for his inconsistencies on the pitch.
He was giving the ball away easily, and at times even looked disinterested. In their match against Chievo Verona in April 2019, he was sent off for dissent. It was a frustrating season up to that point and his emotions got the best of him.
In a match against AC Milan in the Coppa Italia semi-final, he picked up a slight knee injury. Lazio went on to win the game, advancing to the final where they faced Atalanta, with Milinković-Savić's a doubt for the big game.
He worked hard during the following weeks in an attempt to recover and make himself available, and though he didn't start the match, he was prepared to come off the bench and help his side in any way possible.
The Serbian entered the match at the 78th minute for Luis Alberto with the game tied 0-0. It didn't take long for him to make an impact. In the 81st minute, he headed Lucas Leiva's corner kick into the far corner, and the crowd erupted.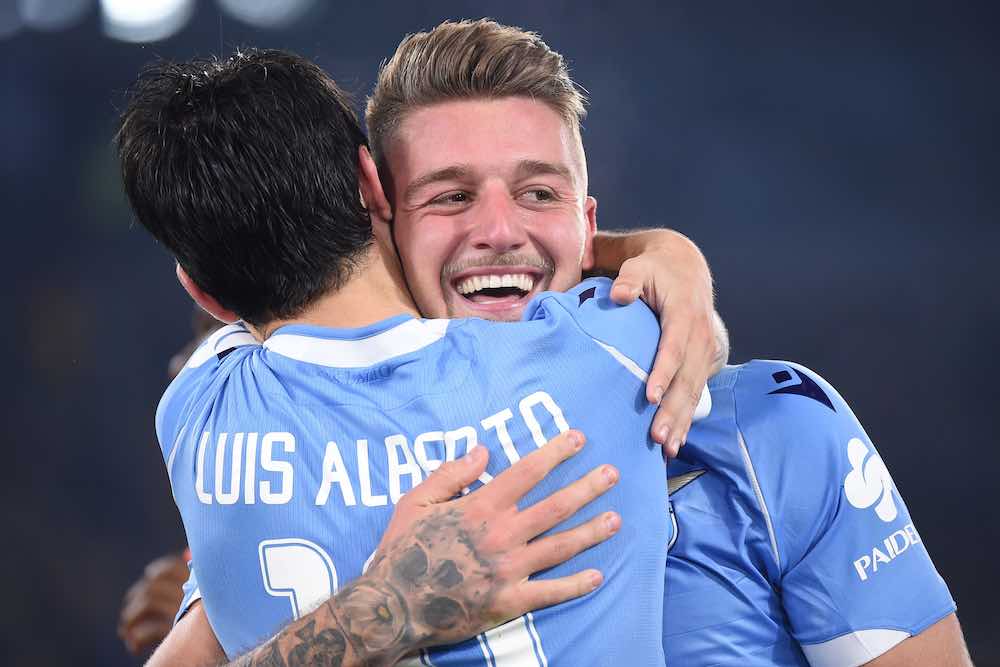 The goal sparked a 2-0 win, and the Coppa Italia win earned them a spot in the Europa League, salvaging an otherwise poor season saw them finish 9th in Serie A in 2019.
At the end of that season, Lazio extended his contract until June 2024, as president Claudio Lotito's demands in terms of a transfer fee for the player were not met.
With the transfer rumours finally put to rest, he entered his fifth season with a clean slate. He already helped his side win a Coppa Italia and Supercoppa Italiana in previous seasons and once again was a pivotal part of a successful season for Lazio.
Lazio finished fourth in Serie A in 2020, and at the mid-point of the season were even competing with Juventus for the Scudetto. But the season came to an abrupt halt due to Covid-19, and when it resumed Lazio were unable to maintain their challenge.
Their main goal, however, had been to finish in the top four and return to the Champions League — something which was accomplished when they defeated Cagliari 2-1 back in July.
Milinković-Savić scored a beautiful strike from outside the area that started their comeback, and after the win expressed his desire to remain with the club despite more transfer rumours.
"My objective since the first day was to play in the Champions League with Lazio, now we finally achieved it," he told Sky Sport Italia.
"I am happy here, my mind is focused on Lazio, I have a contract for many years and so… I am staying. My agent will think about the rest."
The 25-year-old has seen his share of ups and downs since arriving with Lazio. Every season has been a progression and he has learned and matured under manager Simone Inzaghi.
Even when he is not contributing to goals, his efforts and contributions shouldn't go unnoticed. When he is fit and in form, he is one of Lazio's best players. His improved form and Champions League appearances could attract similar attention to that which he received in 2018, especially as Lazio face defending champions Bayern in the last 16.
Lucky for Lazio, they are in no dire need to sell Milinković-Savić just yet. To hear that the Serbian has no desire of leaving is encouraging news.
For the time being, let's embrace a truly remarkable midfielder who holds the club very close to his heart.
Buy shares in Sergej Milinković-Savić on Football Index – bet on the football stock exchange
---