By James Nalton.
From January 1, 2021, new rules come into place regarding the transfer of overseas players to the English Premier League and the English Football League (EFL).
These will replace existing work permit recommendation processes, as English clubs will not be able to sign players from the European Union (EU) in the same way they were able to before Brexit.
Clubs will now need to apply for a governing body endorsement for a work permit for pretty much any overseas player who doesn't hold a British passport, so the requirements and processes have been changed.
The previous requirements, and the old points system, meant many clubs struggled to get work permits for players signed from outside the EU.
Some clubs would still sign African or South American players, for example, but they would often be sent out on loan for the entirety of their contract, before leaving the English club having failed to ever match the criteria needed to be granted a work permit. An example of this would be Allan Rodrigues de Souza at Liverpool.
If these rules and processes were kept for English football clubs post-Brexit, it would be very difficult to sign any overseas players, even those playing their football just across the English Channel in Europe.
So the entry requirements have been altered in order to make it easier than it might have been for English football clubs to sign overseas players post-Brexit.
Observations & Key Points
Easier for South American players to get work permits than before (in certain circumstances).
Players 18 or over playing regularly in Europe's top 5 leagues are almost guaranteed a work permit.
Regular internationals for a top 50 FIFA-ranked nation guaranteed a work permit.
Copa Libertadores and Copa Sudamericana minutes highly valued  – work permit almost guaranteed.
Could lead to more global franchises a la City Football Group and Red Bull GmbH.
A couple of main changes:
The FIFA rule around international transfers comes into play meaning that clubs will not be able to sign overseas players until they are 18 years old (prior to Brexit, clubs could sign U18 players from other EU countries).
Foreign players under 21. In the first transfer window — January 2021 — Premier League clubs can sign a maximum of three U21 players from overseas, and only six overseas U21 players per season moving forwards (providing these players meet the entry requirements).
There is no mention of EFL clubs here, so presumably, they can sign as many overseas U21 players as they like providing the entry requirements are met.
Requirements
So what are the entry requirements? There are different guidelines for men's football, women's football, managers, assistant managers, directors of football, and performance managers, but all are based on similar criteria.
The focus here will be on the Men's Players Criteria. These guidelines alone consist of a 36-page document, so rather than break it down on a player by player, or situation by situation basis, what follows is an attempt at an overview.
We will look to include any FAQ section in due course. Players playing at youth level may need to be covered in a separate article.
Easy Pass
Players need to accumulate a total of 15 points from six different tables using a reference period of the 12 months prior to the date of application.
Players playing regularly for their national team are almost guaranteed to meet the entry requirements and will be awarded a governing body endorsement. They will, therefore, be able to play for the club without going into the more detailed criteria.
Even players appearing regularly for a lower ranked national team, or less regularly for a high ranked team, will already be well on their way to collecting 15 points.
If the player doesn't meet the Auto Pass criteria set out in Table 1, their club football is then taken into account, again based on the percentage of minutes played and the perceived level at which those minutes are played.
More Things
The first big change (especially from a WFi perspective!) is that it's far easier for a club to get a work permit for a South American player now than it was under the previous entry requirements.
Its appears that, in trying not to make it as difficult as it might have been to sign players from the EU post-Brexit, the authorities have also made it easier to sign players from other continents, especially South America.
This is due to the fact that the Copa Libertadores and Copa Sudamerica are considered the same 'Band' of continental competition (Band 1 and 2 — the highest) as their European equivalents, the Champions League and Europa League.
WFi followers will be glad that the Libertadores is finally being recognised as one of the best international club competitions in the world.
English football clubs will be glad that if they are looking to sign a talented young player from South America, they are almost guaranteed a work permit if the player is playing regularly for a Libertadores or Sudamericana club.
If the player in question also plays for a Brazilian or Argentine side, they should pass the entry requirements with flying colours. This is because the Brasileiro Série A and the Argentina Primera División are considered Band 3 domestic leagues.
Bands & Minutes
The guidelines use the word 'Band' to describe the various levels of the game at club domestic, club continental, international, and youth international level. More on which clubs and competitions sit in which band is detailed below.
Club Bands
Band 1 leagues: English Premier League, Bundesliga, La Liga, Serie A and Ligue 1.
Band 1 continental competition: UEFA Champions League and the Copa Libertadores.
Band 2 leagues: Portuguese Primeira Liga, Eredivisie, Belgian First Division A, Turkish Super Lig and English Championship.
Band 2 continental competition: UEFA Europa League and the Copa Sudamerica.
Band 3 leagues: Russian Premier League, Campeonato Brasileiro Série A, Argentine Primera División, Liga MX and the Scottish Premiership.
Band 3 continental competition: any other continental competition not in Band 1 or 2.
Band 4 leagues: Czech First League, Croatian First Football League, Swiss Super League, Segunda División (Spain), 2. Bundesliga (Germany), Ukrainian Premier League, Greek Superleague, Colombian Categoría Primera A, Major League Soccer (USA and Canada), Austrian Bundesliga, and Ligue 2 (France).
Band 5 leagues: Serbian SuperLiga, Danish Superliga, Polish Ekstraklasa, Slovenian
PrvaLiga, Chilean Primera División, Uruguayan Primera División and Chinese Super
League.
Band 6: any other league not already mentioned.
The two South American leagues already mentioned are highlighted, but the inclusion of leagues such as Chile, Uruguay, and Colombia in other Bands means players from those leagues playing regularly in domestic and continental competitions (especially combined with youth or senior international appearances) could stand a chance of getting a work permit.
Players playing even semi-regularly in one of Europe's top five leagues would be well on their way to collecting the 15 points required.
The tables below show that simply appearing in one of the higher Band leagues can mean a good number of points.
Other Things / Examples
The date of application could have an impact. I.e. it would make sense to apply just after a player appears for their national team, especially if not guaranteed selection for the next squad.
One example of the new rules working for a player where the old ones didn't, is Liverpool's Nigerian striker Taiwo Awoniyi.
After five years of failing to get a work permit under the old requirements, Liverpool should now be able to get one for Awoniyi who is playing regularly on loan in the German Bundesliga with Union Berlin.
On the other hand, Liverpool wouldn't have been able to sign players such as Sepp van den Berg or Billy Koumetio, as they were under 18 at the time of signing.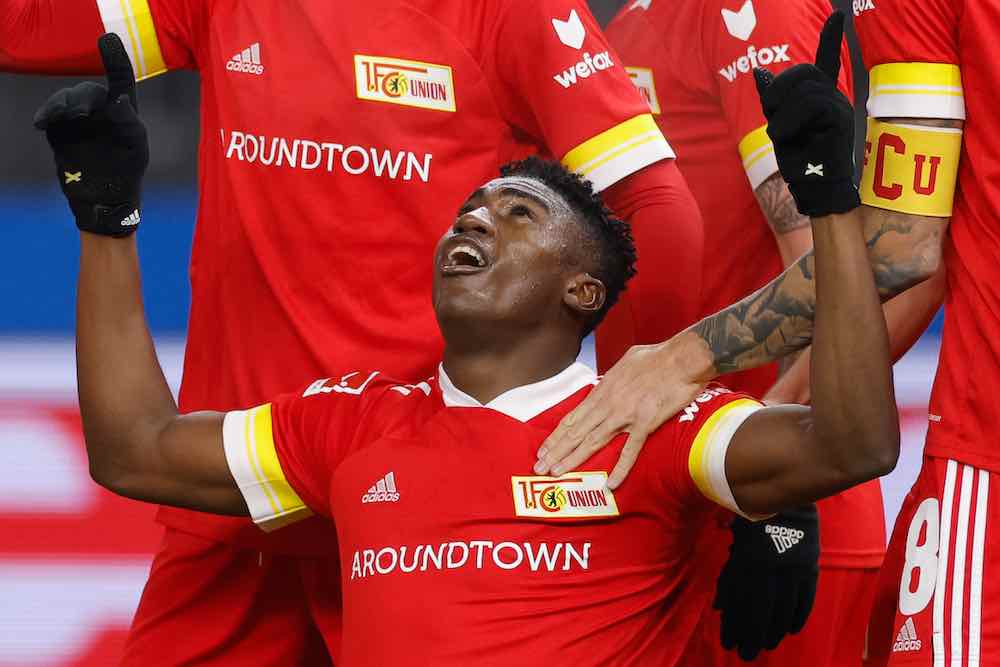 Problems / Repercussions
Given the limits on the number of U21 players a Premier League side can sign in one season, this could lead to many of the richest clubs attempting to create football empires similar to that of City Football Group, using their other clubs around the world to sign players the English side is unable to.
This form of football imperialism will see the superclubs extend their footprint across the globe, and many will now have their eye on lower-profile clubs in South America and Europe with a view to adding them to their franchise.
This will only increase the global commercialisation of football as a business rather than a game. Players become commodities, even more than they already are, shipped around in order to increase their value in order to help a handful of big clubs make even more money.
Lower profile clubs could lose their identity as a result, becoming part of a larger franchise which serves one big club at the head of the table. RB Leipzig, for example, are known globally as a Red Bull club, rather than an east German or Leipzig club.
This would probably have happened anyway, but these new requirements for overseas players, and the relative ease with which any issues can be worked around, could accelerate this process when it comes to England's hyper-capitalist superclubs.
Links between clubs could also be made in a less official manner, but the outcome and aims would be similar.
Players playing in Europe's top leagues are almost guaranteed to meet the criteria, which could lead to a lot more loaning to those leagues, as well as some in Bands 2 and 3. Even though new loan restrictions are being introduced, clubs will try to find a workaround.
It could also lead to pressure on youth international setups/coaches to select certain players.
It will likely be profitable for youth football agents and recruitment companies selling players to English sides.
Summary / Recommendations
— English clubs will find it easier than before to sign foreign players who are over the age of 18.
— The new measures are unlikely to affect Premier League clubs too much, except perhaps at academy level.
— It may affect lower league sides who might normally buy players from other lower leagues or low Band leagues in Europe.
— It would be advisable for English clubs to have scouts covering the Copa Libertadores and Copa Sudamericana in some form, complementing this with coverage of the domestic leagues in Brazil and Argentina, and even Colombia, Uruguay, and Chile if resources allow.
— English clubs could benefit from partnerships in other countries, especially Argentine and Brazilian sides playing regularly in the Copa Libertadores or Sudamericana, or other European clubs in a top division.
— Measures need to be put in place to stop clubs empire-building, even if the collection of clubs will never play a competitive game against each other.
— This is not freedom of movement for workers, rather just a different way of restricting movement.
FAQs – Resources
The official statement from the FA, and relevant documents are available here.
FAQs coming soon.