By Louis Smith.
It's showtime in the Brasileirão as first-place São Paulo, host second-place Atlético Mineiro in what promises to be an exciting battle between two attack-minded teams. It's a game which some players have been describing as a final.
São Paulo will be looking to bounce back immediately after their 1-0 loss to rivals Corinthians at the weekend.
The defeat was the Tricolor's first in domestic football since September 9th when they suffered a 3-0 battering at the hands of… you guessed it, Atlético Mineiro. They will be hoping for revenge at the Estádio do Morumbi.
São Paulo manager Fernando Diniz commented on what his side need to improve on following the loss to Corinthians.
"We basically have to do what we've been doing prior [to the Corinthians game]," he said. "Being a more aggressive team which moves the ball faster and protects itself better from counter-attacks.
"We conceded a counter-attack, and it was a long time since we gave in to counter-attack.
"In relation to this game we have many things to improve, but in relation to past games we only have some adjustments to make."
The defeat on Sunday was not the only problem for Diniz to get his head around. Top scorer Luciano picked up a thigh injury, ruling him out for the next few weeks.
Luciano took to Instagram to issue a message to the São Paulo fans.
"Guys, as you already know, I suffered a little stretch in the game," he said.
"I will treat the injury in three periods to be well as soon as possible. With faith and trust in God, I am soon back doing what I love and helping our Tricolor. Come on, São Paulo!"
Likely to take Luciano's place is Pablo, who has been far from impressive in the league this season to the disappointment of the fans.
Playing 21 times, the forward has only managed to find the net once. The 28-year-old will be hoping to prove his worth in the side after being dropped as a regular starter in October.
Galo, meanwhile, have been given a huge boost as manager Jorge Sampaoli has been given the green light to return to the touchline. He was originally suspended from attending games at all after using his mobile phone in the stands during a game against Flamengo when he was serving a touchline ban.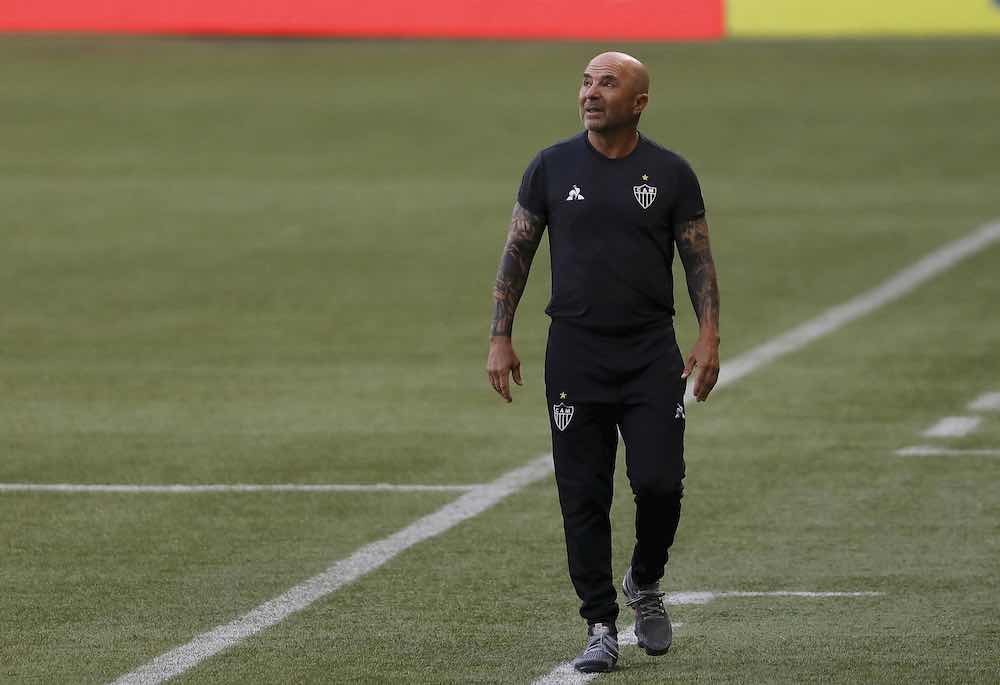 Sampaoli has transformed Atlético from a mid-table club to title contenders since joining at the start of the year. He will be hoping to one better than he did last season with Santos, where his side finished runners-up.
A win here for Galo would show they mean business and put them one point behind their opponents. With 14 matches to play in ten weeks after this, Atlético will have confidence due to their strong squad depth. This has allowed their Argentine coach to rotate when necessary, with seventeen players featuring ten times or more this season.
Everson, the 30-year-old shot-stopper who Sampaoli brought with him from Santos, put in a Man-of-the-Match performance in Atlético's 1-0 victory over Athletico Paranaense last time out.
He spoke after the game, oozing with confidence.
"Important win, good game," he said.  "Let's go back with 'I believe' — let's get that title.
"Difficult moments add extra energy. Another game without conceding a goal, which is very important.
"I made my contribution by not conceding a goal. We won this beautiful victory away from home which allows us to continue fighting for the title. It will be like this until the end!"
If Galo are going to be victorious this evening, they are going to need big performances from key players.
Paraguayan centre-back, Junior Alonso has been solid at the back this season, keeping eight clean sheets in 19 games in the league.
He is likely to be partnered by Gabriel after, Réver, who would have been another option to start at the back, misses out due to suspension.
Keno, Jefferson Savarino, and Eduardo Vargas have 15 goals between them this season, they will be keen on adding to that here.
Vargas, formerly of Queens Park Rangers, joined the Belo Horizonte club in November and has one goal in three games.
The match promises to be a classic between two teams giving it their all to claim three vital points.