By Jordan Florit.
Can a player have a breakthrough year at the age of 27, amid a worldwide pandemic and after five loans in six years? And can they do it in one of Europe's so-called 'Big Five' leagues? Darwin Machís' 2020 is proof one can.
Between June 1 and December 10, Machís' value rose 212.5% from €3.2 million to €10 million, according to Transfermarkt.es. In the same month, he finished 9th in the voting for the Venezuelan Athlete of the Year, the third-highest ranking of a footballer behind Real Betis Femenino's Oriana Altuve (3rd) and Machís' national team and Granada CF teammate Yangel Herrera (5th).
The Venezuelan winger has been on a quiet, understated ascendancy for a number of years now, bobbling about Portugal, Spain, and Italy, whilst becoming an ever-increasingly important member of his national team, where his defensive work rate in both hounding the opposition backline and dropping deep to absorb pressure was extremely valued by former head coach Rafael Dudamel.
His standout performance — and perhaps where you can point to for where his rise to prominence began — was not in La Liga though, nor was it a sacrificial performance in the role of defensive winger, it was at the Mineirão, Brazil, at the 2019 Copa America.
Use your football knowledge to make bets on the football stock market – Football Index
After 0-0 draws in their opening two matches, La Vinotinto needed a win against Bolivia in their final group game and ideally for Peru to lose to Brazil to mathematically guarantee their advancement to the knockout stages.
Ghosting in from the left flank and stealing a leap on his man was all 5ft 7in (1.70m) of Machís to head his country into the lead just two minutes in.
Ten minutes into the second half, the two-footed winger cut in on the edge of the box from the left and curled it into the far corner with his right. It was an invaluable two-goal lead and Venezuela would progress to the knockouts after Leonel Justiniano halved the deficit just for Josef Martínez to score a third four minutes from time.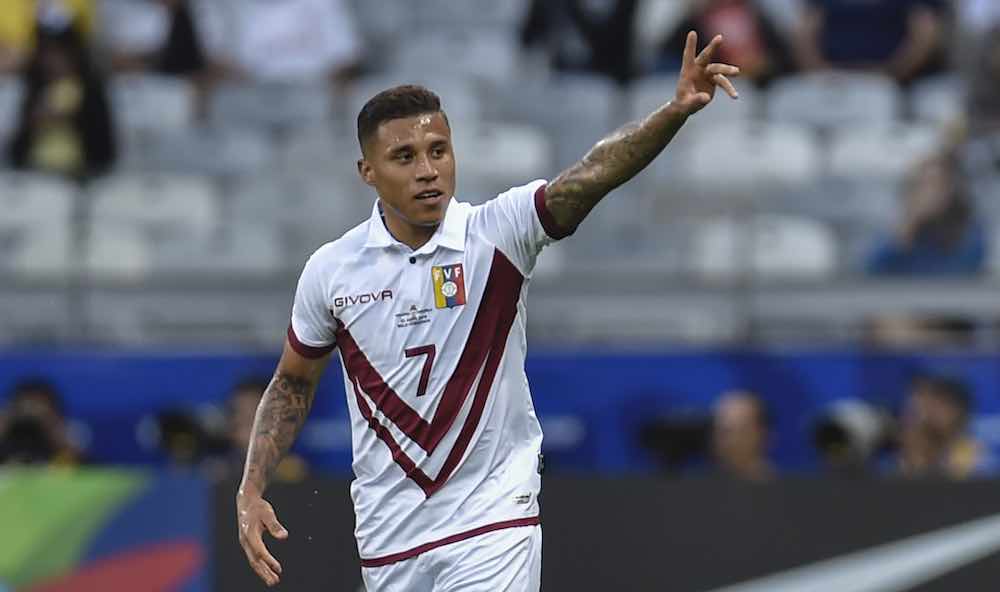 Venezuela may have lost 0-2 to Argentina in the quarter-finals and then lost their manager just two days into 2020, but Machís was about to embark on the best season and calendar year of his life. By the time 2021 dawned, the boy from swampy Tucupita had become the man of the moment in sunny Andalucía.
"Taking into account that I consider Yangel Herrera by far the best Venezuelan player, it seems to me that the one with the best performances in 2020 is Darwin Machís," Venezuelan football publicist Allan Hrastoviak tweeted on 14 December.
Less than a month later, Hrastoviak tweeted again, this time referencing the player reaching 100 appearances for Granada and the opposite trajectory his career had taken to former Venezuelan wonderkid Adalberto Peñaranda: "Machís is an ode to effort, to commitment, to seriousness; to having a talent and working to improve it. Here's to more Darwins and fewer Peñarandas," he said.
So what are the numbers behind the praise, plaudits, and performances, and will he maintain these high standards throughout 2021?
The short answers: phenomenal, considering he is relatively unheralded, and yes, there are no signs of this extended purple patch turning blue any time soon.
According to @InStatFootball, the two best performing Granada CF players of 2020 were Venezuelan duo Yangel Herrera & Darwin Machís, with Index Ratings of 271 & 266.

Machís recorded the most assists & xAs, chances created, key passes, accurate crosses, and successful dribbles. pic.twitter.com/fovdiYreMn

— FUTVE English (@FUTVEEnglish) January 22, 2021
In 2020, Machís was 3rd for the number of assists provided by wingers in Spanish football (10), 2nd for expected assists (15), 5th for chances created (37) and accurate crosses (39), 3rd for fouls suffered (86), 7th for accurate key passes (22), and 8th for successful dribbles (111).
For every one of those metrics you would want to evaluate a winger's creative output by, he was in the top five of Spanish football in his position for five of them and in the top eight for the other two. Topping every single one of those tables was, of course, Lionel Messi.
Granada squeezed in 51 games last year; remarkable, considering the coronavirus pandemic meant they didn't play for three-and-a-half months between 23 February and 12 June, and all the more remarkable is that Machís played in 44 of them. Only opposite winger Antonio Rodríguez (47) played more.
Unsurprisingly, all of the above statistics placed Machís at the top of Granada's leaderboards for assists, expected assists, chances created, accurate key passes, accurate crosses, and successful dribbles.
The only metric he didn't top, he was second in: fouls suffered. Topping that particular chart was fellow Venezuelan Yangel Herrera (84), who was also the only Granada player to better Machís' InStat Index Rating of 266 (271). For goals, only Roberto Soldado's return of 12 bettered Machís' 10.
At the time of writing, Granada are 7th in La Liga, are into the final 16 of the Copa del Rey, and will next month face Napoli in the Europa League Round of 32 after finishing second in their group. Key to their performances in all three will be Venezuela's Darwin Machís.
Buy shares in Darwin Machis on Football Index – bet on the football stock exchange
---